Did you know that you can bake a batch of perfect fluffy cinnamon buns in your Crock-Pot slow cooker? Use these tips and tricks and the easy recipe below to make Crock-Pot cinnamon rolls from scratch, and top them with cream cheese frosting! No oven required!
This post was sponsored by Crock-Pot Canada.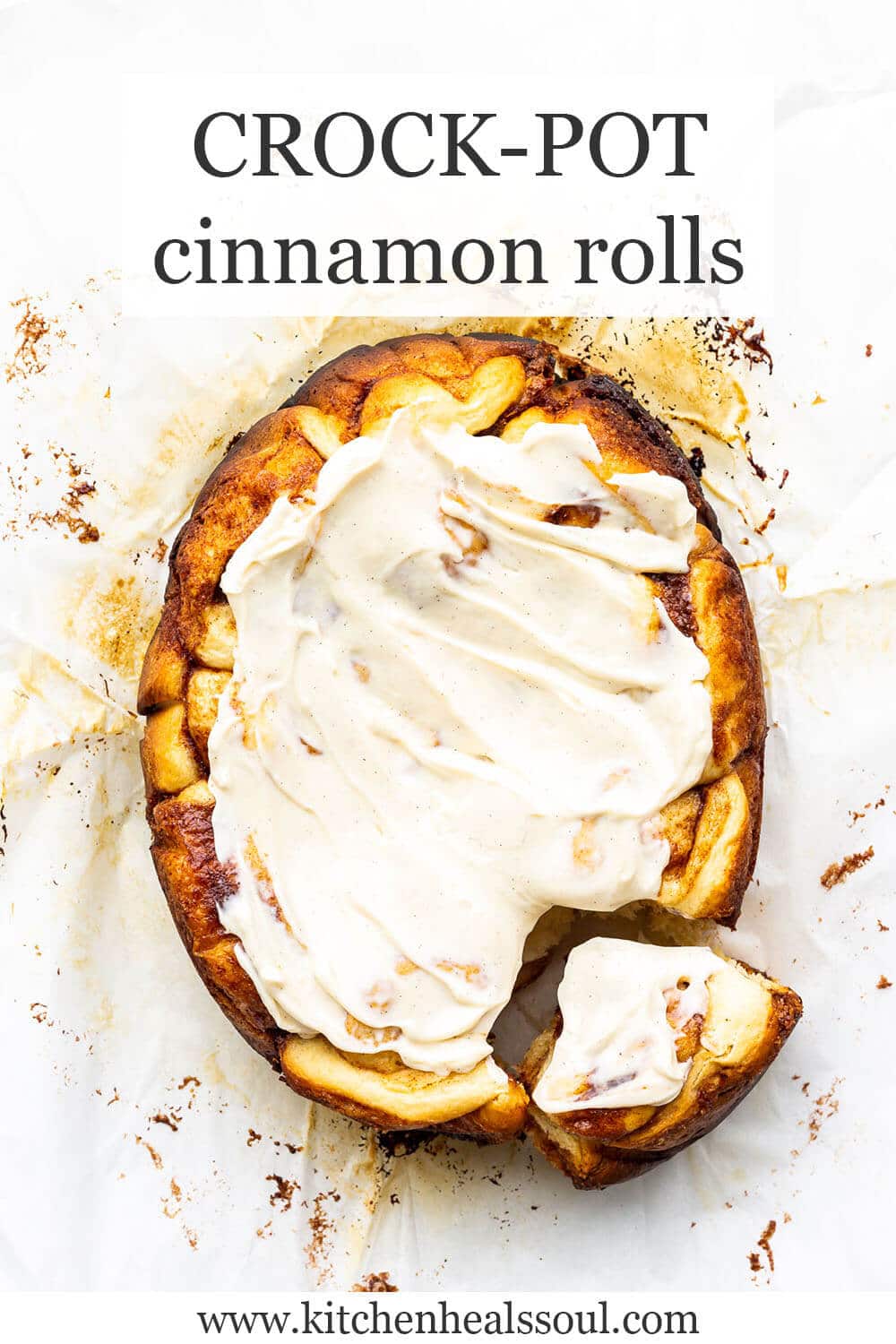 Disclosure: As an Amazon Associate, I earn from qualifying purchases.
Jump to:
Why bake in a Crock-Pot slow cooker
People don't realize that you can take your Crock-Pot way beyond the usual soups and stews. You can actually use it to bake in and make all kinds of baked goods, from pudding cakes, to regular cakes, cheesecakes and even yeasted breads and treats. When you start to play around with your slow cooker and explore using it for recipes other than dinner, you'll find it can actually be quite convenient for certain recipes.
If you're wondering why bake in a slow cooker, there are a few reasons. For example, a lot of people can't use their ovens in the warmer months because it's too hot and the oven makes the kitchen even hotter. Use your slow cooker and you'll be able to get dessert on the table without raising the temperature in your kitchen!
Another reason, if your oven is in use for something else, you can use your slow cooker in parallel, thus alleviating the stress of having to juggle multiple recipes in one single oven.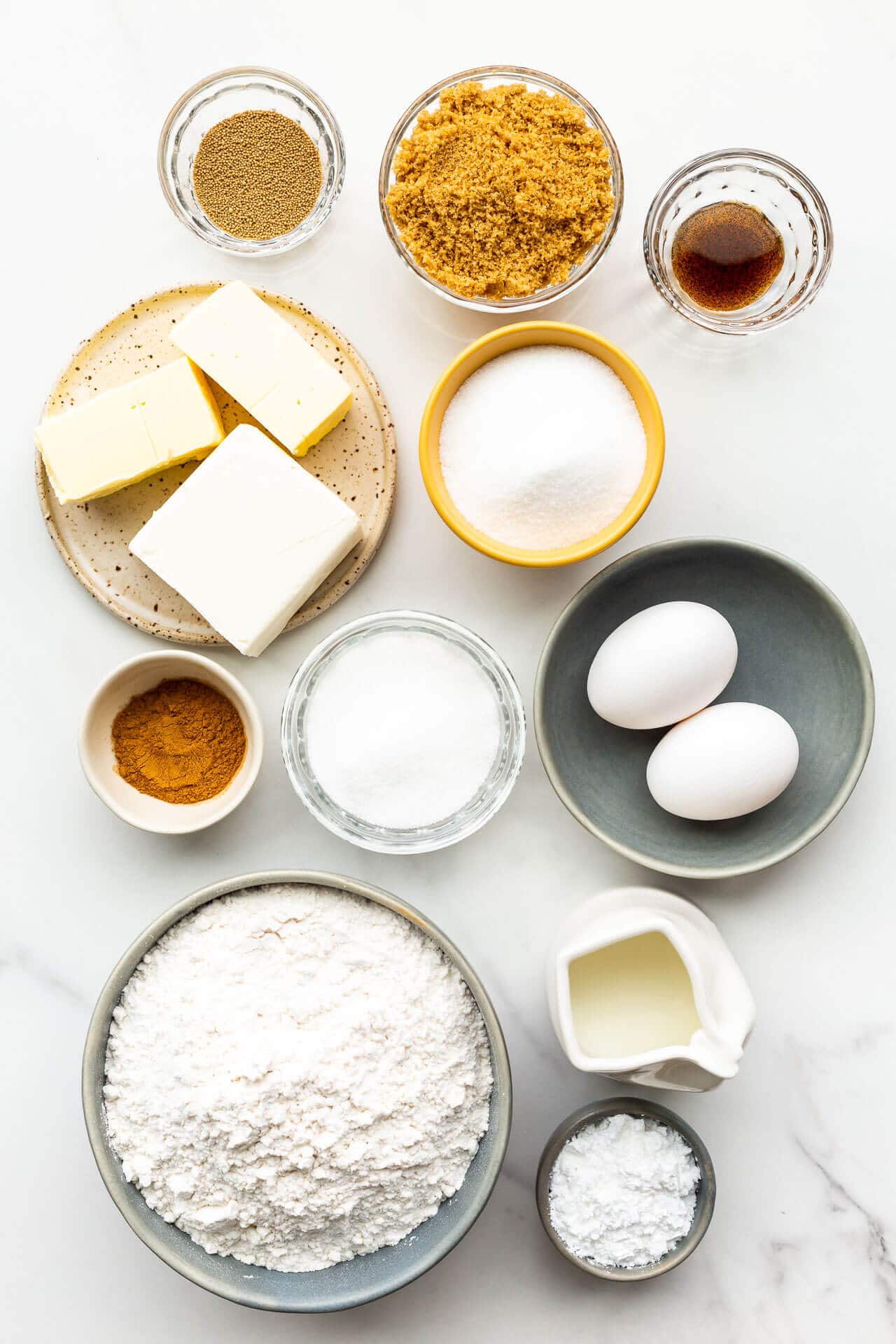 How to bake in a slow cooker: tips & tricks
One thing to remember with slow cookers is that they trap humidity quite well and they tend to heat more on one side than the other. If you want to explore baking in your Crock-Pot , there are a few tips and tricks to follow to make sure you are successful:
if your ceramic insert is your pan, treat the ceramic insert like you would a regular cake pan: butter it or brush it with oil, or line it with parchment paper. This will ensure that your cleanup is a breeze when you are done using it!
wrap the lid with one or two kitchen towels: slow-cookers are closed vessels and as your recipe bakes, it will release water in the form of steam. That steam will condense on the lid and drip back down on your cake (or whatever you are making). That's fine for soups and stews, but not if you are making a cake in the slow cooker. The solution is easy: tightly wrap the lid in a kitchen towel or two. The towel(s) will absorb the moisture released and keep the surface of your cakes/breads dry!
partially cover the slow cooker with the lid to release the steam, instead of using kitchen towels to absorb the water released. I've had mixed results with this because the lid can slide back on and fully cover the ceramic insert (like if your cat walks by), so I prefer the towel method above.
use the slow cooker like an oven and set your cake pan in the ceramic insert: this is especially useful if you want to gently heat a cheesecake to bake it slowly in the Crock-Pot. In this case, you could fill the ceramic insert with water (just an inch or two will do) and then set your pan in the water so that the cheesecake will gently bake. The water will ensure a more gentle, even heat. Again, make sure to wrap the lid in a towel to absorb the steam.
rotate the ceramic insert halfway through the cooking time if you find that your baking is uneven, just like you would when baking in the oven. This is especially important with older models of slow cookers which might have a less even heat source. It's also very important for these cinnamon buns: if you don't rotate the pan halfway through the baking time, one side will burn and the other side will stay raw.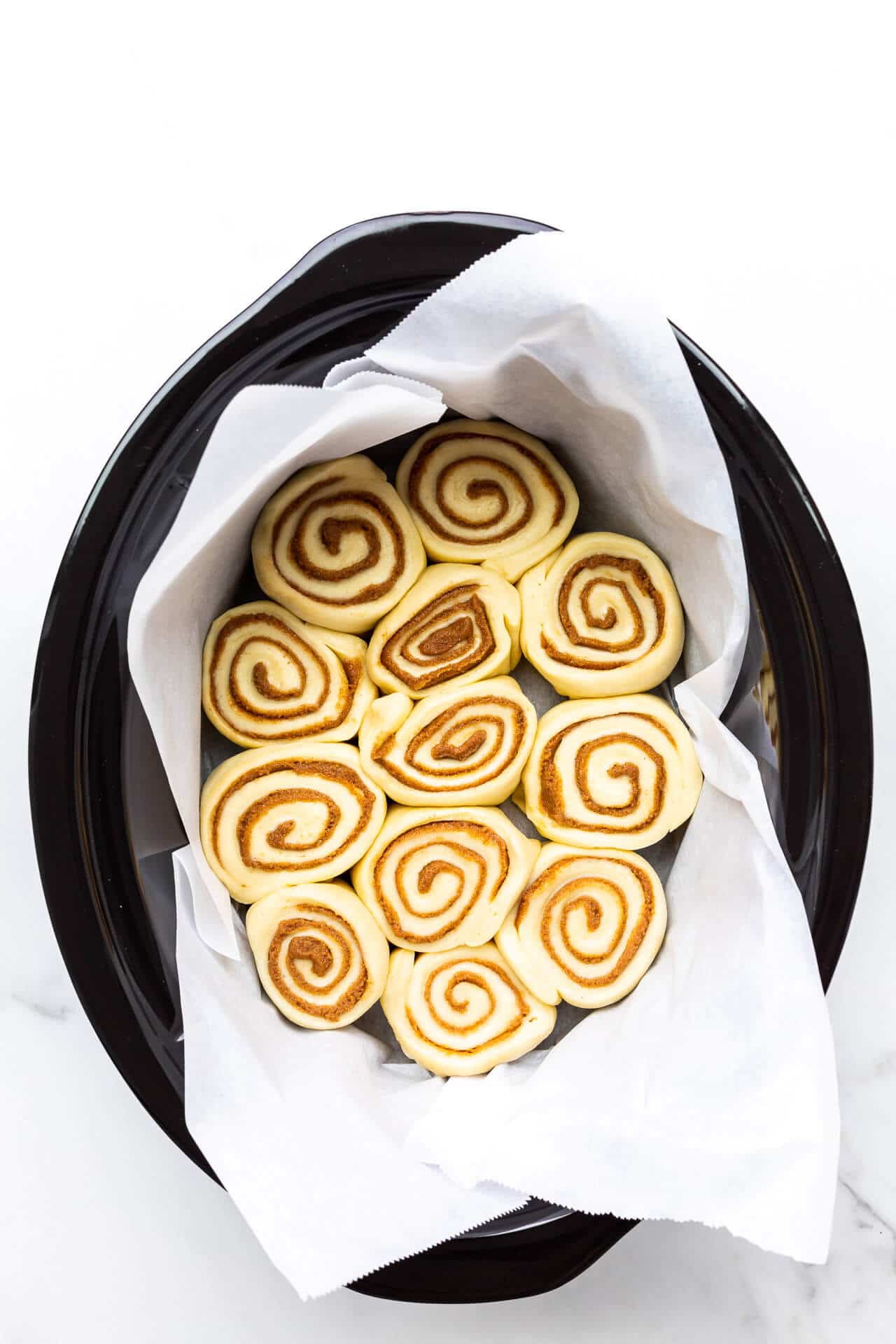 The beauty of baking cinnamon buns in a slow cooker is that there's no rising time. There's a 10 minute rest period after you make the dough, to give the gluten a little time to relax so that rolling the dough is easier, but that's it! You knead the dough, wait 10 minutes, then roll it out, slather on the sweet cinnamon butter, shape the buns, set them in the slow cooker, and bake them right away. It's kind of funny that the slow cooker might actually speed up the process of making homemade cinnamon buns from start to finish!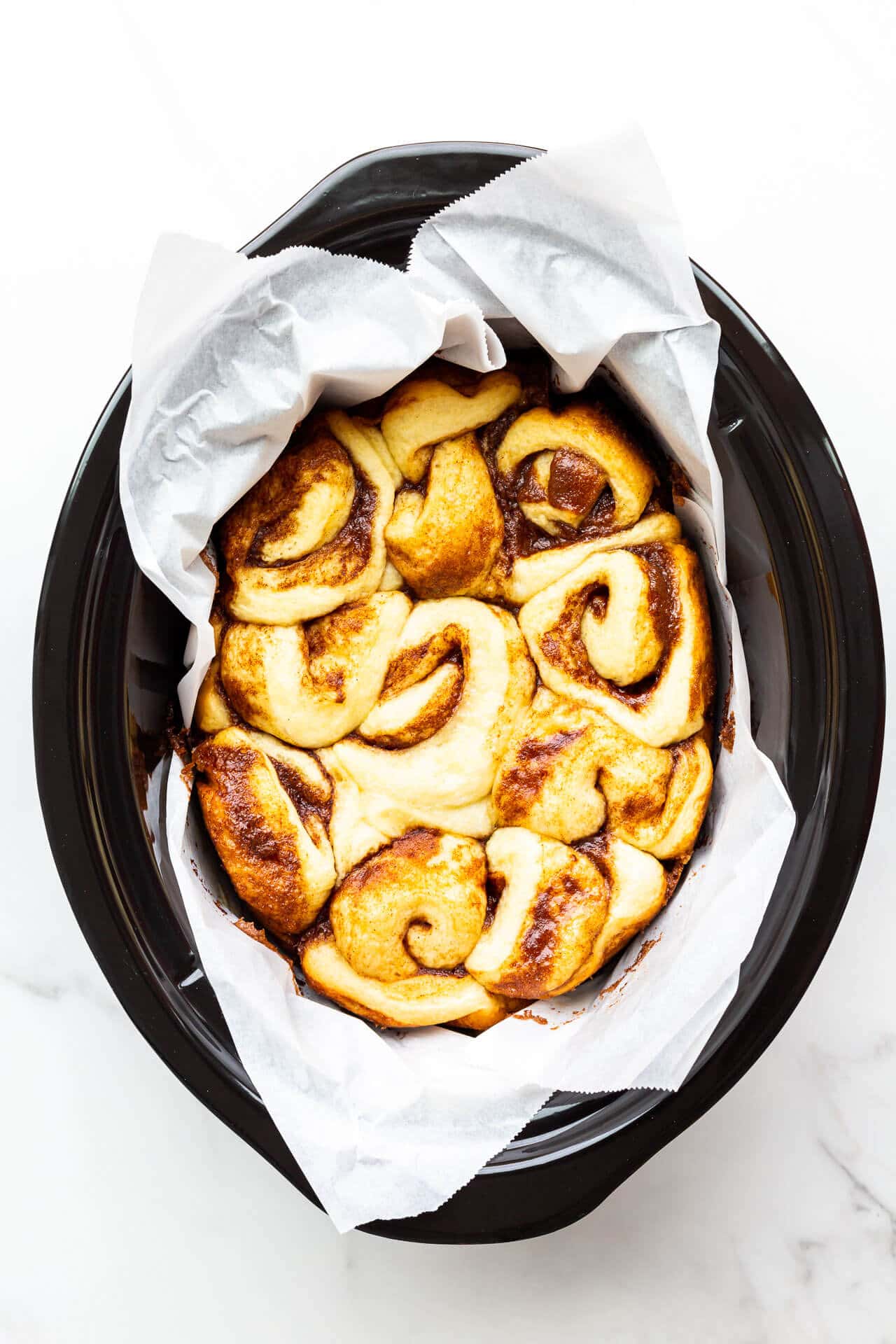 Use a slow cooker with manual settings
I tested a few batches to get the baking time right in my Crock-Pot 6 quart slow cooker with MyTime technology. The great thing about this slow cooker is that you aren't forced to use pre-programmed settings. MyTime technology allows you to deviate from the usual 4, 6, or 8 hours, and instead you can set the Crock-Pot to heat for as little as 1 hour.
For these cinnamon rolls, at 2 hours the ends were dark, so definitely use an instant read thermometer to test the internal temperature of the middle bun. The buns take just under 2 hours to achieve the perfect golden brown bake, with caramelized edges without burning. Some models may heat up faster or slower, so be sure to check your buns after 1 hour 30 minutes, and use an instant-read thermometer to make sure you are on track. The thermometer takes the guessing out of your slow-cooker baking. Remember enriched doughs are baked when they reach 93 ºC (200 ºF).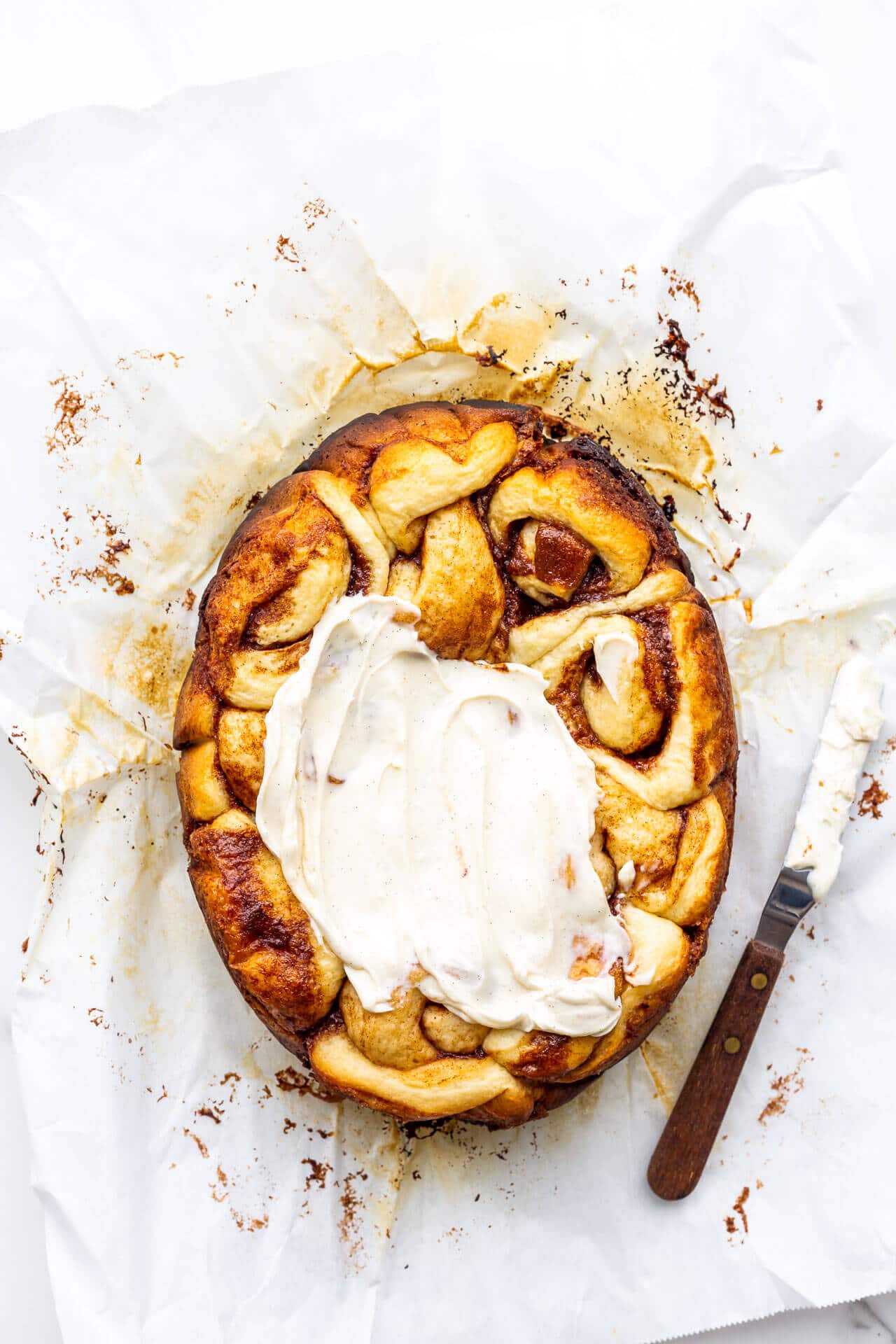 The dough for these cinnamon buns is a modified version of the dough I use for my stollen bread recipe. If you don't have time to make the dough, just buy some pizza dough from a local bakery. I've used pizza dough to make cinnamon buns and also Monkey bread and it's a great substitution if you are short on time. You will need to buy roughly 900 grams (2 pounds) of dough to make 12 buns. Roll the dough out to a big rectangle and spread the filling over it, just as you would do if you've made the dough from scratch. Nobody needs to know!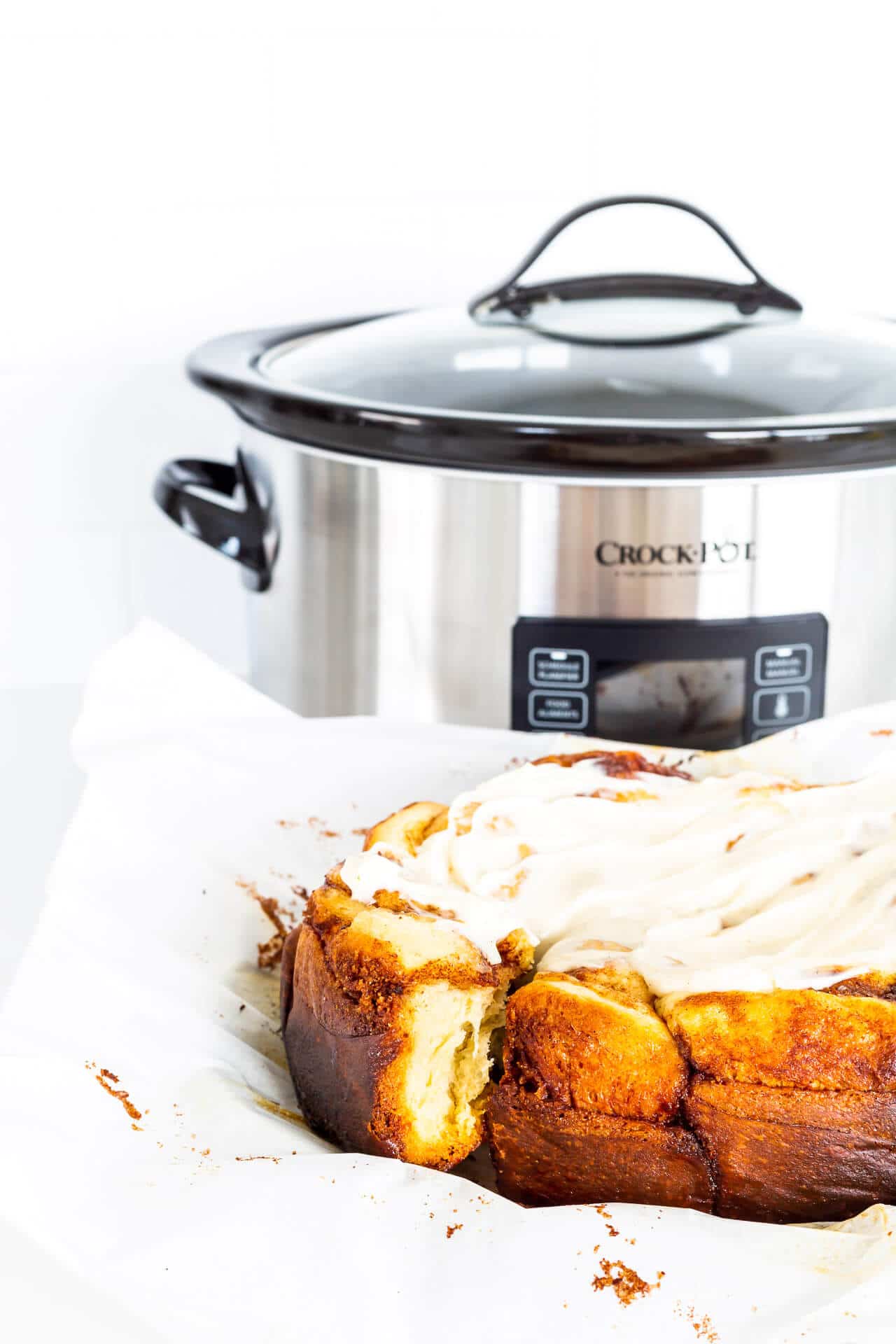 📖 Recipe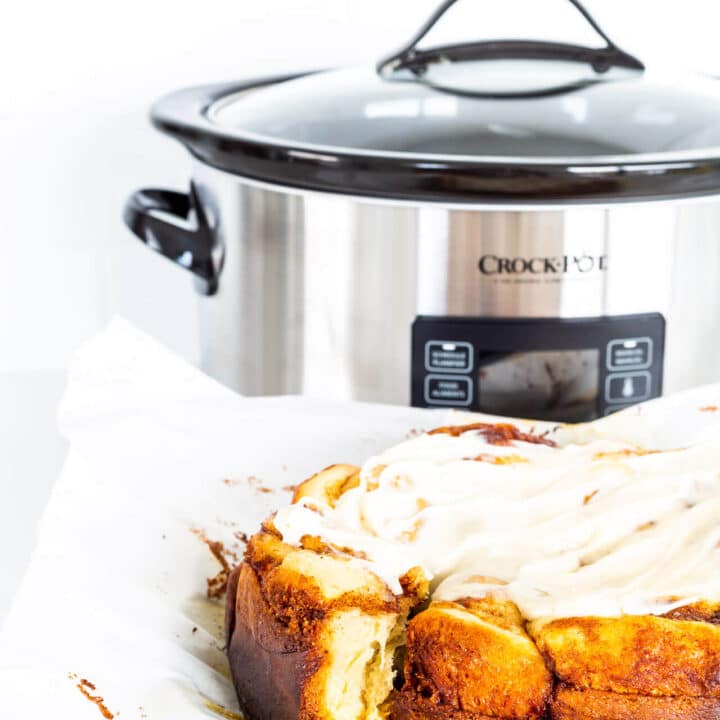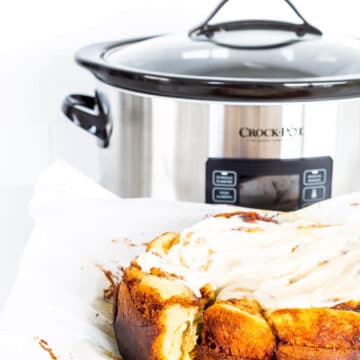 Crock-Pot Cinnamon Rolls
Make Crock-Pot cinnamon rolls in a 6 quart slow cooker with this easy recipe (no rising and no oven required!).
Ingredients
Cinnamon bun dough
500

grams

bleached all-purpose flour

70

grams

granulated sugar

30

mL

warm water

make sure the temperature is around 38–40 ºC (100 ºF)

2.5

mL

granulated sugar

8

grams

active dry yeast

1 packet

180

mL

whole milk (3.25 % fat)

80

grams

unsalted butter

2

large egg(s)
Filling for cinnamon rolls
80

grams

unsalted butter

softened

100

grams

granulated sugar

100

grams

dark brown sugar

15

mL

ground cinnamon
Cream cheese frosting
125

grams

Philadelphia cream cheese (full fat, regular)

35

grams

icing sugar

15

mL

whole milk (3.25 % fat)

more or less to thin out the frosting

2.5

mL

vanilla bean paste
Instructions
Prepare a 6 quart Crock-Pot slow cooker by lining the inside with a large sheet of parchment paper. Press it into the corners to fit it into the ceramic insert and to cover the entire interior surface and sides of the pot. Set aside.
To make the dough
Place the flour, sugar, and fine kosher salt in a stand mixer fitted with the paddle attachment. Stir them together for a few seconds on low just to get everything evenly mixed.

In a small bowl, place the warm water (the temperature of the water should be around 38–40 ºC or 100 ºF). Stir in the ½ teaspoon of sugar and sprinkle the yeast over top. Stir everything together and let rest for 10 minutes. The mixture should develop a thick foam on top.

Meanwhile combine the milk with the butter in a microwave-safe bowl and heat it in the microwave for a minute or so, just enough to melt the butter. Let stand at room temperature to cool slightly.

When all the components are ready, add the milk and butter mixture to the mixer, along with the foamy yeast mixture and the two eggs. Stir them together on low speed to form a shaggy, evenly mixed dough.

Switch to the hook attachment to begin kneading on low speed. If the dough seems too wet, add up to 30 grams (¼ cup) of all purpose flour. The dough should not be so sticky and it shouldn't stick to the bowl. It should feel tacky.

Knead the dough for 8 minutes, then dump it out on the counter and knead it by hand for a minute or so to form a smooth round ball of dough.

Place a towel over the dough and let it rest for 10 minutes while you prepare the filling.
To make the filling
In a bowl, cream together the softened butter, the sugars, and the cinnamon until you have a thick brown paste. Set aside.
Assemble the rolls
When the dough has rested, remove the towel and roll it out on a very lightly floured surface to a big rectangle of at least 9x15 (don't worry too much if it's bigger).

Spread the filling over the entire surface of the dough, then roll tightly into a 15 inch log.

Cut the dough into 12 equal buns (you don't have to trim the ends) and place them in the prepared ceramic insert.
Bake the rolls
Place the ceramic insert in the Crock-Pot base.

Wrap the lid in a kitchen linen or two to absorb any moisture that is released during the bake. Place the lid over the ceramic insert and make sure it's on tight.

Plug in the Crock-Pot and set it to cook on high for 2 hours.

After 1 hour of cooking, lift the ceramic up and rotate the pan, setting it back down in the base.

After another 30 minutes, using a digital thermometer, check the temperature of the bready part of a middle bun to make sure it's reached 93 ºC or 200 ºF. Once the bread hits that temperature, the buns are done baking.

Using oven mitts, lift the ceramic insert out of the base. Remove the lid and using the parchment, lift the buns out of the ceramic pot, setting the parchment-lined buns on a cooling rack while you prepare the icing. Let them cool 10 minutes before icing them so that the icing doesn't melt and run off the buns.
Make the frosting
Cream together the cream cheese, icing sugar, milk, and vanilla bean paste.

Using an offset spatula (or the back of a spoon), spread the frosting on the top of the buns. Serve warm
Nutrition
Calories:
390
kcal
Carbohydrates:
56
g
Protein:
6
g
Fat:
16
g
Saturated Fat:
9
g
Cholesterol:
69
mg
Sodium:
218
mg
Potassium:
106
mg
Fiber:
2
g
Sugar:
27
g
Vitamin A:
537
IU
Calcium:
61
mg
Iron:
2
mg
For more information about Crock-Pots, be sure to visit their website!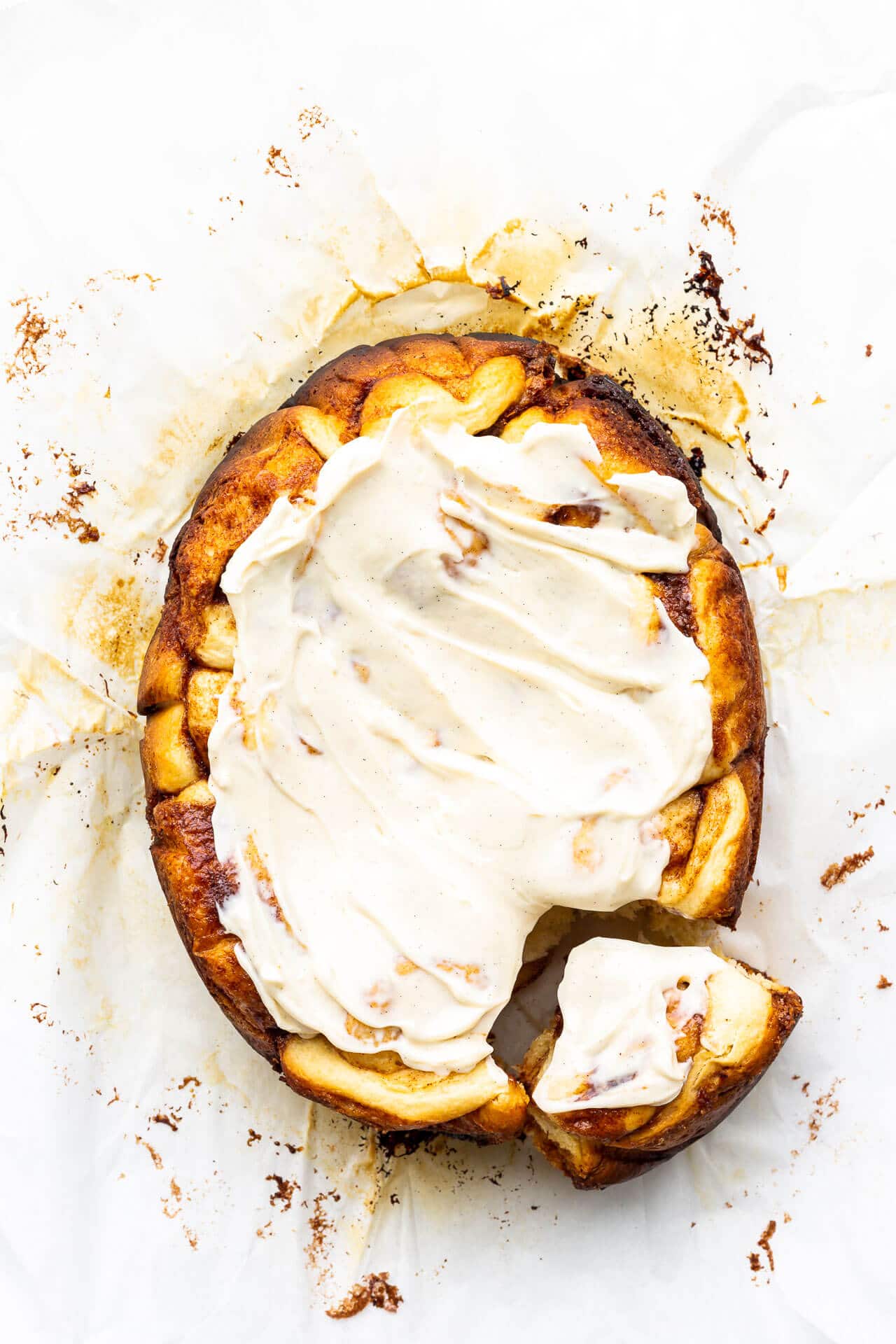 This post is sponsored by Crock-Pot Canada. I was compensated monetarily and with product. Thanks for supporting the companies that allow me to create content for Kitchen Heals Soul. As always, please know that I wouldn't work with a sponsor nor recommend a product if it wasn't worth it.
Please note this post contains affiliate links to Amazon. If you buy a product I recommend, I will get a small commission, and the price you have to pay will not change in any way.