Learn how to make the best chocolate chip cookies with chunks of dark chocolate with this easy recipe. This makes a small batch of big chocolate chip cookies that are thick and chewy.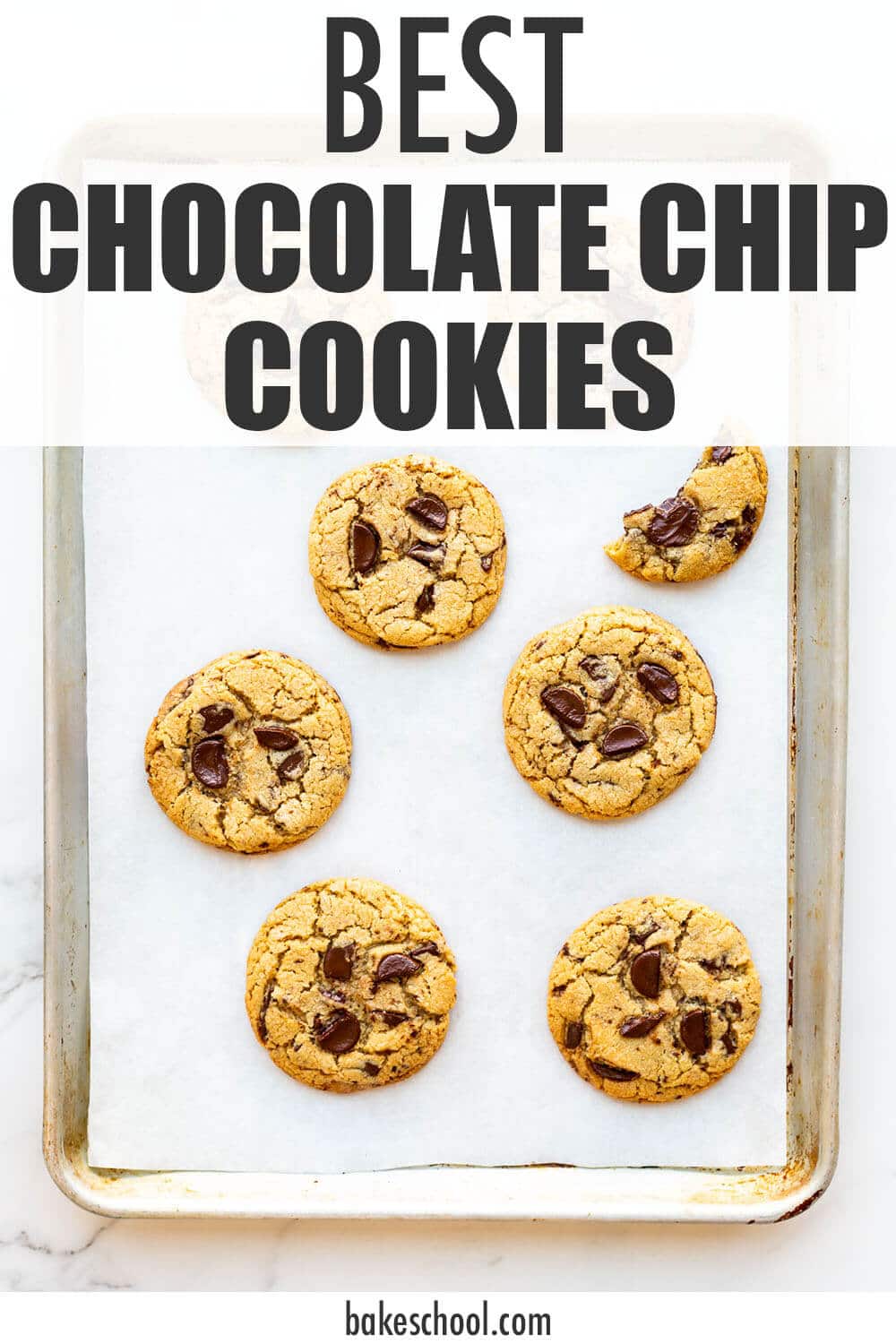 Disclosure: As an Amazon Associate, I earn from qualifying purchases.
Jacques Torres' chocolate chip cookie recipe published in a 2008 in the New York Times is ever-popular. The recipe seems pretty standard, just like most other chocolate chip cookie recipes, a simple list of ingredients and nothing different from most other recipes. And yet, when you start to analyze it, you'll see there's actually more to it.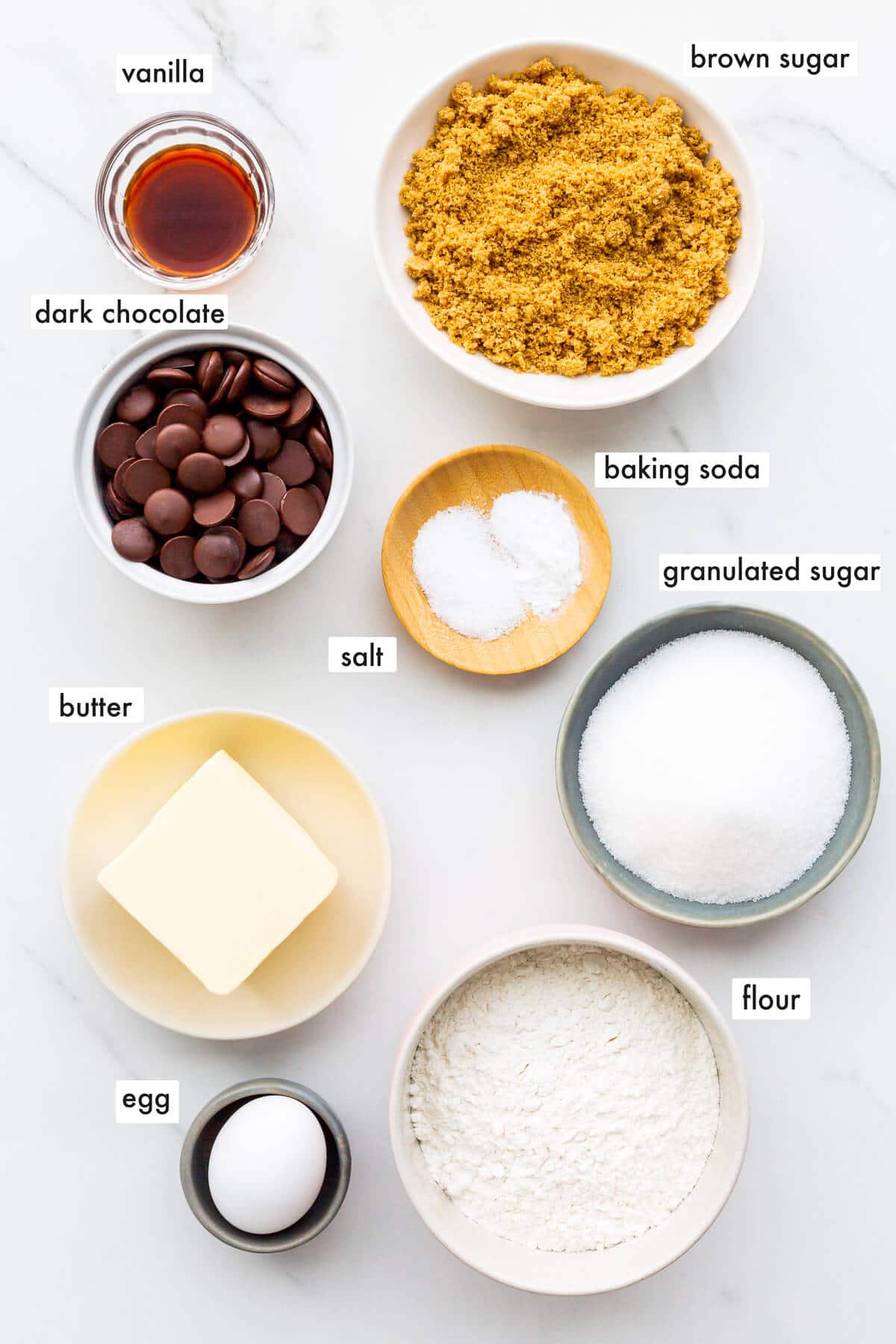 What chocolate chip cookies are made of
If you want to make chocolate chip cookies from scratch, you will need the following ingredients:
butter, preferably unsalted butter because you will add salt to the dough, but if you have salted, it will work. Just adjust the salt in the recipe accordingly, otherwise your cookies may be too salty
granulated sugar gives these cookies crispy edges
brown sugar adds molasses flavour to help balance the eggy-flavour. Brown sugar may also lead to a slightly thicker cookie. I prefer dark brown sugar, which has a higher molasses content and more flavour, but light also works here
large eggs, don't use smaller eggs because your cookie dough may be too dry and your cookies won't spread enough, but don't use extra large eggs because they could cause the cookie dough to puff too much as it bakes, leading to a more cake-y cookie
all-purpose flour is needed to bind all the ingredients together and give the cookies structure, contributing to the chewiness of the cookies as well. If you don't use enough flour, your cookies may spread too much as they bake
baking soda is a base (alkaline). You need baking soda for the cookies to spread properly and for fast browning. Do not use baking powder. Read up on baking soda vs baking powder if you are unsure
salt is really important to balance out the sweet molasses flavour. Don't skip it. I like to use Diamond Crystal fine kosher salt, but table salt will work, though the cookies will be saltier and you may want to halve the salt in that case
chocolate chips or chunks are essential in this recipe, and use the best you can buy. I prefer dark chocolate with over 50 % cocoa content, but feel free to use what you like!
To this list, you can add nuts or dried fruit to further customize the recipe to make your favourite cookie with exactly what you want!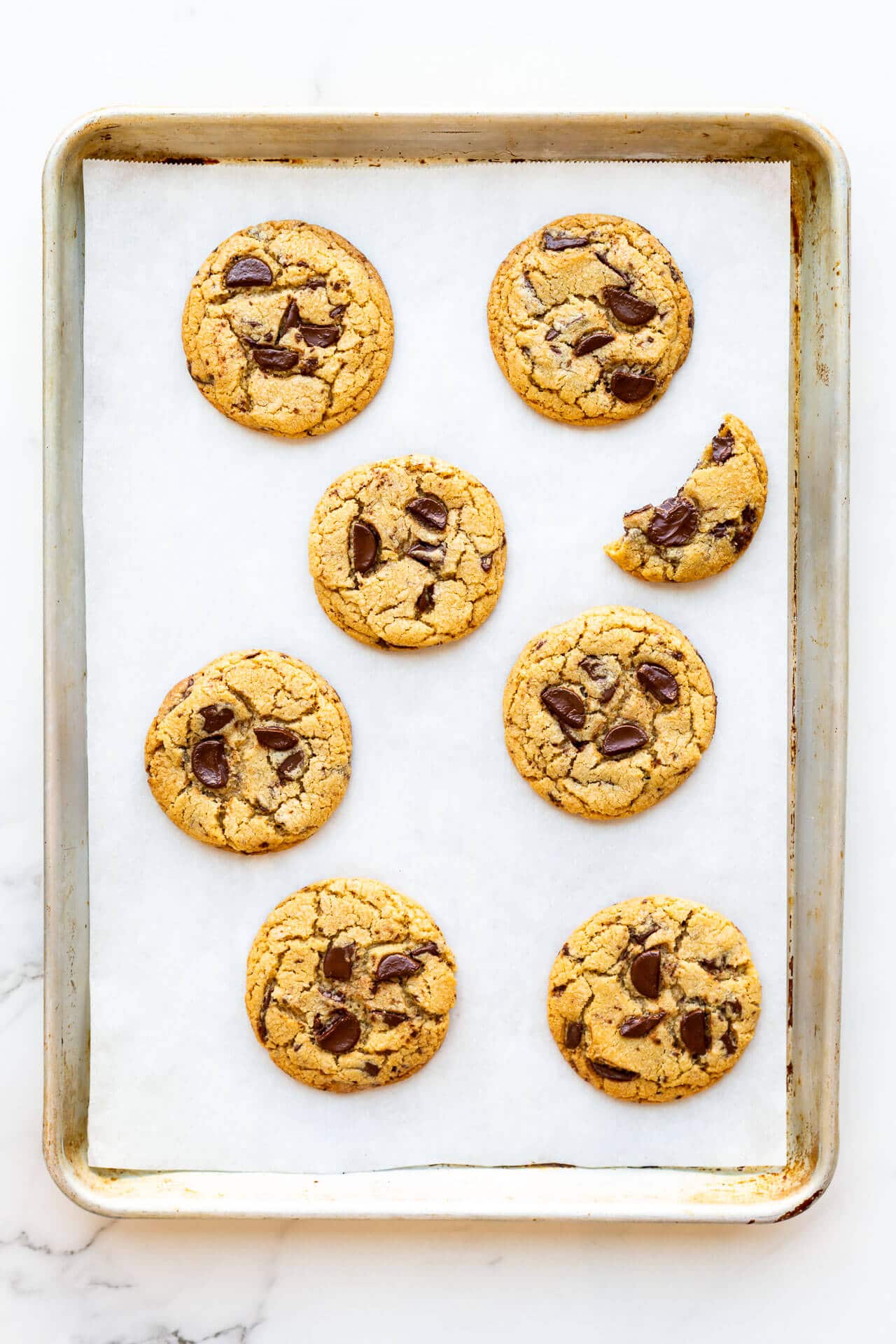 The type of flour
One thing that sets the Jacques Torres recipe apart from the rest is that it combines bread flour and cake flour to make the dough, instead of just using all-purpose flour. And though all-purpose flour would be a descent baking substitution for the combination of flours, protein-wise, in terms of starches, it doesn't match up:
cake flour is higher in starch and lower in protein, and it's a very fine, soft flour, that would add a lighter, cakey texture to cookies
bread flour is lower in starch but higher in protein, and has a great capacity for absorbing water that is prone to gluten development . By combining the two flours, you can see how they each bring different properties that all-purpose can't.
all-purpose flour is in between cake and bread flours on the protein scale, at 10–11% protein. It's lower in starch than cake flour.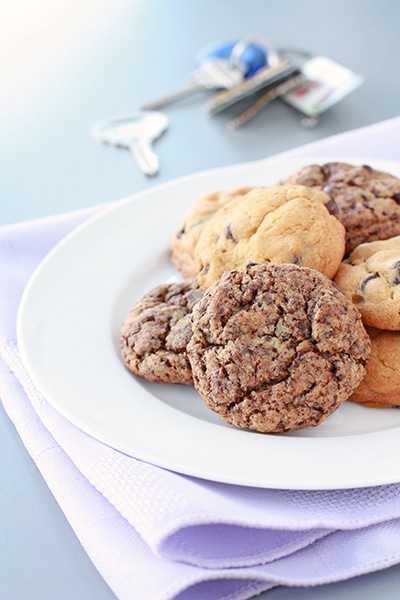 Most of us tend to store all-purpose flour in our pantries, so use that, but know that you can also try 50/50 mix of bread and cake flour and compare the results, or try alternative flourss. I used all-purpose to develop my big fat chewy chocolate chip cookies, but I also tested spelt flour for spelt chocolate chip cookies, or even rye. Depending on the flour you use, you may have to add more to avoid spreading.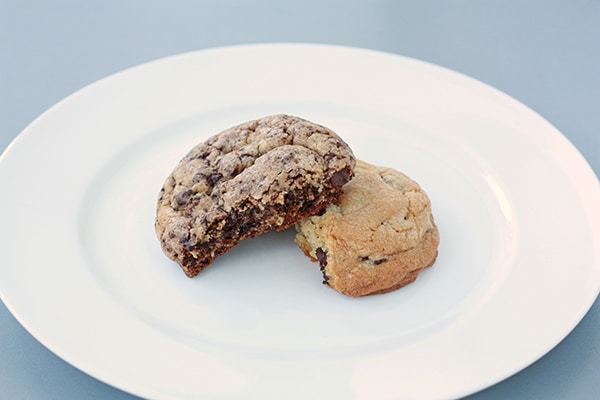 Chilling the dough
There's another point in the recipe technique that sets the Jacques Torres chocolate chip cookie recipe apart: chilling the cookie dough for 24–72 hours for the dough prior to baking. This means the recipe takes planning. If you want cookies now, sure this technically would work, but the results won't be the same.
Resting the dough transforms a good old chocolate chip cookie dough into the perfect cookie: crispy, chewy, sweet, salty, chocolaty. The texture of the rested dough is completely different from that of a freshly prepared batch. It's definitely worth the wait. I find it easier to portion out the dough before resting, personally. Better yet, always have a batch of the rested dough on hand, pre-scooped and frozen.
Then all you have to do is place the scoops on a parchment-lined baking sheet and bake them, when the craving strikes. The baking time varies depending on if your dough is chilled or frozen. Sometimes I prefer letting the dough warm up slightly at room temperature (while the oven preheats) so that the cookies can spread a little as they bake before setting. This way your cookies aren't so squat.
The chocolate: chocolate chips vs grated chocolate
For this recipe, I tested two types of chocolate: whole chocolate chips versus dark chocolate that was grated into shards in the food processor. The cookies were made from the same batch, split in half prior to adding the chocolate:
to half the dough, I added dark chocolate chips
to the other half, the same amount of dark chocolate chips that I had ground up in the food processor
The ground dark chocolate render the cookie slightly less sweet. I think I might have preferred these to the chocolate chips, especially that 70 % dark chocolate is much less sweet than chocolate chips.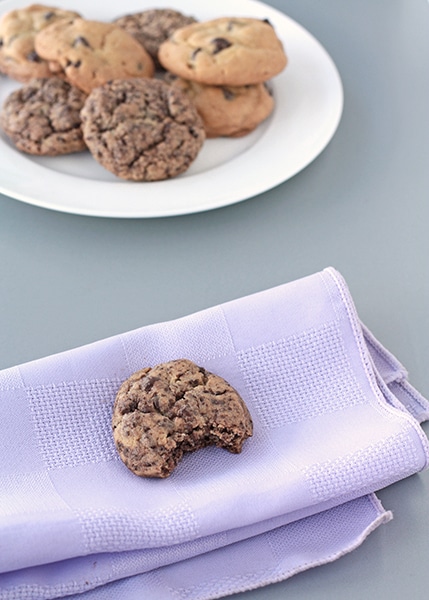 If you grind up chocolate in the food processor to make coarse shards of chocolate, and add that to your cookie dough instead of chocolate chips, you can make the ultimate chocolate chip cookies. Grated chocolate might be the best kept secret to making the best cookies!
📖 Recipe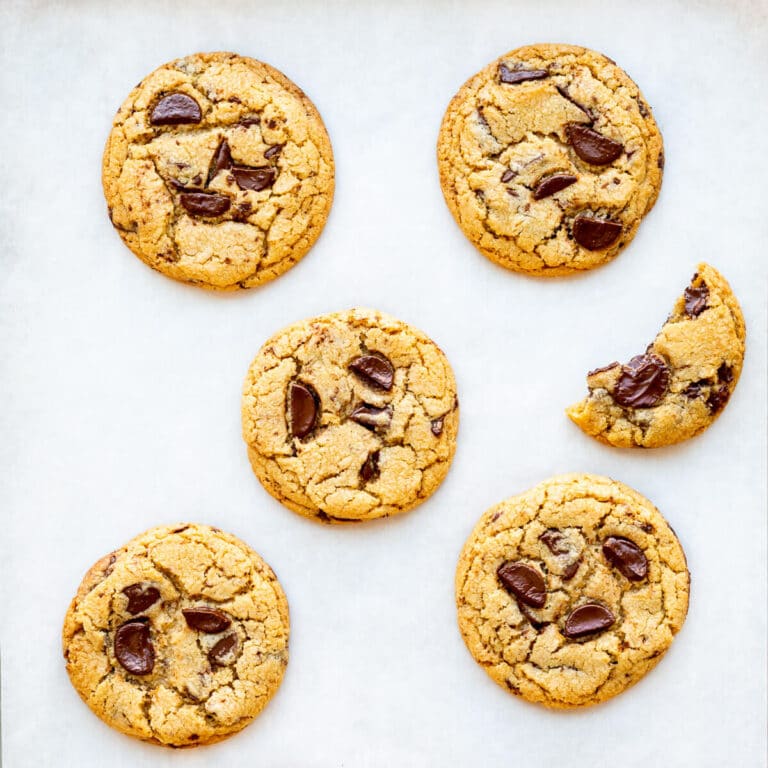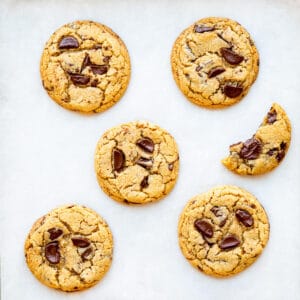 Thick Chewy Chocolate Chip Cookies
Here's a recipe for classic chocolate chip cookies that are super chewy and salty-sweet, including tips for adapting this recipe with different flours (whole wheat, rye, spelt, and even gluten-free flours like oat, corn, and buckwheat).
Ingredients
190

grams

bleached all-purpose flour

5

mL

Diamond Crystal fine kosher salt

or 2.5 mL (½ tsp) table salt

2.5

mL

baking soda

115

grams

unsalted butter

150

grams

dark brown sugar

100

grams

granulated sugar

1

large egg(s)

10

mL

pure vanilla extract

175

grams

dark chocolate

chopped (approximately 250 mL or 1 cup), or 250 mL (1 cup) dark chocolate chips
Instructions
Preheat the oven to 400 ºF (200 °C). Line two large sheet pans with parchment paper.

In a medium bowl, whisk together the flour, salt, and baking soda. Set aside.

In a large bowl, using an electric hand mixer, cream together the butter, the granulated sugar, and the brown sugar until it's very light and fluffy.

Add the egg and the vanilla, and mix well until the mixture is light and fluffy again. Make sure to clean down the sides of the bowl as needed with a big spatula.

Dump in the whisked dry ingredients, and incorporate them either with the hand mixer on low, or by hand with a big wooden spoon.

Mix in the chocolate. The dough should be quite thick.

Scoop approximately 50 gram portions of the dough, rolling them into balls.

Place 7 cookies per cookie sheet, being sure to space them apart and stagger them.

Bake the cookies one sheet pan at a time until the edges just begin to brown (this takes about 12 to 14 minutes). You might want to rotate the pan partway through the baking to make sure the cookies brown evenly.

Let the cookies cool completely on the sheet pan while you bake the second pan.

Store in an airtight container.
Notes
replace the all-purpose flour with:

whole wheat flour: 190 grams (1.5 cups) whole wheat flour to make whole wheat chocolate chip cookies—note that at 190 grams (1.5 cups) of whole wheat flour, the cookies spread out more than they would with the same weight of all-purpose, but they are still on the thicker side so I don't think you should add more flour than this.
rye flour: 190 grams (1.5 cups) rye flour to make rye chocolate chip cookies (basically replace with the same amount)—any more rye flour makes the cookies too thick and way too chewy, and less rye flour results in a much thinner cookie that spreads out. Also note that chocolate chip cookies made with 100 % rye flour will be quite chewy, even freshly baked.
spelt flour: 220 grams–250 grams (1.75 cups to 2 cups) spelt flour to make spelt chocolate chip cookies— at 250 grams of spelt flour, the freshly baked cookies are quite thick, with a crispy light exterior and a gooey interior. Use just slightly less if you prefer you cookies a little more spread out (so 30 grams or ¼ cup less)
oat flour: 220 grams–250 grams (1.75 cups to 2 cups) oat flour depending on how thick a cookie you want (note you can also replace the chopped chocolate with raisins to make them gluten-free oat flour raisin cookies )
corn flour: 220 grams–250 grams (1.75 cups to 2 cups) corn flour, depending on how thick a cookie you want
buckwheat flour: 310 grams (2.5 cups) buckwheat flour to make gluten-free buckwheat chocolate chip cookies—less works, but the cookies spread quite a bit!

add oats:

add 95 grams (1 cup) of rolled oats, along with peanuts and swapping milk chocolate for dark chocolate to make these thick chewy oatmeal cookies with milk chocolate and peanuts

If you want to add nuts: when you add in the chocolate, also mix in 110 grams (1 cup) chopped nuts like pecans, walnuts, or even peanuts or pistachios.
If you want to add seeds: when you add in the chocolate, also mix in 110 grams (1 cup) sunflower seeds or pumpkin seeds.
If you want to add sprinkles: if you want a funfetti chocolate chip cookie or a "birthday cake" style cookie, mix sprinkles in with the cookie dough. I like adding rainbow jimmies to cookie dough.
If you want to add peanut butter: when you cream the butter with the sugars, you can add 125 grams (½ cup) of all-natural peanut butter because the recipe below is VERY similar to this recipe for classic peanut butter cookies.
If you want to change the chocolate: I love to make chocolate chip cookies with chopped dark chocolate that is preferably 70 % cocoa and not too sweet, but you can also use milk chocolate, white chocolate, or a combination of the three. Make sure you stick to the same total quantity of chocolate though. Try adding toffee bits, butterscotch chips, or even peanut butter chips for a completely different flavour.
If you want to replace the chocolate with chopped dried fruit: you can replace the chocolate with raisins, dried cranberries, dried blueberries, dried sour cherries, chopped crystallized ginger, chopped dates, etc. Substitute cup-for-cup, or do a mixture of chocolate and dried fruit. Up to you!
If you want to add in something crazy: take inspiration from Christina Tosi's Milk Bar compost cookie recipe and her compost pound cake and throw in some salty potato chips, chopped pretzels, coffee grinds!
If you want to garnish: you can't go wrong with a sprinkle of flaky sea salt which will help balance out the sweetness of the cookie dough.
Nutrition
Calories:
258
kcal
Carbohydrates:
34
g
Protein:
3
g
Fat:
12
g
Saturated Fat:
7
g
Cholesterol:
30
mg
Sodium:
199
mg
Potassium:
122
mg
Fiber:
2
g
Sugar:
21
g
Vitamin A:
227
IU
Calcium:
24
mg
Iron:
2
mg