If you are a super fan of Milk Bar's cakes and cookies, you should definitely make these compost cookies, like an "everything but the kitchen sink cookie" but better, with coffee grinds, pretzels, potato chips, chocolate, oats, and chocolate chips!
As an Amazon Associate I earn from qualifying purchases.

Disclosure: As an Amazon Associate, I earn from qualifying purchases.

What are compost cookies

The compost cookies sold at Milk Bar are very similar to kitchen sink cookies, or everything-but-the-kitchen-sink cookies. They are next level chocolate chip cookies, loaded with your favourite snacks. The idea is to use the tail ends of ingredients and snacks leftover in your pantry to make compost cookies, thus the name. Waste not, want not! The same goes for Tosi's compost pound cake, made with butterscotch morsels, mini chocolate chips, pretzels, potato chips, oats, and more! Anything goes and all roads lead to yummy salty-sweet cakes and cookies.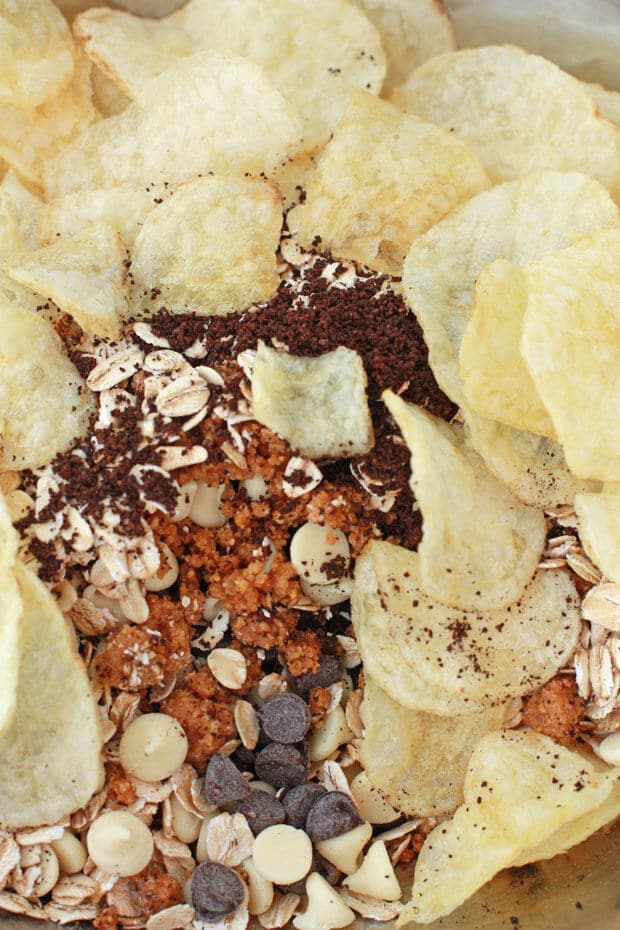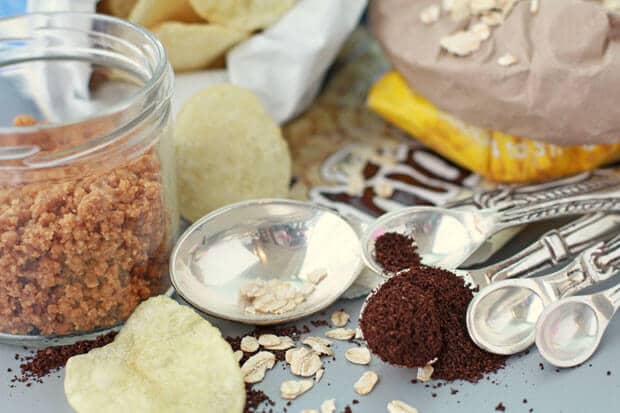 It's amazing how Christina Tosi can pull together ingredients like coffee grinds and potato chips and then turn them into delicious cookies. I find her truly inspiring how she recycles cake scraps to make birthday cake truffles. The compost cookie recipe comes from her book: Milk Bar available on Amazon. I especially love the note in the sidebar for the compost cookie recipe where Tosi tells readers to use fresh coffee grinds and not those leftover from your morning's brew. Makes me laugh.

The pantry odds and ends that I stuffed into this recipe include semi-sweet chocolate chips (instead of mini chocolate chips), white chocolate chips (instead of butterscotch morsels), oats, graham cracker crumbs (turned into Tosi's graham cracker crust recipe, as instructed) and potato chips. I didn't have pretzels so I skipped them, but if you want to skip them, use double the potato chips!
I think the best part of this recipe is the cookie dough itself. Obviously, we all love traditional unbaked chocolate chip cookie dough, but this one is even better. I don't know if it's the graham cracker crust, or the potato chips. I've added coffee grinds to coffee and raspberry bread pudding with much success, so it shouldn't come as a surprise that the coffee grinds added so much flavour to this cookie recipe. I contemplated turning off my phone and settling down on the couch with the Kitchenaid mixer bowl of cookie dough in my lap, spoon in hand.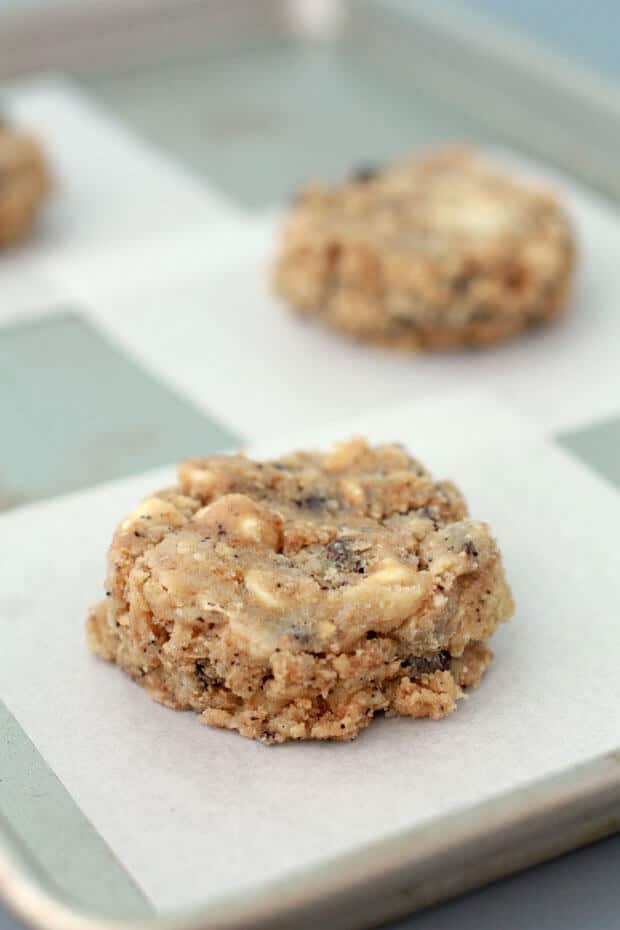 If and when you get around to baking the chilled cookie dough, you will end up with crispy-edged jumbo cookies with the perfect balance of salty and sweet. The coffee grinds add a certain mocha flavour to them, but I find every bite of cookie is a wonderful surprise.
If you love to eat chocolate chip cookies, make these cookies, and buy the book they came from: Milk Bar available on Amazon. Seriously.
Compost cookie recipe
This recipe is adapted from the recipe in Tosi's book, with changes to the compost add-ins, among other things. If you are a fan of Momofuku Milk Bar, then try making the Milk Bar birthday cake, the Milk Bar birthday cake truffles, and this blackberry almond cake too!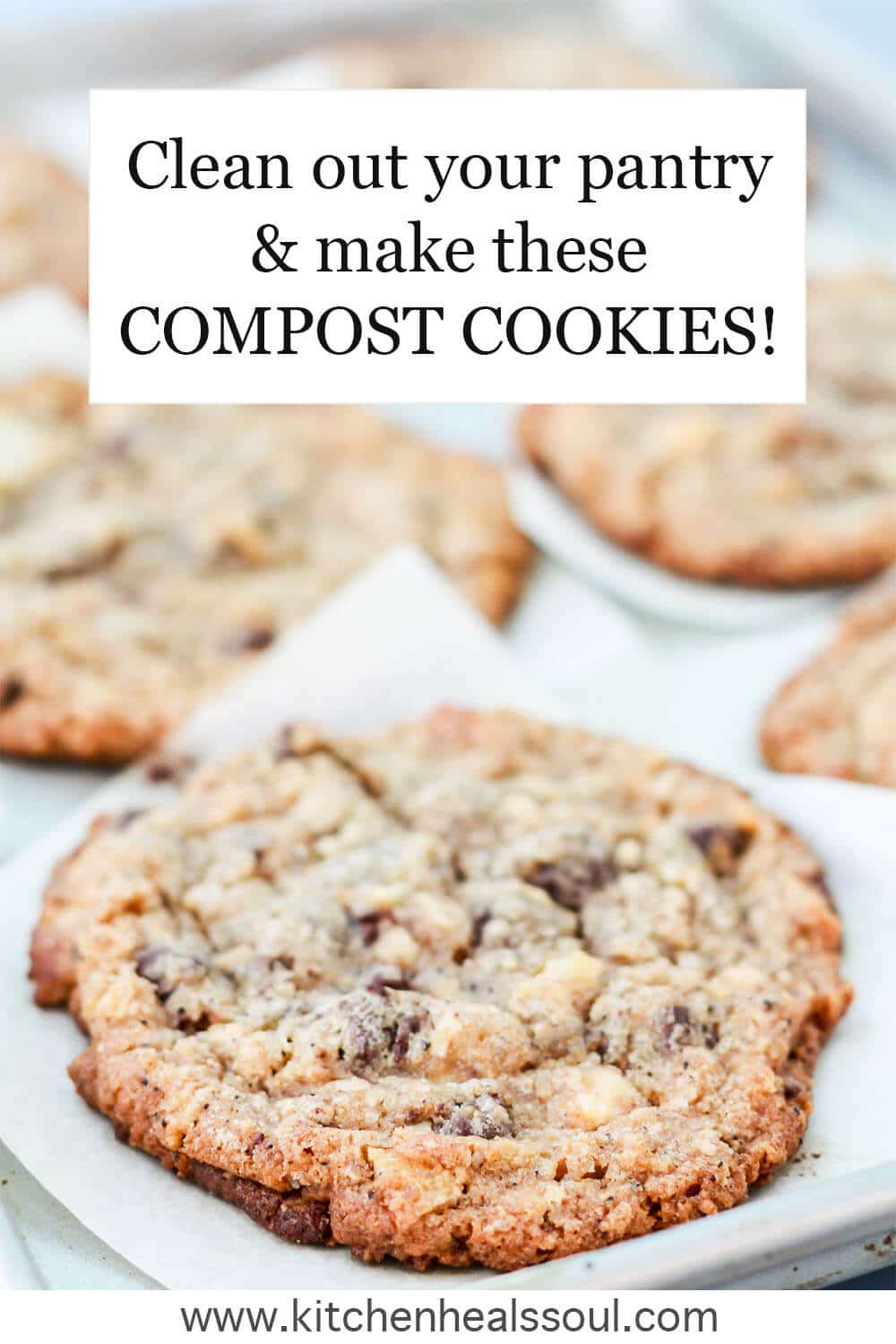 📖 Recipe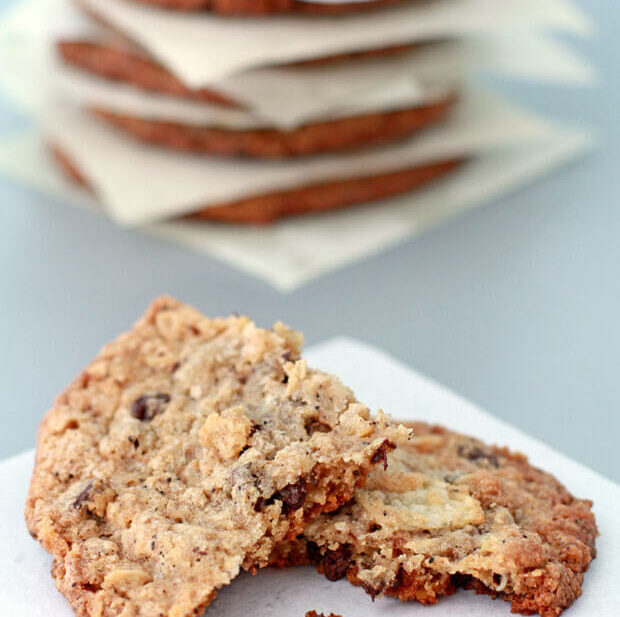 Milk Bar Compost Cookies
A recipe for Momofuku Milk Bar compost cookies from the cookbook Momofuku Milk Bar by Christina Tosi. These cookies are like everything cookies or everything but the kitchen sink cookies, made with potato chips, graham cracker crumbs, white and dark chocolate chips, but you can also put pretzels and pieces of candy bars.
Ingredients
Compost cookie ingredients
Instructions
To make the graham crust
Stir together the dry ingredients in a medium bowl with a fork to evenly distribute them.

In a small cup, whisk together the butter and cream. Add this to the dry ingredients and continue mixing with a fork. Eventually the mixture will form clumps (see photo). If it doesn't, you will need to add more melted butter, by ½ tablespoon amounts until it clumps.

Store in an airtight container. You will use half this recipe for the compost cookies.
To make the compost cookies
In a medium bowl, whisk together the flour, baking powder, baking soda, and salt. Set the dry ingredients bowl aside.

In another medium bowl, place the chocolate chips (white and semi-sweet or whatever you are using), graham crust, pretzels, oats, ground coffee, and potato chips. You don't need to mix them. These are your add-ins for later.

In the bowl of an electric mixer fitted with the paddle attachment, beat the butter, granulated sugar, brown sugar, and glucose on medium-high for 2 minutes.

Scrape down the sides of the bowl and add the egg and vanilla. Beat this mixture for 7 to 8 minutes.

Reduce the mixer speed to low and add the whisked dry ingredients. Mix until the dough is just combined, scraping down the sides of the bowl as needed. Don't overmix.

On low speed, dump in the add-ins, and mix until they are just combined into the dough, about a minute or so.

Scoop the dough by ⅓ cups onto parchment-lined baking sheets. Pat down the scoops a little and refrigerate overnight.

When the dough is completely chilled, bake the cookies (3 per sheet or spaced about 4 inches apart because they spread quite a bit) in a 375°F (190 °C) oven for 18 minutes or until the edges of the cookies are golden but the centers are still very light.

Cool completely before serving.
Notes
For the glucose, I used Wilton glucose, which you can buy on Amazon
If you don't have

mini chocolate chips, use the same weight of regular semi-sweet chocolate chips or dark chocolate chips.
If you don't have white chocolate chips, use the same weight of butterscotch morsels.
Nutrition