Learn how to make the best chocolate sugar cookies with this easy recipe that doesn't require any refrigeration! Just mix the dough and bake it right away and you will get perfect chocolate sugar cookies with a crackled finish.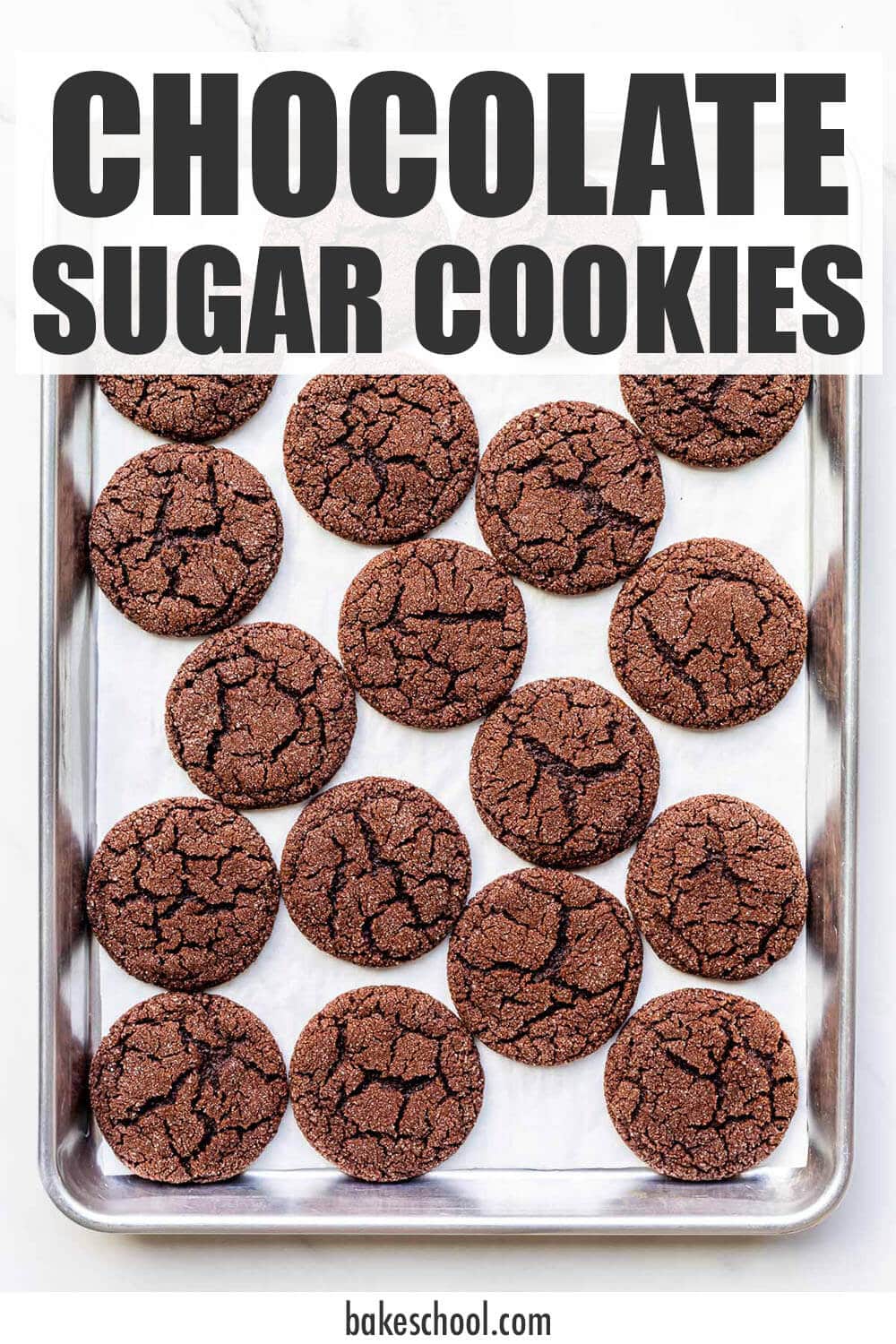 Disclosure: As an Amazon Associate, I earn from qualifying purchases.
What are chocolate sugar cookies made of
If you want to make chocolate sugar cookies, you will need the following ingredients:
butter, preferably unsalted butter because you will add salt to the dough, but if you have salted, it will work. Just adjust the salt in the recipe accordingly, otherwise your cookies may be too salty
granulated sugar is needed to coat the scoops of cookie dough to give these cookies a cracked surface and also in the cookie dough
dark brown sugar adds flavour but also helps make these cookies soft
large eggs, don't use smaller eggs because your cookie dough may be too dry and your cookies won't spread enough, but don't use extra large eggs because they could cause the cookie dough to puff too much as it bakes, leading to a more cake-y cookie
all-purpose flour is needed to bind all the ingredients together and give the cookies structure, contributing to the chewiness of the cookies as well. If you don't use enough flour, your cookies may spread too much as they bake
cocoa powder, specifically Dutch processed cocoa powder, contributes the dark chocolate flavour that you need to balance out the sweet flavour of sugar cookies. Don't use natural cocoa powder because the colour of the cookies will be lighter and the flavour won't be as good. I like to use Cacao Barry Extra Brute cocoa powder, which is a dark cocoa powder with a rich flavour.
baking soda is a base (alkaline) and contributes to that signature cracked finish that we expect of the best chocolate sugar cookies. You need baking soda for the cookies to spread properly and to crack. Do not use baking powder. Read up on baking soda vs baking powder if you are unsure
salt is really important to balance out the sweet molasses flavour. Don't skip it. I like to use Diamond Crystal fine kosher salt, but table salt will work, though the cookies will be saltier and you may want to halve the salt in that case.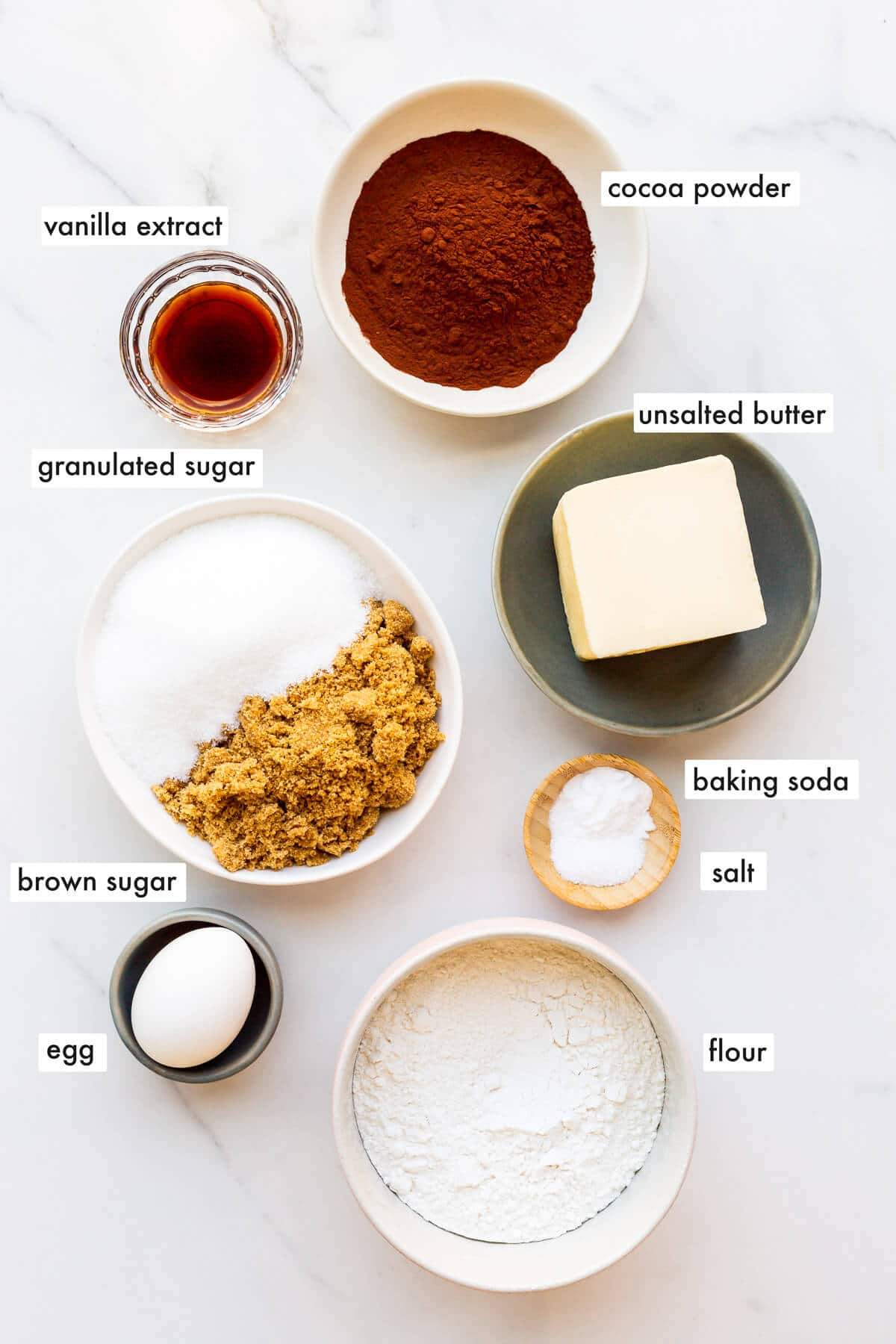 The type of cocoa powder makes a difference
For this recipe, you should use a dark cocoa powder, like Cacao Barry Extra Brute. The cocoa powder should be Dutch-processed, meaning it was treated with a base to raise the pH of the cocoa, leading to a darker colour and a richer flavour.
Do not use "natural" cocoa powder for this recipe. The chocolate flavour in the cookies may be muted if you do and the colour may be lighter.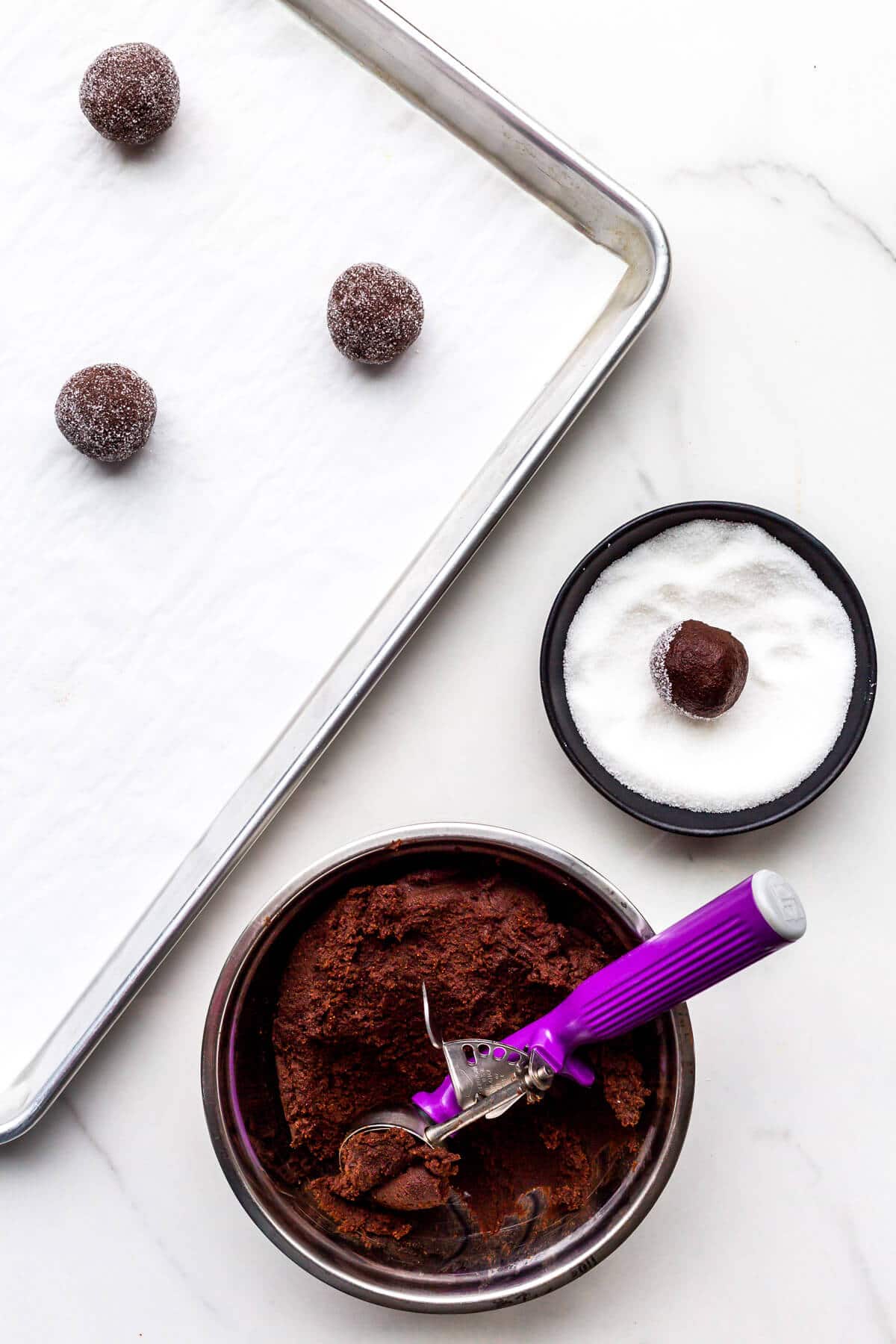 Tools to make perfect sugar cookies
To make perfect sugar cookies with an even size, I highly recommend using a 22 mL (¾ ounce) cookie scoop (also referred to as a disher). You can use it to scoop even portions of the cookie dough and you can then weigh them on a kitchen scale to confirm they are even. Each scoop of dough should weigh roughly 30 grams.
Besides a cookie scoop, using light-coloured aluminum pans will help the cookies spread out just enough before the edges set and crack. If you use sheet pans with a darker finish, you may have to drop the oven temperature by 25 ºF so that the cookies bake properly without setting too quickly.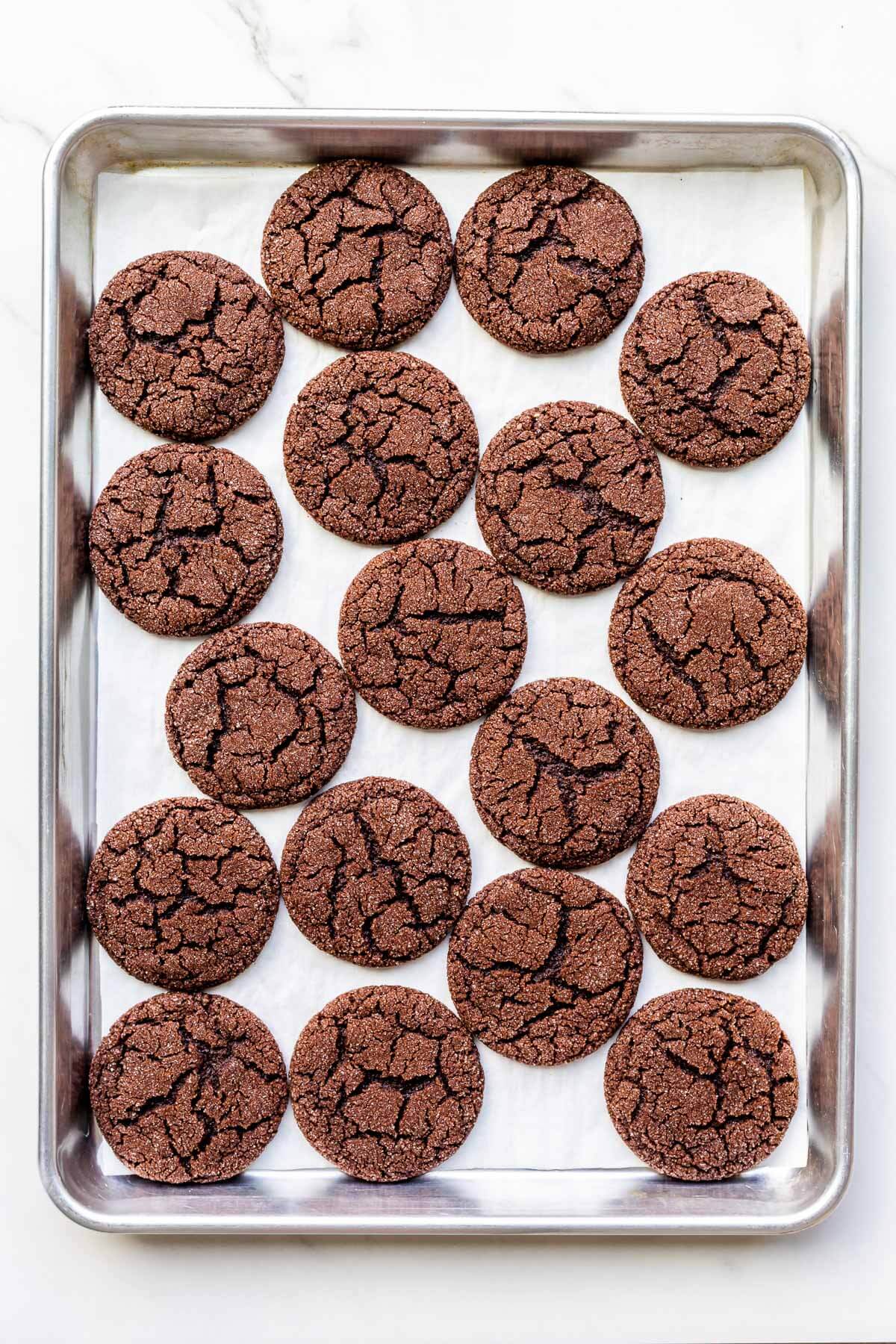 The reasons chocolate sugar cookies crack
Sugar cookies, including these chocolate sugar cookies have a cracked surface to them. The cracking is caused by a few things:
the dough is made with an excess of baking soda: this chemical leavener not only contributes to rise in baked goods, baking soda also raises the pH of the cookie dough, promoting cookies to spread by weakening gluten
the dough is room temperature, which means it bakes faster on the surface and edges, and since the surface is set first before the interior, it will crack as the inside of the cookies tries to expand and/or rise
the scoops of cookie dough are rolled in granulated sugar before baking, which:

absorbs some of the moisture on the surface of the cookie
helps dry out the surface: the dry surface of the cookie dough is more prone to cracking.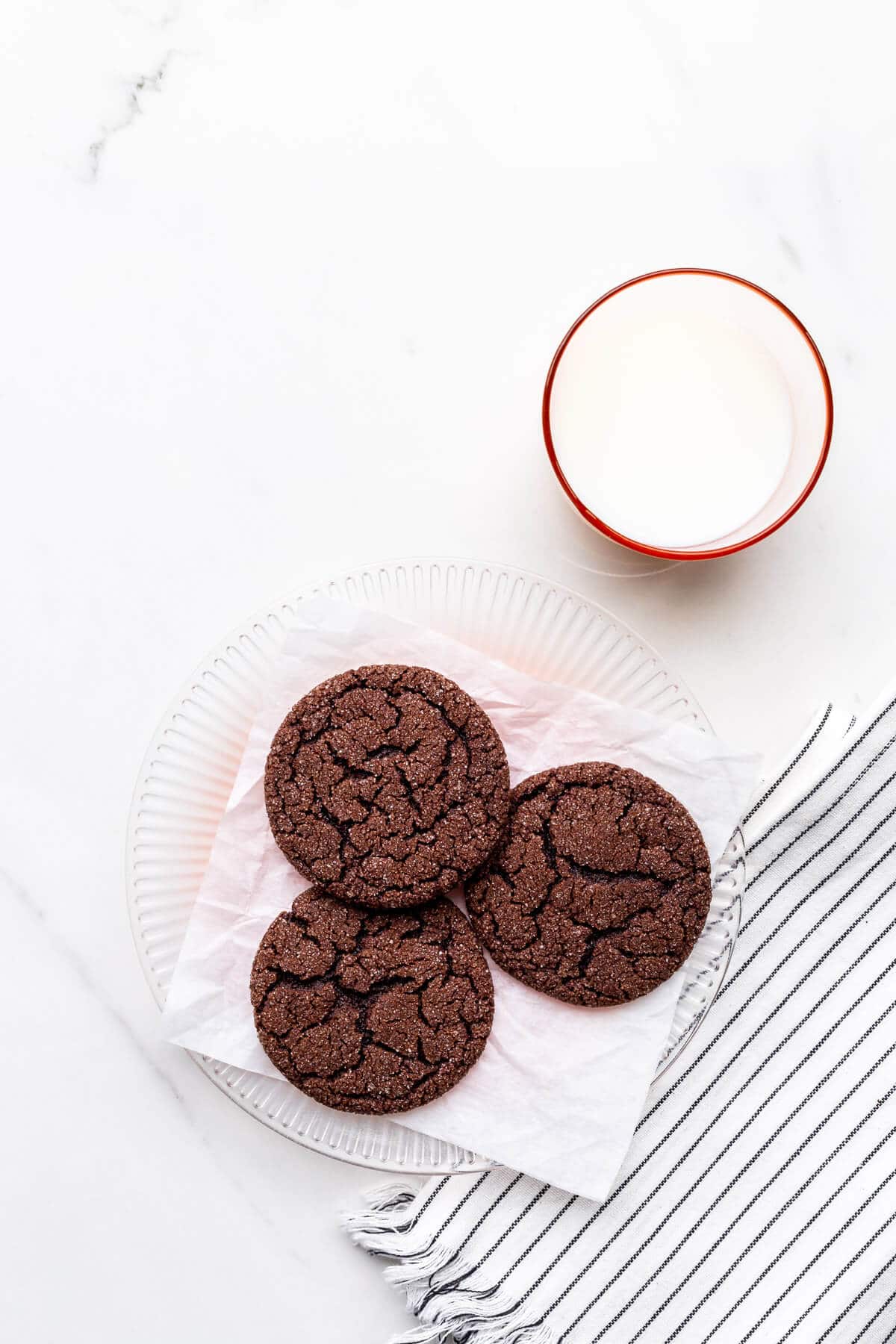 Baking soft sugar cookies
This recipe yields soft chocolate sugar cookies that stay soft. There are a few tricks to baking soft sugar cookies and keeping them that way when you store them:
don't use too much flour: these chocolate sugar cookies cookies are made with 218 grams of flour. Weigh the flour before adding it to the dough to make sure you have the right amount. Too much will lead to a thicker, more chewy sugar cookie, while too little will lead to thinner cookies that may spread out more in the oven, which could lead to a more crispy texture.
under-bake them: the key to soft cookies is to never over-bake them. Do not let them bake too long in the oven. Sugar cookies need to be slighly underdone in the middle when you pull the cookies out of the oven. Let them cool for several minutes on the sheet pan to set them before transferring them to a cooling rack because they will be soft but also, the residual heat will help the cookies continue to bake a little.
add a marshmallow to the storage container: the tricks for keeping a container of brown sugar moist are the same as the tricks for keeping cookies soft, which means you can add a marshmallow, a piece of white sandwich bread, a slice of apple, or a moistened terra cotta disk to keep these sugar cookies soft.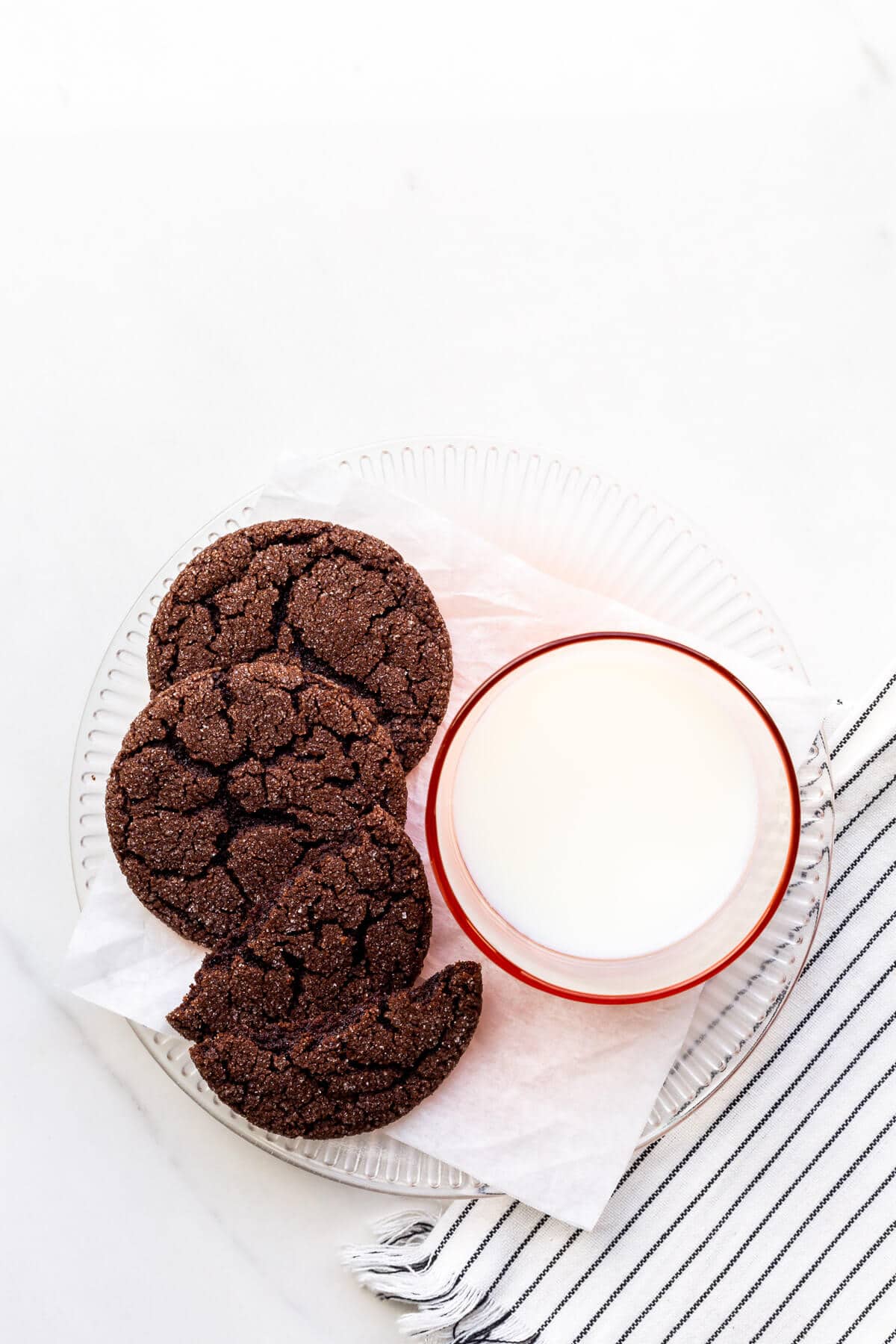 This recipe makes perfect chocolate sugar cookies that are HIGHLY addictive (I've warned you!). If you like the texture and look of these chocolate sugar cookies, you should definitely check out these molasses cookies. These are quite different than these chocolate crackle cookies, which are more of a brownie cookie and coated in powdered sugar.
📖 Recipe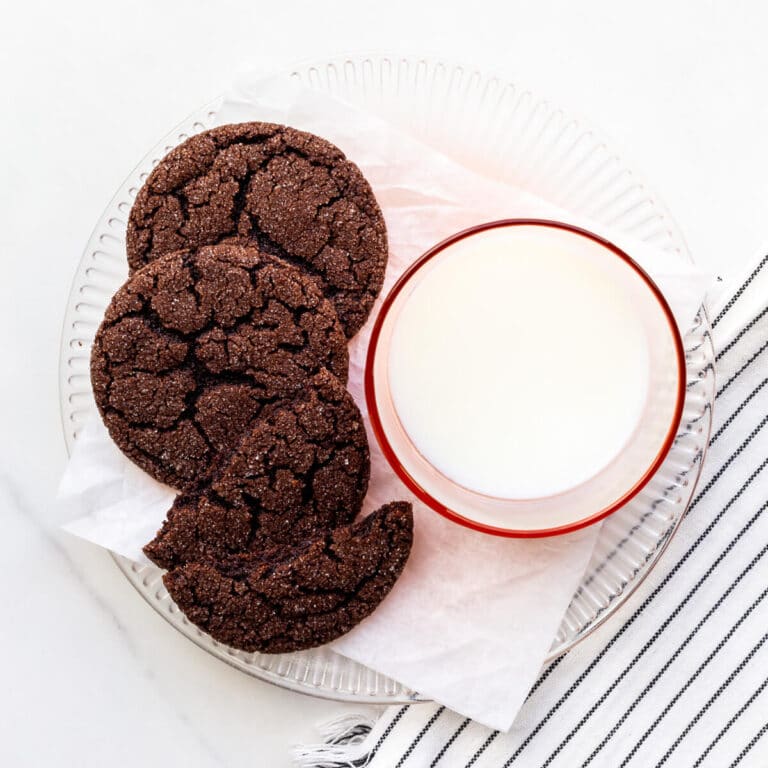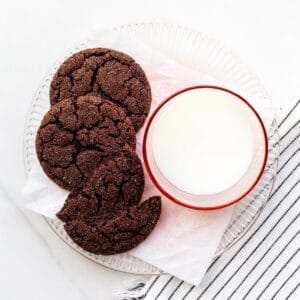 Chocolate Sugar Cookies
This easy recipe makes the best chocolate sugar cookies with a soft and chewy texture and a cracked surface. These are very popular at Christmas time on Christmas cookie platters and dessert buffets. 
Instructions
Preheat the oven to 350 °F (175 °C). Line large baking sheets with parchment.

In a medium bowl, whisk together the flour, cocoa powder, baking soda and salt. Set aside.

In the bowl of an electric mixer fitted with the paddle attachment, cream together the remaining butter the brown sugar, and the 100 grams (½ cup) of granulated sugar until it is light and fluffy (takes at least 3 minutes). Scrape down the sides of the bowl and mix again.

Add the egg and vanilla, and beat them in until the mixture is smooth and light.

Add the flour mixture slowly, on low speed and mix until the dough is combined.

Put the remaining 50 grams of sugar in a shallow bowl.

Roll scoops of cookie dough into balls and then coat them in sugar. Place each sugar-coated scoop of dough on a cookie sheet, spacing them out every 1.5 inches. You should be able to fit 8 per sheet pan.

Bake the cookies for 12 minutes or so, until they have puffed and cracked and are just beginning to set in the middle. Let cool for 5 minutes to firm up before transferring to a rack to cool completely.
Nutrition
Calories:
132
kcal
Carbohydrates:
18
g
Protein:
2
g
Fat:
6
g
Saturated Fat:
4
g
Polyunsaturated Fat:
1
g
Monounsaturated Fat:
2
g
Trans Fat:
1
g
Cholesterol:
22
mg
Sodium:
132
mg
Potassium:
53
mg
Fiber:
1
g
Sugar:
10
g
Vitamin A:
190
IU
Calcium:
12
mg
Iron:
1
mg