These chocolate spice cookies are flavoured with black treacle, cinnamon, ginger, cloves, and a little black pepper. They are like a soft chocolate-flavoured gingerbread cookie.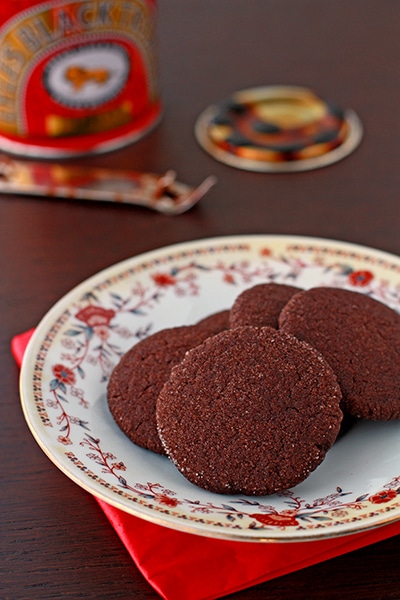 Months later, I found this fancy can of black treacle when I was in Brampton, Ontario (not quite London, England, but hey, they have treacle!). Lyle's Golden Syrup and Lyle's Black Treacle are often listed in British recipes but I'd never come across the stuff, so I was pretty excited when I saw a stack of these cans. Some girls get excited over a new pair of shoes or a cashmere sweater, and I am over-the-moon when I find a fancy can of black treacle.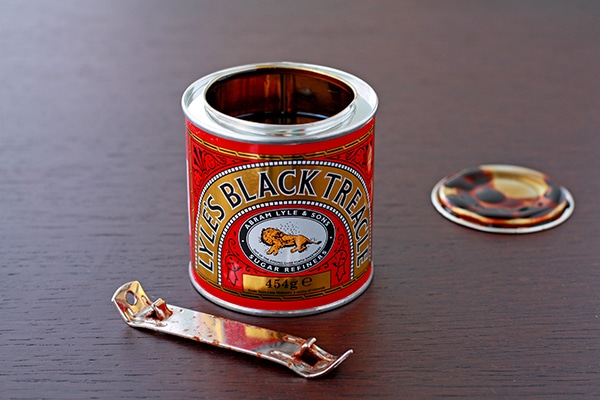 Disclosure: As an Amazon Associate, I earn from qualifying purchases.
The syrup is dark and so molasses-y, but not as sweet as the fancy molasses that I am used to. My first recipe with the stuff is for these chocolate spice cookies. Their deep dark colour comes from the black treacle and some Cocoa Barry extra dark cocoa.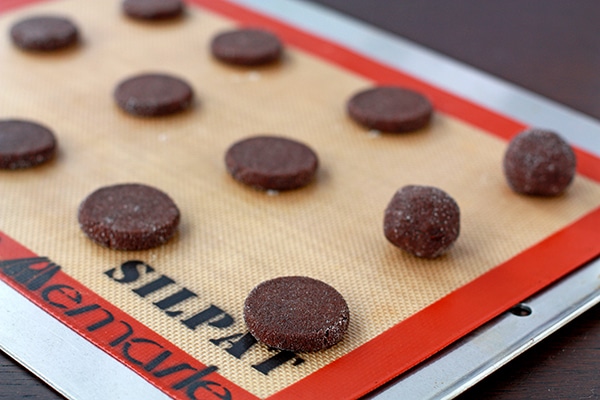 These chocolate spice cookies are wafer-like (like the chocolate cookies you'd grind up to make a chocolate cookie crust). Ginger and black pepper feature prominently in the flavour of these cookies. The peppery notes surprise you as you munch on them, right at the back of your throat, kind of like when you indulge in a chilli chocolate bar.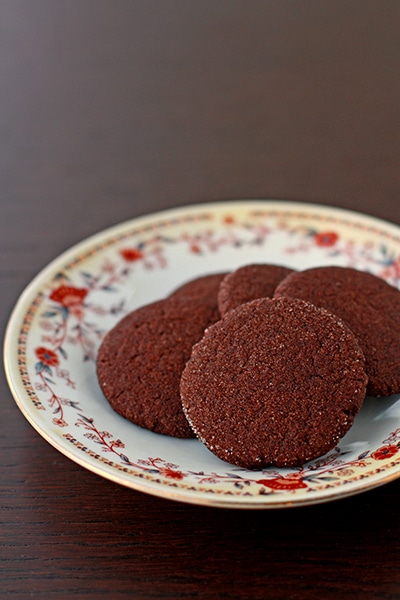 Of course, you can tweak the spice combination and use whatever spice you fancy. I think these are perfect for a cup of coffee or black tea, and the flavors are absolutely right for the crisp fall and winter months.
📖 Recipe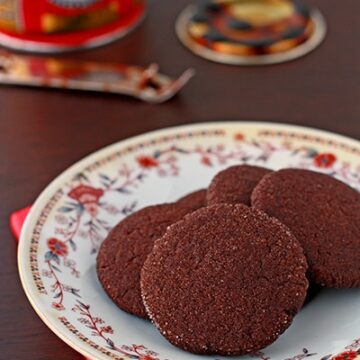 Chocolate Spice Cookies
Ingredients
210

grams

bleached all-purpose flour

70

grams

Cacao Barry extra brute cocoa powder

7.5

mL

baking soda

10

mL

ground cinnamon

7.5

mL

ground ginger

2.5

mL

freshly ground black pepper

1

pinch

ground cloves

150

grams

unsalted butter

room temperature

130

grams

granulated sugar

plus more for coating cookies

2.5

mL

pure vanilla extract

80

grams

Lyle's black treacle

or fancy molasses

1

large egg(s)

room temperature
Instructions
Preheat the oven to 350°F. Prepare a couple baking sheets by lining them with Silpats or parchment. Set aside for later.

In a medium bowl, mix together the flour, cocoa, baking soda, salt, cinnamon, ginger, black pepper, and cloves. Set the whisked dry ingredients aside for later.

In the bowl of an electric mixer fitted with the paddle attachment, cream the butter and the granulated sugar for a couple minutes. Scrape down the bowl as needed.

Add the vanilla and the molasses and beat the mixture until it is smooth.

Add the egg, and beat to incorporate it, scraping down the bowl as needed.

With the mixer on low, add the flour mixture slowly. Continue mixing until the cookie dough has come together and you can no longer see any flour. Be sure to scrape up the bottom of the bowl because some flour could be hiding, unmixed, down there.

Scoop ½ tablespoon amounts of dough, rolling them into a ball in your palms, and then gently tossing them in a small bowl of granulated sugar to completely coat them. Place them a couple inches apart on the prepared baking sheet.

When your baking sheet is filled, take a flat-bottomed glass, dip it in sugar, and press down each ball of dough to get a flat disk, about ¼-inch thin.

Bake the cookies for 10–12 minutes.

Let cool completely before serving.
This chocolate spice cookie recipe is adapted from a recipe for gingersnaps from Alice Waters, via David Lebovitz.