You can use any nut butter (or seed butter) to make homemade chocolate peanut butter cups, chocolate almond butter cups, chocolate sesame butter cups, etc. Nut butter cups are very easy to make and they don't require anything special except for good chocolate, a nut butter, a muffin pan, and some paper liners. This is a simple recipe with a few variations so you can make chocolate nut butter cups exactly the way you like them!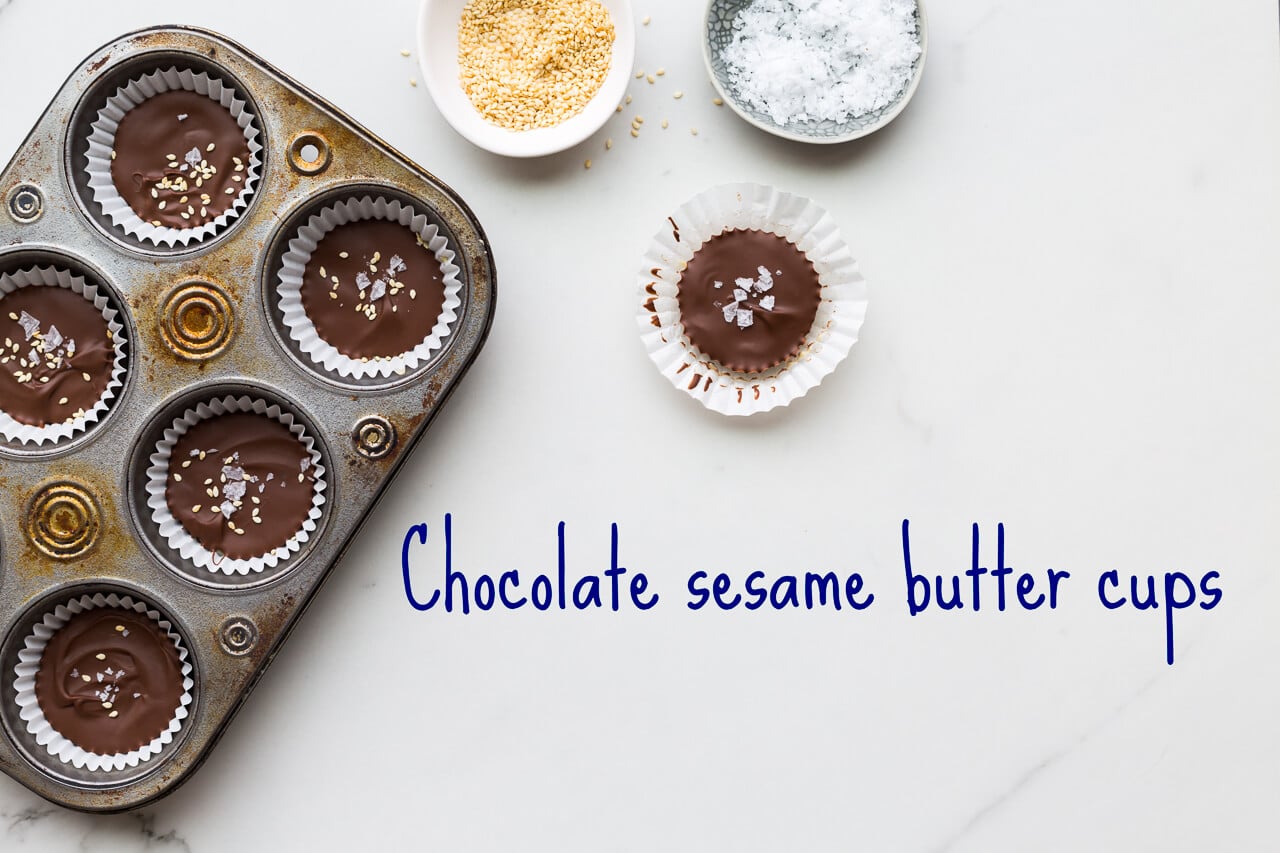 Disclosure: As an Amazon Associate, I earn from qualifying purchases.
This recipe for homemade nut butter cups was sponsored by Cacao Barry.
Last summer, when I visited Seattle, I fell in love with chocolate tahini ice cream from Frankie & Joe's. I was honestly full of judgment when I saw the flavour listed on the menu. Who mixes chocolate and sesame? Brilliant people do. That's who!
After that one scoop of ice cream, I became OBSESSED with the combination of chocolate and tahini (sesame butter). And that's how we ended up with a recipe for chocolate tahini cups (quite like Reese's peanut butter cups) that can be tweaked with your favourite nut butter.
How do you make chocolate peanut butter cups? (or chocolate any-nut-butter cups)
Ever wondered how to make peanut butter cups at home? Just like homemade chocolate bars, making chocolates at home is not as difficult as you would think.
Ingredients you need to make chocolate nut butter cups
Peanut butter cups have two components: a chocolate exterior and a nut butter filling.
The chocolate exterior can be white, dark, or milk chocolate. Buy the best quality chocolate when you make chocolates and confections at home. I buy Cacao Barry chocolate. Whatever chocolate you choose, make sure you choose the best chocolate for baking.
The nut butterfilling can be:

smooth and unsweetened: plain, all-natural nut butter (peanut butter, almond butter, sesame butter)
smooth and sweet: a mixture of nut butter and icing sugar (which sweetens and thickens the filling), but I've also made peanut butter cups sweetened with maple syrup and even salted caramel (the ultimate!)
crunchy and sweet: a mixture of nut butter, icing sugar, and ground nuts or cookie crumbs which add a lovely texture—adding cookie crumbs is especially useful if you are working with a very fluid nut/seed butter, like tahini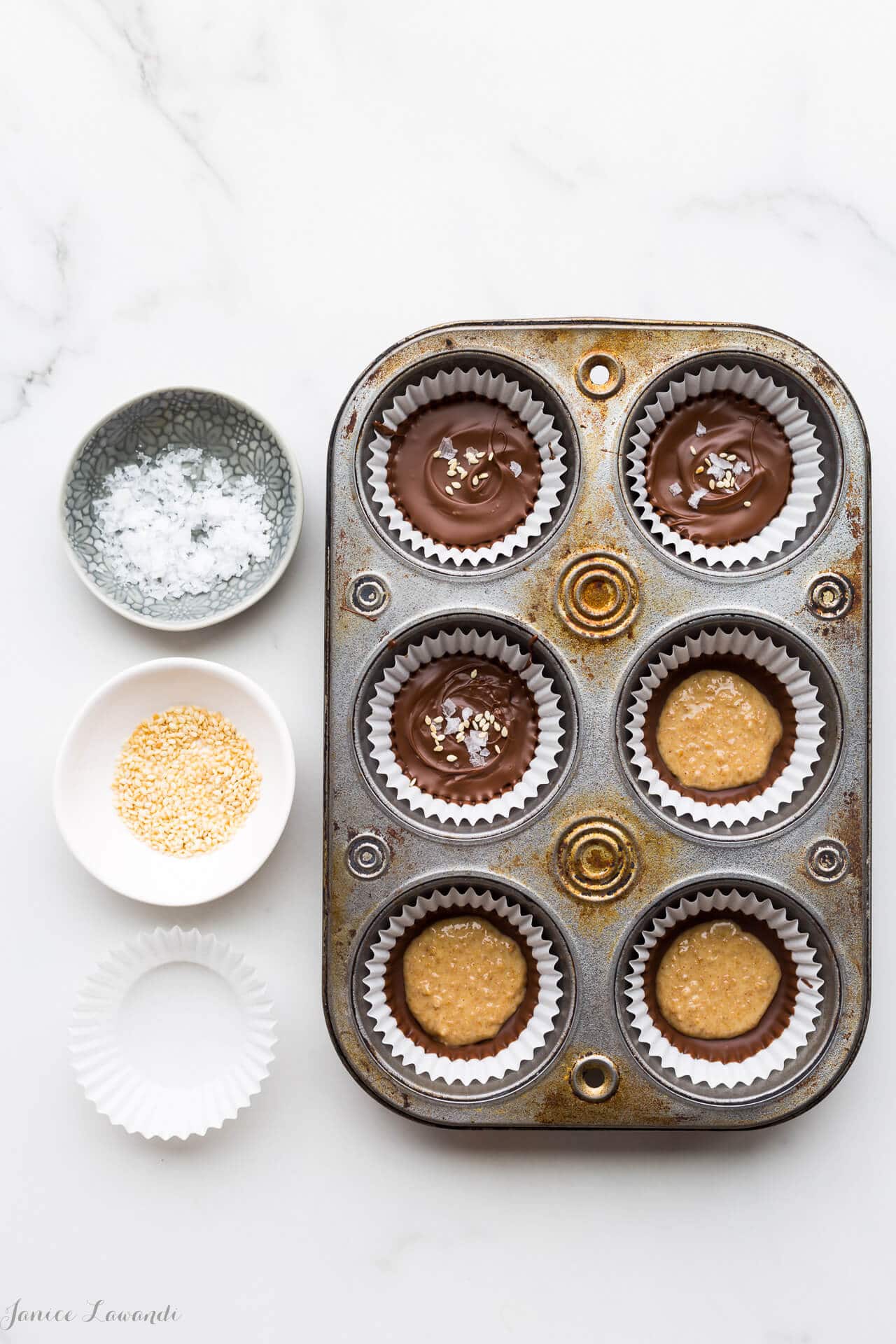 You don't need any fancy equipment to make chocolate peanut butter cups at home
The good news is that if you want to make chocolate peanut butter cups at home, it's easy. In general, you don't need much to make homemade chocolates, really. To make nut butter cups, you need:
a muffin pan and cupcake liners (plain white liners from Amazon will do just fine) OR if you have a silicone muffin liners (like these on Amazon), you don't even need to use paper liners or a muffin pan. Silicone muffin liners actually work really well for this type of recipe and the chocolate cups pop right out when they set. Since this recipe makes 18, you will need two 12-muffin pans (like these on Amazon) or three 6-muffin pans (such as these on Amazon). I actually used one 12 cup muffin pan and one 6 cup muffin pan because that's what I have.
a microwave and a bowl OR a double boiler with a bowl set on top—this is to melt the chocolate. In an ideal world you would temper the chocolate, but that can be a little more challenging, so we won't go there.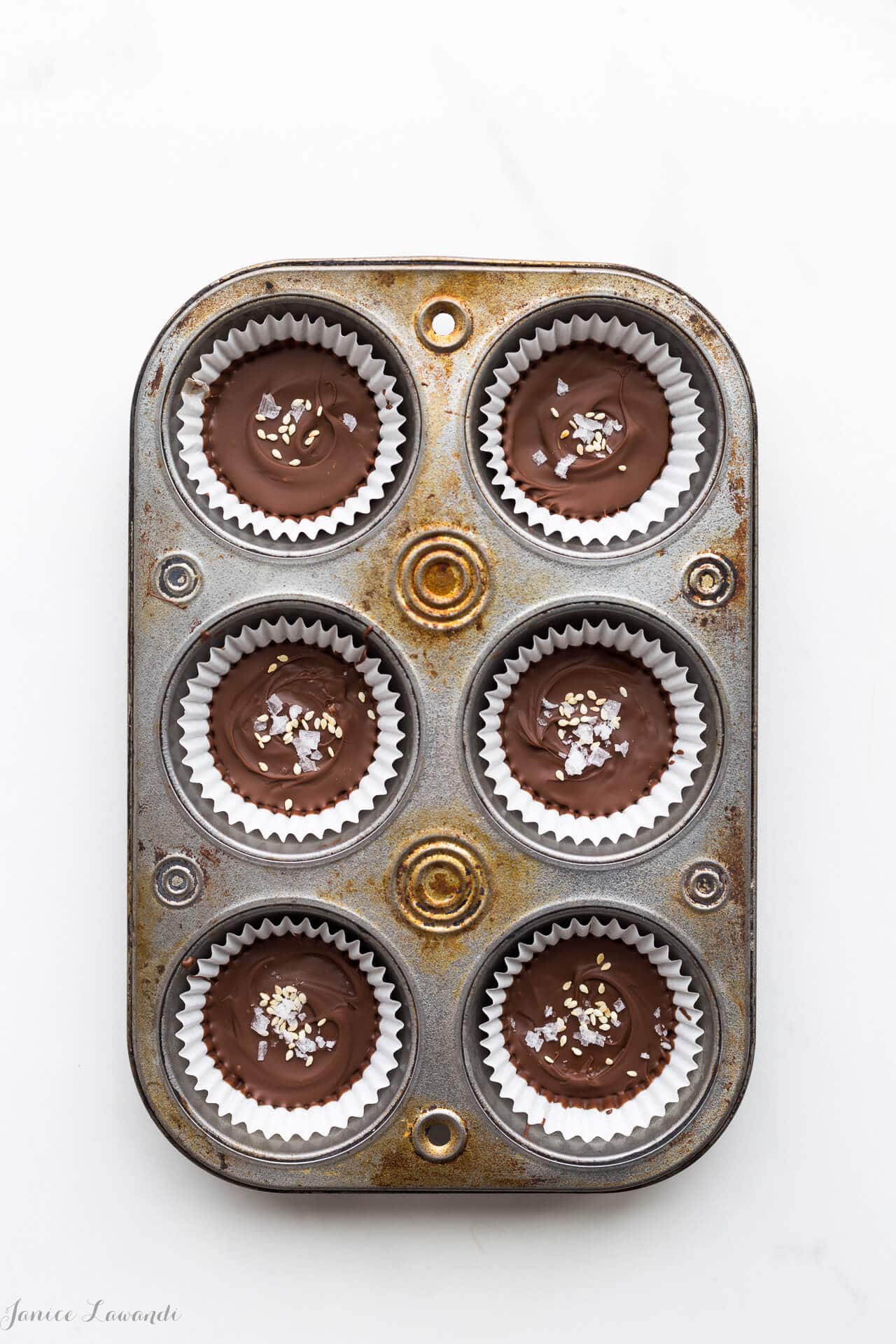 A little about nut butters and seed butters
Nut butters and seed butters vary in thickness, as you have probably noticed. All-natural peanut butter, when properly mixed, can be quite thick. On the other hand, some almond butters and sesame butters (tahini) are much more fluid or liquid. In general, when you bring home a new jar of nut butter or seed butter, you should open it and stir it very well so that the oil layer gets evenly dispersed into the nut butter. Be sure to dig right to the bottom of the jar when you stir it. Once you feel like the nut butter is well mixed, immediately close the jar and store it in the fridge. Properly mixed nut butter will stay mixed longer when it's cold.
The fluidity of the nut or seed butter you use for this recipe will impact how liquidy the filling is. So filling chocolates with it can be tricky. You may have to tweak this recipe according to the nut butter you use:
For fluid nut/seed butters like tahini, I would recommend making a filling with cookie crumbs to help minimize the mess when you eat the chocolate sesame butter cups. Food52 has another way, using cold water, which causes the tahini to cease. This is another option if you don't want to use cookie crumbs to thicken the filling
On the other hand, for thicker nut butters like peanut butter, you could get away mixing in a little maple syrup or icing sugar to make the filling for chocolate peanut butter cups without running into any problems. I've done this a few times quite successfully. Or for a crunchy texture, add in some cookie crumbs. It's really up to you!
If you need to be peanut-free treat, use almond butter or sesame butter to make peanut-free peanut butter cups. If you have to go nut-free, use sesame butter.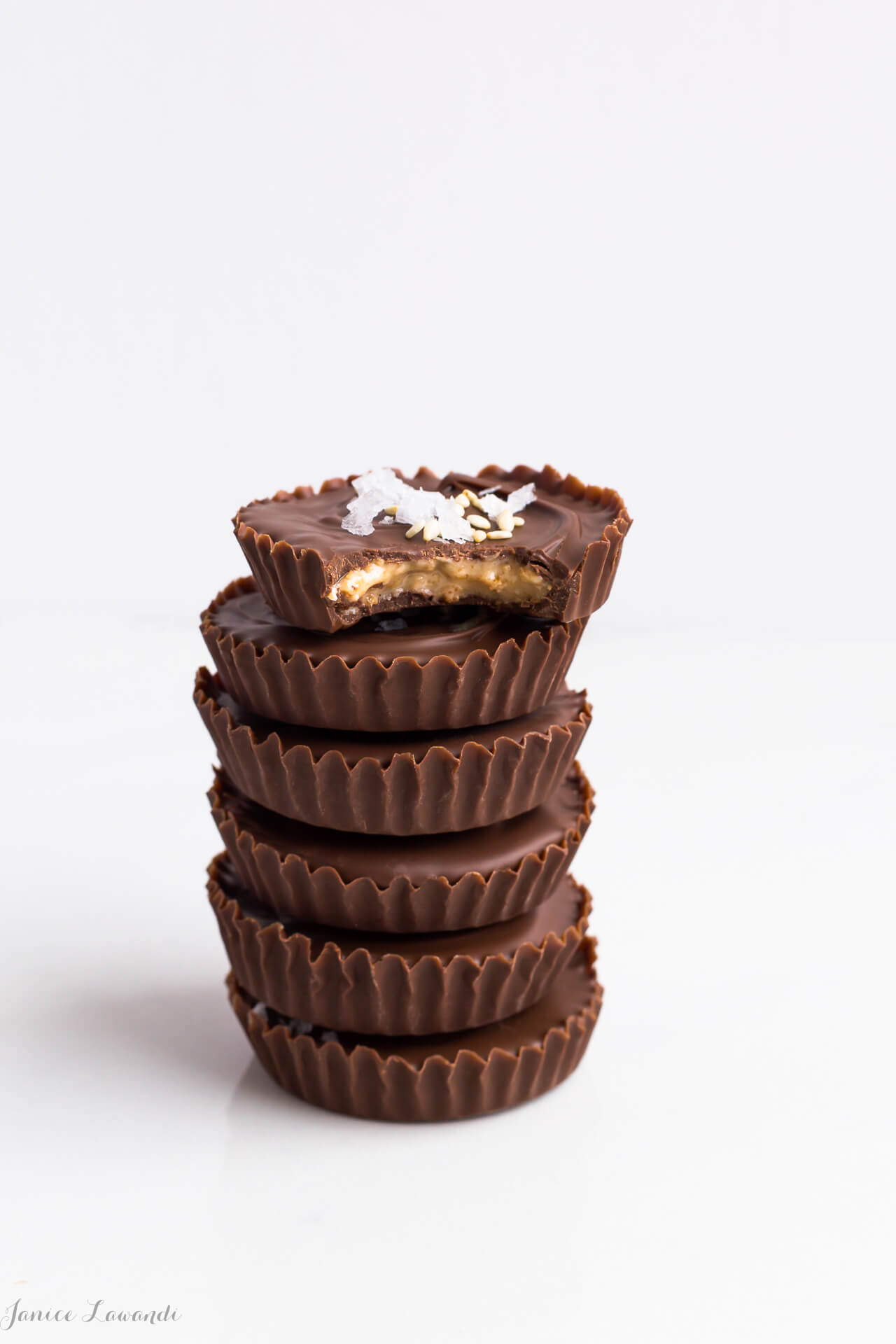 📖 Recipe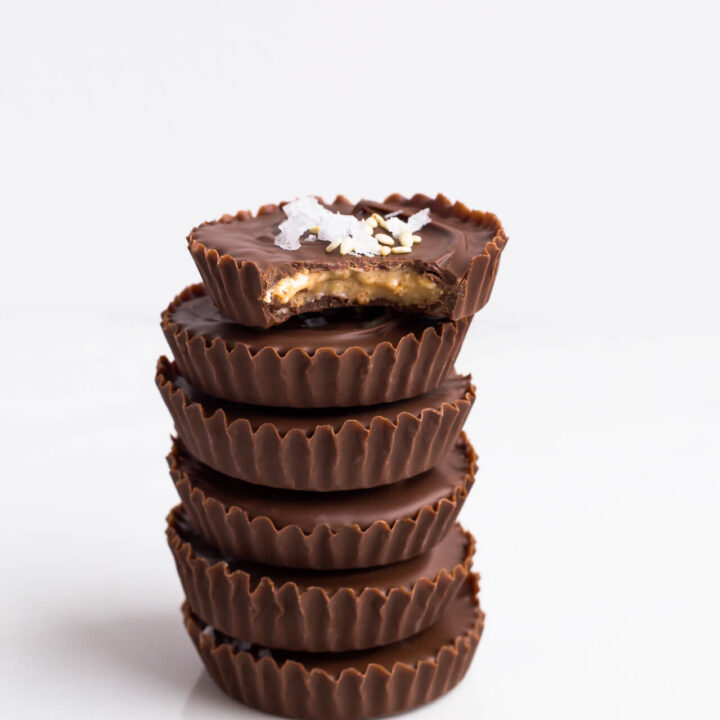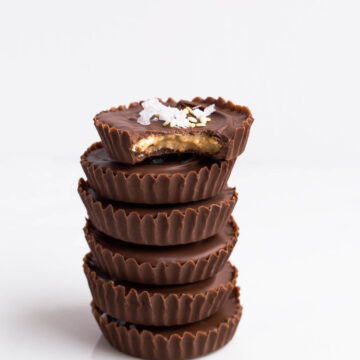 Homemade Chocolate Sesame Butter Cups
A stack of homemade chocolate sesame butter cups, just like peanut butter cups but with tahini instead of peanut butter. This recipe yields crunchy nut butter filled chocolate cups.
Instructions
Line 18 muffin cups with paper liners or use 18 silicone muffin cups.

In a medium bowl, mix the tahini (sesame butter) to make sure it's smooth. Sift in the icing sugar. Add a pinch of salt and the cookie crumbs. Mix well to form the sesame butter filling. Set aside in the refrigerator.

Meanwhile, melt the chocolate either in the microwave at power level 5 or over a double boiler. You want to be gentle to avoid burning the chocolate and you want to stir often, especially if you are melting chocolate in the microwave.

When the chocolate is melted and smooth, pour a spoonful into each prepared cup, making sure to tilt and coat the sides with chocolate (about ¼ inch to ½ inch max up the sides.

When all 18 cups are coated with a layer of chocolate, add a dollop (about 2 tsp) of the sesame butter filling

Put the chocolate cups in the freezer and let them chill for a good 10 minutes to set.


Top each cup with a layer of melted chocolate so that the filling is completely covered and sealed inside. Sprinkle with flaky sea salt or sesame seeds, if using. Return the chocolate cups to the freezer to set.

Transfer to a container and store in the fridge.
Notes
For the cookie crumbs, stick to cookies that are pretty neutral tasting like vanilla wafer crumbs or even chocolate wafer crumbs (Oreo type). Graham cracker crumbs and gingersnap crumbs would work as well, but remember these would impart a cinnamon and spice to your nut butter filling.
This recipe works with peanut butter or any nut butter or sesame butter to make peanut butter cups with a crunchy filling.
For this recipe, I used Alunga chocolate, which is a 41% milk chocolate produced by Cacao Barry. You can find it at many IGA grocery stores in Quebec or you can order it online from Vanilla Food Company in 1 kilo resealable bags.
Because we don't temper the chocolate, the chocolate melts faster when you hold these chocolate nut butter cups in your hands. Store them in the fridge to keep them cool and don't hold onto them for too long if you have hot hands.
Nutrition
This post is sponsored by Cacao Barry. I was compensated monetarily and with product. Thanks for supporting the companies that allow me to create content for Kitchen Heals Soul. As always, please know that I wouldn't work with a sponsor nor recommend a product if it wasn't worth it.
Please note this post contains affiliate links to Amazon. If you buy a product I recommend, I will get a small commission, and the price you have to pay will not change in any way.