If you've ever wondered how to make chia pudding, this post is for you. It's a great make-ahead breakfast with lots of options for different kinds of milk, flavours, and sweeteners, and with the right ratio, it sets perfectly every time.
Disclosure: As an Amazon Associate, I earn from qualifying purchases.
Sometimes, I'm not sure if chia pudding is a breakfast or if it's a dessert. I think it might be both because I will eat it happily any time of the day. I think the key is to use whole milk (or skim milk with a splash of cream to make the pudding creamy). Straight skim milk can make chia pudding taste a little watered down. This chia pudding is perfect with any of the seasonal berries you can get your hands on. I love to add toasted coconut flakes, but I bet that vibrant green pistachios would also pair nicely.
A couple of notes about how to make chia pudding at home
The ratio
I like chia pudding that is not too thick. I don't like when it's gloopy or clumpy and overly gelled. For this reason, I prefer to use a ratio of 60 grams (⅓ cup) of chia seeds for every 500 mL (2 cups) of liquid.
Getting the consistency right
When you make a batch of chia pudding, stirring a few times in the first hour of gelling will help you achieve better consistency. Stirring breaks up the clumps so that the chia gels more evenly.
Different batches of chia seeds will gel and set a little differently when you turn them into pudding, so though I usually stick to the above ratio, occasionally, you might need to make an adjustment:
If you find your chia pudding is too thick, add a little more liquid and mix well to break up any clumping.
If you find that your chia pudding is too thin, add in an extra spoonful of chia seeds and stir well. Give it about 20 minutes to gel and absorb the liquid and you should be good to go.
Make sure you give enough time for the pudding to thicken first. I like to leave it overnight in the fridge to gel, and sometimes it can take 24 hours to achieve its final set. You've got to be patient and let the seeds do their thing before you make the decision to adjust with more liquid or more chia.
The type of chia seeds
Chia seeds are white or black. Both work just the same when you are making pudding, but the look is quite different (see photo): chia pudding made with black chia seeds looks a little grey, but it's just as tasty. If you don't like the look of the black seeds, stick with white chia seeds.
The liquid
I like to make chia pudding with cow's milk because that's what I always have on hand. You can use whole milk or a combination of skim milk with a splash of cream, or you can use 2 % fat milk. You can also "make" whole milk by mixing together ~50 mL of whipping cream (35% fat) + 450 mL of skim milk (0.1% fat).
You can use lactose-free milk to make chia pudding, or you can use non-dairy beverages like coconut milk, almond milk, or even oat milk. Stick to a milk or non-dairy beverage that you like to drink because it's a major component of the recipe! Coconut milk adds a ton of flavour you can use it instead of cow's milk, by the way.
Flavouring chia pudding
Chia pudding can be rather bland if you just combine chia and milk. You need to add a little sugar, maple syrup, or honey to make it pop. You should also add vanilla extract to your chia pudding. Yes, that technically makes it vanilla chia pudding, but it also helps the pudding taste less bland.
To make rose water chia pudding: replace the vanilla extract with ½ teaspoon rose water (or add both vanilla and rose water)
To make orange blossom water chia pudding: replace the vanilla extract with ½ tsp orange blossom water (or add both vanilla and rose water)
To add some citrus flavour, in addition to the vanilla, you can also add a little lemon zest or orange zest
I hope you will give chia pudding a try. It's so easy and a real treat. Another great breakfast with no wait time is this coffee banana smoothie or this pumpkin spice shake.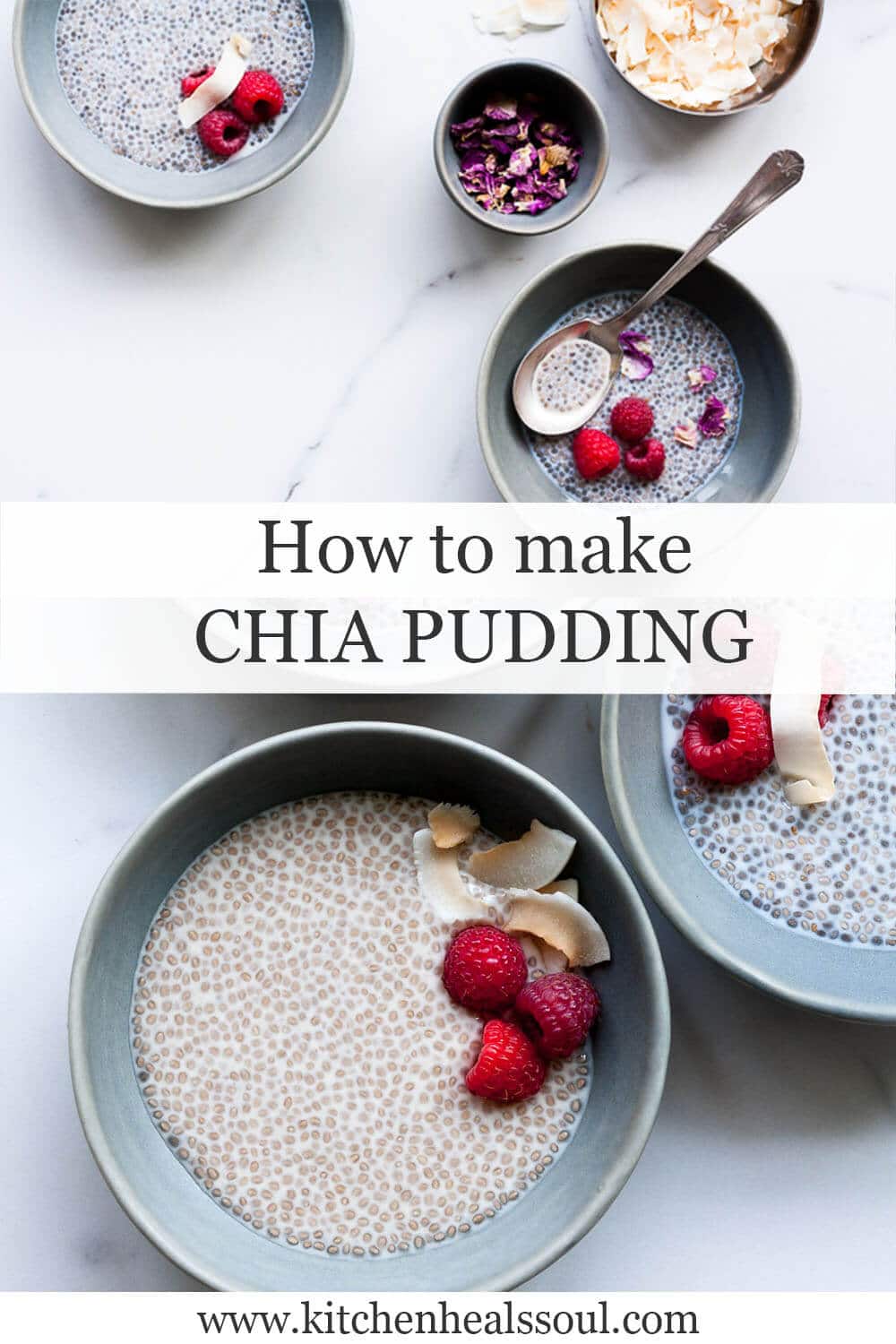 📖 Recipe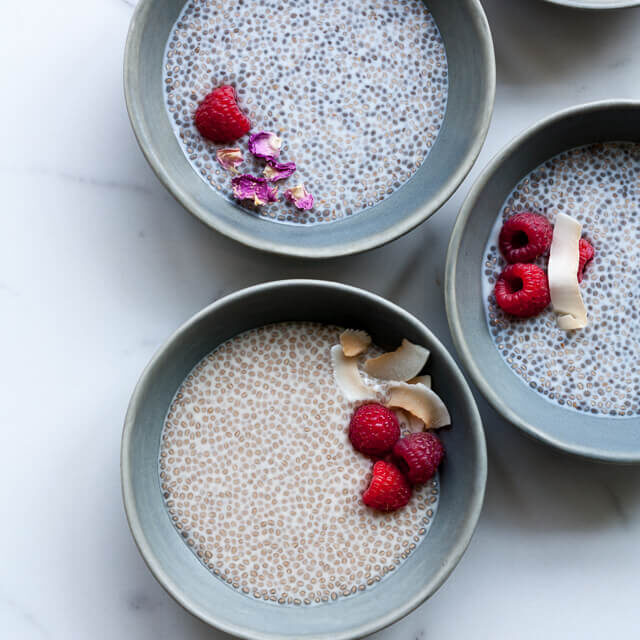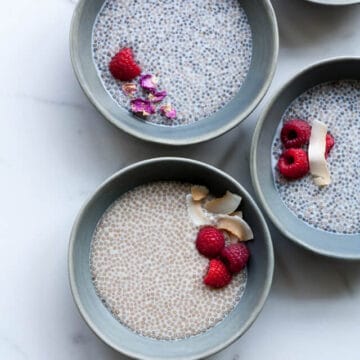 Perfect Chia Pudding
Chia pudding makes a great breakfast, snack, and dessert. It is creamy and refreshing, sweetened with a little honey (or maple syrup). I like to serve it with fresh berries. You can make vegan chia pudding with almond milk or coconut milk.
Ingredients
500

mL

whole milk (3.25 % fat)

3

tablespoon

honey

or maple syrup

½

teaspoon

pure vanilla extract

or rose water or orange blossom water

60

grams

chia seeds
Suggested toppings
Fresh raspberries

or any berry you like

Toasted flaked coconut
Instructions
First combine the milk, honey (or maple syrup), and vanilla (or orange blossom water or rose water) in a large sealable container. Stir it until the honey is dissolved.

Pour in the chia and give it a good stir. Cover and let sit about an hour at room temperature. Mix it again well to evenly disperse the chia and then refrigerate it covered overnight.

The next morning, the chia should have swelled and the pudding will be fairly thick but gloopy. Serve it in bowls topped with berries, flaked coconut, or any nuts and fruits you'd like.
Notes
If you don't have whole milk, you can use 2 % milk or even skim milk. Lower fat milk will make this less creamy, that's all!
For a dairy free option, replace the milk with almond milk, oat milk, or your favourite non-dairy beverage.
Nutrition
Calories:
200
kcal
Carbohydrates:
25
g
Protein:
7
g
Fat:
9
g
Saturated Fat:
3
g
Polyunsaturated Fat:
4
g
Monounsaturated Fat:
1
g
Trans Fat:
0.02
g
Cholesterol:
15
mg
Sodium:
52
mg
Potassium:
263
mg
Fiber:
5
g
Sugar:
19
g
Vitamin A:
217
IU
Vitamin C:
0.3
mg
Calcium:
254
mg
Iron:
1
mg