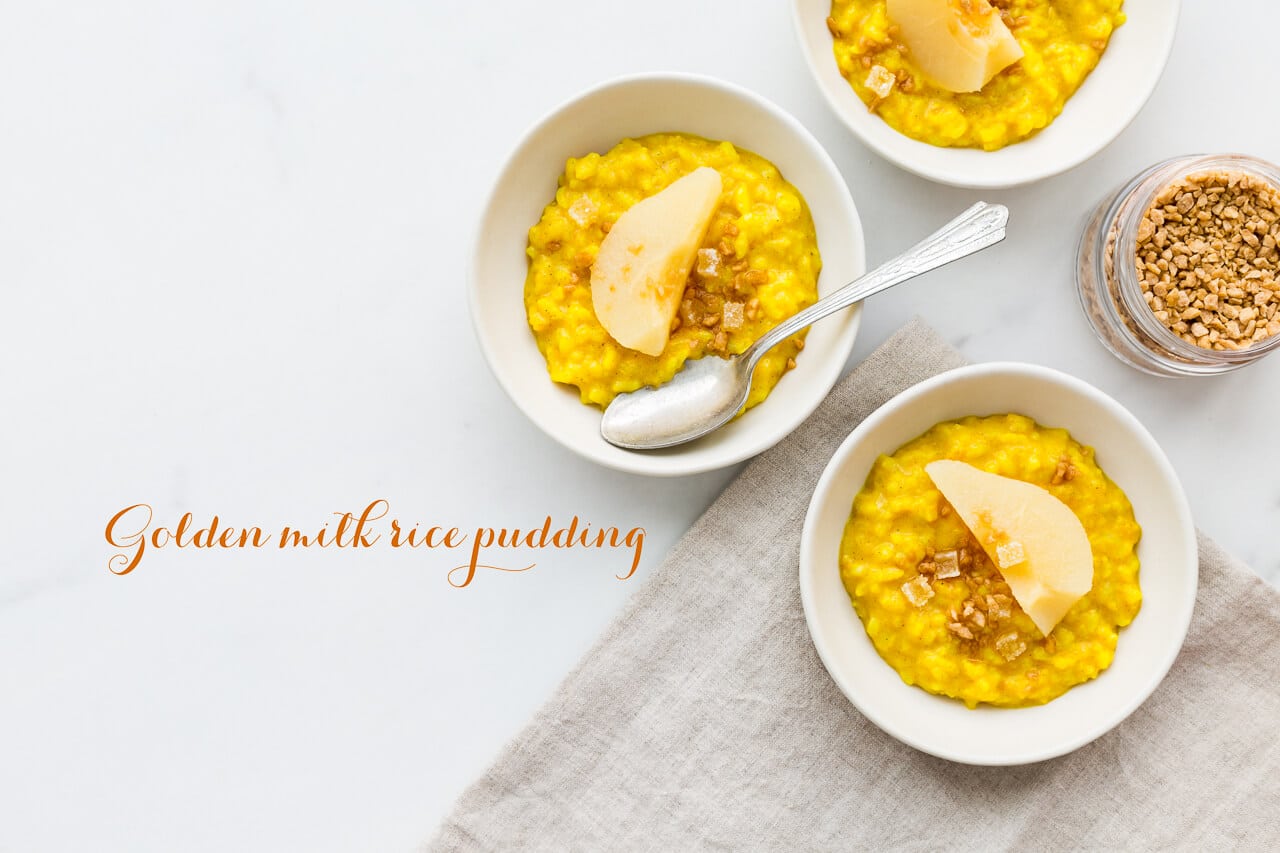 Disclosure: As an Amazon Associate, I earn from qualifying purchases.
This golden milk rice pudding recipe post is sponsored by USA Rice Canada.

My love of rice is real. Ask my mother. She will attest to the fact that when I was a teenager, my favourite lunch was boiled rice served with salted butter. I kid you not. I love rice so much that when I'm eating a meal that includes rice, I will eat everything around the rice and save the rice (the best part) for last.
At the beginning of the week, I make a big batch of rice for lunches which are often rice bowls, like burrito, poke or sushi bowls. I always store the cooked rice in the fridge in an air-tight container. It stores well for a week or so. It makes throwing together lunches every day a breeze when you have rice already cooked and ready to go.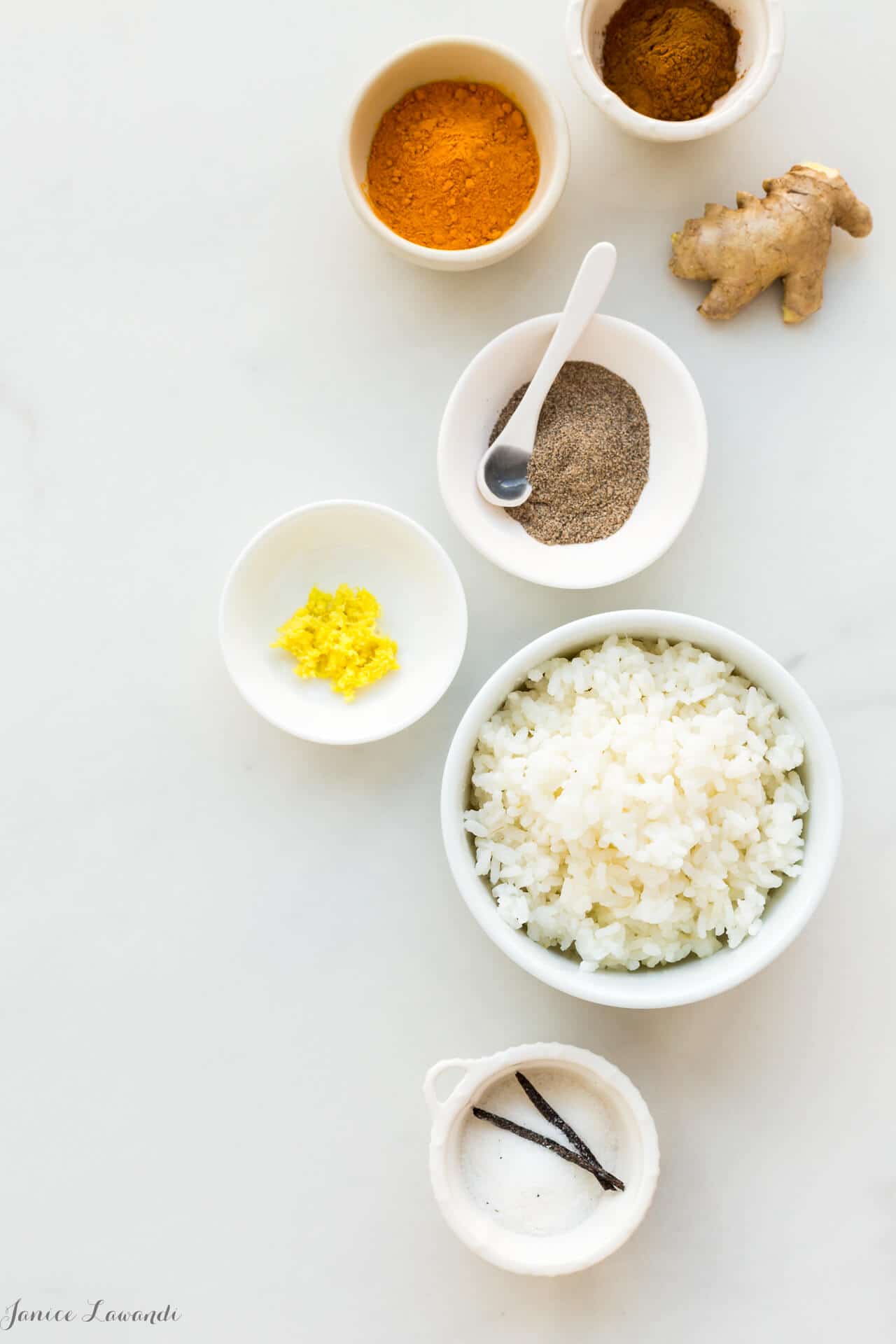 What type of rice should you use for rice pudding?
Because of my love of rice, I tend to buy a lot of rice (considering I only have myself to feed). I like to buy many different varieties and always have a couple in my pantry at all times (you know, for rice emergencies). Lately, I've been buying a lot of Calrose rice which is a medium grain rice grown in the United States (the Calrose variety was developed in California, thus the prefix "Cal"). Canada doesn't grow rice, so the closest thing to local rice would be the rice we import from the United States. Works for me! Calrose rice makes an excellent rice pudding that is thick and creamy because the cooked rice is quite starchy and sticky. Of course, any leftover rice will work to make rice pudding, but Calrose rice is the rice I use for my rice puddings lately. While rice pudding is made from grains of rice, tapioca pudding is made from tapioca pearls, which aren't a grain at all, but rather the starch of cassava plant shaped into pearls.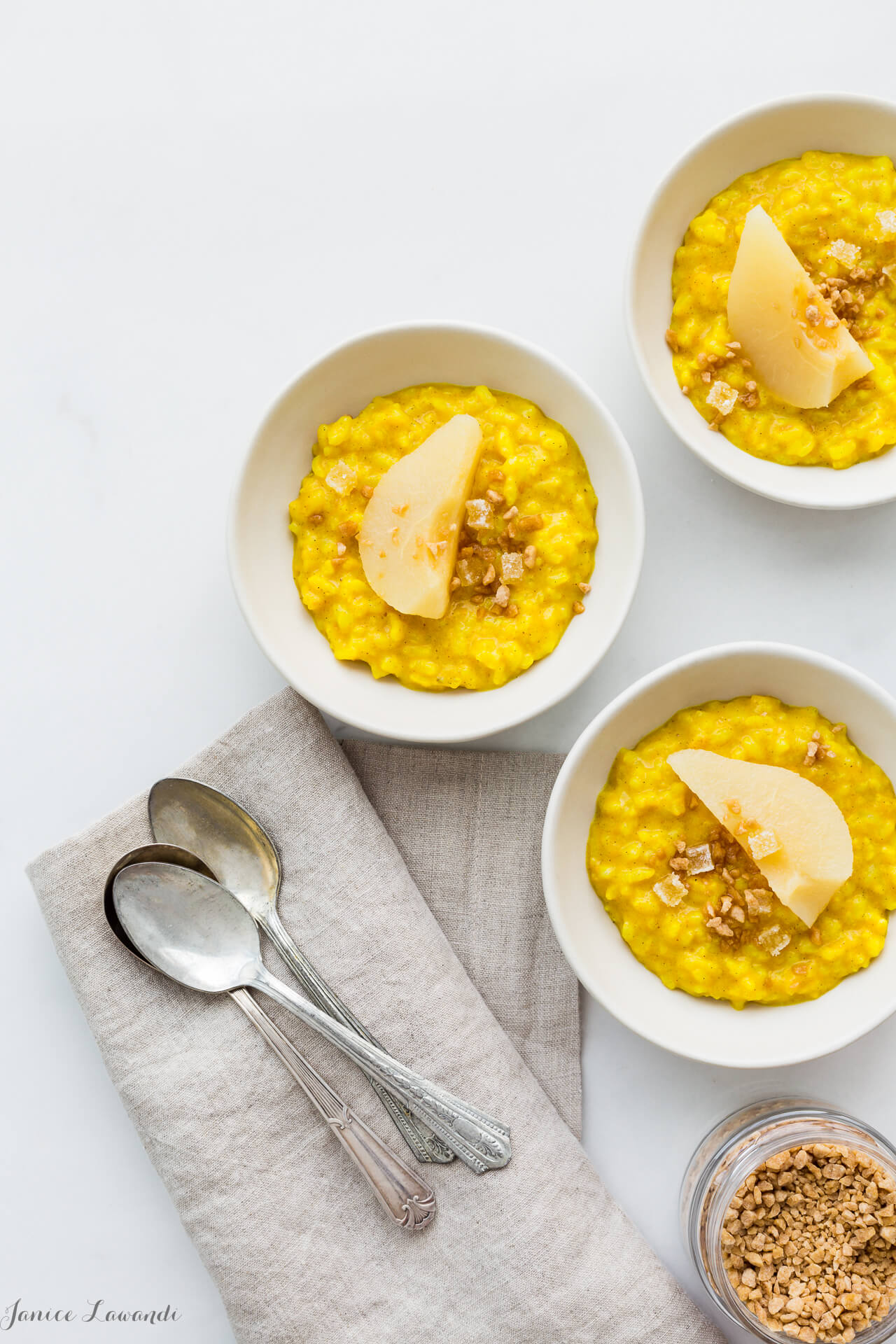 Make rice pudding from leftover rice
If you happen to have a little leftover rice (or when you are craving something sweet), use the leftover rice to make rice pudding. I actually think one of the best ways to use leftover rice is in rice pudding (as opposed to just eating it straight from the container, microwaved with some butter and salt). Making rice pudding from leftover rice is simple:
Mix together equal parts by volume of leftover rice and milk (so for every cup of cooked rice, add a cup of milk)
Use any type of milk you would like. Rice pudding is super adaptable to special diets— use skim milk, whole milk, or any nut milk
Add a pinch of salt
Sweeten to taste with your preferred sugar. Any sweetener will work: granulated sugar, honey, maple sugar, maple syrup, brown sugar, etc.
Flavour and spice as you like—a little vanilla extract or a vanilla bean goes a long way, but spices and herbs make a flavourful rice pudding too
Simmer for 10 minutes or so, stirring with a wooden spoon (don't let it catch and burn on the bottom!), until the pudding is thick and creamy
Serve warm or chill and serve cold
Garnish liberally with fun toppings

fresh berries, dried fruit, poached (or canned) pears, etc.
maple flakes
chia seeds or chopped toasted nuts or even coconut
The great thing about rice pudding is that rice is gluten-free so for those who are limiting their gluten intake, you can still avoid traditional flour thickeners and enjoy your pudding too.
What's golden milk and how do you turn it into rice pudding?
For this golden milk rice pudding, I used leftover cooked Calrose rice and skim milk, and I flavoured it with the spices you find in golden milk, a spiced milk beverage that is quite trendy and very popular these days with good reason: golden milk is flavoured with turmeric, fresh ginger, cardamom, and cinnamon, with a little vanilla bean paste and a couple of tablespoons of vanilla sugar to sweeten it to taste. Golden milk recipes vary significantly, so feel free to tweak the spices to make this recipe your own. Just don't go too heavy on the freshly grated ginger as that can make it taste a little bitter.
I love rice pudding because it's a great base for so much flavour, in this case, golden milk with turmeric, ginger, cardamom, and cinnamon. For a no-cook pudding, try this rosewater chia pudding that just requires you to mix the ingredients together and let chill overnight. And if you prefer to let the oven do the work, you can make baked rice pudding and serve it with a rhubarb jam.
📖 Recipe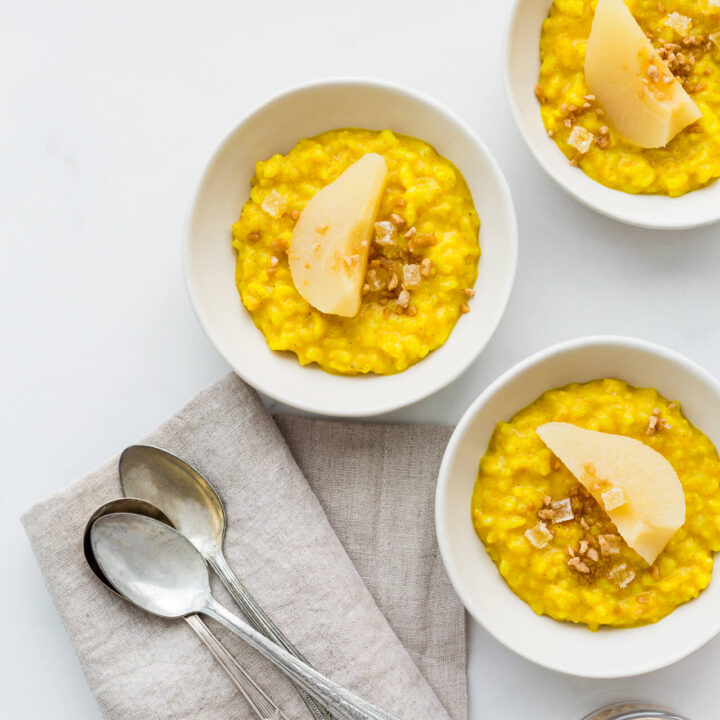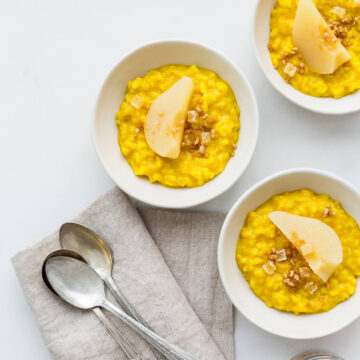 Golden Milk Rice Pudding
Make this golden milk rice pudding with leftover rice for a quick and easy sweet treat
Instructions
In a medium saucepan, combine all the ingredients, except for the pear. Bring the mixture up to a boil, stirring every so often with a wooden spoon.

Reduce to low and let the pudding simmer until it is thick, about 10 minutes. Be sure to stir more often towards the end of the cooking time, when the pudding is thick.

Divide the pudding and serve in 4 bowls. Top each with a slice of poached (or canned) pear, chopped crystallized ginger, and a sprinkle of maple flakes. Serve warm.
Notes
Nutrition
This post is sponsored by USA Rice Canada. I was compensated monetarily. Thanks for supporting the companies that allow me to create content for Kitchen Heals Soul. As always, please know that I wouldn't work with a sponsor nor recommend a product if it wasn't worth it.
Please note this post contains affiliate links to Amazon. If you buy a product I recommend, I will get a small commission, and the price you have to pay will not change in any way.