This easy oven-baked rice pudding is made from uncooked rice, whole milk, and sugar, flavoured with cardamom and vanilla bean. It's baked in the oven instead of cooking it on the stove, for an easy hands off approach to rice pudding, served with a quick rhubarb jam.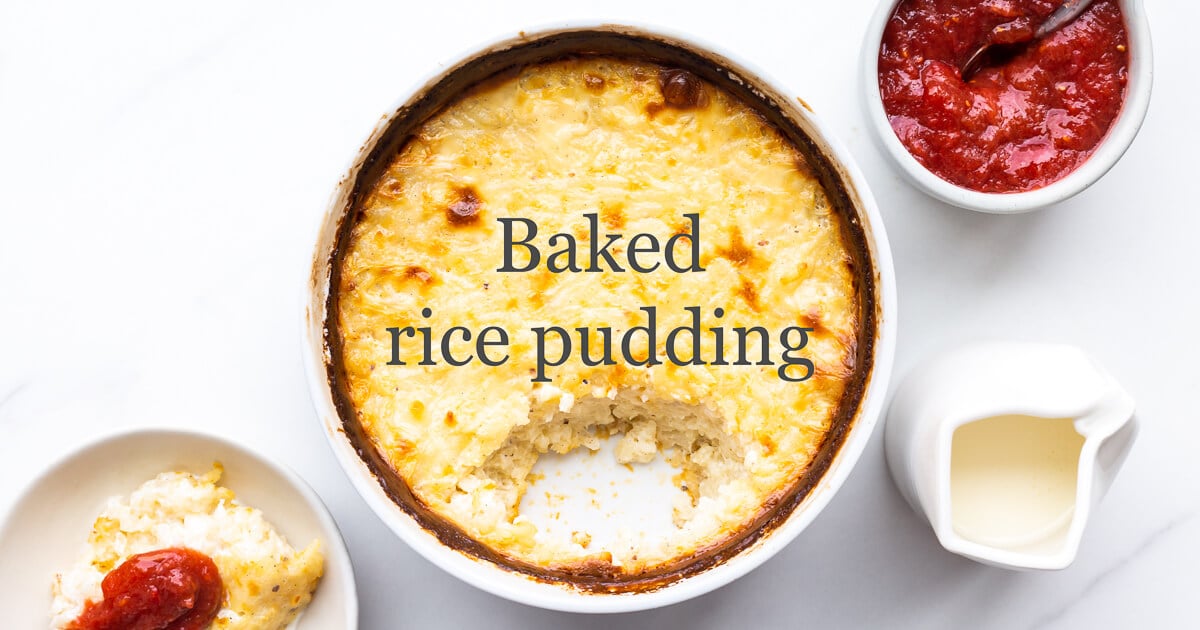 Disclosure: As an Amazon Associate, I earn from qualifying purchases.
Rice pudding is considered a very old-fashioned recipe. There are a few variations in the ingredients and the cooking methods that allow for some wiggle room, which is probably why rice pudding has withstood the test of time. At some point, rice pudding was so trendy in my city that there were rice pudding shops that were opening up in the downtown core. They would scoop rice pudding the way ice cream parlour's scoop ice cream. It was a thing!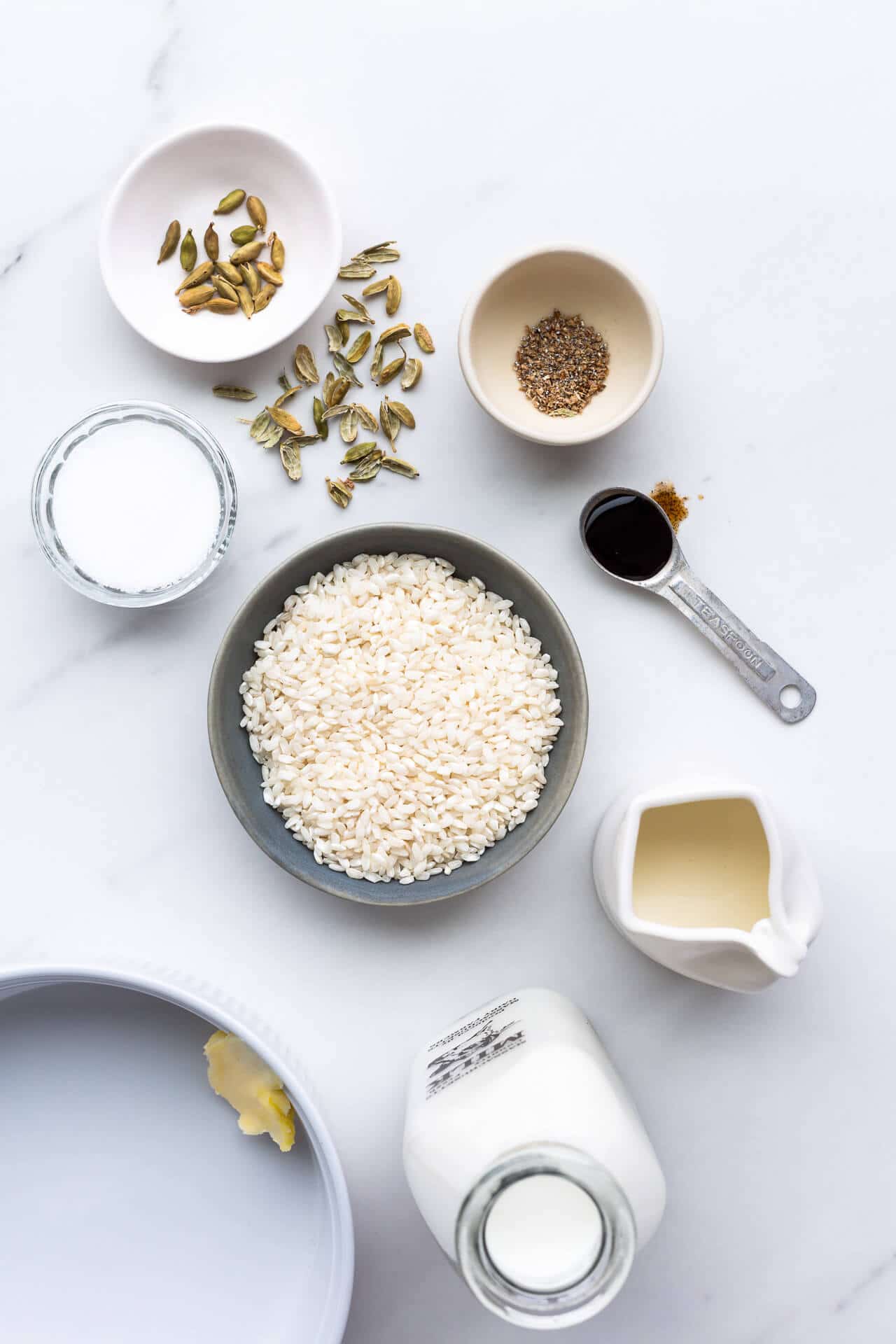 Everybody knows what goes into rice pudding, namely rice, milk, and sugar. Old-fashioned rice puddings often include raisins or currants. They plump up as the rice pudding thickens, turning what can be sad, shrivelled old grapes into plump little morsels. Yum! Though the ingredient list is seemingly simple, there is room for a ton of variation.
The rice can be either cooked or uncooked, and it can be short to medium grain, like Calrose, Arborio, or sushi types of rice, or it can be long grain, like basmati or fragrant jasmine rice
The milk can be any milk, whether that be skim milk or whole milk, some will go so far as a combination of cream and milk to up the fat content, leading to a creamier pudding. Even a non-dairy milk alternative would work. Try coconut milk, for example!
The sugar can range from white sugar, to alternative sugars like maple syrup, honey, etc.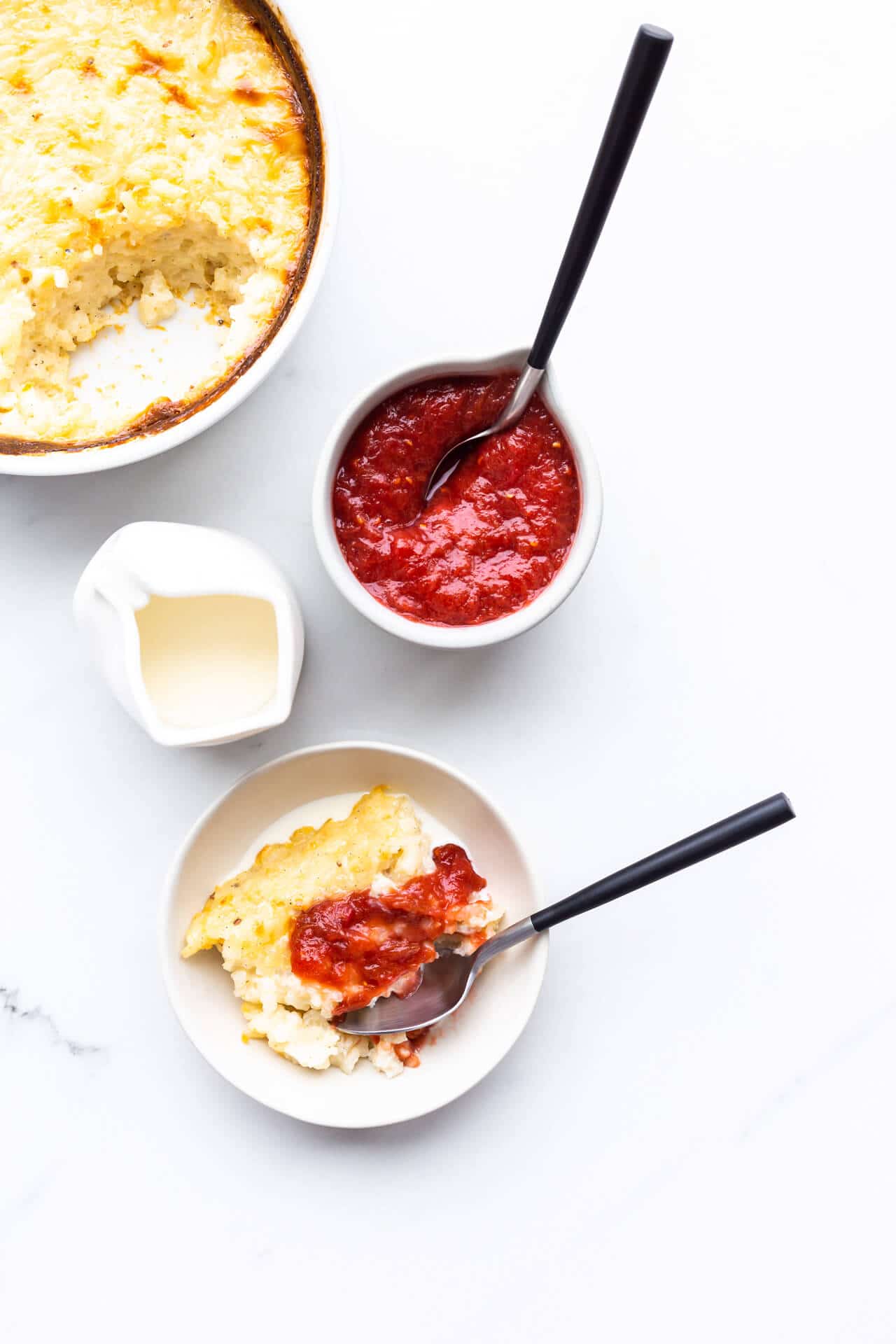 Some rice puddings may include a few egg yolks. That will give your rice pudding a more unctuous texture, a more golden colour, and the yolks will help thicken the pudding, just like yolks help thicken the pastry cream filling for crêpes and passion fruit curd in these matcha tarts . I used this technique for the homemade tapioca pudding.
The rice you use will dictate how much milk you need. If you're making a batch of rice pudding from leftover rice, you hardly need any milk. Equal parts of milk to cooked rice works great.
On the other hand, if you're making a batch from uncooked rice, you'll have to use a lot more liquid to cook the rice, double or triple the volume in fact. If you're making rice pudding from uncooked brown rice, it could even take you four or five times the liquid.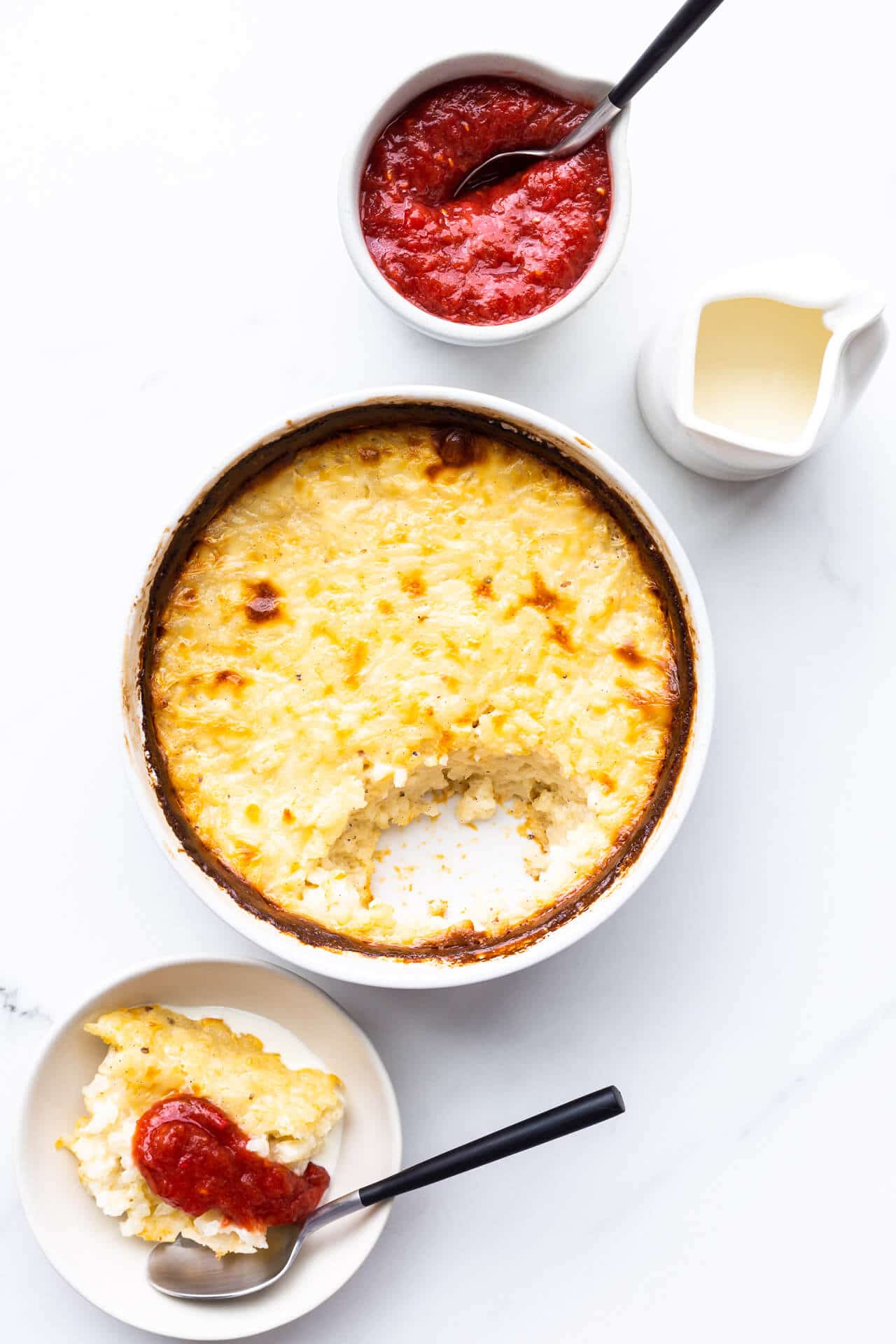 Unlike the golden milk rice pudding that is cooked on the stove from leftover cooked short-grain Calrose rice, the recipe below is for oven-baked rice pudding made from uncooked Arborio rice. It's flavoured with vanilla bean, but a suitable substitute would be vanilla bean paste or even vanilla extract, and also crushed cardamom seeds, which add so much flavour.
Some will start baked rice pudding on the stove, briefly, just long enough to dissolve the sugar and to heat the mixture through before popping the pan in the oven to gently simmer and cook the rice. I find that extra step on the stove is tedious and it doesn't seem necessary. I stir the rice pudding periodically as it bakes so that it doesn't all stick to the bottom. That's it!
Serve rice pudding with jam for an easy comforting dessert. I have served it with a quick rhubarb compote, but it would taste great with any homemade jam (like plum jam or rhubarb jam (no pectin)). The only difference is fruit compotes usually have less sugar than jam. You could also top the pudding with cooked fruit, like roasted rhubarb, wine poached pears, or even this dried fruit compote.
For the rhubarb compote, or any other rhubarb recipes, if your rhubarb is more green than pink, feel free to add in a few raspberries to boost the colour. I did it here and also for this raspberry rhubarb upside-down cake. This trick works well and the raspberry adds a lot of flavour too!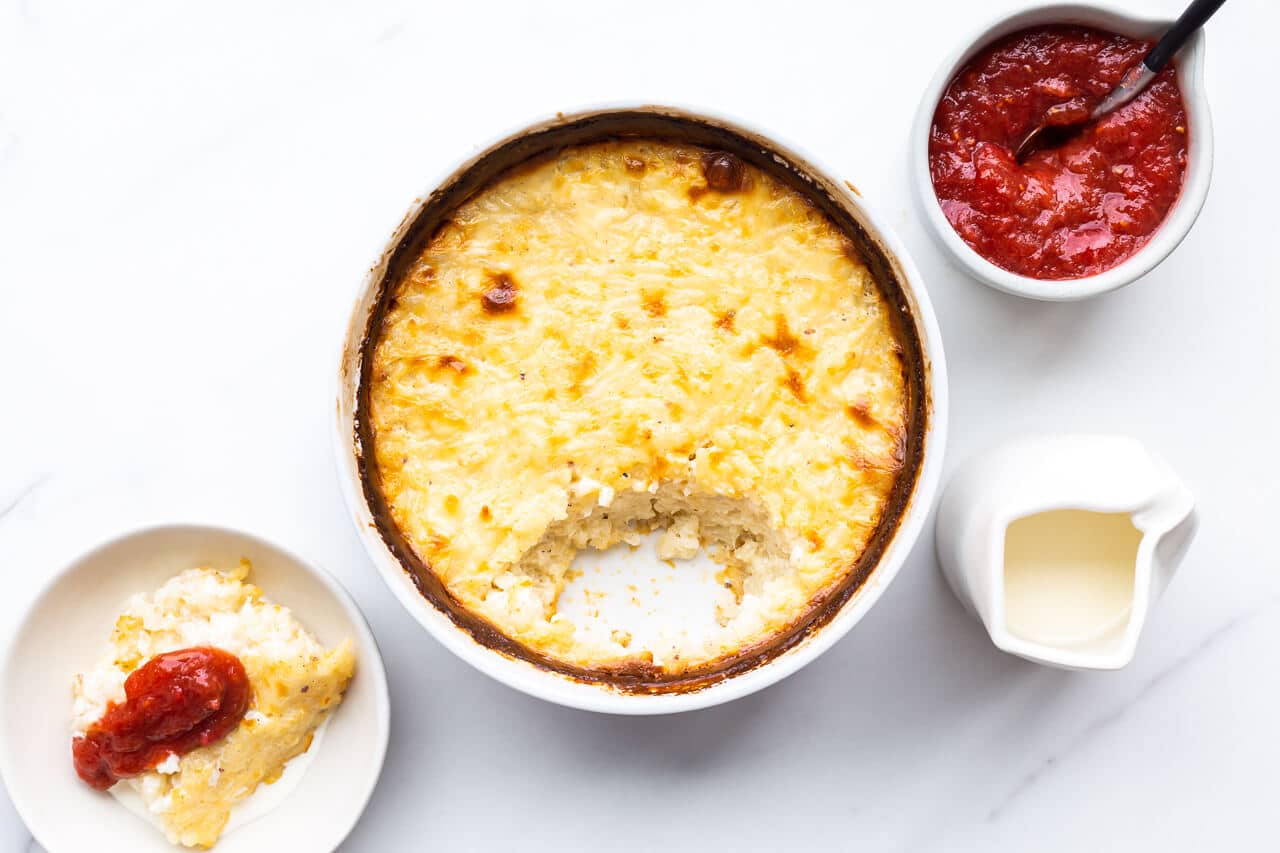 If it's summer, or you can't be bothered with baking or cooking a batch of rice pudding, there's always this rosewater chia pudding to get you through that is an even easier no-bake dessert.
📖 Recipe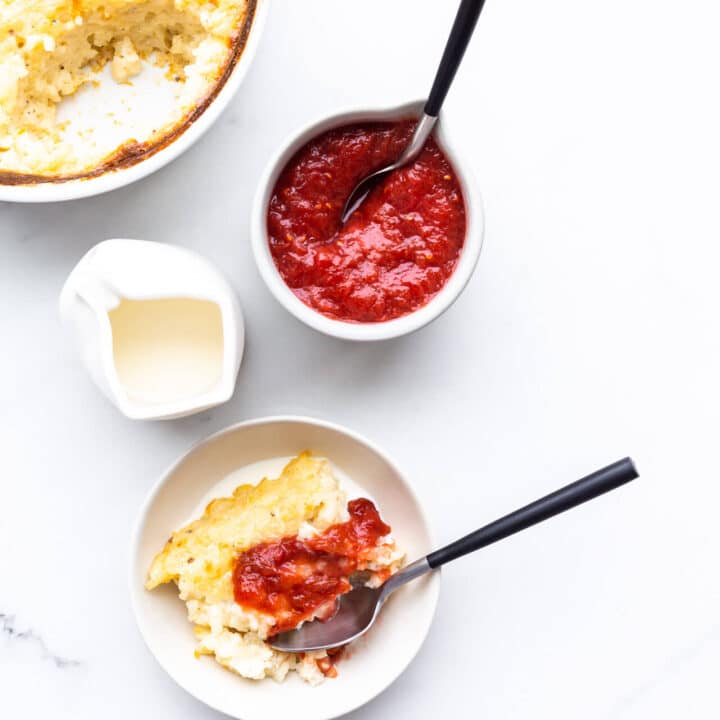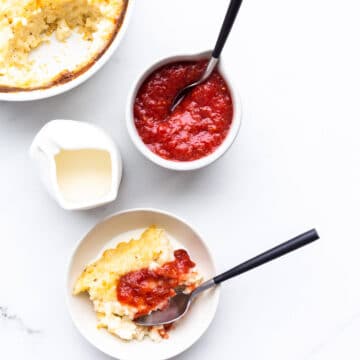 Baked Rice Pudding with Cardamom and Rhubarb
This rice pudding recipe is baked in the oven and made from uncooked rice for a hands off approach to rice pudding that's easy to make and you can serve it with jam or homemade rhubarb compote
Ingredients
Rhubarb compote (optional)
100

grams

granulated sugar

7

Fresh raspberries

fresh or frozen, optional but gives compote a lovely pink colour if your rhubarb is more green

225

grams

fresh rhubarb

(or frozen), chopped
Baked rice pudding with cardamom
750

mL

whole milk (3.25 % fat)

140

grams

arborio rice

50

grams

granulated sugar

5

mL

vanilla bean paste

split in half lengthwise

2.5

mL

ground cardamom

crack the pods open to reveal the seeds
Serving suggestions
whole milk (3.25 % fat)

or 35 % cream, to drizzle on top before serving
Instructions
Pink rhubarb compote
In a small saucepan, heat the rhubarb, sugar, and raspberries over medium-low heat, covered.

When the mixture begins to simmer, uncover, and stir with a wooden spoon.

Continue cooking (about 15 minutes), stirring often, until the rhubarb breaks down into a lovely compote.
Baked rice pudding
Preheat the oven to 300 °F (150 ºC). Butter a very deep 7-inch diameter baking dish (like this one on Amazon). You want the baking dish to be able to contain over 1 litre of volume. Measure to be sure you have enough room to move the dish when it's full, without spilling.

Combine the milk, rice, sugar, vanilla bean paste, and cardamom in the prepared baking dish. Stir with a wooden spoon.

Cover the dish with foil and bake for 1 hour.

Remove from the oven to uncover and stir because the rice sinks to the bottom and you want it to cook evenly, then cover again and bake for another 30 minutes.

After 1.5 hours of baking, remove the pan from the oven to stir. Taste to check that the rice is al dente and properly cooked.

Once the rice pudding is thick and the rice is cooked, you can remove from the oven to serve. At this point it will be creamy. Or you can crank up the oven to 425 ºF to thicken the rice pudding further. It will develop a skin on top that will brown and the rice will absorb any remaining liquid. That's the point!

To serve, spoon the rice pudding into bowls with rhubarb compote, and drizzle with milk or cream.
Nutrition
Calories:
405
kcal
Carbohydrates:
78
g
Protein:
9
g
Fat:
6
g
Saturated Fat:
4
g
Cholesterol:
19
mg
Sodium:
84
mg
Potassium:
436
mg
Fiber:
2
g
Sugar:
48
g
Vitamin A:
361
IU
Vitamin C:
5
mg
Calcium:
260
mg
Iron:
2
mg