This is what you should make when you are craving a glazed chocolate cake donut, made with sour cream to achieve that perfect cake donut texture and topped with dark chocolate ganache and chocolate sprinkles.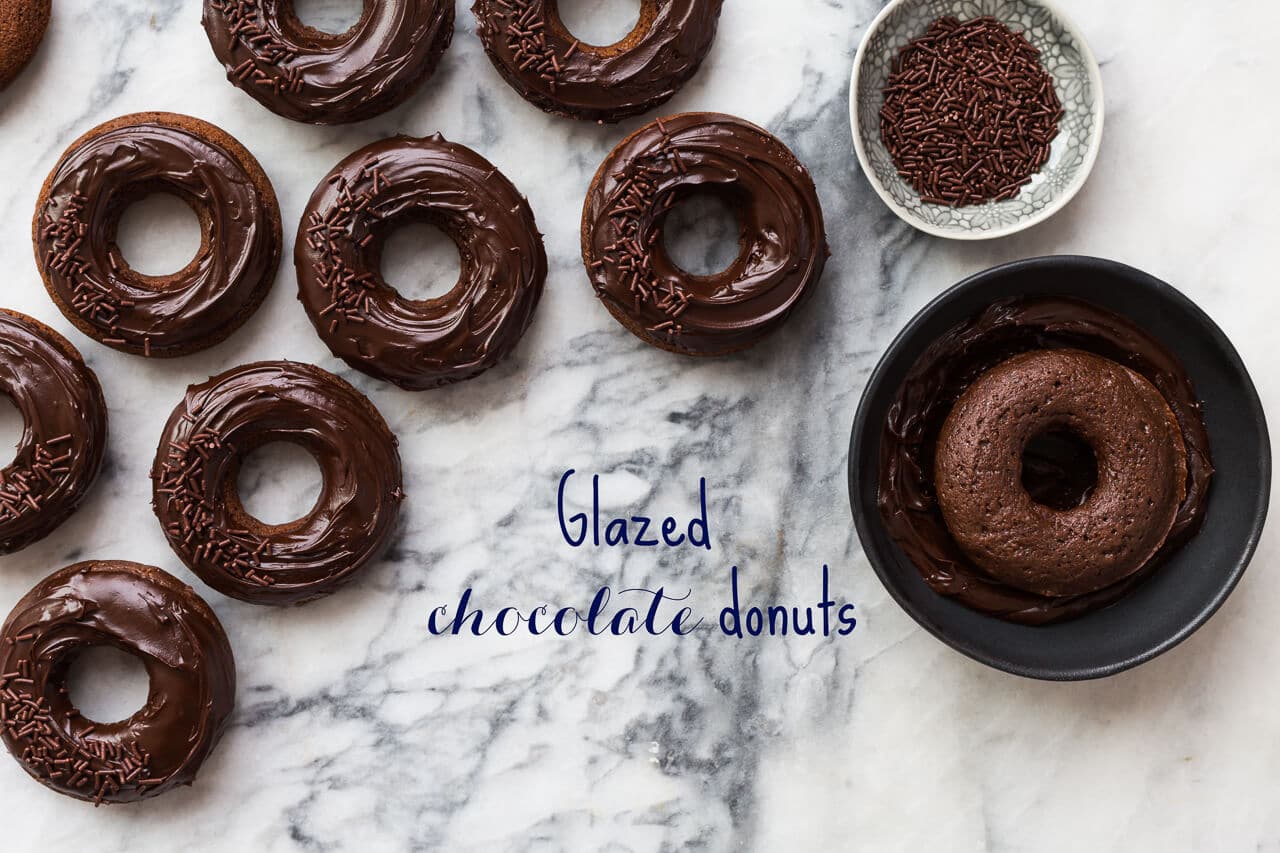 Disclosure: As an Amazon Associate, I earn from qualifying purchases.
This baked chocolate cake donut recipe was sponsored by Cacao Barry.
The quest for baked chocolate cake donuts isn't so straightforward. It took multiple batches to get their texture of them just right. I did a lot of reading of other baked chocolate donut recipes, and most of them had A LOT of chemical leavener in them (baking powder and baking soda), so much so, that when I baked my first batch of donuts, they were so light and fluffy, I could barely get them out of the pan without breaking them. I guess the first versions of my recipe would have made a great chocolate layer cake or chocolate cupcakes, but terrible donuts.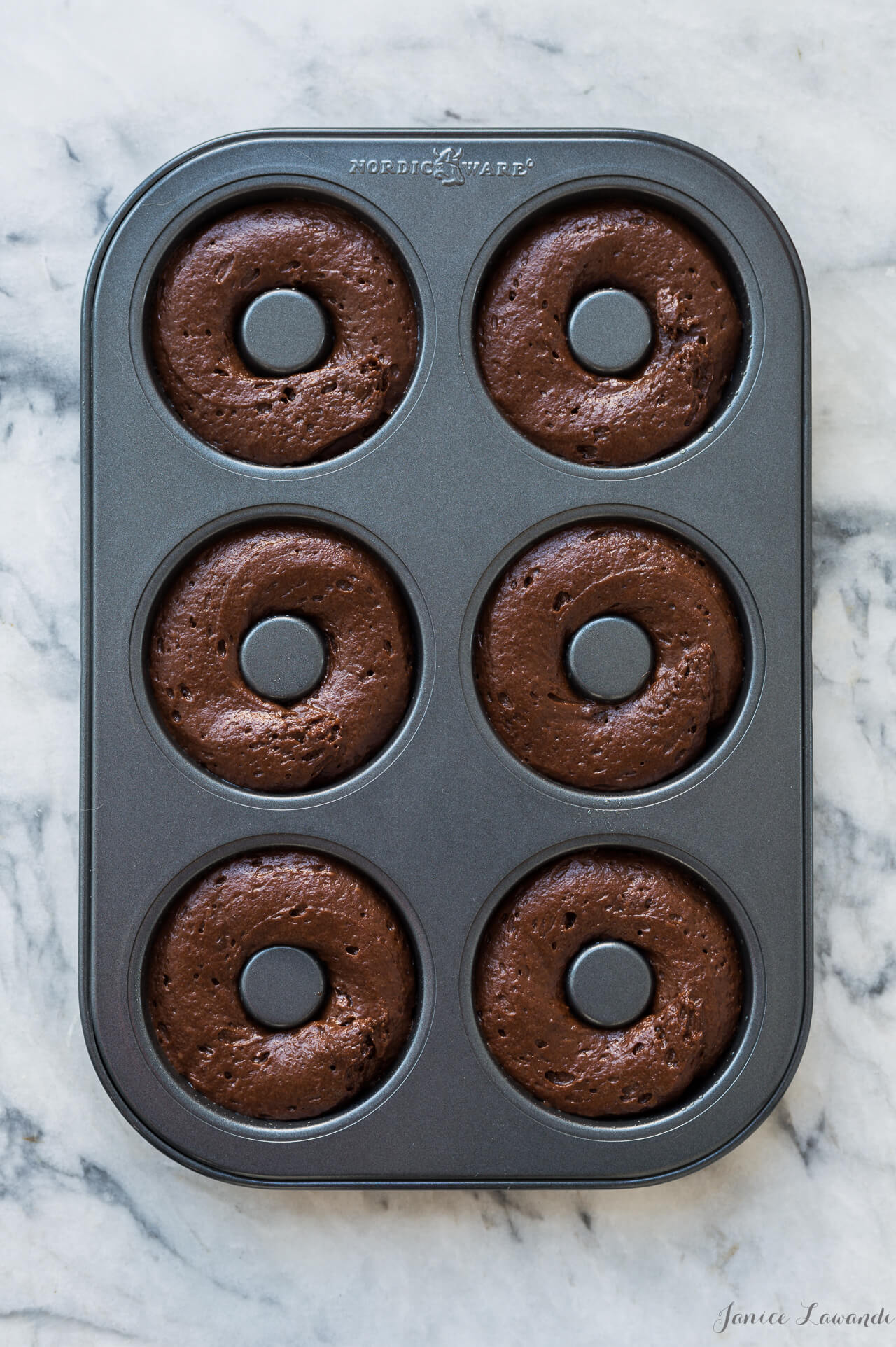 After much tweaking, I came up with this version, the best baked chocolate donut recipe I've tried so far: it has a denser cake texture, in a good way, like a chocolate cake donut should be.
In the final recipe, I completely eliminated the baking powder. Interestingly, in eliminating the baking powder, I seem to have ended up with a lighter-coloured donut. I suppose this must be from the difference in pH between the batches, or maybe I mixed the batter at a slightly different temperature, or I let the batter sit for longer before baking the donuts. I'm not sure.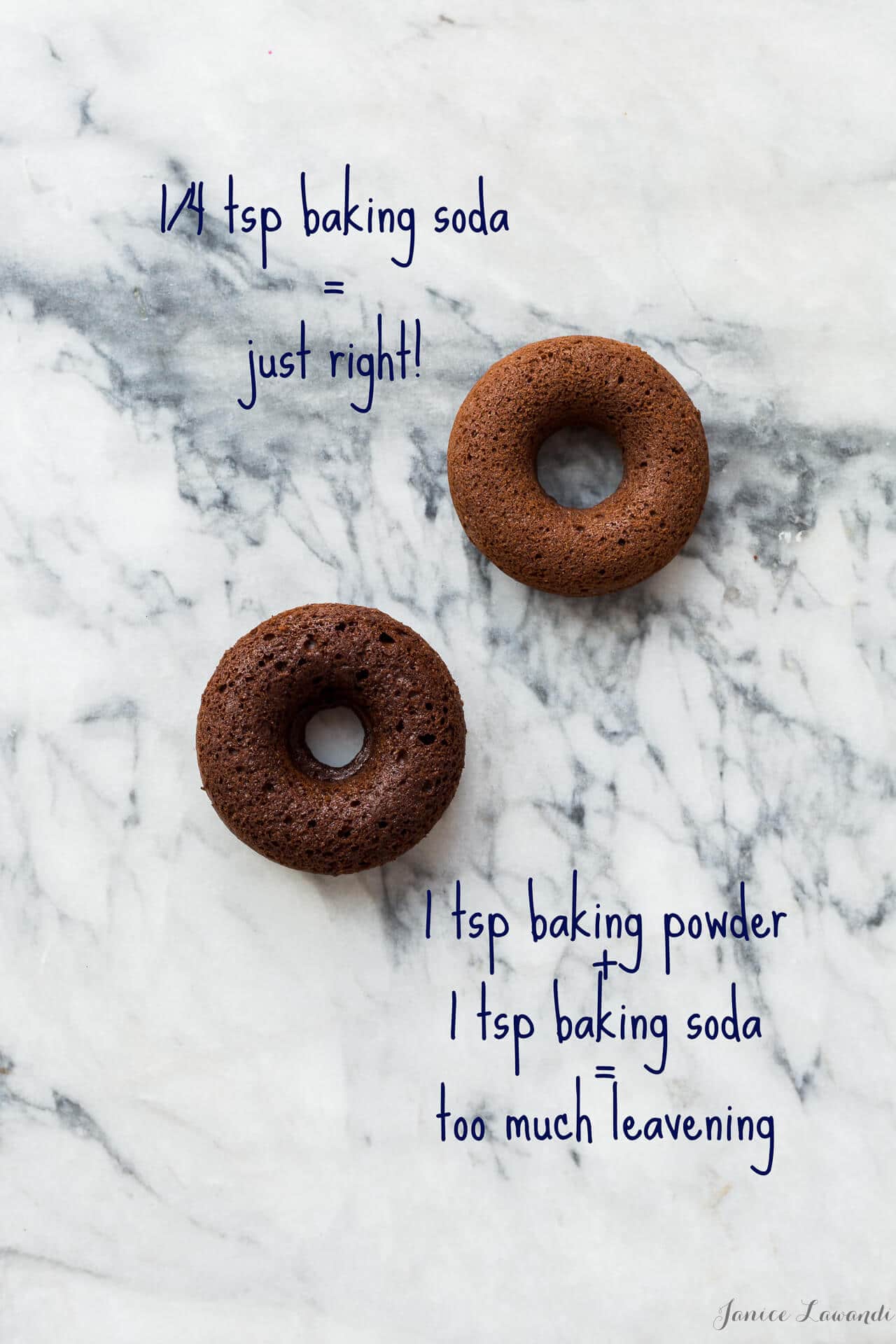 The recipe makes baked chocolate sour cream donuts and features a full-fat sour cream which helps make the donuts moist and cakey. I've added sour cream to baked donut recipes before, like these baked sour cream donuts, which were coated in sugar to give them a crunchy sweet crust, reminiscent of fried donuts.
These donuts have a mild dark chocolate flavour that is the perfect base for a deep dark chocolate glaze that is much like a thick ganache. Over the years, I've learned that the key to a glaze that stays put is the thickness (this glazed carrot cake is a perfect example of thick versus thin glaze where I tried both). And just like I've told you to embrace the sticky dough when making the best chocolate chunk scones, I think you should embrace the thick when making glaze.
This recipe yields ten baked doughnuts, so you will need to use two donut pans, ideally, or save part of the batter to bake the second batch after the pan has cooled down.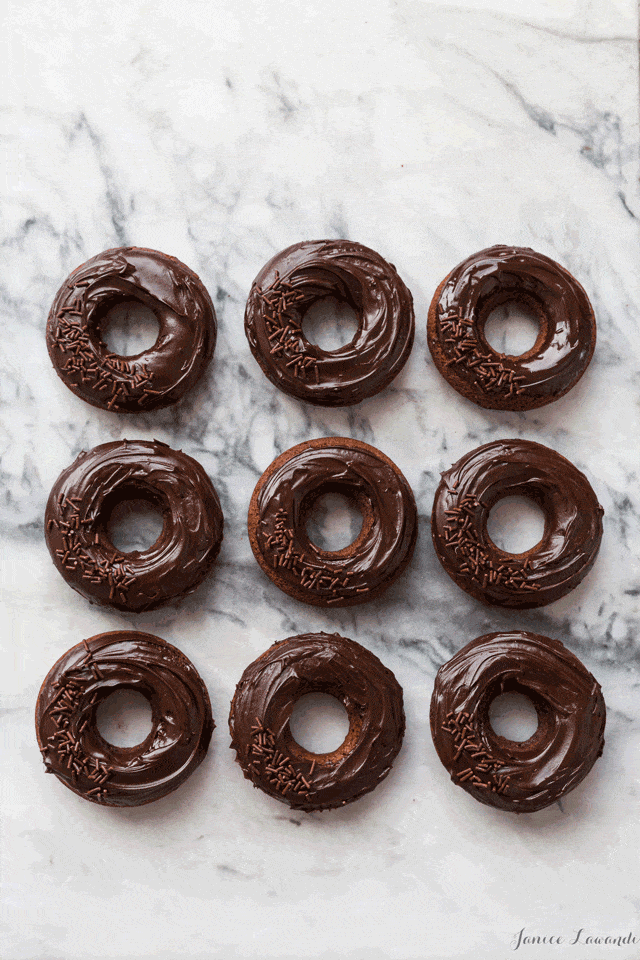 It's really important when you bake with chocolate to use the best chocolate for baking that has a good flavour, especially when it comes to frostings, ganaches, and glazes. To make these baked chocolate donuts, I used Ocoa chocolate from Cacao Barry, which is a 70% cocoa dark chocolate with a deep chocolate flavour. You can find it at IGA grocery stores in Quebec in 1-kilo resealable bags. If you aren't living in Quebec, you can order it and most Cacao Barry products online via the Vanilla Food Company website and they ship across Canada and to the United States! This means that we all have access to professional quality chocolates. Better chocolate means better baked goods at home and better donuts for all.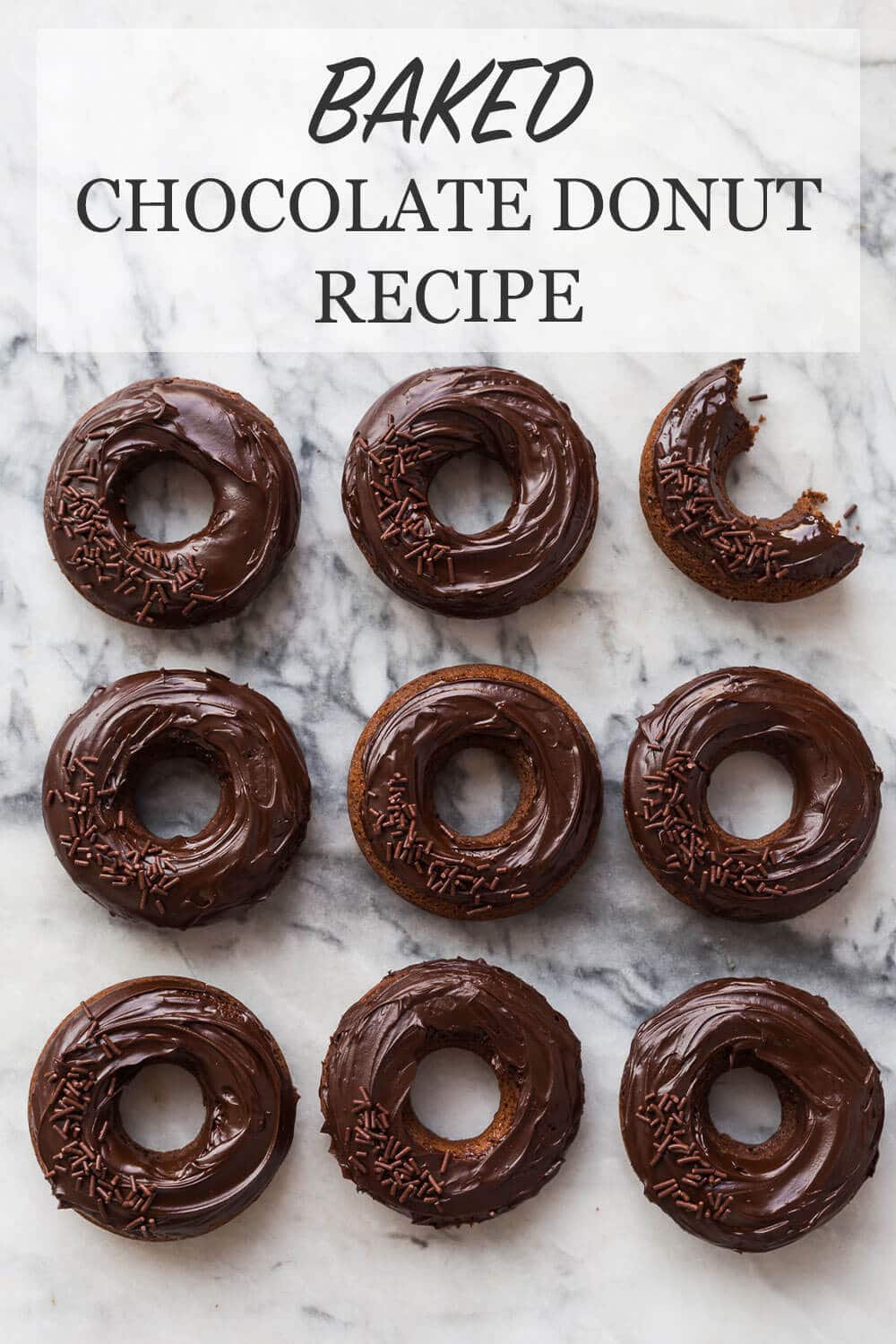 This baked chocolate donut recipe is made with sour cream for the perfect chocolate cake donut texture. These double chocolate donuts are glazed in chocolate ganache glaze and topped with chocolate sprinkles.
If you are looking for a plain, classic donut, try the old-fashioned baked sour cream donuts, and during the fall months, the baked pumpkin donuts.
📖 Recipe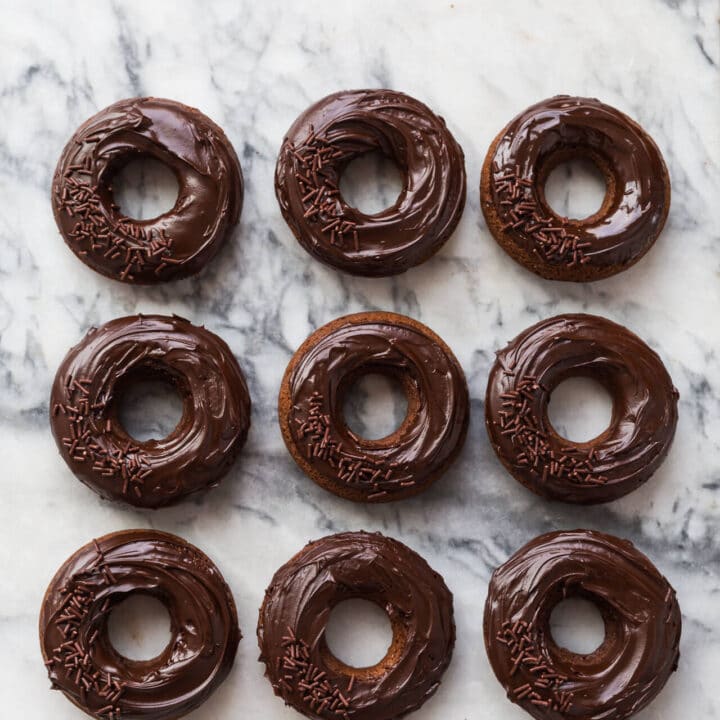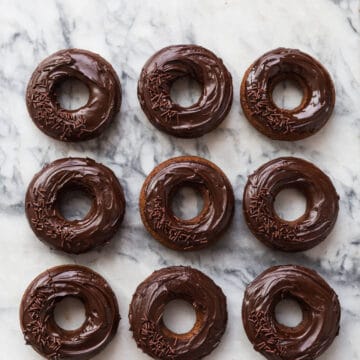 Chocolate Glazed Baked Chocolate Donuts
This easy baked chocolate donut recipe is made in a donut pan. The chocolate donuts are glazed with a thick chocolate ganache.
Ingredients
Dark chocolate ganache glaze
100

grams

Cacao Barry Ocoa 70% dark chocolate

1

tablespoon

unsalted butter

1

tablespoon

whole milk (3.25 % fat)
Instructions
Baked chocolate donuts
Preheat the oven to 350ºF (175 °C). Brush 10 cavities of two donut pans with canola oil and set aside.

In a large bowl, whisk together the flour, baking soda, cocoa powder, salt, granulated and brown sugar. Set aside.

Melt together the butter and the dark chocolate. Set aside to cool slightly.

In a bowl, whisk together the sour cream with the egg and vanilla extract. Add this mixture to the bowl with the dry ingredients, as well as the melted chocolate mixture. Mix together with a wooden spoon.

Transfer the donut batter to a piping bag and pipe the mixture into the greased cavities of the donut pans.

Bake the donuts for 10 minutes or until a cake tester inserted comes out clean. Let cool slightly before unmolding then cool completely on a wire rack.
Dark chocolate glaze
Melt the dark chocolate in a bowl over a double boiler. Remove the pan from the heat when the chocolate is melted and take the bowl down off the pan.

Stir the butter into the chocolate until it has melted, then add the milk. Mix well. Dip the donuts into the glaze. Top with chocolate sprinkles.
Notes
To bake donuts, you will need to buy a donut pan. I used two Nordicware donut pans that you can buy on Amazon
For the recipe, I used Cacao Barry Ocoa chocolate, which is a professional quality chocolate that you can find at IGA grocery stores in Quebec, or online at Vanilla Food Company. And the price per gram is actually much more reasonable than baking chocolates. Plus the flavour is much better!
Nutrition
This post is sponsored by Cacao Barry. I was compensated monetarily and with product. Thanks for supporting the companies that allow me to create content for Kitchen Heals Soul. As always, please know that I wouldn't work with a sponsor nor recommend a product if it wasn't worth it.
Please note this post contains affiliate links to Amazon. If you buy a product I recommend, I will get a small commission, and the price you have to pay will not change in any way.