Yes, you can make baked donuts instead of frying them, whether you want to make sour cream donuts, chocolate cake donuts, pumpkin donuts, or others! Here's everything you need to know about how to make the best oven-baked donuts in a donut pan.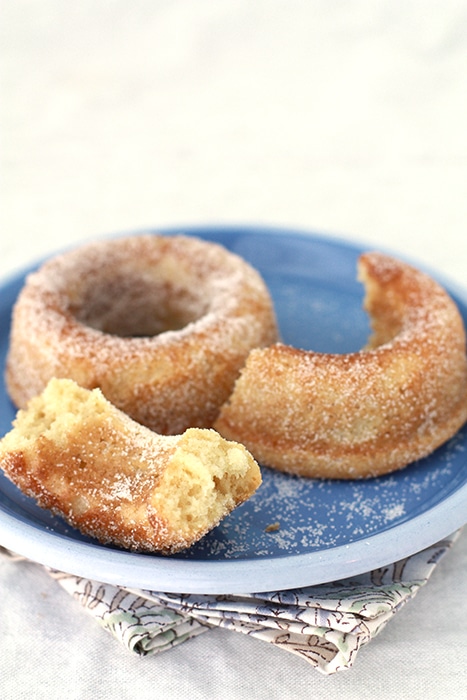 Disclosure: As an Amazon Associate, I earn from qualifying purchases.
There's nothing better than a freshly fried donut, but turns out, you can skip the deep frying and make baked donuts that are pretty great too! How are baked donuts possible?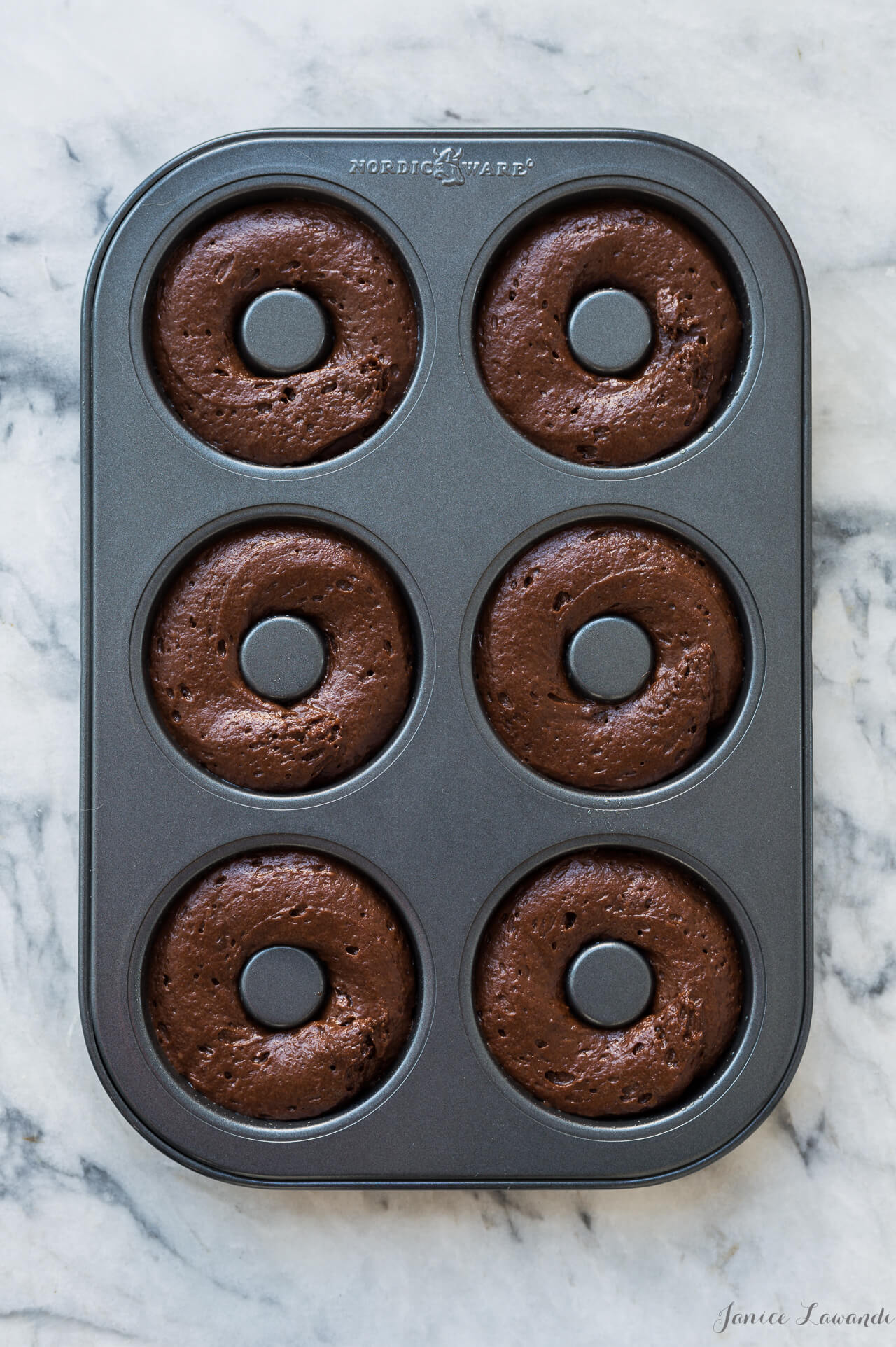 To bake donuts instead of frying them, you will need a donut pan. They usually make 6 donuts at a time, so it's actually best to invest in two pans if you can, so that you can make a dozen at a time when you want to. I like the Nordic Ware donut pans.
For mini donuts, you would also need to invest in a mini donut pan. Mini donut pans usually have 12 cavities so that you can bake 12 mini donuts at a time. Again, most recipes will bake more than a dozen, so you might want to invest in two mini donut pans, if you plan on making mini donuts often. This will make your life easier.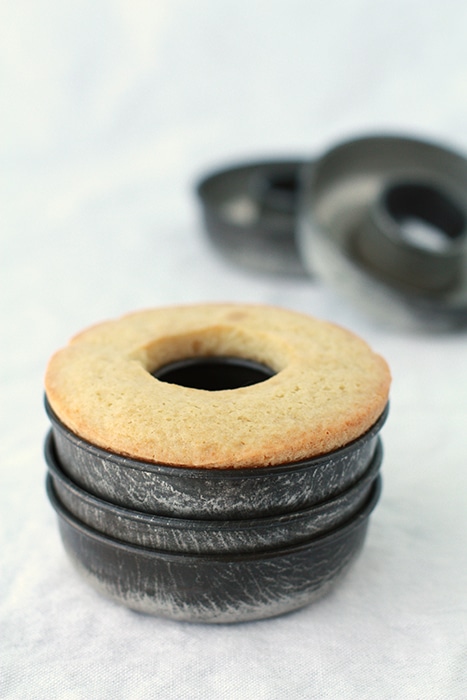 You can also invest in vintage donut pans (though they might be pans for savarin cakes actually…). For these types of pans, you will have to search on Etsy, Ebay, or at antique sales.
How to make a moist baked donut
The key to a good baked donut is that it has to be moist on the inside, especially with cake donuts that can be dry. I like to add sour cream to the donut batter to add a lot of fat and moisture so that they bake up light and fluffy, and also tender and moist. These baked chocolate donuts and these baked sour cream donuts are great examples of how to incorporate sour cream in your donut recipes.
Adding mashed pumpkin to the batter also makes a more moist donut, like in these baked pumpkin donuts. These glazed chocolate donuts with amaretto have almond milk, which also provides a lot of moisture to the recipe. Consulting this baking substitutions list, you can see that sour cream can be replaced with full-fat plain greek yogurt, for example
Many donut recipes will call for oil instead of butter because oil is liquid at room temperature, while butter is solid, which means oil will make a more moist donut with a more tender mouthfeel than a butter-based donut.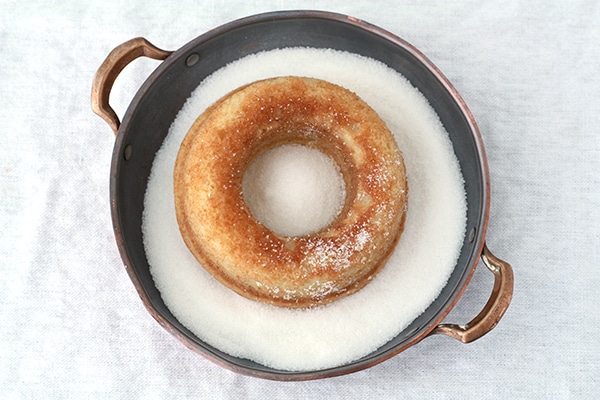 How to make baked donuts taste like fried donuts
One technique to getting baked donuts to taste just like fried donuts is to very lightly brush them (or to dip them, if you dare) in melted butter before coating them in sugar, for example. The butter will give you a more flavourful coating to your baked donuts that is a little fatty, just like fried donuts. This is a technique that is especially common with donut muffins that are dipped in butter before sprinkling with cinnamon sugar.
However, if your goal is to "lighten up" donuts, maybe skip that step. I honestly haven't been brushing or dipping any of my baked donuts with butter, and I don't feel like I'm missing out on anything. But, to each his own, as they say.
How to coat baked donuts
Baked donuts can be coated in either granulated sugar, powdered sugar, or even cinnamon sugar. You could even add a little matcha to the sugar to make it green and add lots of tea flavour. Freeze-dried berries can be ground in a spice grinder and then added to granulated sugar to make a berry sugar coating for baked donuts too. Truly, the possibilities are endless!
If you prefer to glaze your donuts, you can make an icing sugar glaze, a chocolate glaze (made with cocoa powder and icing sugar), or even a ganache glaze (made with dark chocolate). It's really important when you make ganaches and chocolate glazes with real chocolate to use the best types of chocolate that have good flavour because the chocolate is the star in a ganache.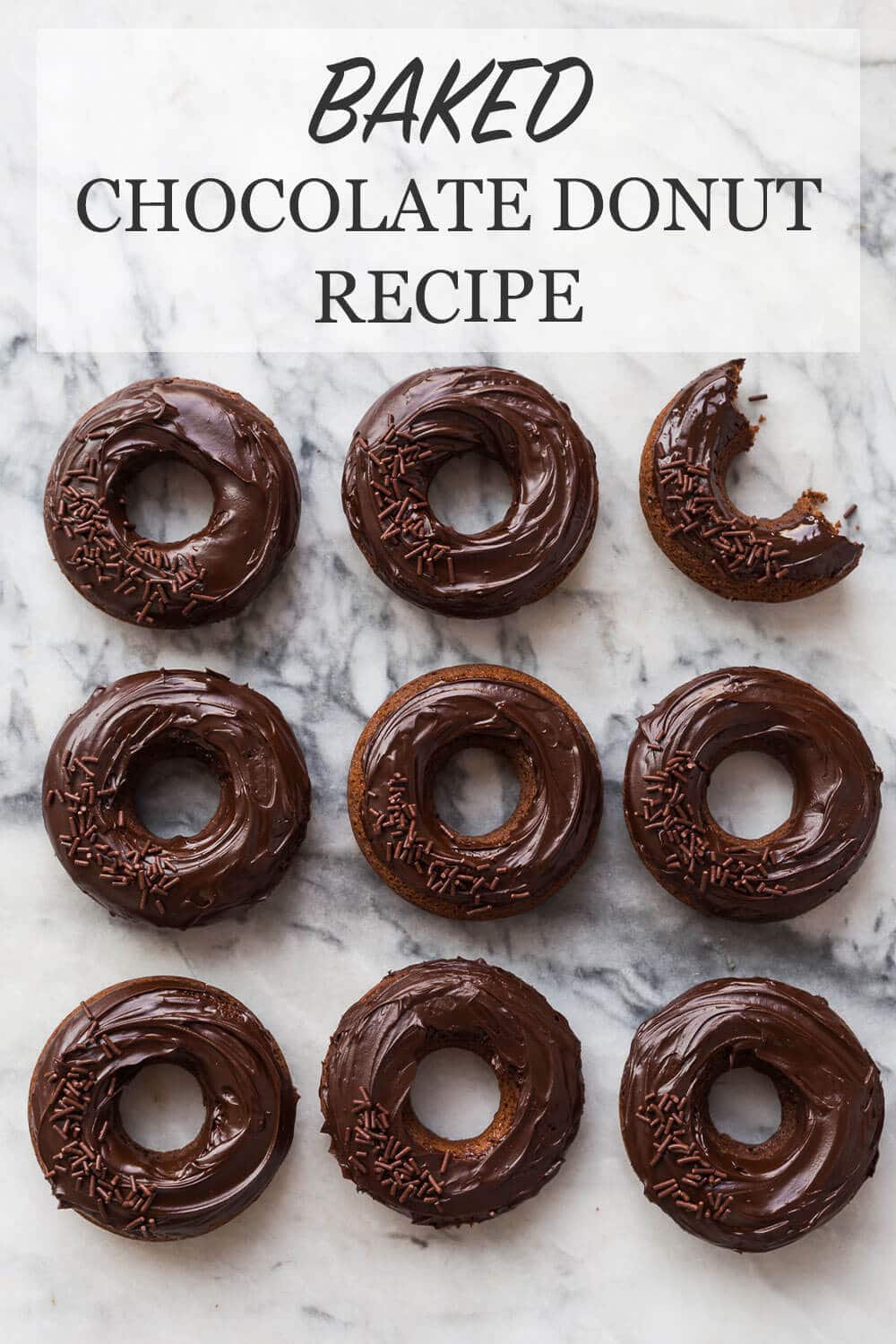 Toppings for baked donuts
If you want to add fun toppings on your donuts, start with a glazed donuts and make sure to sprinkle the topping on quickly, before the glaze has time to set. This way the toppings will adhere well to the surface of the glaze without ruining the shine. You can use any of the following toppings:
rainbow sprinkles
chocolate sprinkles
chopped nuts or flaked almonds
shredded coconut or flaked
colourful kids cereal
Nobody will ever turn down a donut covered in sprinkles!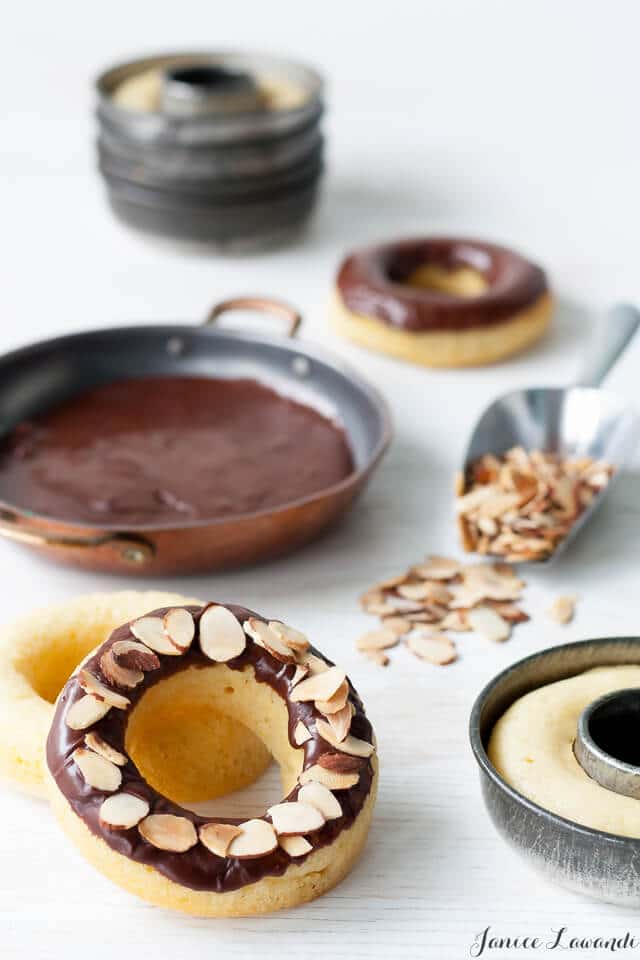 Storing and freezing baked donuts
Like with many baked goods, donuts, whether baked or fried, are truly best consumed the day they are made, or up to a day later. After that, they go stale and the texture isn't great.
I wouldn't recommend freezing baked donuts either, especially if you've glazed and decorated them with sprinkles, which may melt/dissolve from the humidity as the glaze defrosts. If you must freeze them, perhaps do so before any glaze is applied to the top.
For sugar-coated baked donuts, you might want to try freezing the donuts un-coated with sugar, then once defrosted, brush them with melted butter and coat with sugar. The butter will help the sugar adhere and will freshen up the flavour/texture on the surface.