Make homemade red currant jam with vanilla bean and strawberries for a sour-sweet jam with no pectin added, yet is till quite thick and sets firm. This strawberry and red currant jam is a fun twist on the classic jam.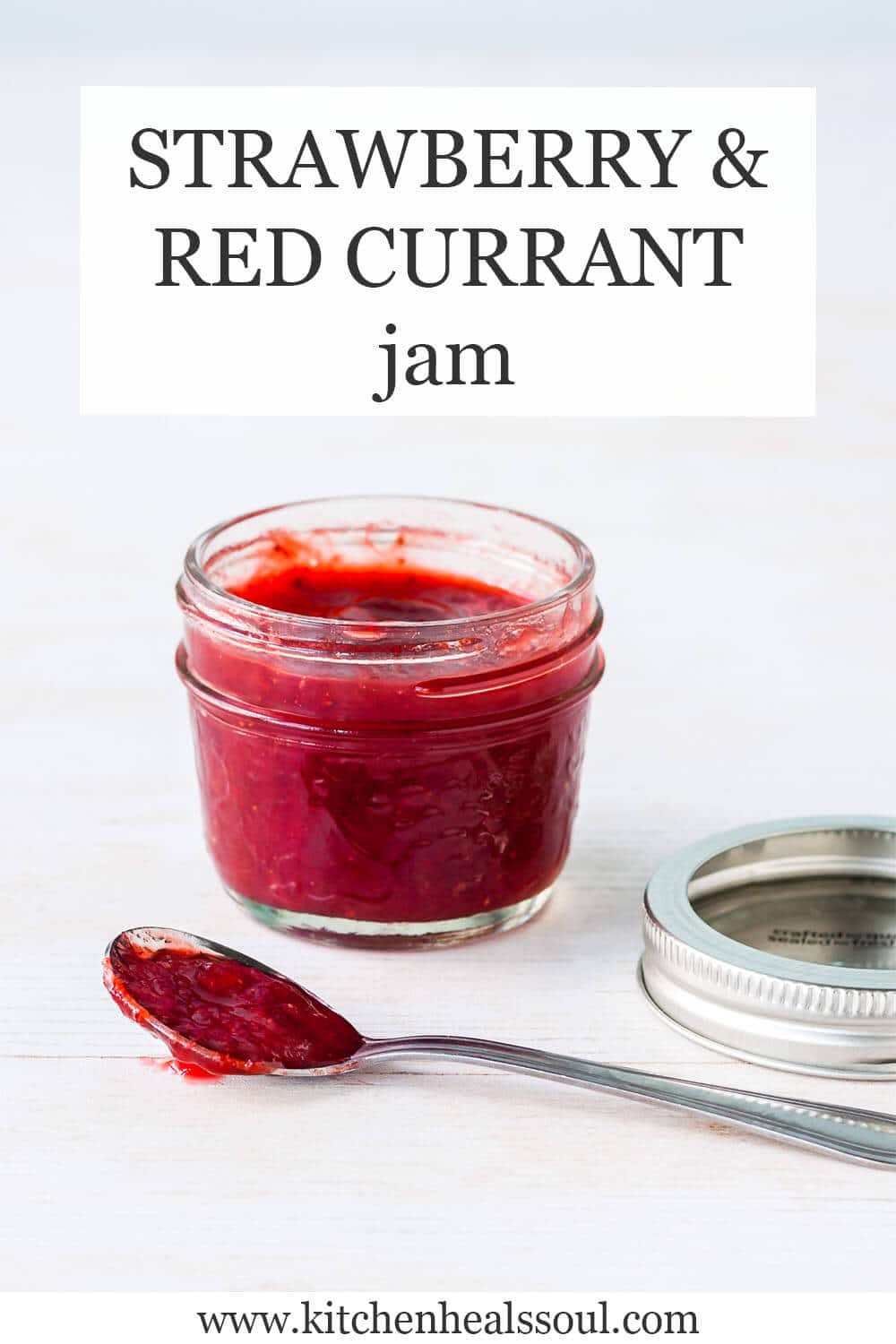 After going berry picking, sometimes the best course of action is to make jam. Jam is a great way of preserving big batches of berries for long term storage. And if you use a home canning kit to properly seal the jars, you can store them for a long time in a cool dry place.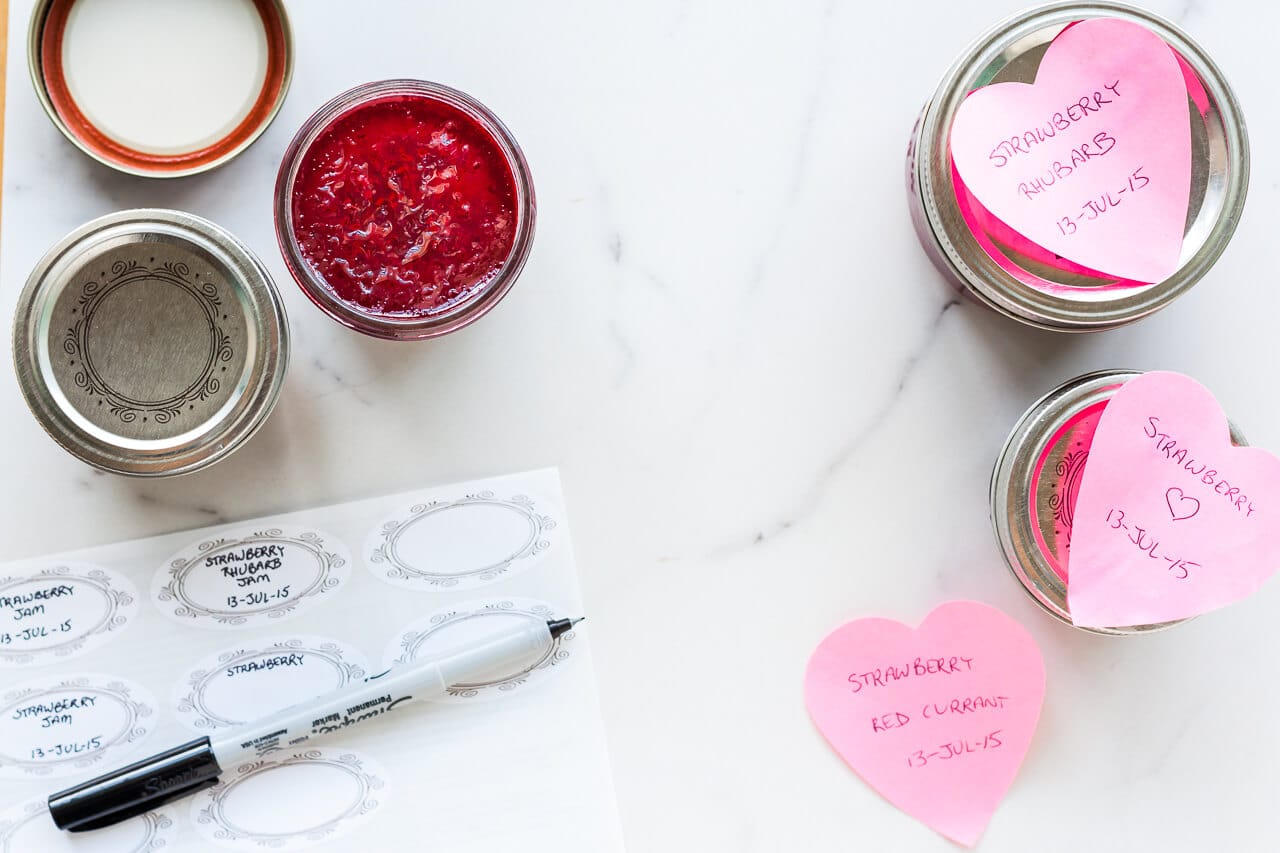 One thing to remember when making jam is that the riper the fruit, the lower the pectin, in many cases. Strawberries are a prime example of a fruit that, when ripe, they have less pectin than the unripe berries. Stone fruit too suffer from this problem. So jams made with some of these fruit can end up a little on the soft, runny side of set, especially if you haven't boiled them long enough to achieve the jam setting point.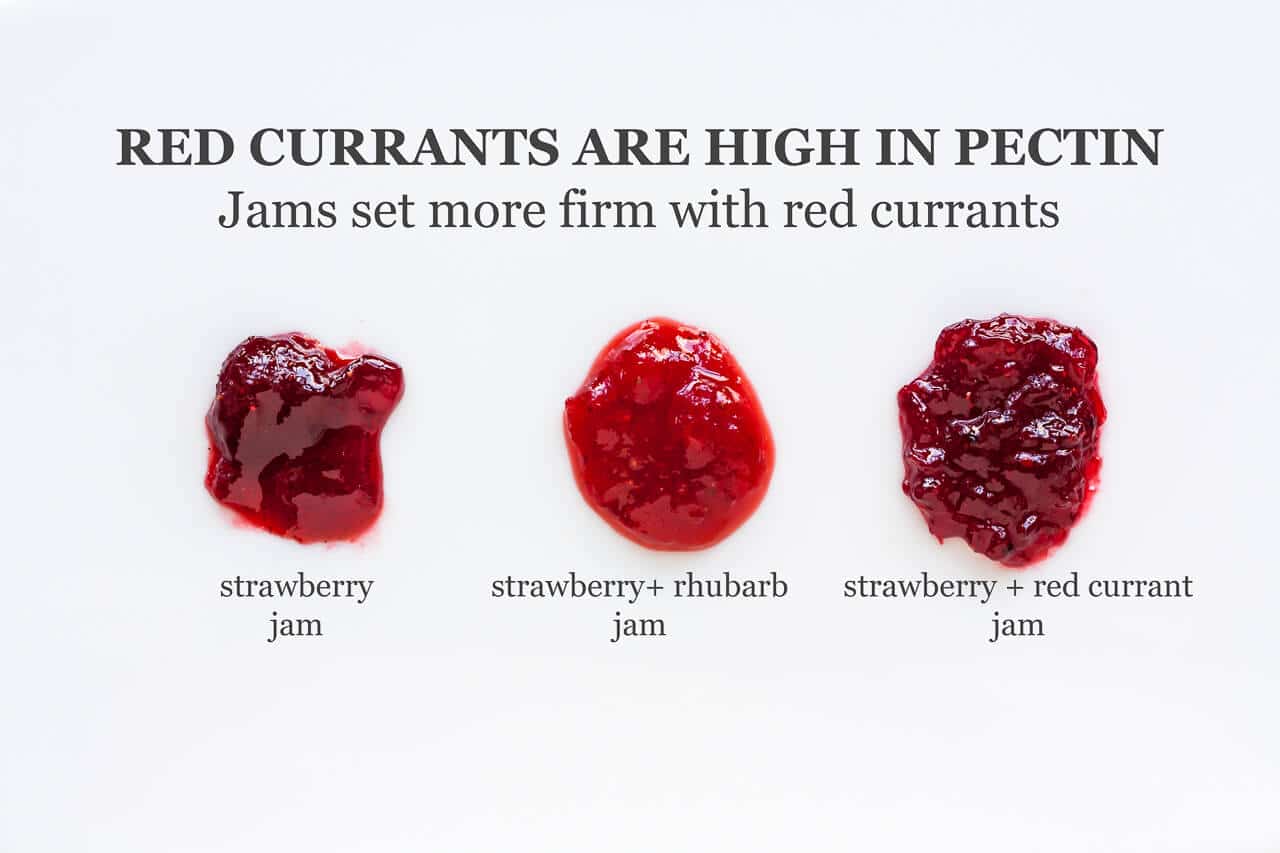 Combining fruits in a batch of jam can have some benefits, especially when you are trying to make a jam with a fruit that is lower in pectin. Blueberries and red currants are great berries to throw into a batch of summer jam because these berries are higher in pectin and so they can help jams with other fruit achieve a better set, without having to resort to commercial pectin.
I did a little strawberry jam experiment to see this in action: I used extremely ripe, freshly picked strawberries to make three batches of homemade jam. To this end, I made:
plain strawberry jam to see how the set when strawberries alone are used and these aren't very high in natural pectin, especially when they are at their peak, flavour-wise
strawberry rhubarb jam to see what happens when you add a low pectin fruit like rhubarb
strawberry red currant jam to see what happens when you incorporate a high pectin fruit like red currants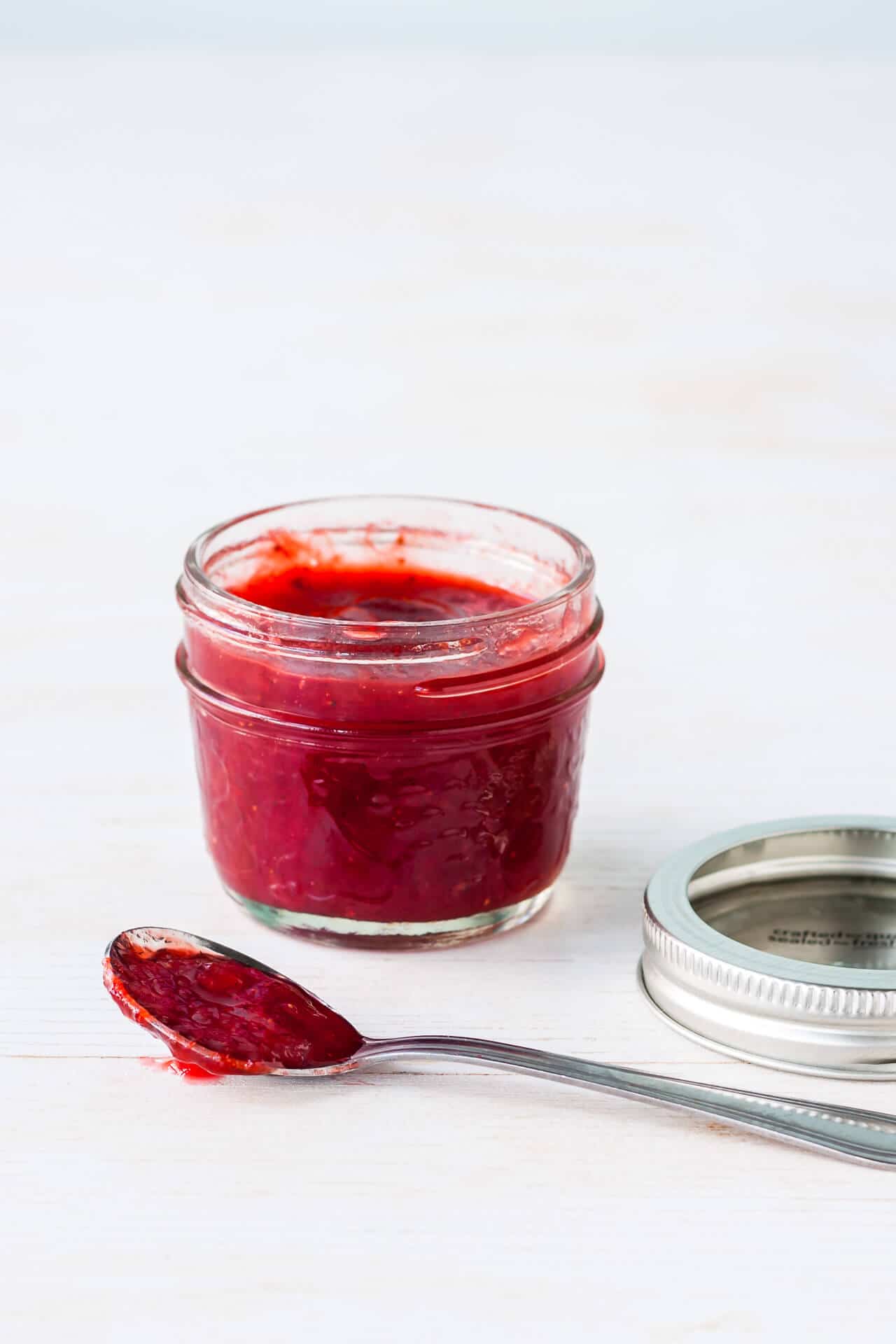 Interestingly, what I found was that the strawberry jam made with red currants set so fast, I barely had to boil it. It gelled almost immediately, so fast that I wasn't sure what to do because I almost didn't made it to the jam setting point (above 215 ºF).
On the other hand, adding rhubarb when making a batch of strawberry jam led to a more complex sour-sweet flavour, but it also led to the softest set. Not surprising since rhubarb isn't known for its pectin content. That's why this rhubarb jam recipe without pectin is so special: it takes a certain technique to achieve a good set with such a low pectin fruit.
Feel free to play with the ratio of strawberries to red currants in this recipe, but remember, more red currants may lead to a firmer set! And for more currant inspiration, check out this roundup of red currant recipes, which includes red currant muffins! Later in the season, you can make this black currant cake (when the red currants are no longer available).
Strawberry and red currant jam
This easy jam doesn't require any gelling agent or thickener because red currants are so high in pectin!
Ingredients
500

grams

(

1.1

lb

)

fresh strawberries

hulled and roughly chopped

450

grams

(

1

lb

)

red currants

450

grams

(

1¼

cups

)

granulated sugar

45

mL

(

3

tablespoon

)

fresh lemon juice

1

vanilla bean

split in two, seeds scraped and added to fruit
Instructions
Mix the berries with the sugar, lemon juice, and the vanilla bean (the split pod and the seeds) in a big pot.

Cover the mixture and let the berries macerate in the fridge overnight.

Place the pot on the stove, uncovered and bring the mixture to a boil, stirring occasionally.

When the jam comes to a boil, continue cooking it until it hits the jam setting point, around 102 ºC (215 ºF).

Remove from the heat. Fish out the used vanilla bean pod and discard it.

Divide the jam among the jars, leaving a ¼ inch headspace. Remove air bubbles, wipe the rims clean, then cover with the lids, fingertight. If any of the jars aren't filled full, don't seal them. Instead you can cover them and enjoy them right away, storing in the fridge.

Seal the closed jars according to the manufacturers recommendations using a water bath canning kit. I used Bernardin jars and I boiled my jam jars for 10 minutes to seal them.

Remove from the canner. Let sit 24 hours undisturbed before storing them in the pantry.
Notes
This recipe makes 6 small jars (of 125 mL  (½ cup) each) or 3 large jars (of 250 mL (1 cup) each)
Make sure to sterilize your jars
Nutrition
Calories:
44
kcal
|
Carbohydrates:
11
g
|
Protein:
1
g
|
Fat:
1
g
|
Saturated Fat:
1
g
|
Sodium:
1
mg
|
Potassium:
41
mg
|
Fiber:
1
g
|
Sugar:
10
g
|
Vitamin A:
5
IU
|
Vitamin C:
10
mg
|
Calcium:
5
mg
|
Iron:
1
mg