This easy black currant cake recipe is a simple almond-flavoured cake topped with fresh black currants, a crunchy sweet crumble topping, and sliced almonds before baking. The berries become jammy and thick as the fruits cook down in the oven, making the perfect simple summer berry cake.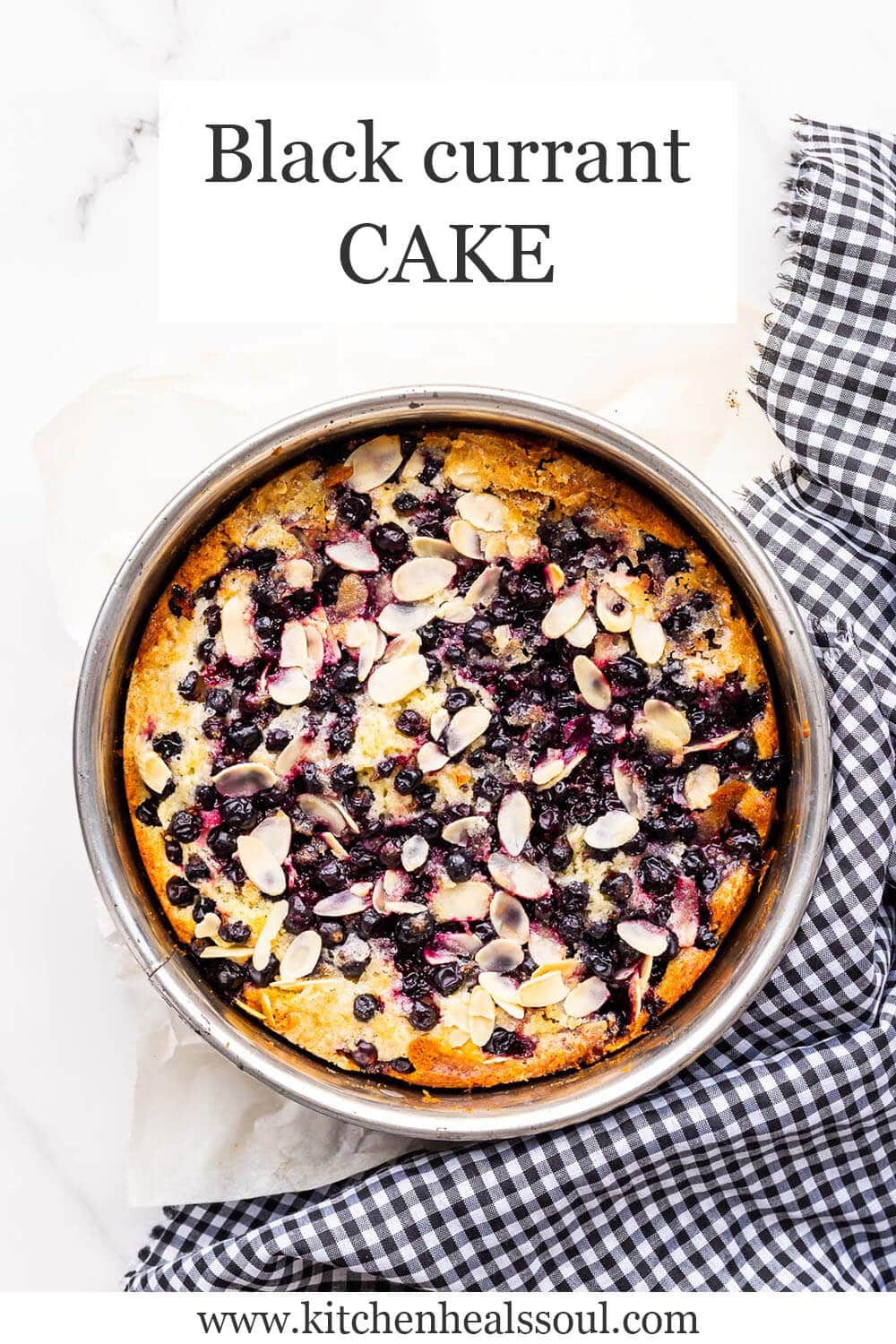 Disclosure: As an Amazon Associate, I earn from qualifying purchases.
Typically, people use black currants as a garnish for drinks. They add them to cocktails, infuse simple syrups with them, and also make liqueurs. Black currants have a unique flavour with striking herbal notes.
I think black currants are the most distinct of the currants. White currants are the mildest and the sweetest, while red currants are noted for their tangy sour flavour, somewhere between black and white currants. Black currants are at the opposite end of the spectrum, known for their vegetal, herbal flavours, less for the sour notes.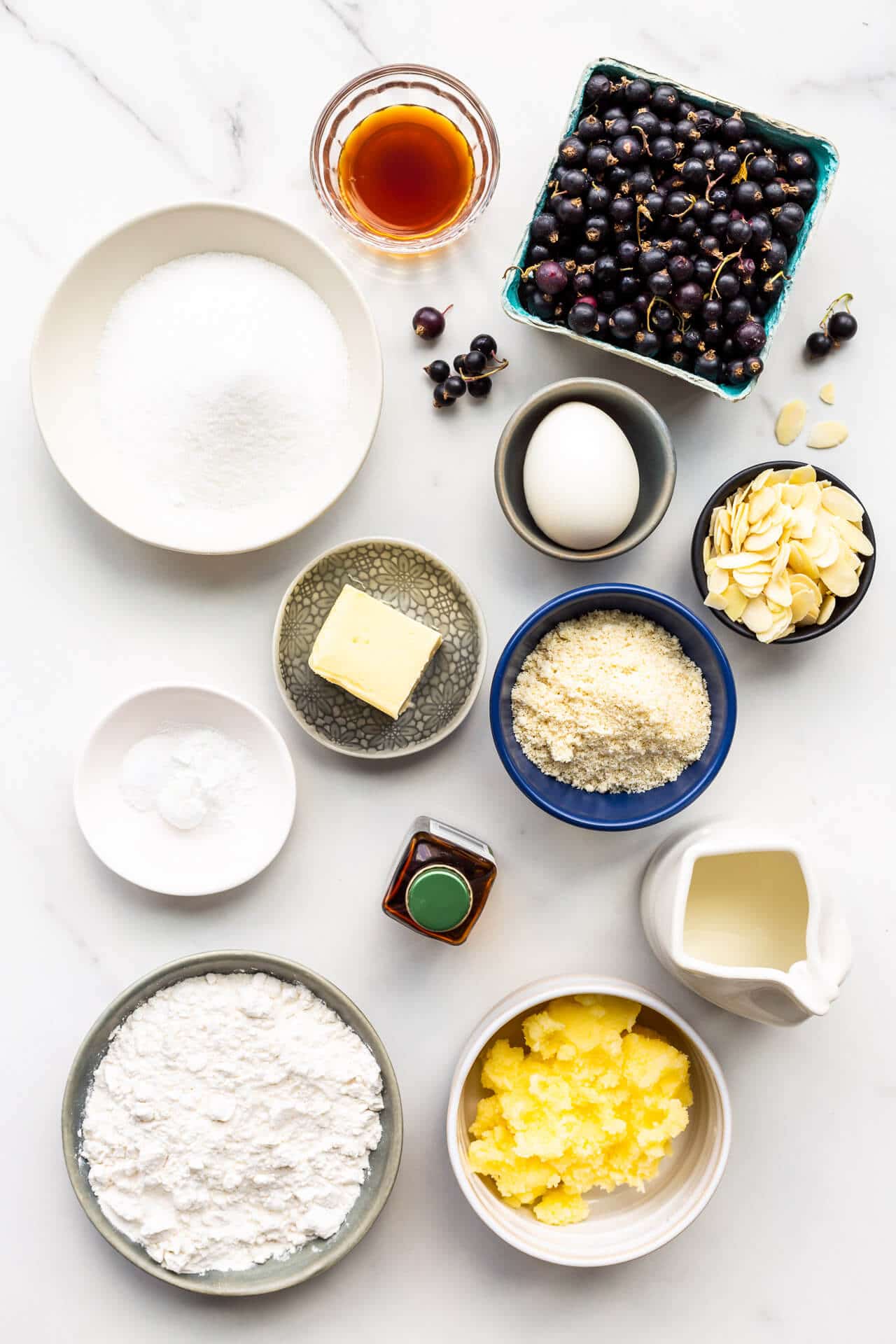 The flavour profile of black currant makes it an ideal berry for pairing with almond, which is where the inspiration for this cake came from. The cake batter is made with ground almonds, but also flavoured with pure almond extract, which lends a stronger marzipan-flavour to the cake that is so lovely with the herbal-flavour of the berries.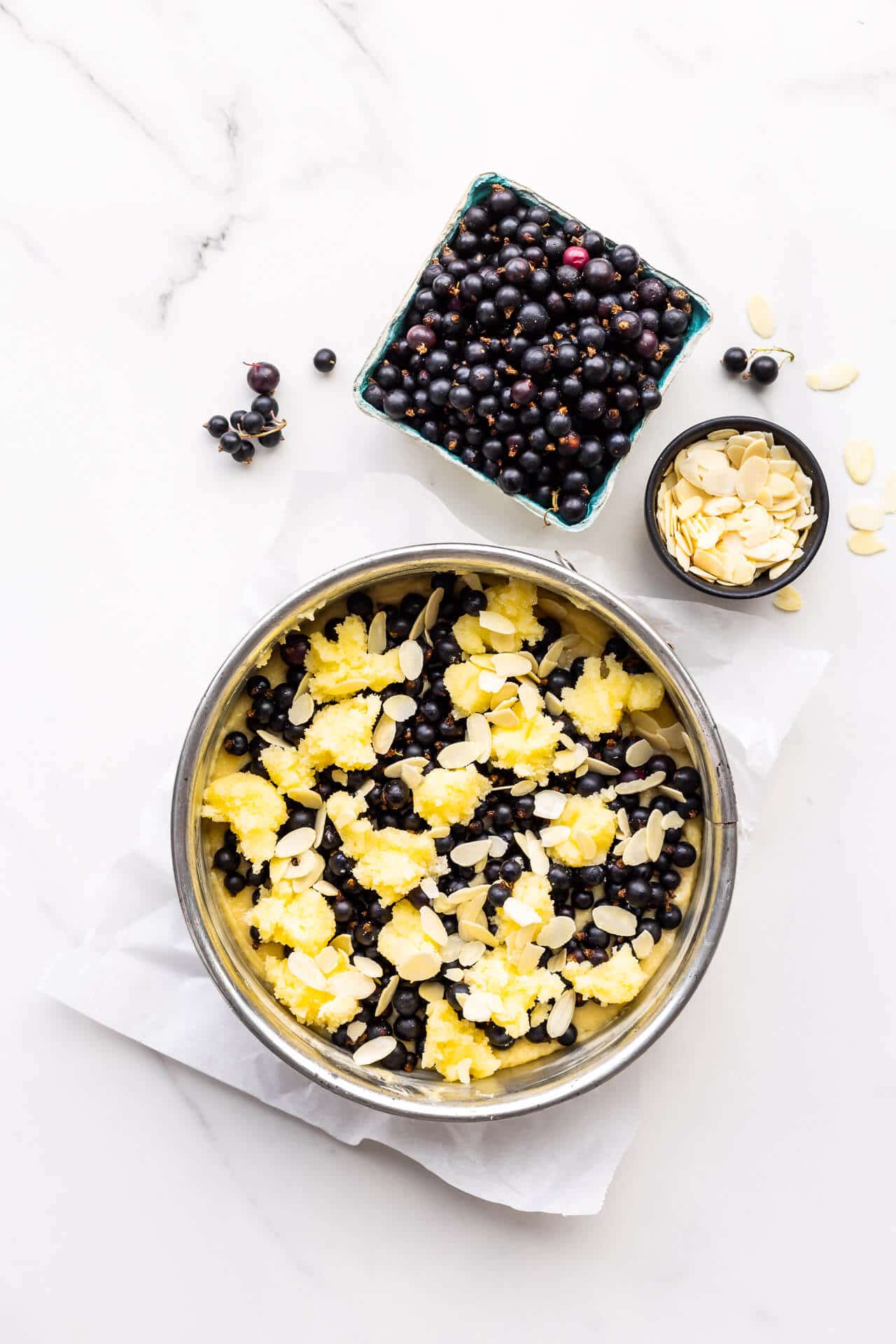 Garnishing cakes with berries is such an easy and fun way to adapt a dessert during the summertime, but it's important to put some thought into it before attempting it and also to proceed with caution. Berries in general are high in water, which means if you want to add berries to recipes BEFORE baking them, you have to factor that water that the fruit will release as the berries heat up and break down. Too much water can really gum up a recipe, making it unappetizing.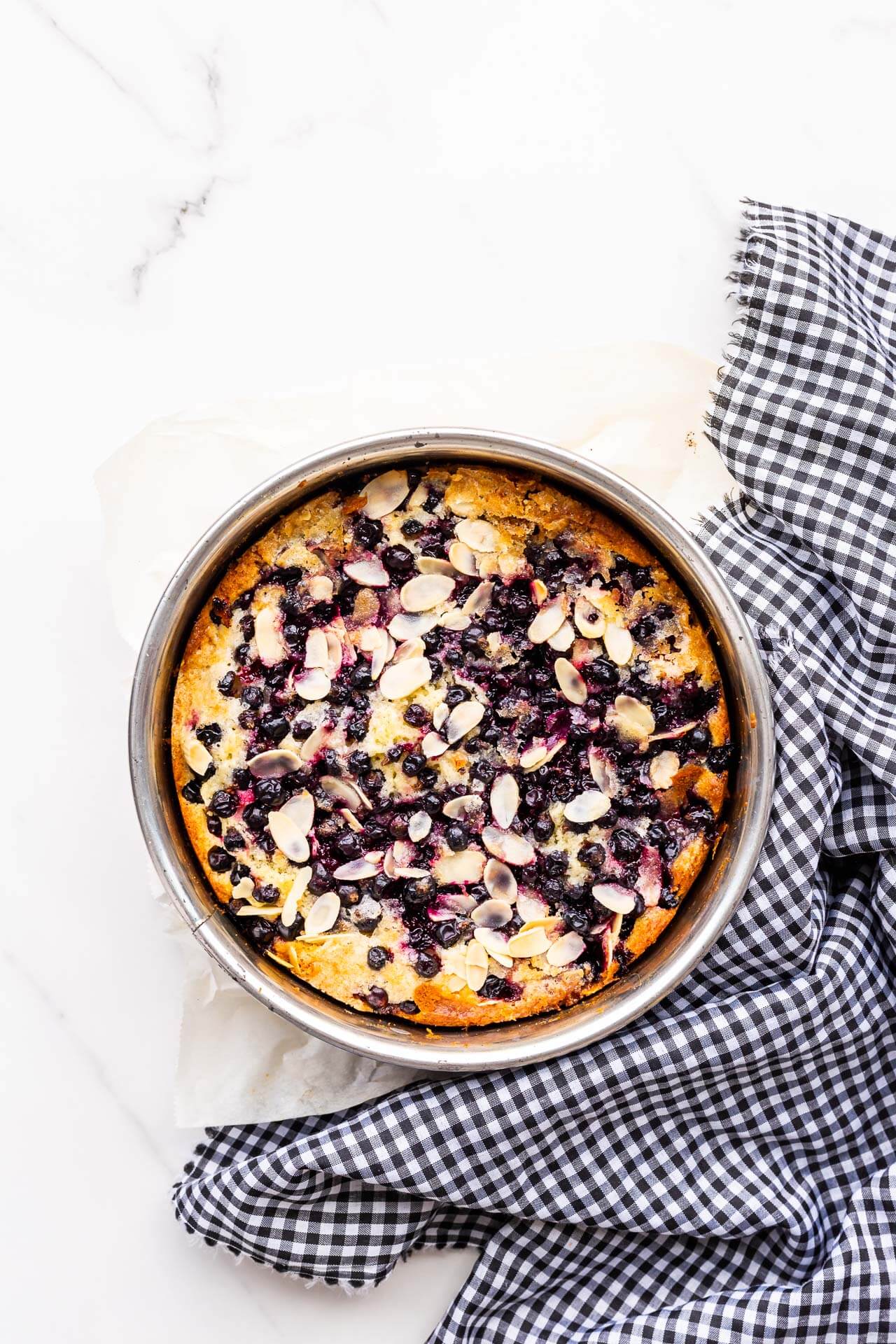 The beauty of baking with black currants is that they are full of pectin, as are other fresh currants. That natural pectin means the berries have a tendency to cook down and set or gel easily on their own, without the help of a thickener.
On the other hand, you can imagine that topping a small cake with 2 cups of raspberries might lead to a puddle of berries and watery raspberry juice on top of a cake if you don't add a thickener. And that un-gelled berry juice can lead to a gummy layer between the berries and the cake where the cake batter can't dry out nor bake properly. Another good example: while a pineapple upside down cake (or an apple tart tatin) doesn't require a thickener for the fruit layer, this rhubarb raspberry upside-down cake does need a little cornstarch in the fruit layer so that it doesn't cook down to a liquid soup.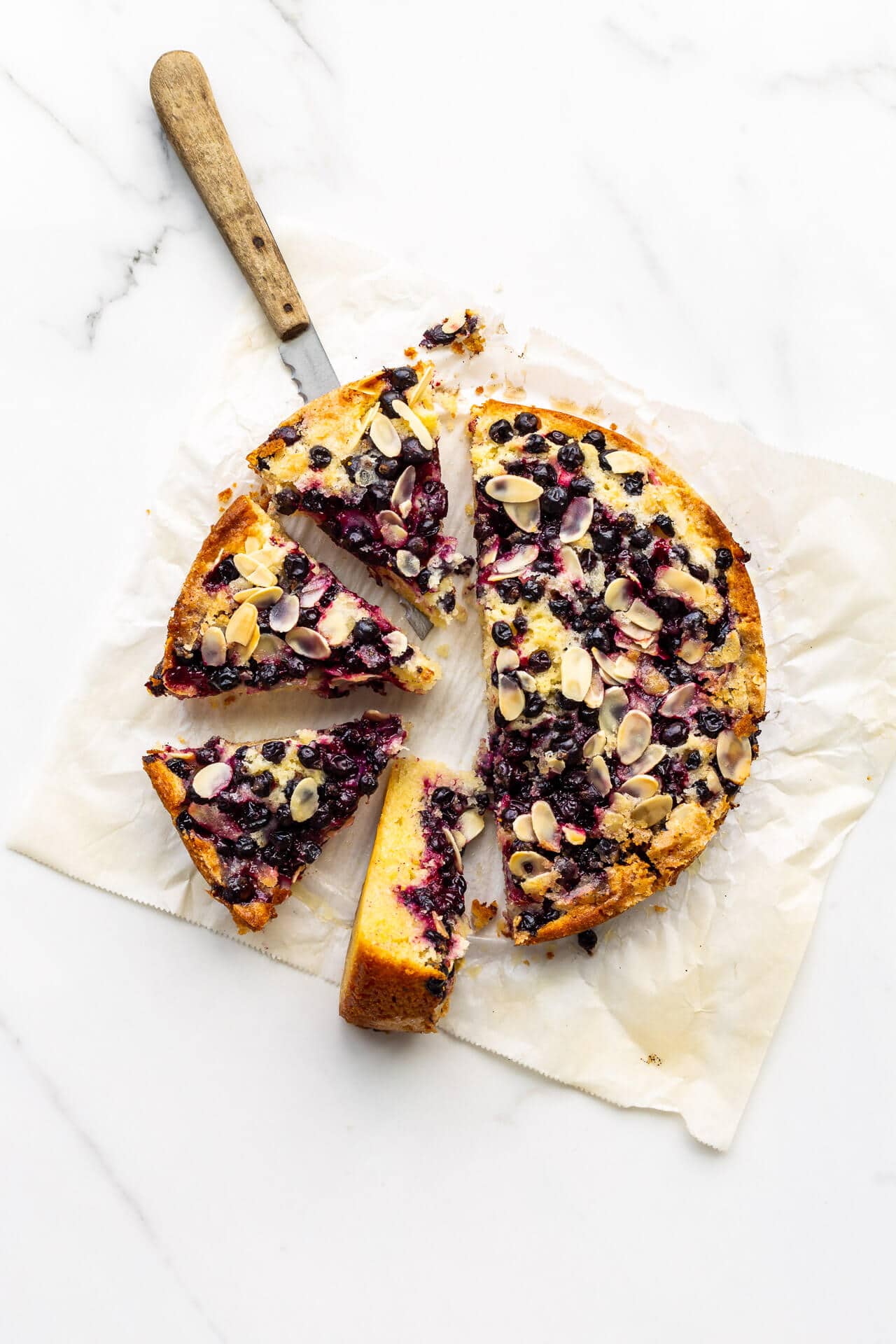 For this cake, ideally you would use a springform pan. You wouldn't want to flip the cake over to unmould it and flip it again to get it onto a serving plate because some of the nuts and berries might come loose and it would be a bit of a mess. This is a great example of why you should have springform in your arsenal of baking pans: all you have to do is unclip the side to loosen and open up the ring, releasing the cake.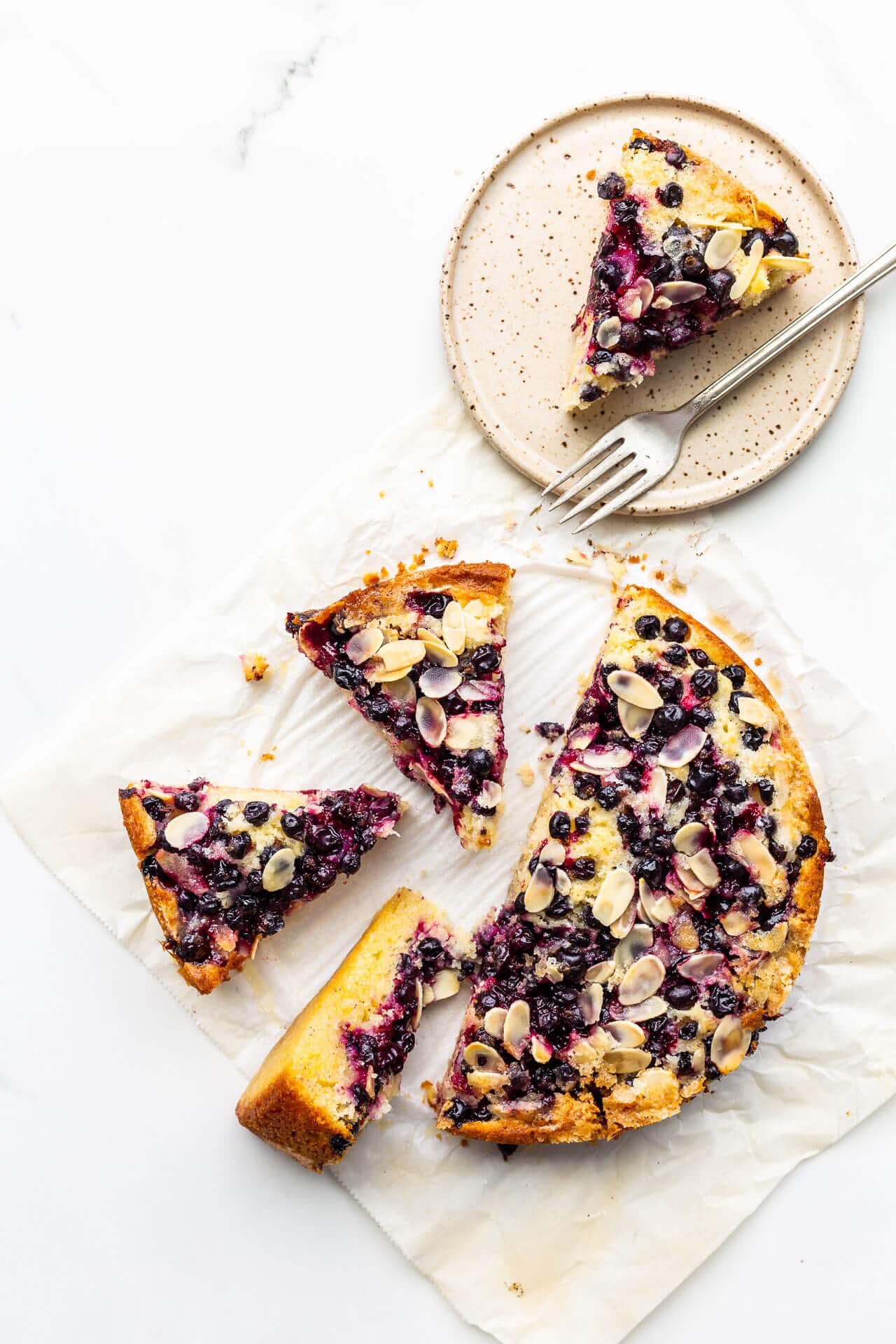 If you like baking with currants, remember you can also make strawberry red currant jam, red currant muffins, and you can throw currants in with the filling when you make these easy raspberry galettes.
📖 Recipe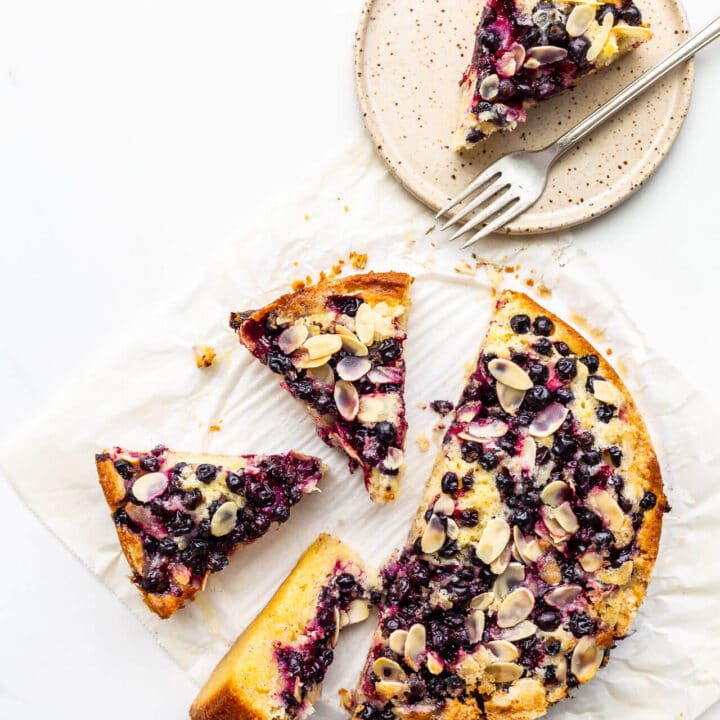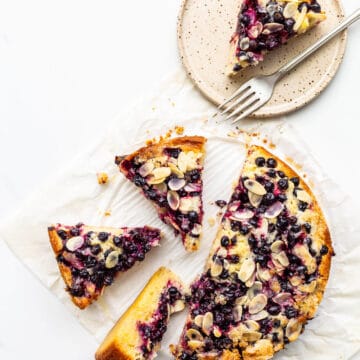 Black Currant Cake
This easy black currant cake is made with ground almond and flavoured with almond extract, topped with fresh black currants, a crispy sugar crumble topping, and sliced almonds
Ingredients
Sweet crumble topping
42

grams

unsalted butter

50

grams

granulated sugar

40

grams

bleached all-purpose flour
Instructions
Preheat the oven to 350 ºF (175 °C). Butter an 8-inch springform pan with removable bottom and line the bottom with parchment paper. Set aside
Sweet crumble topping
In a small bowl, combine the ingredients for the crunchy sugar topping. Mix them with a wooden spoon until a soft cookie dough forms. Set aside.
Black currant cake
In a medium bowl, whisk together the flour, ground almonds, baking powder, and salt. Set aside.

In a large bowl, using an electric handheld mixer, cream together the butter, the sugar, the vanilla, and the almond extract for several minutes until they are fluffy and well mixed.

Add the egg and beat it in. Incorporate the milk.

Add the whisked dry ingredients and stir everything together on low to form a smooth cake batter.

Pour the cake batter into the prepared springform pan. Smooth it out.

Scatter the black currant berries over top, then pieces of the soft crumble topping and the sliced almonds.

Bake the cake on the middle rack of the oven until the edges are golden brown and a cake tester inserted in the middle comes out clean. It took about 60 minutes for this cake to bake properly in my oven.

Let cool slightly before running a knife around the edge of the cake and then unclipping the springform to release the sides. Transfer the cake to a wire rack to cool completely.

Serve plain or with ice cream if desired.
Nutrition
Calories:
311
kcal
Carbohydrates:
41
g
Protein:
5
g
Fat:
15
g
Saturated Fat:
7
g
Cholesterol:
48
mg
Sodium:
75
mg
Potassium:
276
mg
Fiber:
1
g
Sugar:
20
g
Vitamin A:
462
IU
Vitamin C:
85
mg
Calcium:
87
mg
Iron:
2
mg