This easy recipe for apricot jam is sweetened with honey which adds a ton of flavour. The fruit and sugar are macerated for an hour to bring out the juices and also help preserve the fruit so that they don't break down completely when you boil the jam. This recipe makes a small batch of about 5 jars.
This honey apricot jam is a variation of the classic apricot jam. We replace a portion of the sugar with honey which adds a lovely honey-flavour to this jam.
Jump to:
Picking fruit for jam
Most jam makers will agree that you should include about 25% unripe fruits in each batch of jam because those unripe fruits have a higher level of pectin, which will help the set. You need to be careful because too much unripe fruit and your jam will taste like sour, unripe fruit (duh!).
Disclosure: As an Amazon Associate, I earn from qualifying purchases.
Ripening apricots
To ripen apricots and other stone fruit that were picked too early, you can try setting them in a bowl on the counter. Another trick is to place them in a paper bag with an apple. The apple releases ethylene, which will speed up the ripening process.
A couple of days on the counter and unripe stone fruit will transform into something great.
If you like apricots, you will love this jam! If you aren't a fan of honey, you can replace it with the same weight of sugar.
Reducing the sugar in apricot jam
I wouldn't recommend using less than half of the weight of fruit in sugar, so if you have 1.2 kilos of fruit, don't use less than 600 grams of sugar. Otherwise, the jam may not set properly. Remember that both the honey and granulated sugar count as sugar in this recipe, so the combined total of the two shouldn't go below 600 grams.
Jam setting point
Have you ever made jam that is thin and runny, and seemingly lacking in flavour? It's likely you didn't boil the jam long enough to hit the jam setting point, the temperature where the jam has boiled for long enough that a good portion of the water has evaporated and the pectin can do its job of setting the jam texture so it's thick and not so fluid and liquid.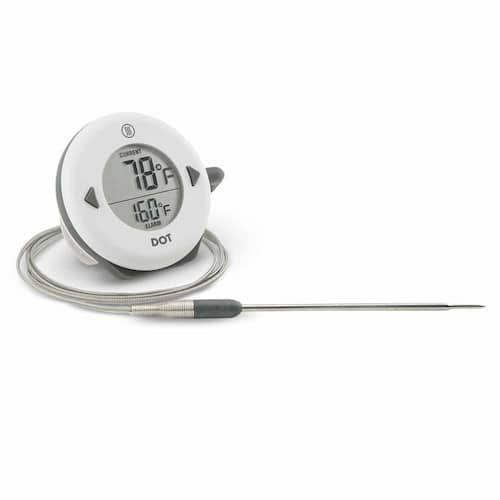 With most jam recipes, it's hard to give a cooking time because some jams can take even an hour of boiling to achieve the perfect set. I boiled this batch of apricot jam for almost 30 minutes, until it reached 103 ºC (217 ºF).
You could also boil a little less, to 102 ºC (215 ºF) but make sure that you let it boil to that temperature and make sure it stays there for long enough. Recall, this is the same for marmalade, which also has to be boiled to a certain temperature to achieve the marmalade setting point.
Freezer test
You can also use a frozen plate test to see how the set is. Make sure to place a few saucers in the freezer before you begin: when you think you're close to the set you want, you can verify it:
dollop a small amount of the jam on a frozen saucer
place the saucer back in the freezer to cool down the jam for about 30 seconds to a minute
take the plate out of the freezer and nudge the edges of the dollop with your fintertip.
if the jam wrinkles when pushed, you've definitely boiled down the jam enough that it won't be soupy.
decide if you want to thicken further for a firm set or if you want to can it right away
Remember whenever you do a plate test like this, take the pot of jam off the burner and turn off the heat. Otherwise, you risk overcooking the jam!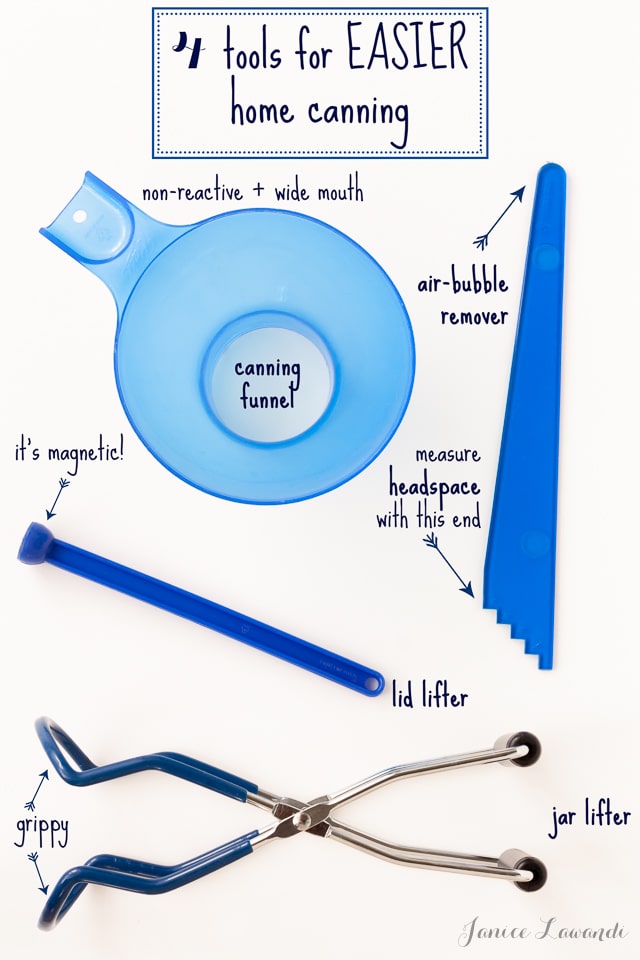 Special equipment
If you want to seal your jars using a boiling water bath, you will need a few tools to make the job easier:
A canning kit for processing jars, with jar lifter, canning rack, canning pot, magnet for picking up sterilized lids, and a tool for checking headspace (this is a kit from Ball on Amazon that is perfect for most of your canning jobs)
A wooden spoon or non-reactive spatulas are essential. Make sure if you are using a spatula that it can withstand higher temperatures as you will be stirring the boiling jam with this tool on the stove.
Mason jars (I like Ball or Bernardin jars like these on Amazon) with new rubber seals (get a stash of these on Amazon) to make sure the vacuum seal will hold over time.
A fast-reading or instant-read thermometer, which you can use to monitor the temperature of the jam as it boils. This way you are sure your jam will set if you boil it up to the jam-setting temperature. I own a pink Thermapen which is very fast at registering temperatures and temperature changes, but it's hand-held. The ChefAlarm is a probe thermometer with a cord and would be even more appropriate for making jam!
Serving suggestions
This honey apricot jam is great on English muffins and on buttered toast with a little salt. It has a bright apricot taste with honey's sweet, unique flavour. You can use this to fill jam thumbprint cookies and jam-filled shortbread cookies.
📖 Recipe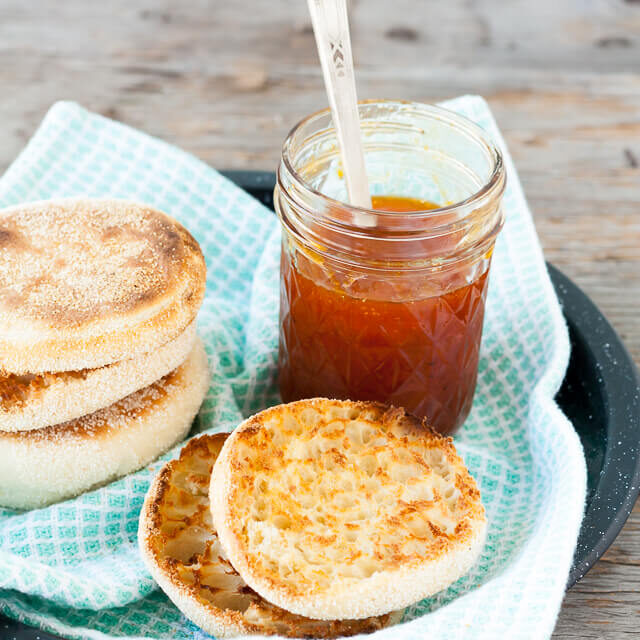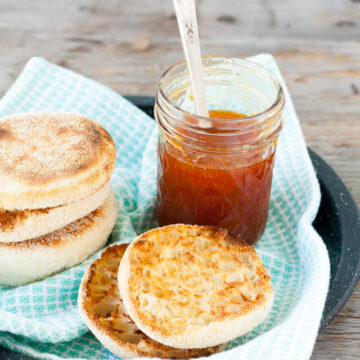 Honey Apricot Jam
This apricot jam is sweetened with both sugar and honey, which adds a ton of flavour to this easy apricot preserve
Ingredients
1.2

kg

apricots

450

grams

granulated sugar

350

grams

wild flower honey

60

grams

fresh lemon juice

30

mL

loose leaf black tea

optional, but I love tea in jam!
Instructions
Wash & sterilize jars and lids for canning. Prep a large canning pot full of water and bring it to a boil.

Combine the first 4 ingredients in a separate large pot. Let sit for 1 hour at room temperature.

Meanwhile, wrap the tea leaves in cheesecloth to make a bundle. Drop it into the pot of fruit.

Place the pot of syrupy fruit on the stove and heat on medium heat to bring the mixture to a boil, stirring every so often. You may want to skim off some of the foam that forms as you heat. Continue to heat the mixture until the bubbles are more stable, the jam sets nicely on a frozen saucer, and the jam is well above 215ºF (I aim for about 218ºF if I can get it there).

Turn the heat off and let the pot of jam sit for 5 minutes, then stir to evenly distribute the fruit. Remove the tea bag.

Transfer the jam to sterilized, hot jars, leaving a ¼" headspace. Top with sterilized lids and screw shut 'until finger-tight.

Place the jars in the canning bath, and bring the water back up to a boil with the lid on. Boil for 10 minutes, then turn the heat off and let it sit for 10 minutes off the heat. Remove the jars from the bath and set on a towel-lined baking tray. Let stand at room temperature overnight.
Notes
To better understand the impact of temperature on set, check out this post about the jam setting point
Nutrition
Calories:
41
kcal
Carbohydrates:
11
g
Protein:
0.2
g
Fat:
0.1
g
Saturated Fat:
0.004
g
Polyunsaturated Fat:
0.01
g
Monounsaturated Fat:
0.02
g
Sodium:
0.4
mg
Potassium:
40
mg
Fiber:
0.3
g
Sugar:
10
g
Vitamin A:
279
IU
Vitamin C:
2
mg
Calcium:
2
mg
Iron:
0.1
mg
If you know me, you know I love jam. All jams, really. Over the years, I've successfully made spiced apple jam, plum jam, rhubarb jam with juniper berries, and even jalapeño jam. Clearly, I have a little thing for jam. I wouldn't say that I am an expert in jam, but I've made a few batches over the years.
Recipe adapted from Preservation Society Home Preserves: 100 Modern Recipes by Camilla Wynne. I also recommend Jam Bake by the same author, which includes many more jam recipes, new techniques for canning and preserving, and recipes to make with your homemade preserves!