Learn how to make homemade ice cream sandwiches with this recipe for sheet pan brownie cake that you can easily convert into sandwiches!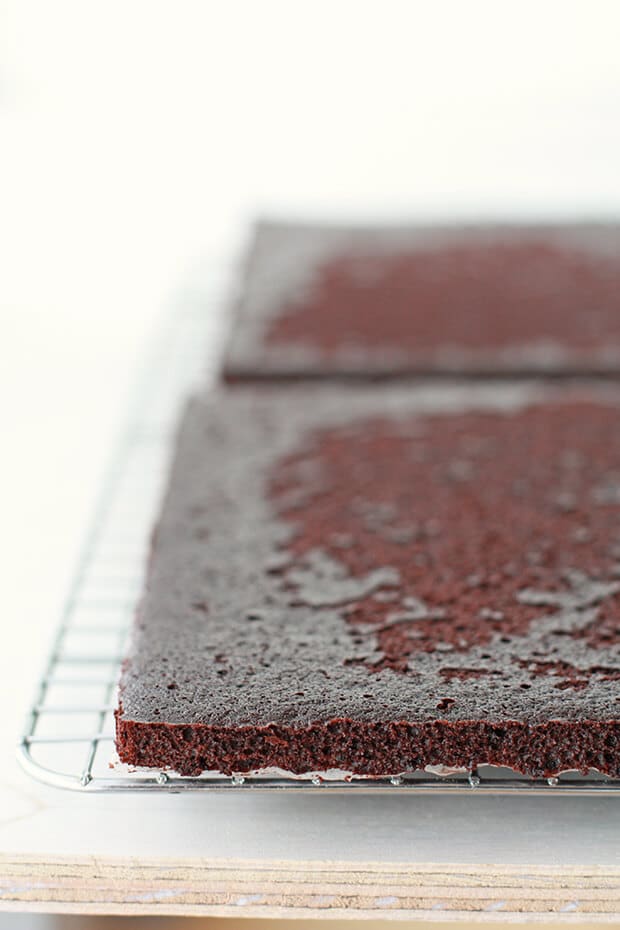 I can't stand scooping ice cream. With really good quality, hard-freezing ice cream, there's so much work and elbow grease required to get a bowl's worth out of the container. I need instant gratification!
Usually I'm so impatient, I end up forcefully chiseling flakes of ice cream into a bowl, and by the time it's adequately filled, the chiseled bits are already melting. Sigh.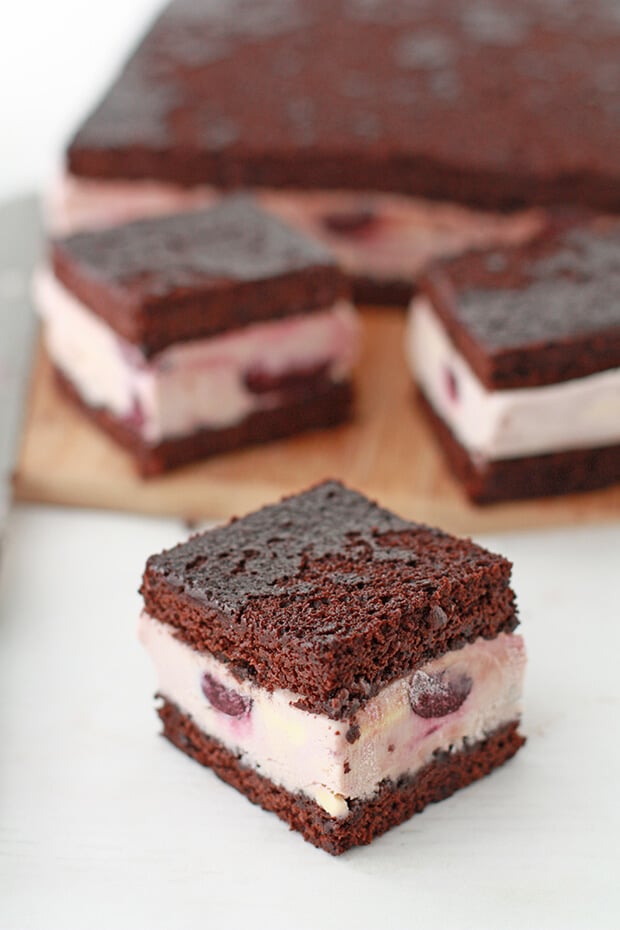 The solution is obviously ice cream sandwiches, and I've been thinking about them a lot lately. They are pre-divvied, and ready to serve when the craving strikes. No sweat. And, they are individually portioned so you can't accidentally eat a whole tub of them (okay, maybe that's not entirely true).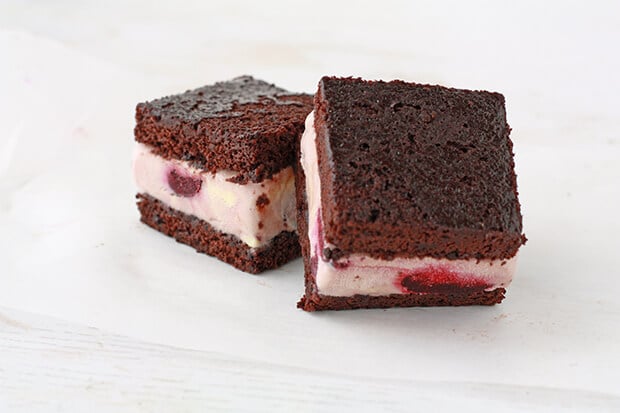 I've actually been holding onto this recipe from Food Network Magazine since the summer of 2010. I may be a total slob and incapable of keeping a clean house, but I do have mad organizational skills. I'm so glad I finally got around to making this recipe.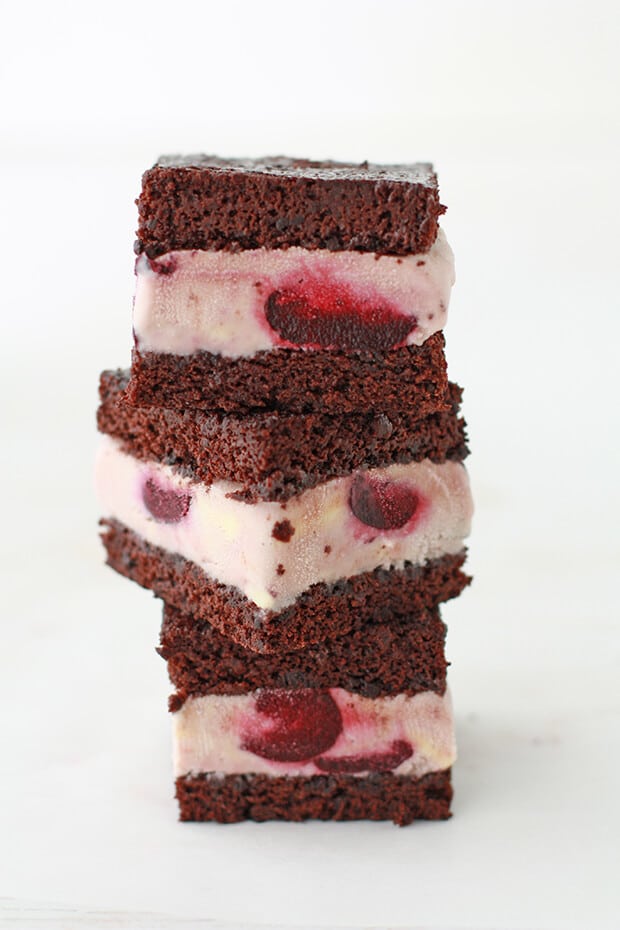 The recipe is super easy: bake two thin cake layers in a couple brownie pans, then sandwich ice cream between them, cut, and serve. Ice cream sandwiches are the answer to my impatience. I made these with a batch of that cherry bourbon ice cream from last week. The combination of chocolate and the boozy cherries kind of reminds me of a grown-up version of Cherry Garcia. This would also taste great with this popcorn ice cream, spiced chai ice cream, or even this lemon custard ice cream too!
P.S. I accidentally cracked one of the cake layers in half while flipping them out of the cake pans to cool. Clearly this is a very forgiving recipe.
Homemade ice cream sandwiches
Homemade ice cream sandwiches recipe made with chocolate cake layers and homemade cherry ice cream
Instructions
Preheat the oven to 325°F. Grease bottom/sides of two square 9-inch metal baking pans and line bottom with parchment, and lightly grease the parchment. Set aside

Whisk together the flour, baking powder, baking soda and salt in a bowl.

Melt the butter in the microwave, then add the cocoa powder and whisk it in to make a thick paste. Add the sugars to the paste, along with the warm coffee, and the buttermilk, egg, and vanilla. Then whisk in the flour.

Divide the batter between the prepared pans, smoothing the tops with an offset spatula, and then bake them for about 20 minutes or until a cake tester inserted into the center comes out clean, except for a couple crumbs.

Cool slightly then unmold onto a parchment lined cooling rack to cool completely.

Wrap the layers in plastic wrap and freeze them for about an hour.

Line on of the square metal baking pans with lots of plastic wrap. Soften the ice cream for about 10–20 minutes (alternately if it's homemade ice cream do this step directly when it's done churning!), then fill the lined baking pan with the ice cream, smoothing it into an even layer with a small offset spatula. Fold over the plastic overhangs to cover and seal the ice cream, then freeze it for about an hour.

When all the components are frozen, unwrap everything, and then flip one of the cake layers so that it is top side down, top with the square ice cream layer, lining up the corners, then top with the second cake layer, top side up. Wrap the whole thing in plastic wrap and freeze again.

Unwrap the giant ice cream sandwich and cut into 16 squares (I used a serrated knife for this) and serve immediately or wrap each quickly in parchment and store in a container in the freezer.
Nutrition
Another great option for desserts made with ice cream is this recipe for ice cream strawberry shortcakes.