Learn how to make homemade ice cream sandwiches with this easy recipe. You will make sheet pan brownie cakes that you can easily convert into sandwiches with your favourite ice cream, whether store-bought or homemade!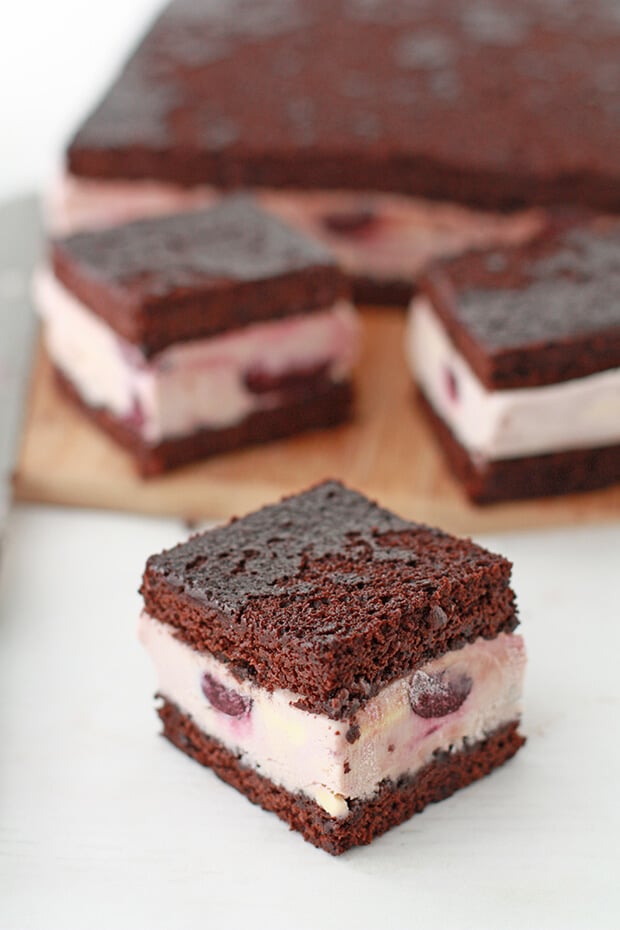 Disclosure: As an Amazon Associate, I earn from qualifying purchases.
I love making homemade ice cream, but scooping it kinda sucks. Homemade ice cream is a little denser than commercial ice cream, and it can freeze quite hard. Transforming it into ice cream sandwiches means no scooping required!
I've actually been holding onto this recipe from Food Network Magazine since the summer of 2010. I may be a total slob and incapable of keeping a clean house, but I do have mad organizational skills. I'm so glad I finally got around to making this recipe.
What you need to make them
Ice cream sandwiches have two components to them, two cakey fudgy cake layers and ice cream.
For the fudgy cake layers, you need the standard chocolate cake ingredients, including:
flour, specifically all-purpose
leavening agents, specifically both baking powder and baking soda to make sure the cake component isn't overly dense
salt, preferably Diamond Crystal fine kosher salt—if using table salt, halve the amount
butter, preferably unsalted but if you want to use salted butter, don't add the salt in the recipe
cocoa powder, specifically Dutch-processed which has a more pronounced chocolate flavour. Do not substitute natural cocoa powder as it won't provide enough flavour or colour for the cake layers.
sugar, both granulated and brown sugar to achieve the right texture of cake
coffee to enhance the bitter notes of the chocolate
buttermilk, which is often low fat are almost fat free. A higher fat buttermilk around 3 % fat could also work.
vanilla, either store-bought or homemade vanilla extract work.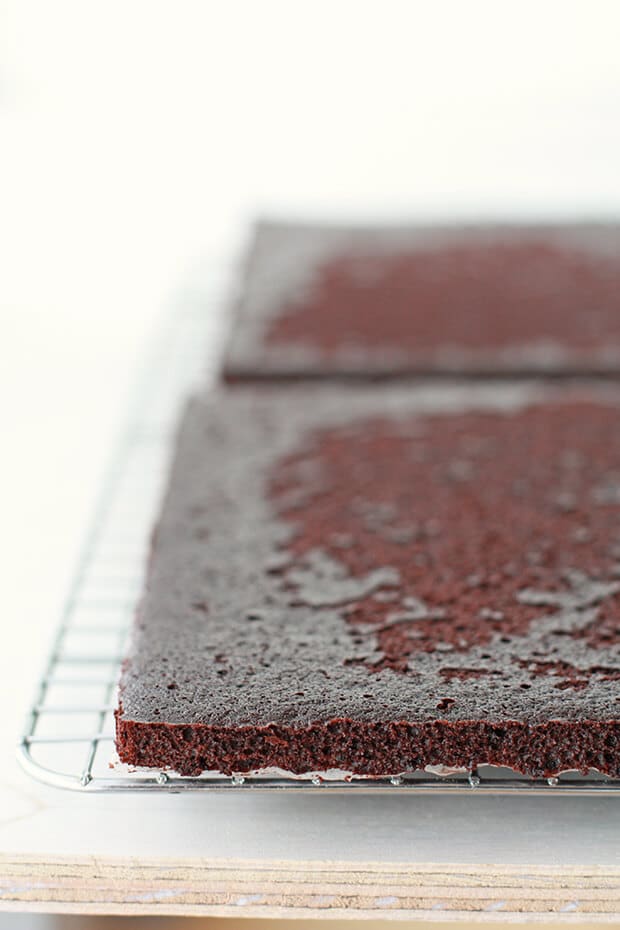 And for the ice cream filling, you can either use homemade ice cream, or store-bought.
Ice creams for ice cream sandwiches
I made these with a batch of that cherry bourbon ice cream. The combination of chocolate and the boozy cherries kind of reminds me of a grown-up version of Cherry Garcia. You can use any ice cream you like:
If you don't have time to make ice cream, consider your favourite store bought flavours that pair nicely with chocolate. All you have to do is soften the ice cream to be able to spread it between the two layers of cake. My favourite ice cream brands include Ben & Jerry's and H¨aagen-Dazs.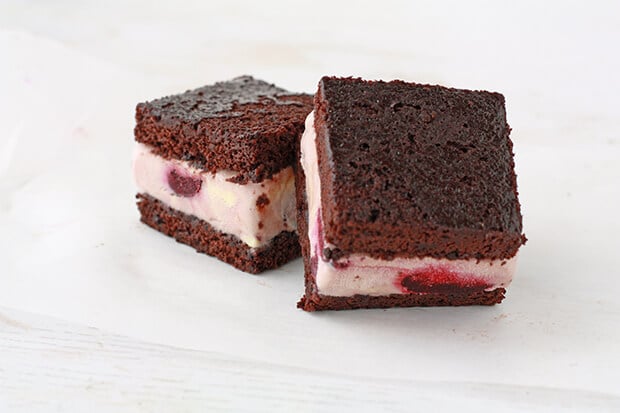 Special equipment
The cake layers are baked in two brownie pans to create two equal layers of cake with exactly the same height and dimensions. You can then stack the layers, sandwiching softened ice cream between the two in the same brownie pan to freeze it before cutting into squares or bars.
I used two 9 inch brownie pans for this and they worked perfectly.
To assemble and freeze in the brownie pans, make sure to line the pan completely with plastic wrap so that you can easily freeze and then unmould to cut out the ice cream sandwiches on a cutting boards cleanly, neatly, and evenly. Cutting in the pan is not recommended (and you will damage your pan) so do not skip this step!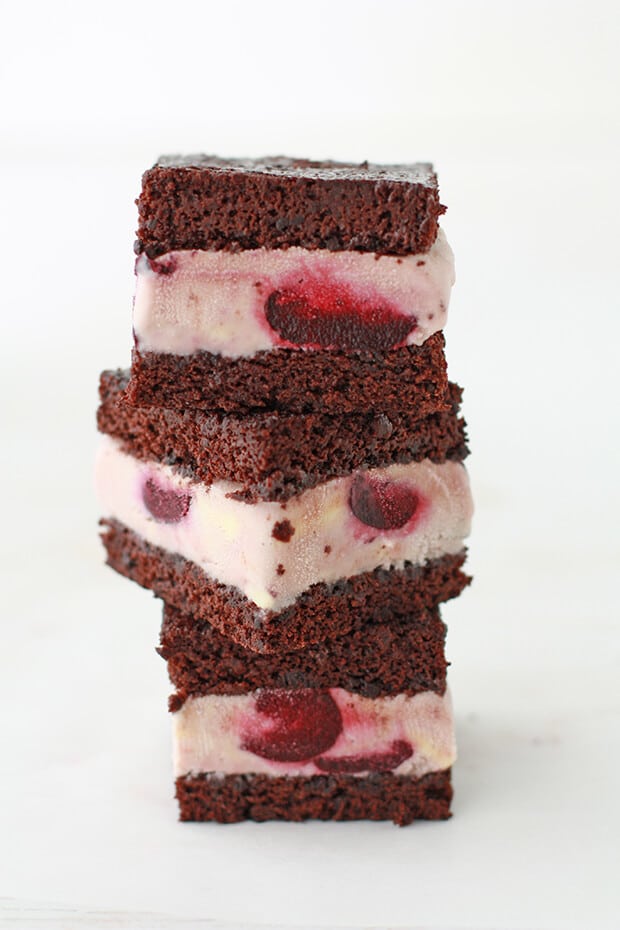 This is a very forgiving recipe. I accidentally cracked one of the cake layers in half while flipping them out of the cake pans to cool, but you can't tell. The softened ice cream binds the layers together and once frozen, they hold up well, even if you have cracked one of the layers.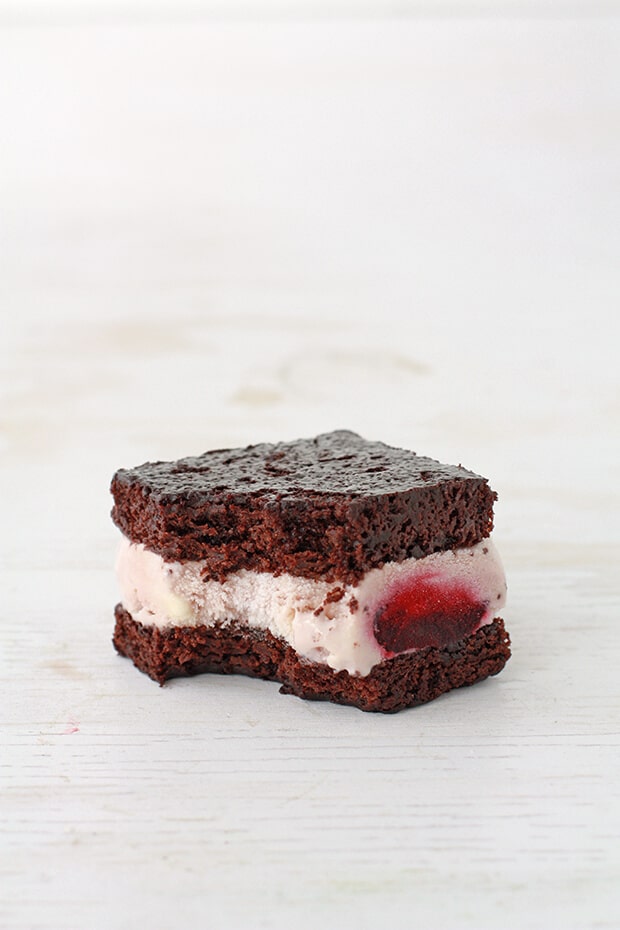 📖 Recipe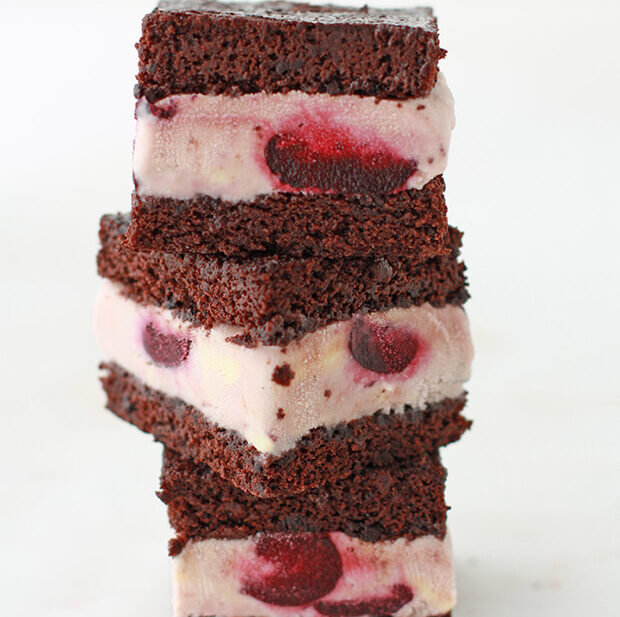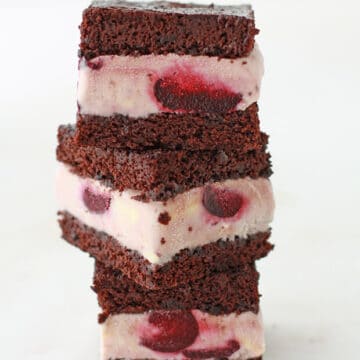 Homemade Ice Cream Sandwiches
Homemade ice cream sandwiches recipe made with chocolate cake layers and homemade cherry ice cream
Instructions
Preheat the oven to 325 °F (165 °C). Grease bottom/sides of two square 9-inch metal baking pans and line bottom with parchment, and lightly grease the parchment. Set aside

Whisk together the flour, baking powder, baking soda and salt in a bowl.

Melt the butter in the microwave, then add the cocoa powder and whisk it in to make a thick paste. Add the sugars to the paste, along with the warm coffee, and the buttermilk, egg, and vanilla. Then whisk in the flour.

Divide the batter between the prepared pans, smoothing the tops with an offset spatula, and then bake them for about 20 minutes or until a cake tester inserted into the center comes out clean, except for a couple crumbs.

Cool slightly then unmold onto a parchment lined cooling rack to cool completely.

Wrap the layers in plastic wrap and freeze them for about an hour.

Line on of the square metal baking pans with lots of plastic wrap. Soften the ice cream for about 10–20 minutes (alternately if it's homemade ice cream do this step directly when it's done churning!), then fill the lined baking pan with the ice cream, smoothing it into an even layer with a small offset spatula. Fold over the plastic overhangs to cover and seal the ice cream, then freeze it for about an hour.

When all the components are frozen, unwrap everything, and then flip one of the cake layers so that it is top side down, top with the square ice cream layer, lining up the corners, then top with the second cake layer, top side up. Wrap the whole thing in plastic wrap and freeze again.

Unwrap the giant ice cream sandwich and cut into 16 squares (I used a serrated knife for this) and serve immediately or wrap each quickly in parchment and store in a container in the freezer.
Notes
For the cocoa powder, you can purchase it on Amazon
Nutrition
Calories:
186
kcal
Carbohydrates:
28
g
Protein:
3
g
Fat:
8
g
Saturated Fat:
5
g
Polyunsaturated Fat:
0.4
g
Monounsaturated Fat:
2
g
Trans Fat:
0.1
g
Cholesterol:
34
mg
Sodium:
92
mg
Potassium:
202
mg
Fiber:
2
g
Sugar:
20
g
Vitamin A:
262
IU
Vitamin C:
0.2
mg
Calcium:
82
mg
Iron:
1
mg
Another great option for desserts made with ice cream is this recipe for ice cream strawberry shortcakes.