Learn how to make thick chewy oatmeal cookies by baking them in a muffin pan with this easy recipe!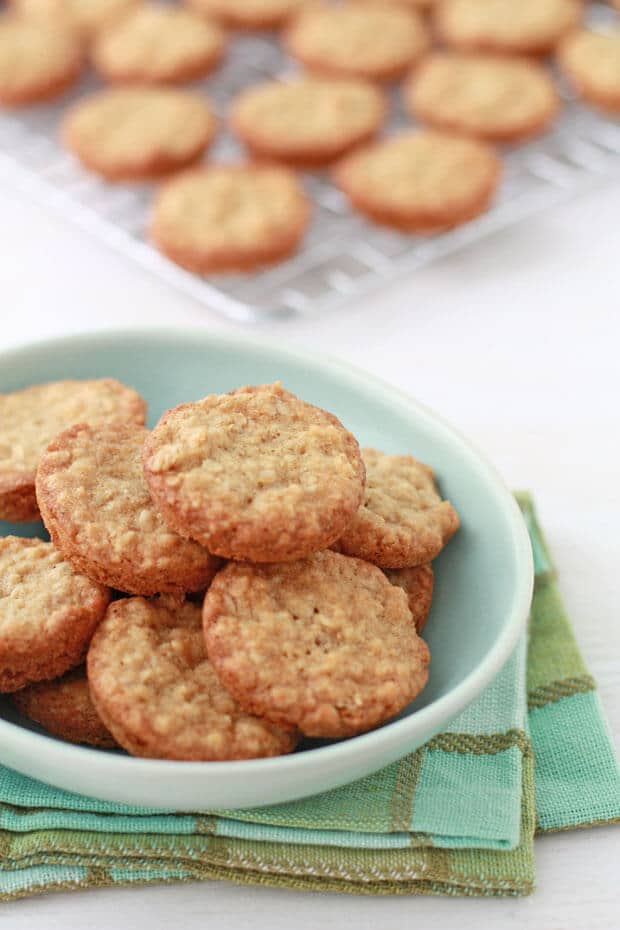 Disclosure: As an Amazon Associate, I earn from qualifying purchases.
There are certain tricks to baking thicker chocolate chip cookies or oatmeal cookies:
incorporate more flour into the dough, which provides more structure for the cookie and minimizes the spread.
chill the cookie dough really well before baking: this way the butter will be cold and hard, and when you bake the cookie dough, the edges will hopefully set in place before the butter has time to melt, reducing the spread of the cookies.
bake the scoops of cookie dough in a muffin pan (or a mini muffin pan) to physically prevent spreading.
For most of my chocolate chip cookies, I tend to add a little more flour than most bakers do and this works well for baking thick chewy chocolate chip cookies. I used this trick when I baked these spelt chocolate chip cookies, adding more flour to make a thicker cookie that spreads less. I did the same for these thick chewy oatmeal cookies.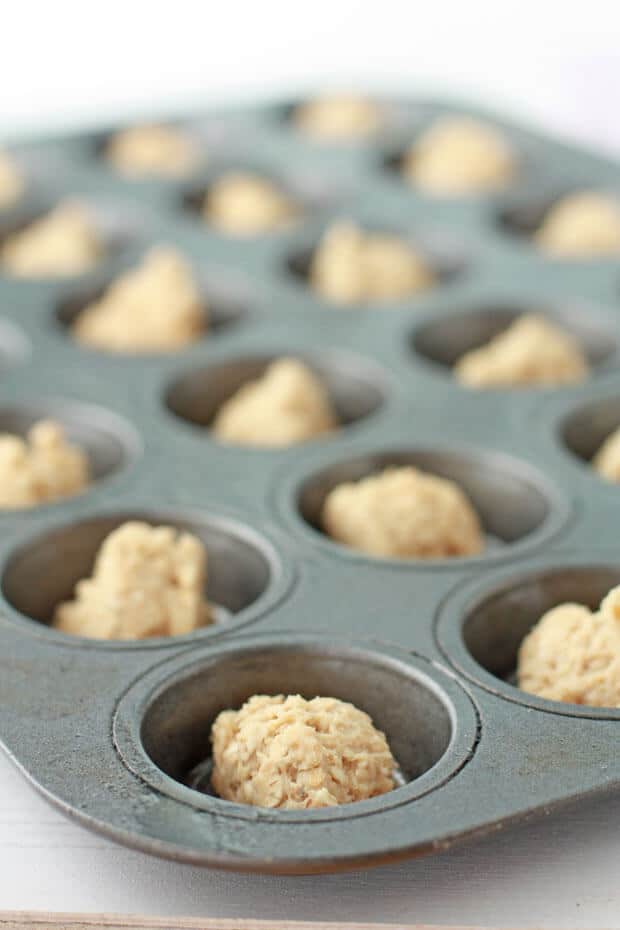 For thinner cookies that are more crisp, I do the opposite: I add less flour and I don't chill, thereby encouraging the dough to spread as the cookies bake. These thick and chewy oatmeal raisin cookies are a great example of exactly that. There's even a little buttermilk in the dough, which loosens it so that it is more likely to spread.
With these tricks, it's so important to properly measure the baking ingredients because we are dealing with ratios of flour to butter, flour to egg, etc and if you are heavy-handed or light-handed with the flour, the results won't be what you were expecting.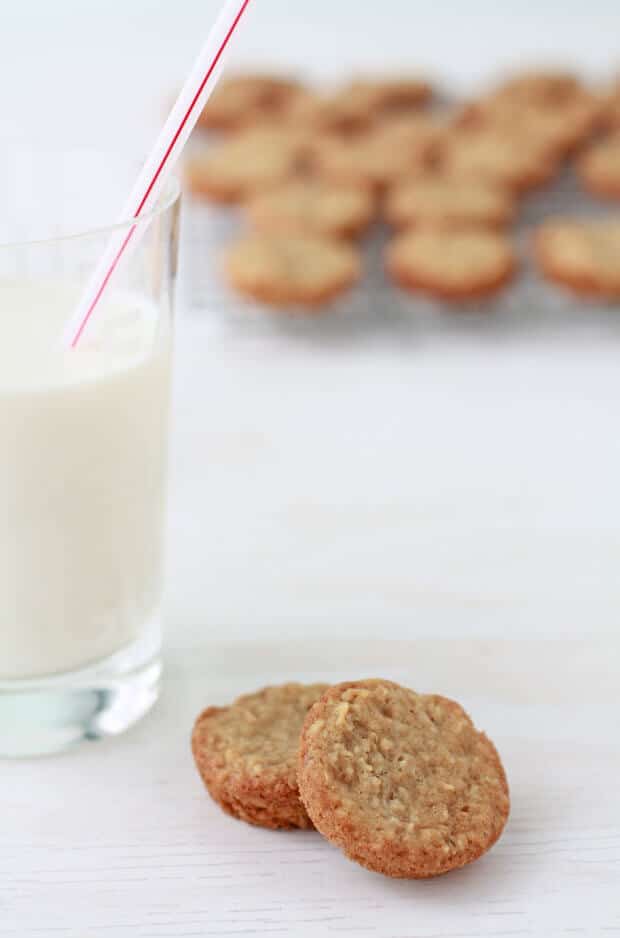 For these thick oatmeal cookies, I've used the other trick: instead of adding more flour to bulk up the cookie dough, I baked the dough in a muffin tin, which means that the cookies can't spread any further than the walls of the muffin cups. This means, you can work with a dough that has a higher ratio of butter to flour, which means a more buttery taste! What's not to love about that? Actually, a few professional pastry chefs use this trick for their cookies: they bake them in ring moulds set on sheet pans so that the cookies are perfectly uniform and round.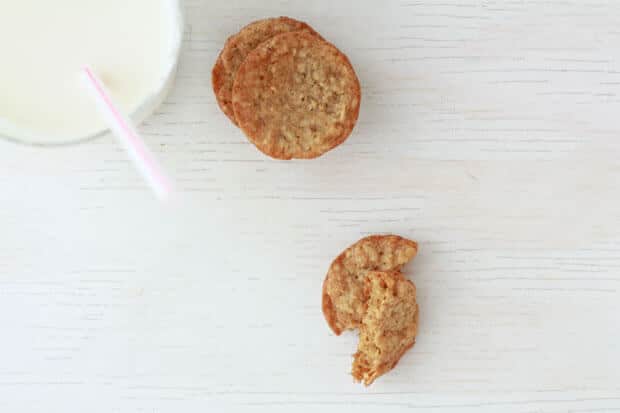 If you prefer classic oatmeal cookies, try these crispy oatmeal raisin cookies, or for something a little different, I love these blueberry oatmeal cookies flavoured with white chocolate and rosemary.
This recipe is adapted from Smitten Kitchen but I used quick oats instead of rolled oats. These oatmeal cookies come out of the oven as soft, almost cakey cookies, but become a little chewier as they cool. I baked them in a mini-muffin pan so that they'd all have a nice uniform size because my living conditions may be less than neat, but my muffins must be perfect. I'm funny that way.
📖 Recipe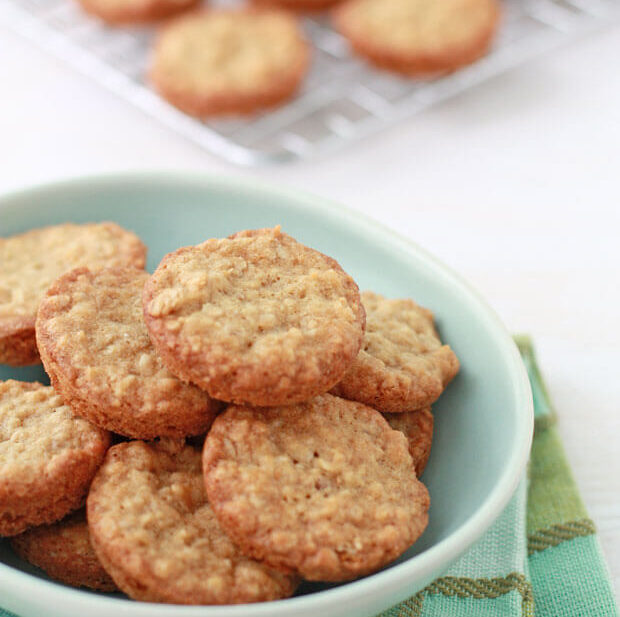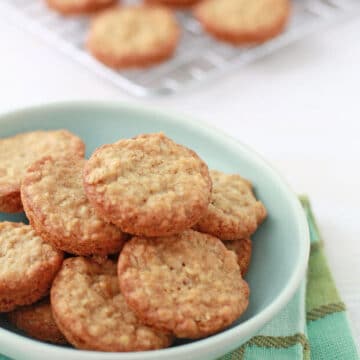 Thick Oatmeal Cookies
You can bake oatmeal cookies in a mini muffin pan to stop them from spreading in the oven, yielding a thicker cookie with a more even bake. These oatmeal cookies are soft in the middle when they come out of the oven!
Instructions
Grease two 24-mini muffin pans. Set aside. Also line a large rimmed baking sheet with parchment paper and set it aside.

In the bowl of an electric mixer fitted with the paddle attachment, cream the butter and the sugar for 2 minutes. Scrape down the sides of the bowl.

Add the egg, and beat again until incorporated.

Add the vanilla, and beat again. Scrape down the bowl.

In a separate bowl, whisk together the flour, baking soda, salt, and oats.

Add the flour mixture to the mixer bowl, and mix on low til the dough comes together.

Scoop the dough with a ¾ oz scoop (~20 g of dough per scoop) and place on the parchment lined sheet (I got exactly 24 scoops of about 20–22 grams). Refrigerate the dough for about 1 hour.

Preheat the oven at 350 °F (175 °C). When the dough is completely chilled, divide each scoop into two using a knife and place each half in a well of greased muffin pan.

Bake for about 10 minutes or until the edges are just beginning to turn golden brown. Let the cookies firm up for a minute or two before, unmolding with the help of a mini offset spatula.
Notes
I used
quick oats, which are finer than rolled oats (also called large flake oats). The two types of oats are not interchangeable. Use quick oats!
Nutrition
Calories:
45
kcal
Carbohydrates:
6
g
Protein:
1
g
Fat:
2
g
Saturated Fat:
1
g
Cholesterol:
9
mg
Sodium:
27
mg
Potassium:
16
mg
Fiber:
1
g
Sugar:
3
g
Vitamin A:
65
IU
Calcium:
5
mg
Iron:
1
mg