This wild blueberry cobbler is easy to make and can be made in individual ramekins or one big ceramic baking dish. If you don't have wild blueberries, you can use regular blueberries, blackberries, raspberries, strawberries, or a combination of berries. Make sure to sweeten the fruit layer according to the types of berries used!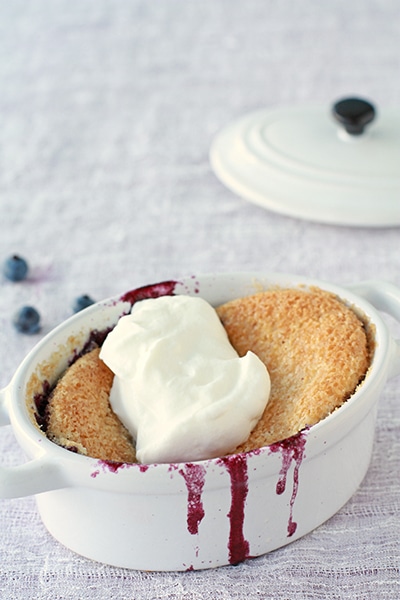 When it comes to baking fruit desserts, cobblers are an important entry on the list. Cobblers can be topped with either slabs or dollops of biscuit dough or a cake batter of sorts. Personally, I like a cake-y cobbler, and that is exactly what this is: a sweet batter is poured over a layer of melted butter and fresh blueberries and baked until the cake is tender and golden and the berries are bubbly and hot.
Cobbler reminds me of these rhubarb pudding cakes, which are cakes baked with a thick layer of rhubarb compote on the bottom.

Disclosure: As an Amazon Associate, I earn from qualifying purchases.
I started with a recipe from Virginia Willis for blackberry cobbler, made in a seasoned cast iron skillet. Of course, I don't have one of those (one day, I hope...), so I baked the cobbler in individual white oven-safe pots. You could bake this recipe in 8 individual ceramic pots or one big 9-inch ceramic dish.
For the fruit filling, I made one major
baking substitution
: replacing the blackberries with Quebec blueberries. You could also replace the blackberries with your favourite berries, or even a mixture of berries. The thing to note is that blueberries are very high in pectin, so the blueberry filling, as it boils in the oven, will gel itself, without using any additional thickener. On the other hand, blackberries, raspberries, and strawberries are lower in pectin, so your cobbler will be more saucy on the bottom.
Another thing to note is that some berries are sweeter than others, so if your berries aren't sweet, you may want to sprinkle some sugar with them to balance the tartness of the berries. Local Quebec blueberries are usually very sweet and flavourful, so they actually don't need any extra sugar.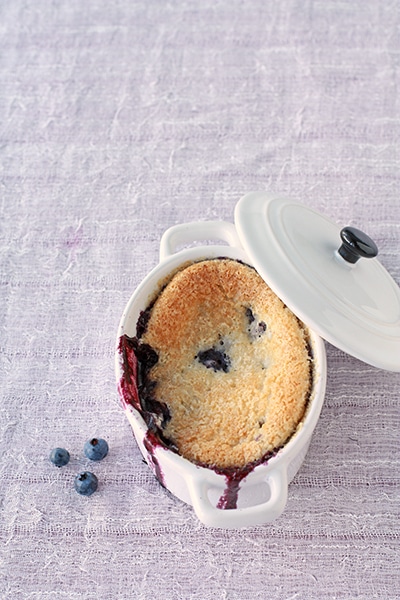 For the cobbler topping, traditionally either baking powder biscuit dough or a thick cake batter are used, so this recipe is the version with a cake batter. The batter is eggless and the main leavening agent here is baking powder. Other eggless recipes may depend on baking soda, depending on the other ingredients. This eggless banana bread calls for baking soda for the rise.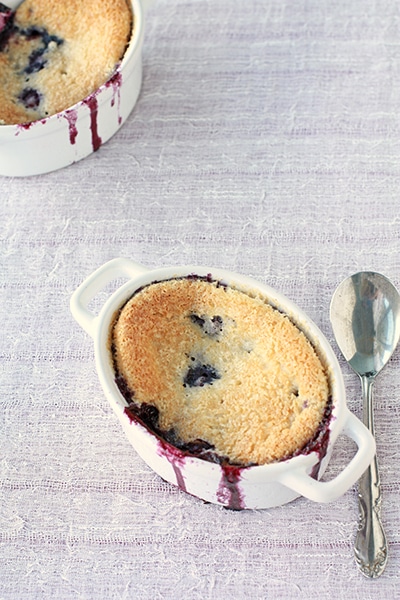 With all fruit desserts, especially a saucy cobbler or a double crust pie, it's extremely important to bake these desserts enough so that they are bubbling and hot, even in the middle where it takes longest for the heat to reach.
If you don't bake these types of dessert long enough, the fruit layer may be too wet, too soupy, or not set. This rhubarb lattice pie is a prime example of a dessert that takes a long time to bake. And for a dish like this blueberry rhubarb crisp, you may have to start baking the filling before adding the topping to give the filling extra time to heat up and cook down.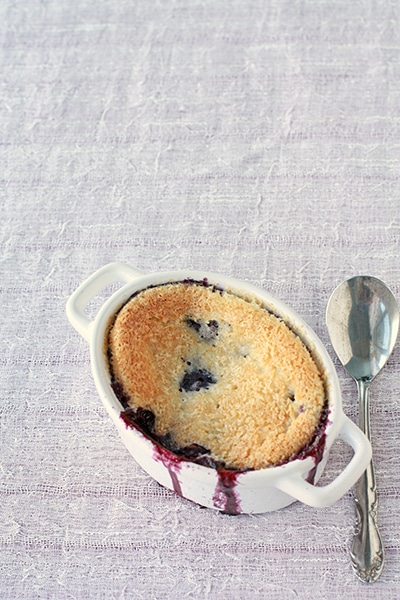 Cobbler is best served warm, with a dollop of whipped cream or ice cream. The sweet cream mixed with the warm cake and buttery baked blueberries is incredibly comforting. You can also serve it plain. It's up to you!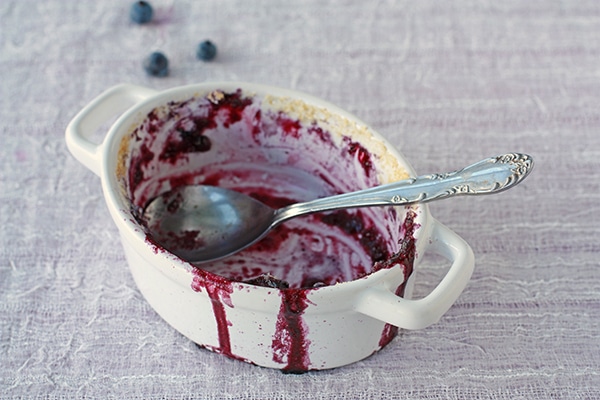 📖 Recipe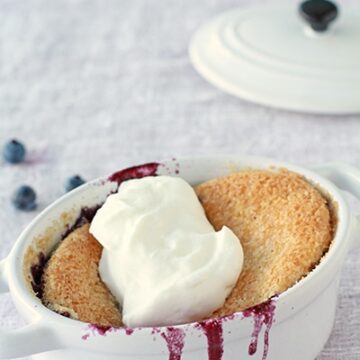 Quebec Wild Blueberry Cobbler
This easy wild blueberry cobbler is made with a thick layer of wild blueberries and butter on the bottom, and topped with a layer of cake, baked until bubbly and hot.
Ingredients
750

grams

fresh blueberries

preferably local wild blueberry if you've got those in your area

125

grams

bleached all-purpose flour

200

grams

granulated sugar

10

mL

baking powder

1.25

mL

Diamond Crystal fine kosher salt

1

pinch

ground nutmeg

250

mL

whole milk (3.25 % fat)

5

mL

pure vanilla extract

115

grams

unsalted butter

cubed
Instructions
Preheat the oven to 350°F.

Carefully wash and pick through the blueberries (checking for twigs or rocks). Drain and pat them dry (I do this by pouring them over a towel lined baking sheet). Set aside.

Whisk together all the dry ingredients in a medium bowl. Set aside

Add the milk and vanilla and stir to form a thick batter. Set aside.

Divide the butter between 8 ramekins (or one big 9-inch ceramic baking dish). Place the pan(s) in the oven for 7 or 8 minutes, or until the butter is completely melted and the pan is hot.

Remove the pan(s) from the oven, and carefully pour the blueberries over the melted butter (½ cup per ramekin, or all in the bigger cake pan). Top with berry layer with the cake batter evenly.

Return the pan(s) to the oven and let them bake until the cake is golden brown and baked through (check with a cake tester). The baked blueberries will bubble and release some juice. The individual ramekins take about 35 minutes, while the larger cake pan takes about 45 minutes.

Remove the pan(s) from the oven, and let cool slightly before serving.
Nutrition
Calories:
333
kcal
Carbohydrates:
53
g
Protein:
3
g
Fat:
13
g
Saturated Fat:
8
g
Cholesterol:
34
mg
Sodium:
78
mg
Potassium:
256
mg
Fiber:
3
g
Sugar:
36
g
Vitamin A:
460
IU
Vitamin C:
9
mg
Calcium:
101
mg
Iron:
1
mg