These apple blackberry muffins are made with less sugar and instead use grated apple, which adds moisture and sweetness to these hearty breakfast muffins.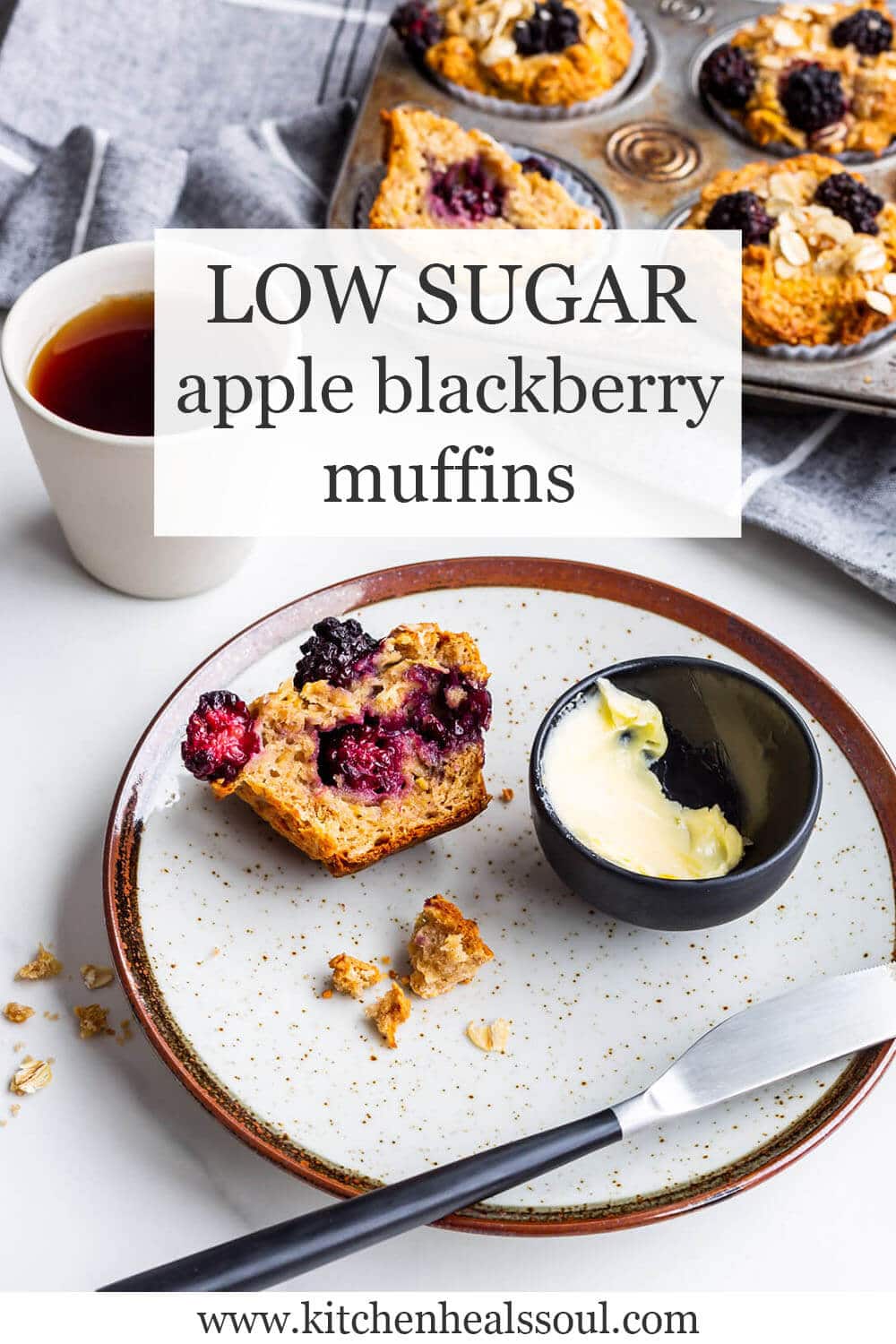 These apple blackberry muffins are quite low in sugar. I'd say they definitely fall into the "healthier" muffin category, along with these blueberry bran muffins, which are also low in sugar. They are the perfect hearty breakfast muffins, made with oats, yogurt, grated apple, and blackberries.
Jump to: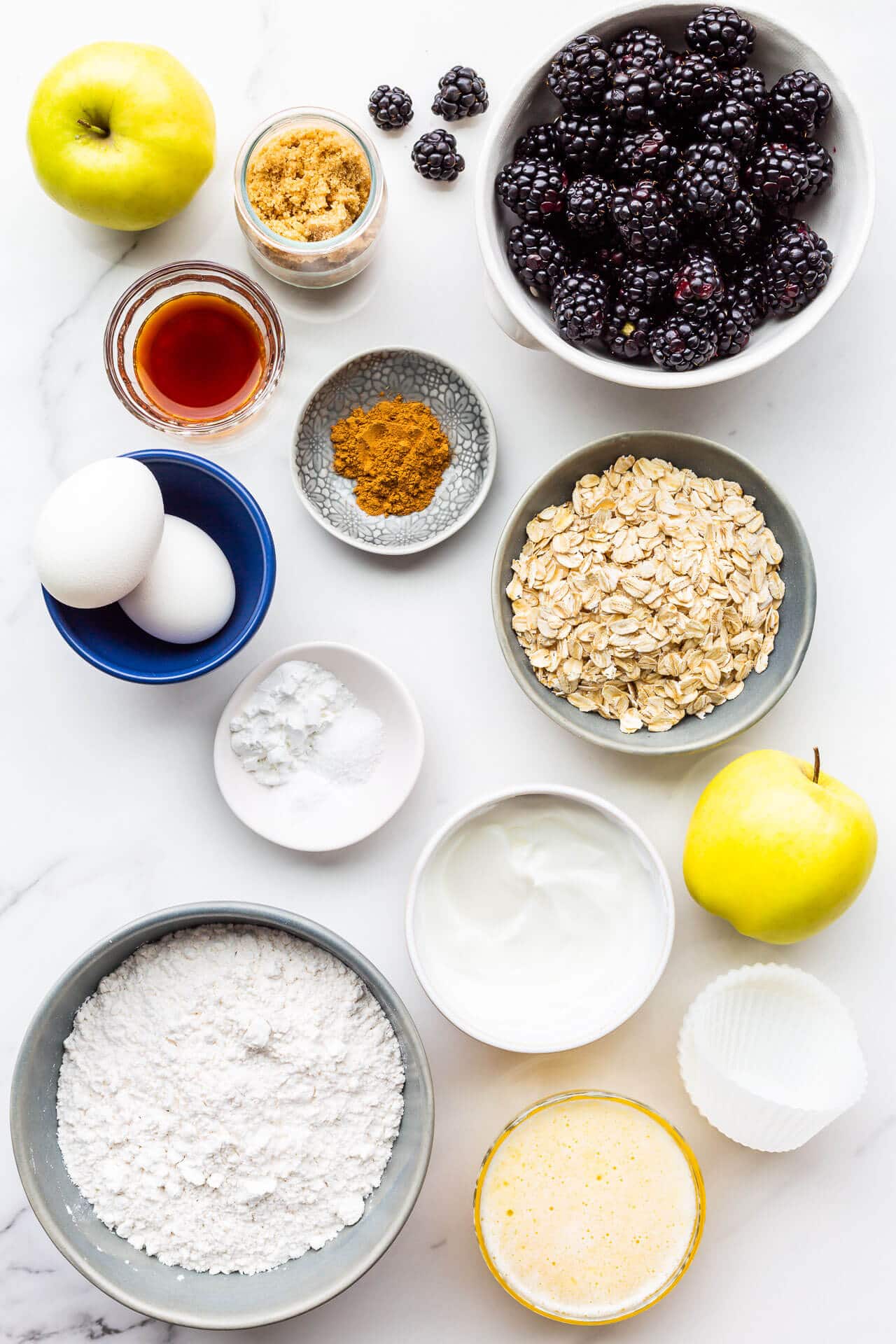 Disclosure: As an Amazon Associate, I earn from qualifying purchases.
What you need
Both the blueberry bran and these apple blackberry muffins are actually variations of the same recipe and so they follow a very similar formula.
If you compare this recipe to these rhubarb muffins with sour cream or these honey blueberry muffins, you can see that there's much less sugar in the recipe below: one-third the sugar to be exact. But remember fruit purées are a common baking substitution for replacing sugar when you are baking with less sugar. So here, we have grated apple in the muffin batter to add sweetness, but also moisture.
Cinnamon and vanilla are two other ingredients that are good at tricking you into thinking a baked good tastes sweet. Don't cut them out of this recipe because you will end up with muffins that taste very bland.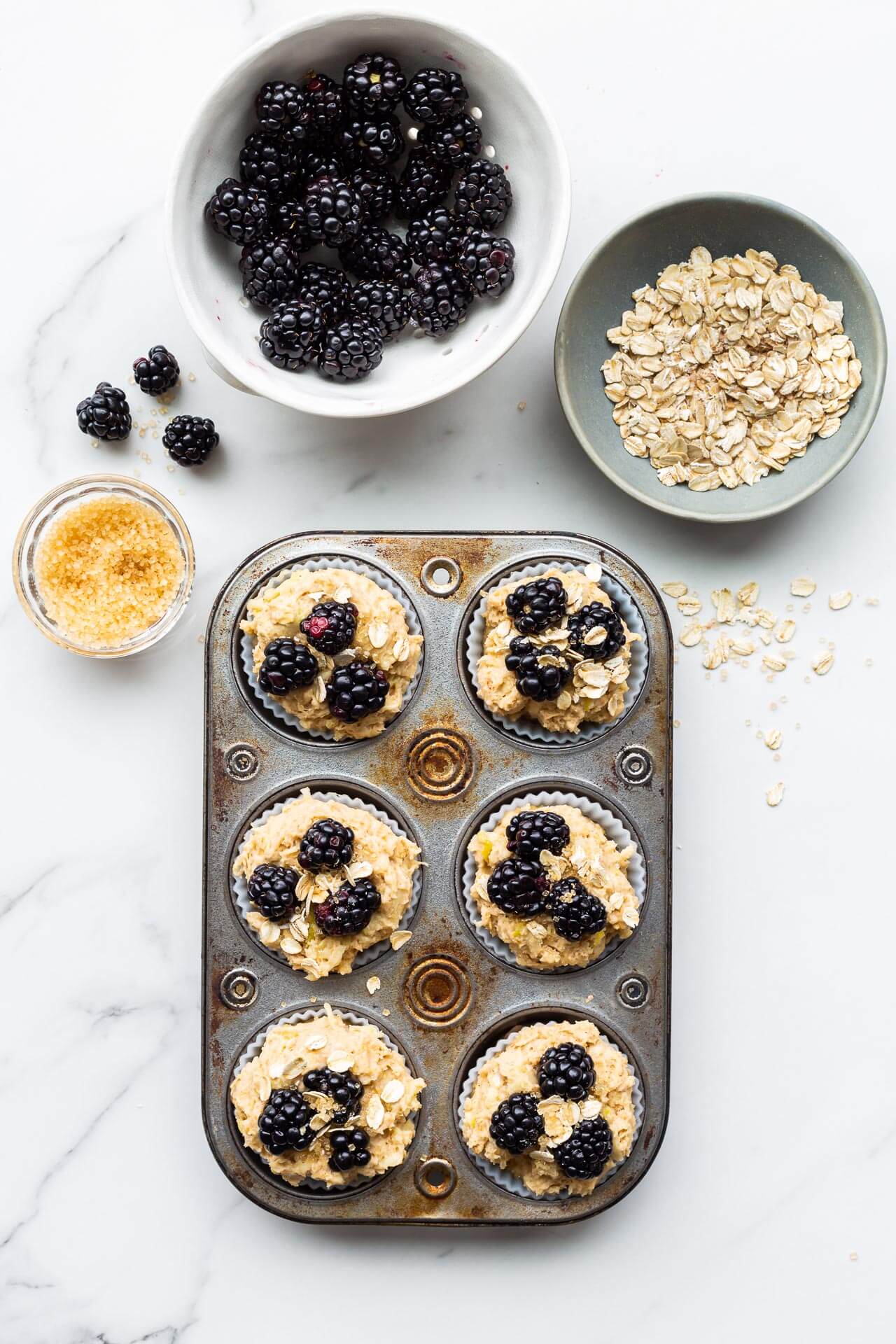 How to make them
These muffins are mixed using the traditional muffin mixing method: your dry ingredients go in one bowl and your wet ingredients go in another, then you combine them to make the muffin batter.
Since sugar technically falls under the wet ingredient category of baking ingredients, you will treat brown sugar like a wet ingredient in this recipe and combine it with the other wet ingredients. Were you to whisk it with the dry ingredients, the brown sugar would stay lumpy and you would run the risk of ending up with a muffin batter that is under-sweetened, with chunks of sugar hiding in places.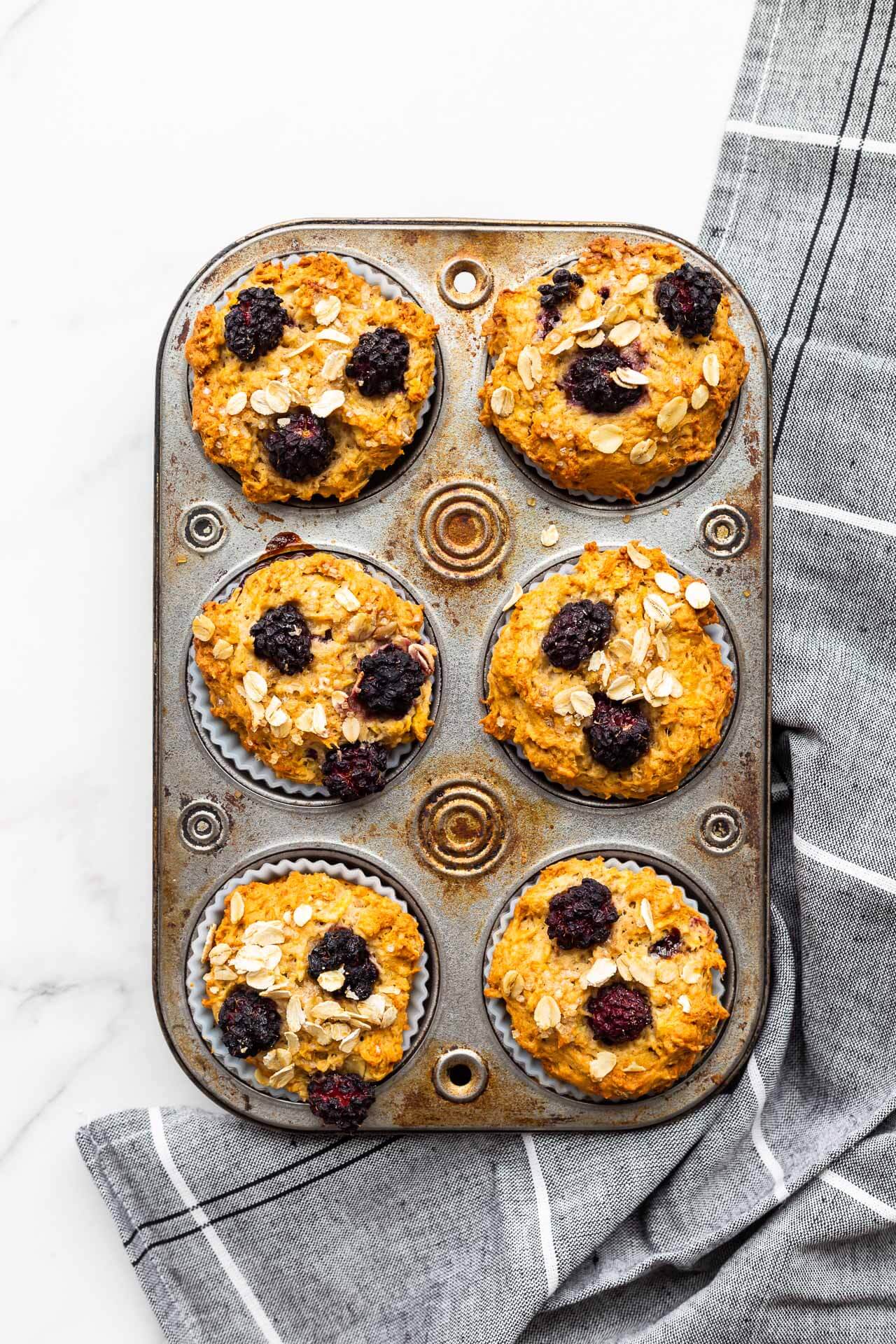 Substitutions
One baking substitution you might consider for this recipe is to use plain yogurt instead of sour cream. While both are acidic dairy ingredients, full-fat sour cream has 14 % fat, while plain yogurt has 2 % fat (more or less depending on the product you use).
Both yogurt and sour cream work in this recipe, but from my tests, I much preferred the muffins baked with full-fat sour cream which had a more tender and moist crumb.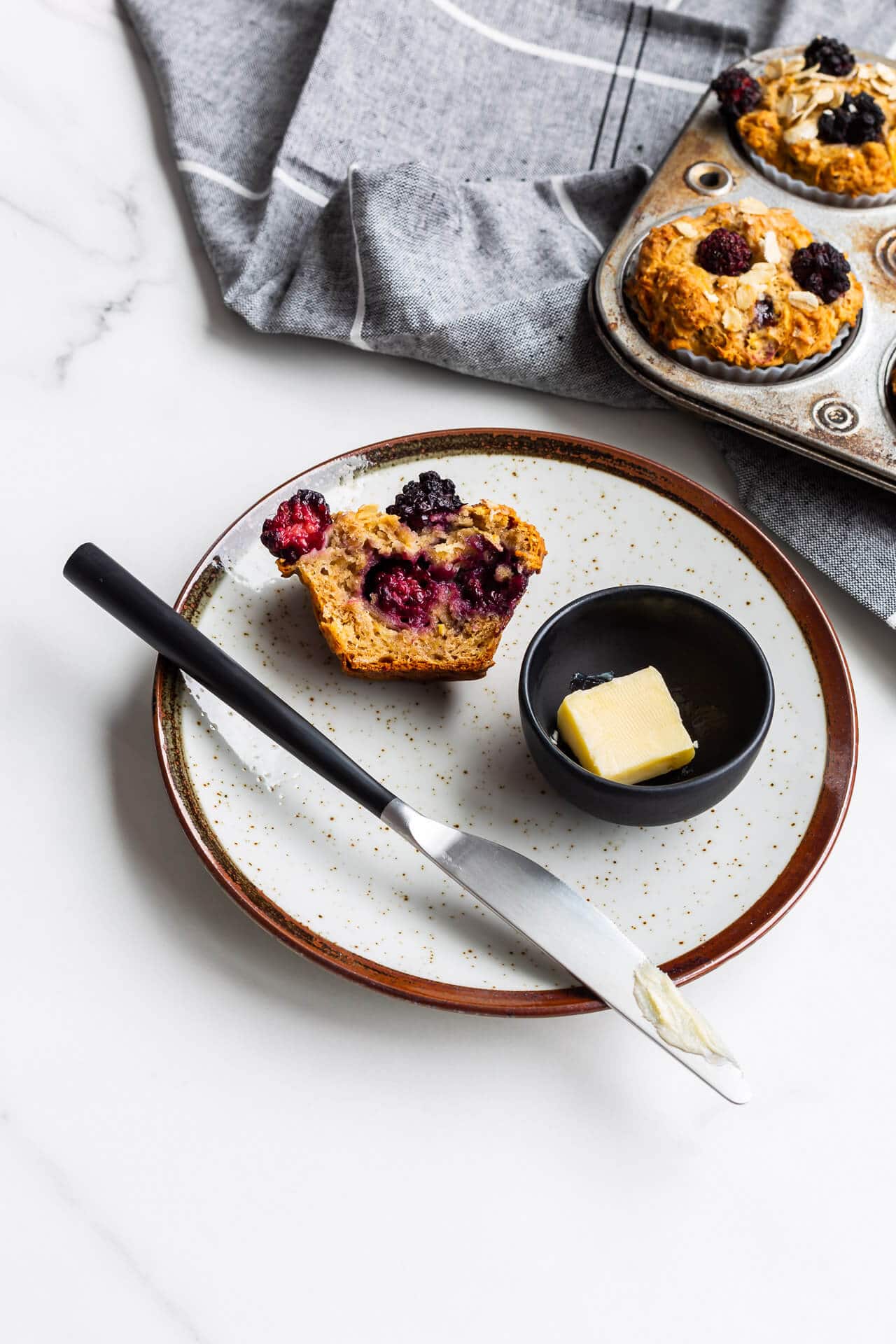 I also tested baking the muffins in silicone muffin liners in muffin pans versus paper liners. Silicone works great, as does paper. It's up to you what you prefer to use. Just note that with silicone, the muffins might take a few minutes longer to bake since silicone is more insulating.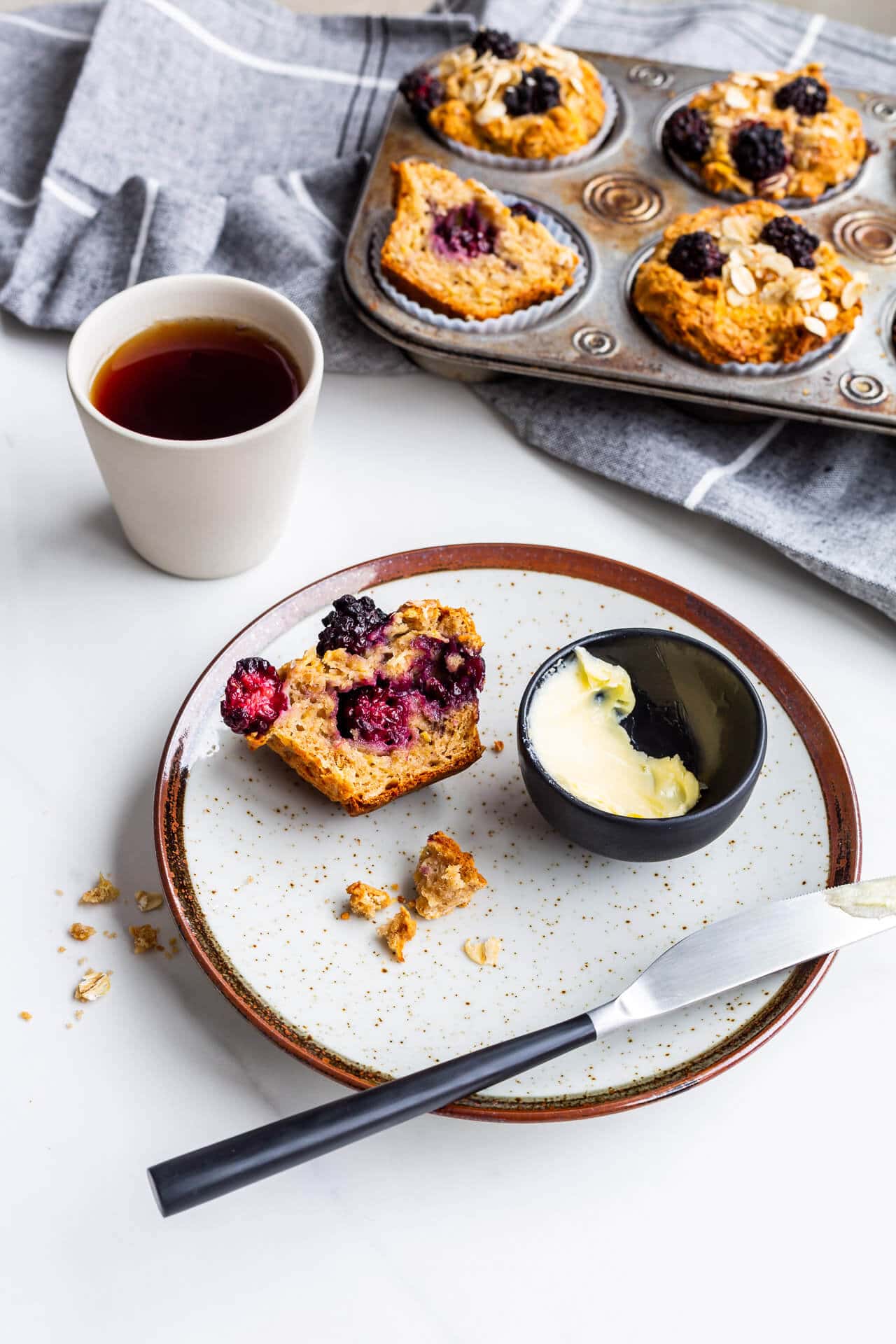 Freezer storage and defrosting
These muffins keep pretty well at room temperature for up to 4 days. This recipe makes 12 muffins so you may want to freeze part of the batch for later. I freeze them in a single layer in a large freezer bag. Then when I want a muffin, I take one out and microwave it for about 30 seconds on high. This is just enough to defrost the muffin completely and heat the muffin through so that it's just like a freshly baked muffin in the end!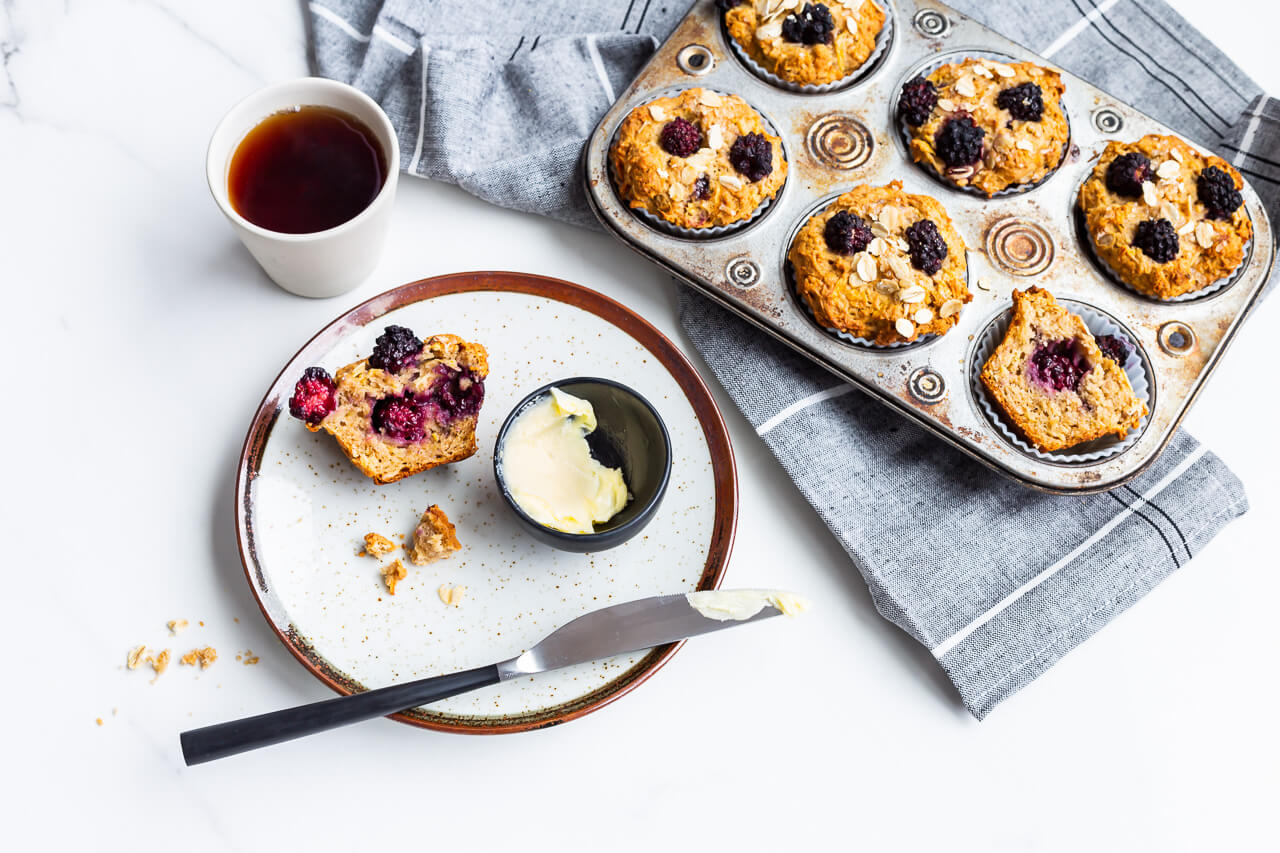 📖 Recipe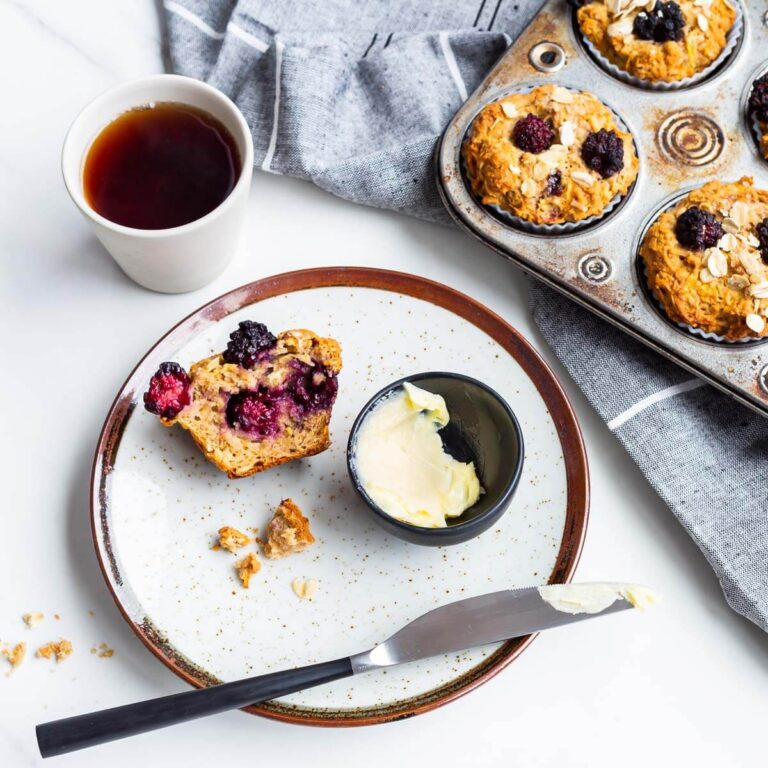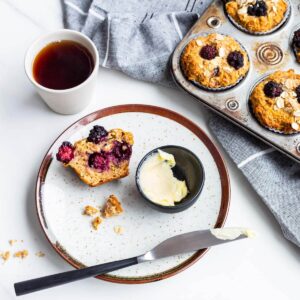 Hearty Apple Blackberry Muffins
These apple blackberry muffins are made with oats and grated apple making these hearty breakfast muffins that are low in sugar!
Ingredients
250

grams

bleached all-purpose flour

65

grams

rolled oats (or large flake oats)

plus more for sprinkling on top of the muffins

10

mL

baking powder

5

mL

ground cinnamon

2.5

mL

baking soda

2

large egg(s)

125

mL

sour cream (14% fat)

2 % plain yogurt also works, but the muffins are better made with full fat sour cream

70

grams

dark brown sugar

2

Golden Delicious apples

grated

115

grams

unsalted butter

melted

250

grams

fresh blackberries

frozen works too (don't defrost!)

Turbinado sugar

or cinnamon sugar for sprinkling on top of the muffins before baking
Instructions
Preheat the oven to 350°F (175 °C). Line two 6-cup muffin pans with paper liners. Set aside

In a large bowl, combine the flour, oats, baking, powder, cinnamon, baking soda, and salt.

Whisk the eggs with the sour cream and the brown sugar.

Grate the apples and whisk them into the wet ingredients. Drizzle in the melted butter while whisking to incorporate it.

Pour the wet ingredients into the bowl with the dry ingredients, and stir until just combined.

Fill the prepared muffin cups halfway with the batter, then place 2 berries on top of the batter.

Top with remaining batter and berries (press them down gently to anchor them) and sprinkle the top of each muffin with coarse turbinado sugar or cinnamon sugar and a few extra oats.

Bake for about 45 minutes or until golden. Use a cake tester to make sure the muffins are baked in the middle. It should come out clean and the muffins should spring back when pressed gently.

Let the muffins cool for 5 minutes, then transfer to a wire rack. Serve warm or room temperature.
Notes
You can freeze the muffins. To defrost, place 1 muffin in the microwave and heat for 20–30 seconds (on max power). They should be hot and fluffy and just like they were freshly baked!
Nutrition
Calories:
253
kcal
Carbohydrates:
35
g
Protein:
5
g
Fat:
11
g
Saturated Fat:
6
g
Cholesterol:
53
mg
Sodium:
121
mg
Potassium:
259
mg
Fiber:
4
g
Sugar:
11
g
Vitamin A:
450
IU
Vitamin C:
10
mg
Calcium:
83
mg
Iron:
2
mg