Want to go directly to the financier recipe? click here to skip to the recipe for these sungold kiwi coconut financiers!
As an Amazon Associate I earn from qualifying purchases.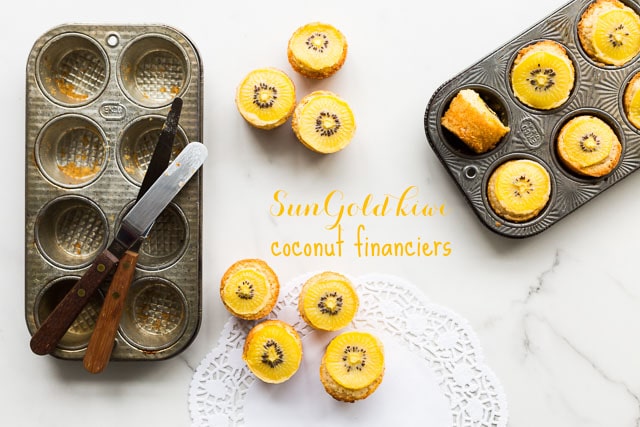 I have a friend who eats kiwifruit, skin and all. And I'm not talking about these SunGold kiwis with a thin, smooth, hairless skin. Nope. She eats the fuzzy-skinned green kiwis, outside and inside. She is the first and only person I've ever seen eat a kiwi like she was eating an apple. I'll never forget the day she pulled a fuzzy kiwi from her lunch and chomped down. I watched, fascinated. "Why waste the skin? It's all fibre!" She is right, kiwis (and kiwi skin) are full of fibre and lots of nutrients (vitamin C, E, and potassium too), but I still don't eat the skin of fuzzy green kiwifruit.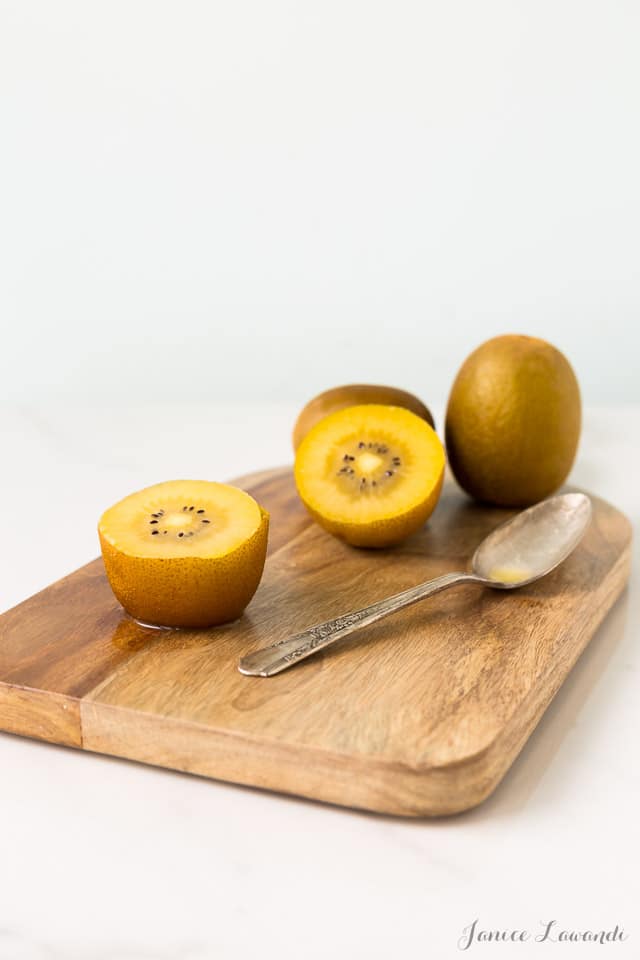 Disclosure: As an Amazon Associate, I earn from qualifying purchases.
I have actually tried to peel a kiwi with a vegetable peeler. Sure, most of us are used to the "cut & scoop" method of kiwifruit extraction, but I thought I'd give a peeler a try, you know, for the sake of science. I wanted to know if the "cut & scoop" method we've all grown up using is really the best way to peel a kiwi. While using a peeler to take the skin off a kiwi does work, the fruit is rather slippery and difficult to handle the more you peel it, and the surface isn't as smooth as the scooped out fruit. Conclusion: definitely opt for the tried and true "cut & scoop" method to get the kiwi fruit out of the peel. It's easy and all you need is a spoon!
These Zespri SunGold Kiwifruit have a pronounced tropical flavour to them, reminiscent of sweet mango, much sweeter than green kiwis. I fell in love with these SunGold kiwis when I garnished a batch of coconut financiers with the sliced fruit. I had a feeling SunGold kiwis would be perfect in a coconut financier, just likes raspberries and blueberries make beautiful berry financiers.
The results with sungold kiwis were even better than I expected. The sweet, tropical flavour of the fruit persists even when baked. Biting into these SunGold kiwi coconut financiers made me wonder where else I could use this fruit. I'd never baked with kiwis before, and I wholeheartedly regret that. There needs to be more kiwi on my blog. Period. I am smitten. Head over heels.These SunGold kiwi coconut financiers made me smile and inspired me to think of kiwis in a completely different light. Try this recipe and I am quite certain you will understand why.
If you want to find Zespri SunGold Kiwifruit, check your local supermarket between May and October. The smooth, soft skin are a good way of sorting the SunGold from the green kiwifruit.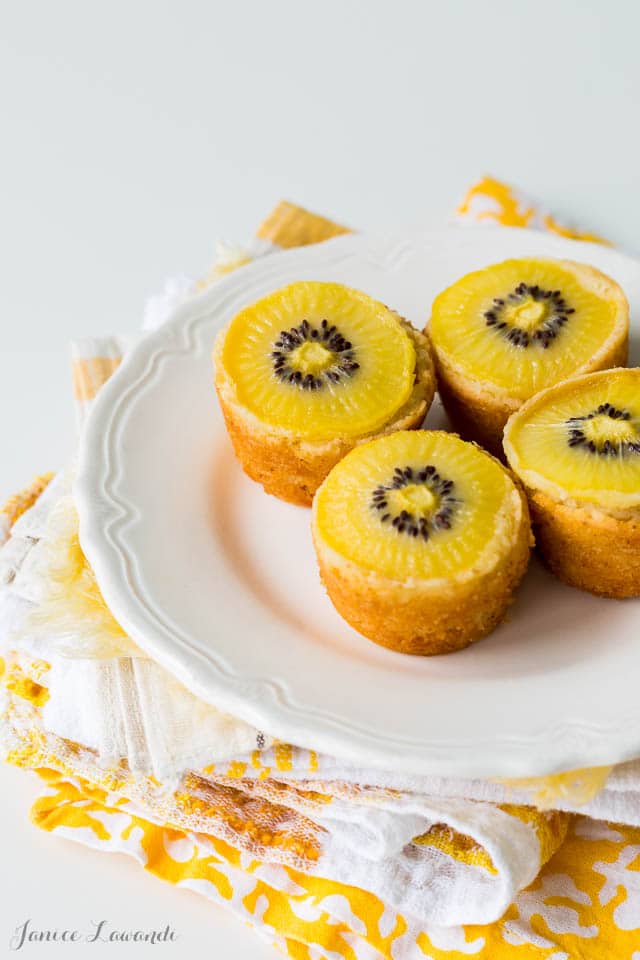 For this recipe, I used a couple of vintage mini muffin pans that I found at a flea market years ago. The size of the muffin cups is slightly larger than a traditional mini muffin pan. Actually, these vintage mini muffin pans are similar in size to this push pop cake pan that you can find on Amazon. Just take the time to prepare the pan before baking: grease and flour 16 of the wells and you should be good to go!
📖 Recipe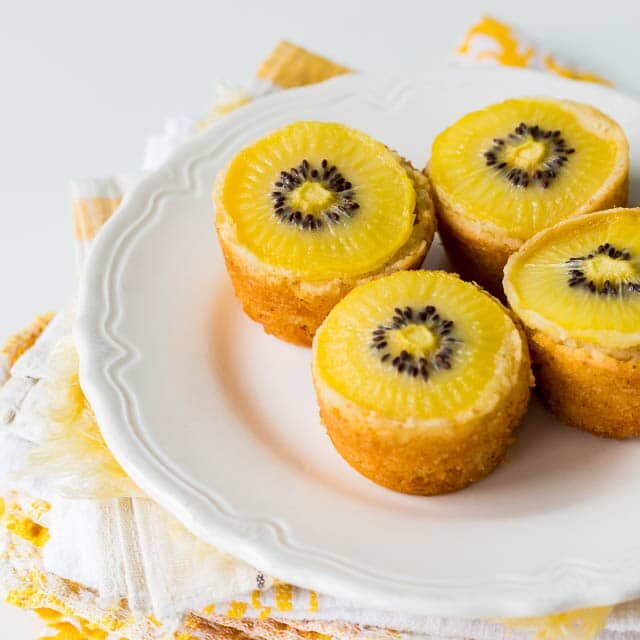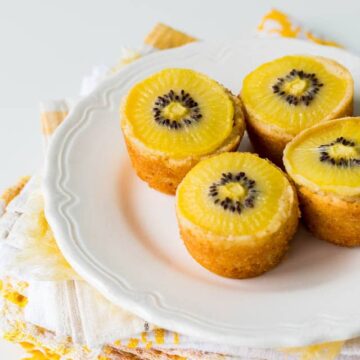 Sungold Kiwi Coconut Financiers
Sungold kiwifruit are the perfect pairing with coconut financiers. The cake is sweet, buttery, and light, with a delightful coconut flavour.
Instructions
In small food processor (like this KitchenAid on Amazon), finely grind the sweetened coconut with the granulated sugar, flour, and salt. Transfer to a large bowl and set aside.

In a large bowl, whisk the egg whites until very frothy. Dump the egg whites over the dry ingredients, along with the cooled brown butter, and the vanilla. Fold everything together until you obtain a thick batter.

Cover the bowl with plastic wrap and let the batter chill for 30 minutes.

Preheat the oven to 350 °F (175 °C). Butter and flour 16 cups of a mini muffin pan (like this push pop pan on Amazon). When the batter has chilled, divide between the prepared cups. Cut the kiwifruit in half, and scoop out the flesh. Slice into 16 slices. Top each coconut financier with a slice of Zespri SunGold kiwifruit.

Bake on the middle rack for 20–25 minutes, until the edges are golden and a skewer inserted into a cake comes out clean. Let cool 10 minutes before unmolding to a wire rack to cool completely
Nutrition
Calories:
125
kcal
Carbohydrates:
10
g
Protein:
2
g
Fat:
9
g
Saturated Fat:
6
g
Cholesterol:
15
mg
Sodium:
30
mg
Potassium:
42
mg
Fiber:
1
g
Sugar:
7
g
Vitamin A:
180
IU
Vitamin C:
1
mg
Calcium:
3
mg
Iron:
1
mg
This post is sponsored by Zespri Kiwifruit to promote their SunGold kiwi fruit. I was compensated monetarily and in product. Thanks for supporting the companies that allow me to create content for Kitchen Heals Soul. As always, please know that I wouldn't work with a sponsor nor recommend a product if it wasn't worth it.