Want to go straight to the recipe? Click here to go to the marmalade puddings recipe.
I've been thinking a lot about retro recipes lately. Retro recipes are those recipes from the recent past that we haven't made in awhile. They are nostalgic recipes that are filed away in boxes of recipe cards handed down from our mothers and grandmothers. These retro recipes aren't forgotten, but they haven't seen the kitchen in a long time either, a fact that makes me sad. So, I decided to revive these retro recipes. I'm going to try and bake one every month.
Disclosure: As an Amazon Associate, I earn from qualifying purchases.
The first retro recipe I'm sharing with you is one that I have been meaning to bake (or rather steam) for a long time, and now that I have all that marmalade lying around (this homemade three fruit marmalade and a look into the setting temperature of marmalade), it just made sense.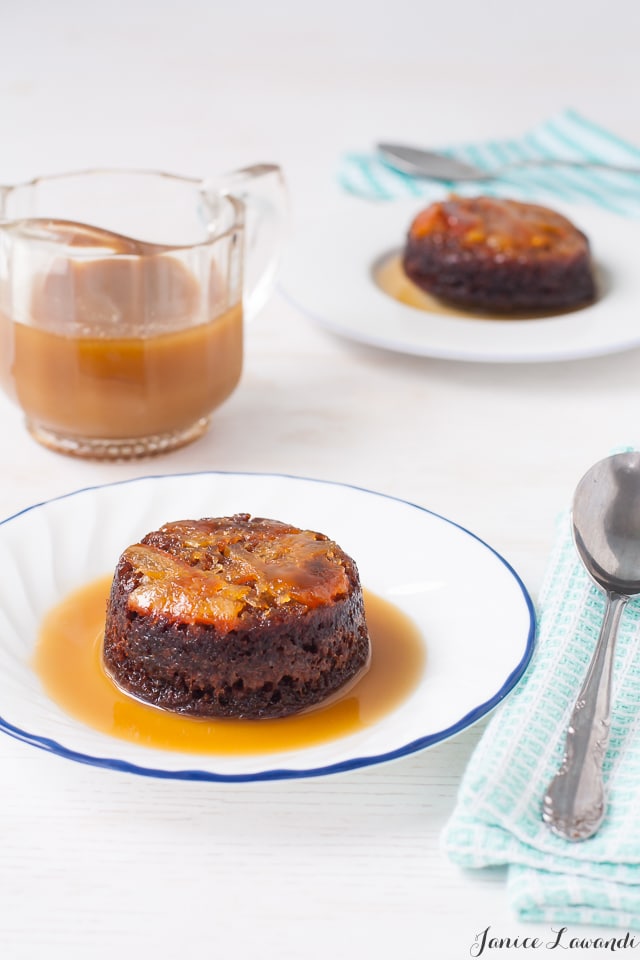 I love that this is a "pudding" recipe, even though it makes little cakes. How British!
I was intrigued by this recipe for a couple reasons. The pudding recipe has a lot of baking soda. If you look closely, there's a full teaspoon of "soda" for only a third of a cup of flour. This concerned me, I have to admit. And the caramel sauce made from an egg yolk, brown sugar and vanilla was really interesting to me. I guess it's a kind of quick caramel, really, not a real caramel, and the egg yolk is there to thicken and perhaps make it a little more unctuous.
I made a couple small changes to the recipe method. I changed the order of addition of the ingredients in the first part because we can all picture me trying to stir butter with water (line 2 of the recipe method). Yeah right. I added the dissolved baking soda at the end of the recipe, along with the marmalade. I also added a spoonful of marmalade into each ramekin before adding the batter because I wanted more marmalade, obviously.
This was the first time I had ever steamed pudding cakes before, and I was a little worried. The last thing I wanted was water-logged puddings. Nobody wants to eat that. So for insurance purposes, I covered each ramekin of pudding with a piece of greased parchment, along with the recommended foil, and I secured the foil with some string even though the recipe doesn't say to do so.
Also, I strained the caramel sauce, which isn't necessary, but I think the sauce was a touch smoother this way.
Verdict? The recipe worked perfectly, yielding four lovely little steamed puddings and a rich caramel sauce. They look exactly as I would expect a retro recipe to look: dark and spongy, and served with a generous drizzling of caramel sauce. I thought these marmalade puddings were yummy, but... possibly a bit too baking soda-y for my modern palate? There's a flavour there that makes me think of an old-fashioned gingerbread loaf, but I think that's actually the baking soda confusing my taste buds. The cake has a lovely soft, spongy texture on the other hand, which also is probably because of the baking soda. Definite pros and cons to that much baking soda.
The real star here is the caramel sauce. I could drink this caramel sauce because it's that good. It's sweet, and a little creamy, and it simply takes a couple minutes to make. I want to make another batch and put it on breakfast waffles and pancakes. I want to spike it with bourbon and pour it over bread pudding for dessert.

All in all, I'd say this was a retro recipe success. And, if you are worried about the baking soda flavour, by all means, scale it down to as low as ⅛ teaspoon and this recipe will still work. Of course, if you make that change, your puddings will look quite different because they will be lighter in colour. Less baking soda means less Maillard browning.

Marmalade pudding cakes recipe
📖 Recipe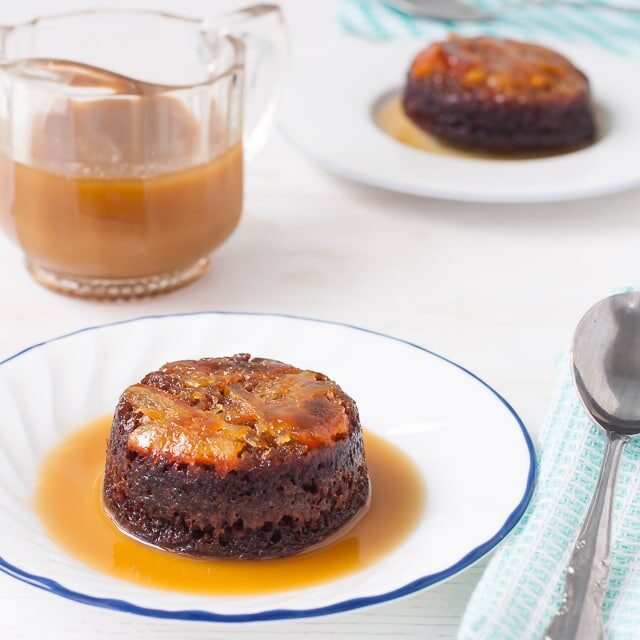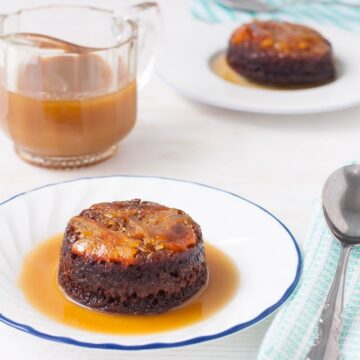 marmalade puddings
These are lovely little steamed puddings, dark and spongy, and served with a generous drizzling of caramel sauce. If you make this recipe with a full teaspoon of baking soda, you will make dark cakes, with a deep flavour reminiscent of gingerbread. With just ⅛ teaspoon of baking soda, the cakes will have a lighter colour with a more citrus flavour.
Ingredients
1

teaspoon

baking soda

or ⅛ teaspoon baking soda

2

tablespoon

boiling water

1

tablespoon

unsalted butter

15 grams, room temperature

1

tablespoon

granulated sugar

15 grams

1

large egg(s)

lightly beaten

⅓

cup

bleached all-purpose flour

42 grams

1

tablespoon

orange marmalade

plus 4 teaspoon extra to put at the bottom of each ramekin

1

large egg yolk(s)

½

cup

light brown sugar

100 grams

¼

cup

water

63 mL

2

tablespoon

unsalted butter

room temperature

½

teaspoon

pure vanilla extract
Instructions
Grease four ramekins. Line the bottom of each with a round of parchment

First prepare the pudding batter. Stir together the baking soda with the boiling water. Let cool.

Meanwhile, cream the butter and the granulated sugar. Then add the egg. I used a hand blender for these steps.

Stir in the flour, 1 tablespoon marmalade, and the dissolved baking soda mixture.

Place 1 teaspoon of marmalade at the bottom of each prepared ramekin, then divide the pudding batter evenly among the ramekins.

Cover each ramekin with a large square of greased parchment and a large square of foil. Wrap tightly and secure with twine.

Place the four ramekins in a large pot lined with a metal rack (or something to elevate off the bottom of the pan—I used a bunch of jar lids)

Fill pot with boiling water (hot water is okay too) until it reaches half way up the ramekins. Cover the pot with a lid. Steam the puddings for one hour on the stove (check that there is sufficient water every 20 minutes or so).

Meanwhile, prepare the quick caramel sauce by whisking together the yolk, brown sugar, water, and butter in a small saucepan. Heat on medium heat until the mixture comes to a boil, whisking constantly. Let the mixture boil for a full minute, then immediately strain it into a bowl.

Stir in the vanilla.

When the puddings are steamed. Remove the ramekins from the water bath using tongs. Let sit for about 5–10 minutes, then unwrap and run a knife along the edge to loosen the cakes. Invert the puddings on serving plates. Drizzle the quick caramel generously over each of the puddings.
Nutrition