You can make cream puffs at home which are made from puffs of pâte à choux filled with sweetened whipped cream and topped with powdered sugar.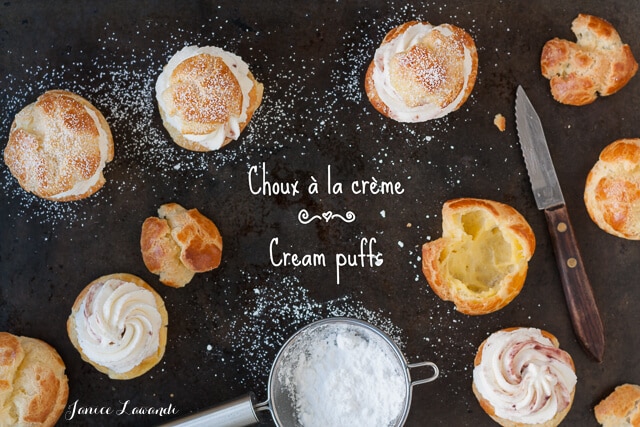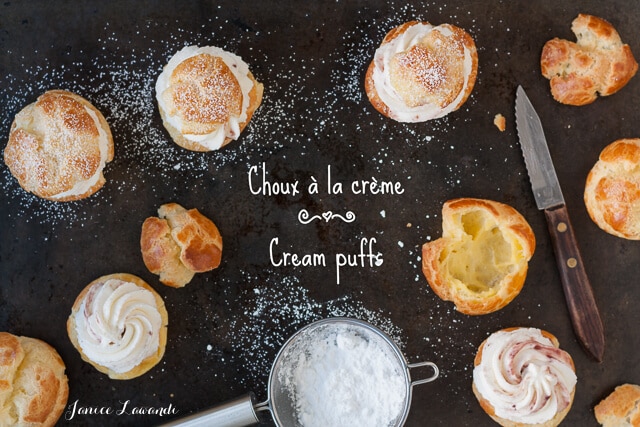 Disclosure: As an Amazon Associate, I earn from qualifying purchases.
The dough to make cream puffs is called pâte à choux in French. It's an eggy dough that relies on steam to puff in the oven. The moisture in the recipe acts as the leavening agent. They are easy, but there are a few tricks you need to know before embarking on this recipe.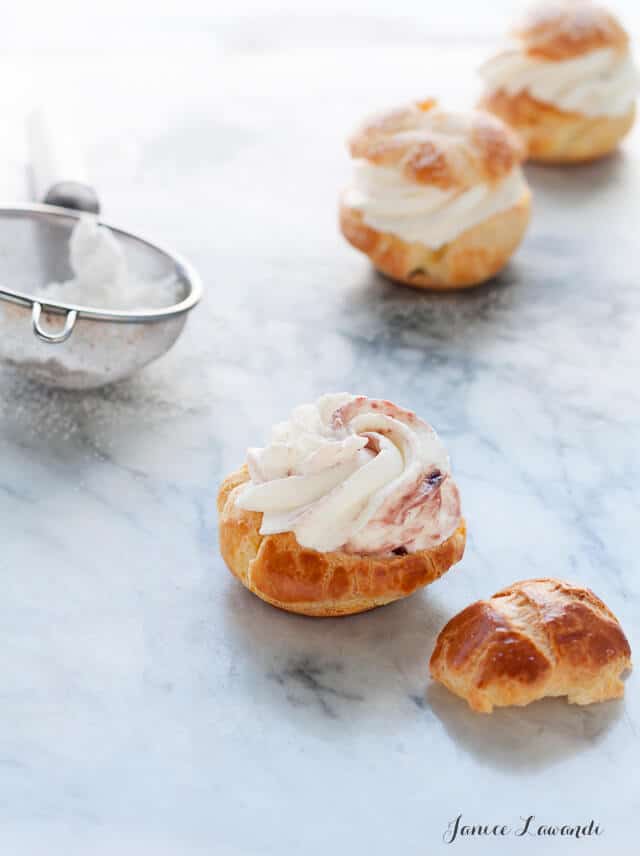 Tricks for making pâte à choux and baking it into éclairs or cream puffs
The quantity of eggs you use can vary for this type of recipe, but you'll need between 4 and 5 eggs. I usually use four and a half large eggs, so not 4 eggs and not 5 eggs, but something in the middle. Use too little egg, and they won't rise properly, and too much egg, they will rise and fall. For this batch, I unfortunately had a mix of large and extra-large eggs, and my choux ended up a tad on the eggy side if you ask me.
Do not, I repeat DO NOT, open the oven door as these bake until they have fully puffed and are starting to brown or you risk them collapsing into eggy pancakes.
You can make them by hand, which is a serious arm workout, or you can test using the stand mixer to save. I highly recommend using the mixer to beat the dough and incorporate the eggs.
Practice makes perfect and the more you make this recipe, the better you'll get at it!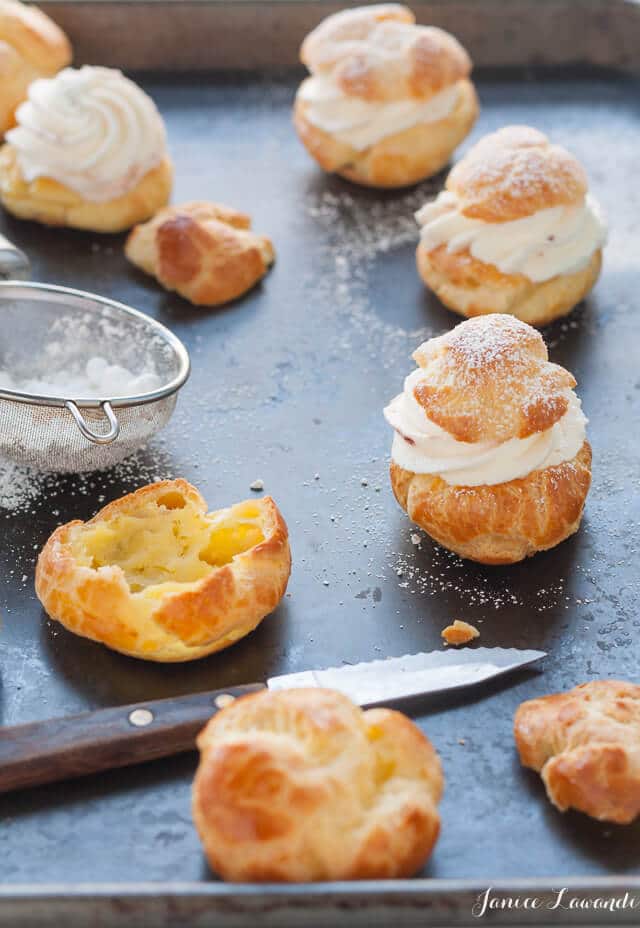 What to make with pâte à choux
This is a very versatile base recipe that you can expand upon. Once you've mastered pâte à choux to make cream puffs, you can also make: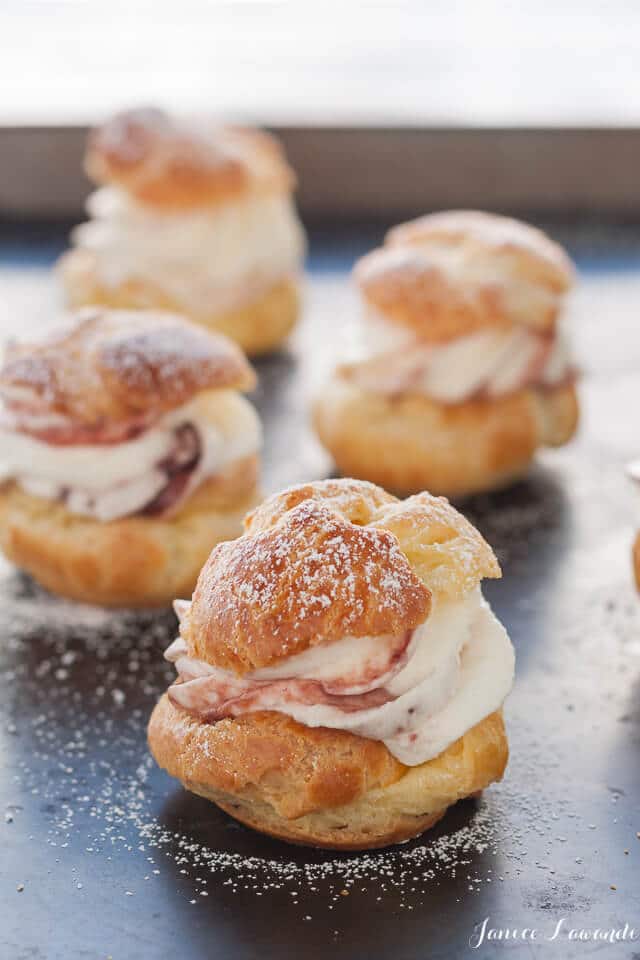 Frequently asked questions
Why didn't my cream puffs rise?
If your cream puffs are flat, much like they collapsed in the oven, it's possible that you opened the oven door too soon while they were baking. It's imperative to let the pâte à choux set properly and begin to brown before you attempt to open the oven door, otherwise they will collapse from the loss of heat. If this happens, you can't fix them. They will still taste good, but the shape will be more like a thick pancake.
Another reason could be that there's too much egg in your pâte à choux. Too much egg will lead to a softer pâte à choux that doesn't hold its shape well.
How far in advance can you fill them?
Because whipped cream contains a lot of water, and the baked pâte à choux is dry, the dry pastry will absorb the moisture from the whipped cream and begin to soften and eventually it will become soggy. It's best to fill them before you serve them to avoid compromising the textures.
How long do the unfilled cream puffs last?
You can store the baked pâte à choux, unfilled, for days in an airtight container in a cool, dry place, or even freeze them once fully cooled. It's best to store them this way and fill them when you need them!
📖 Recipe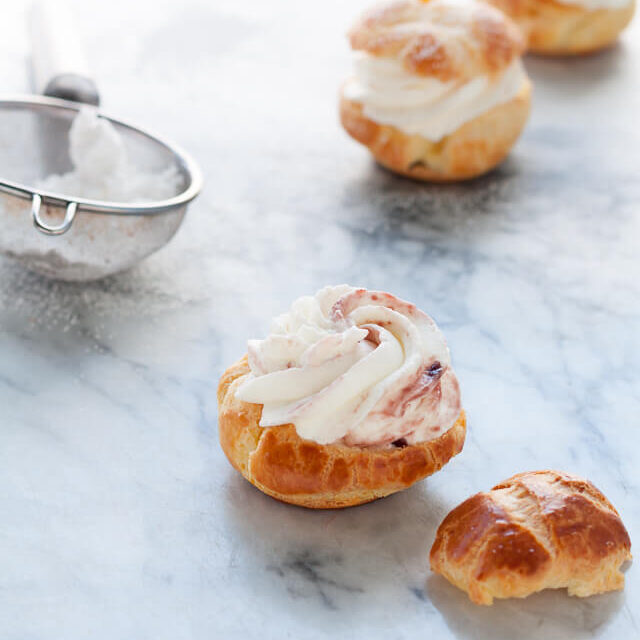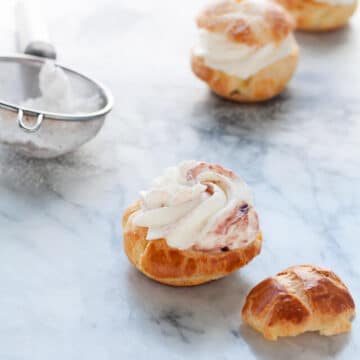 Cream Puffs
Cream puffs, also known as choux à la crème are made from pâte à choux and filled with lightly sweetened whipped cream
Ingredients
For the pâte à choux
125

mL

water

125

mL

whole milk (3.25 % fat)

115

grams

unsalted butter

3.75

mL

Diamond Crystal fine kosher salt

10

grams

granulated sugar

167

grams

bleached all-purpose flour

4–5

large egg(s)
For the whipped cream
500

mL

whipping cream (35 % fat)

50

grams

icing sugar

plus more for sprinkling on the finished cream puffs

5

mL

pure vanilla extract

15

mL

raspberry jam

optional
Instructions
To make the pâte à choux
Preheat the oven to 400ºF. Line a baking sheet with parchment.

In a saucepan, heat together the water, milk butter, salt and sugar. Bring the mixture to a rolling boil.

Remove the pan from the heat and dump in all the flour. Quickly mix it in with a wooden spoon, then place the saucepan back on the heat to dry the dough. The dough will form a uniform, slightly shiny mass when it's cooked enough.

Transfer the dough to the bowl of the stand mixer and beat with the paddle attachment til it's cool.

Add 3 eggs at once, and beat them in until they have completely disappeared.

Add the 4th egg and beat it in. If the pâte à choux doesn't have a pipeable consistency (soft but firm) and doesn't form a "bec d'oiseau" (a curved beak shape on the end of a spoon), then add another half egg.

Scoop the pâte à choux with a ¾ oz scoop (find it on Amazon) onto the prepared baking sheet, spacing an inch apart. Brush with the remaining half egg, and then bake for a good 15 min at 400ºF until the choux have puffed and are starting to brown, quickly open the door just a crack to release steam, then shut it and lower the temperature to 375ºF for another 10 minutes to finish the baking.

Transfer to a rack to cool.
To make the whipping cream and assemble
Whip the cream to soft peaks with the whisk attachment of a stand mixer.

Add the icing sugar and vanilla, and finish whipping.

To a pipping bag fitted with the Wilton 1M piping tip (from Amazon), streak a little raspberry jam down the inside and then fill with whipping cream.

Slice the cooled choux puffs to open them and pipe the cream in the hole of the base. Finish with the top half and sprinkle with icing sugar before serving.
Nutrition