As an Amazon Associate I earn from qualifying purchases.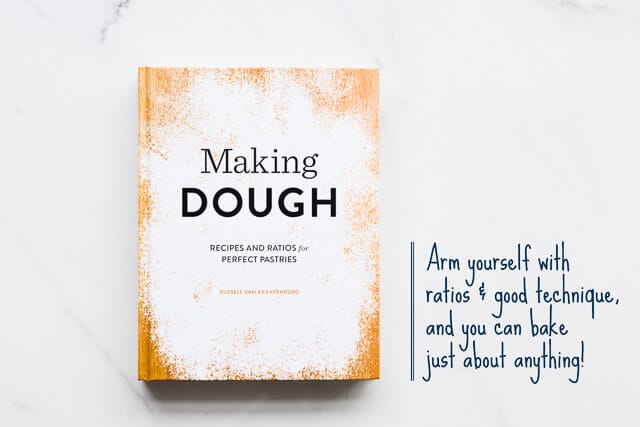 I still get a little nervous when it comes to hitting the "publish" button on my blog. I've been blogging for almost 6 years. You'd think I'd be more comfortable with the pressure of "publish". I'm not. I worry that I've made a typo somewhere in the text, or worse, in the recipe. I have no editors and I work alone, so it is entirely possible that, when I'm writing up a recipe, I miss a step, or I make a mistake. It's happened before. I've made some AWFUL typing errors. Like the mistake that resulted in a reader using over a kilo of butter to make frosting instead of a hundred and some grams of butter. True story. 1000 grams and 100 grams are VERY different numbers, and I made that mistake, accidentally typing an extra zero somewhere. So a poor reader made the frosting with a kilo of butter, generously writing to me that it was "a little buttery" as written. I was mortified and I felt very, very bad for that mistake. I spend a lot of money on butter every week, so I am very aware of the price of that much butter. Not only that, but that somebody took the time to read my post, follow my recipe, and waste those ingredients... It left me with the most awful feeling in my heart. Still, mistakes happen, and I am one person running this show. I try to be as attentive and as careful as possible, but mistakes will inevitably slip through the cracks. That's just a fact, no matter how much I sweat over a recipe. And if I wrote a cookbook one day (and that day may come!), there will be mistakes there too, no matter how many people I have on my side, reading over my work, testing the recipes, editing my writing. It's all very true and very scary.
I felt the need to preface this book review with a note that errors and mistakes happen because as much as I love this book, Making Dough: Recipes and Ratios for Perfect Pastries by Russell Van Kraayenburg, published by Quirk Books (available on Amazon), there are mistakes in this book. I don't want to be mean or overly harsh. That's not my goal. And I must point out that EVERYTHING I made from the recipes in Making Dough worked. I made danishes with fantastic layering (considering I make laminated doughs once a year, if that, these danishes turned out beautifully. Scroll down and look at them!). I threw together the tastiest biscuits I've ever made (cheddar bacon biscuits with a bourbon-maple glaze), and even cheddar gougères. Still, even though the recipes turned out really well in the end, I had to put a lot thought every step of the baking process. As cookbook readers, we shouldn't have to put so much thought into following a recipe. Unfortunately, there are inconsistencies in the book that went unnoticed when the book got published. Most of the directions could have used an extra careful eye to read through every page. I question whether every single recipe was tested by a recipe tester, honestly. Because from the 3 recipes I tested, every single one had some confusing mistakes or incomplete directions. And considering this is a book about ratios, which implies a certain level of precision, it's a little unsettling. I even got in touch with the publisher before writing this post. I sent in my edits to the publisher because I still like this book, and with a few corrections, I think it could be great.
The book is divided into logical categories, based on the basic doughs you need to master in order to make most pastries: biscuits, scones, pies, tarts, cream puffs, brioche breads, puff pastries, croissants, and even danishes. Every dough chapter opens with a basic ratio and the most basic recipe for a dough. Subsequent recipes cover how to vary the base dough and showcase all the things you can make from that basic dough ratio. There are lots of sidebars and notes throughout the book. It's all very logical. I picked the three recipes I tested here because each came from a different section and therefore a different "basic dough recipe". I also picked these three because they come with varying levels of difficulty, the laminated danish dough being the most technically demanding of the three as it involves four single turns (croissants only take three single turns).
Cheddar gougères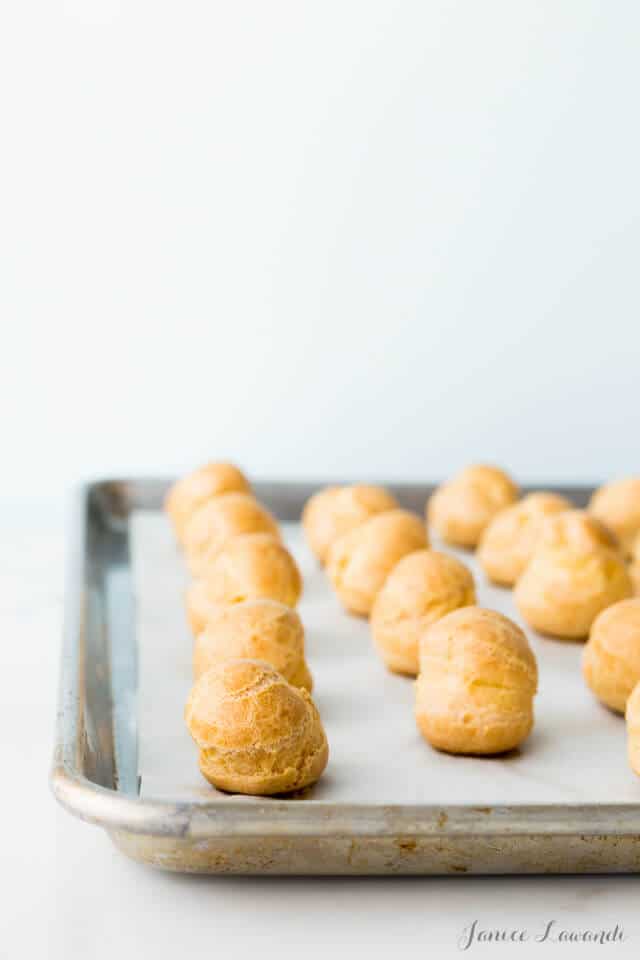 Disclosure: As an Amazon Associate, I earn from qualifying purchases.
The first recipe I tested was the pâte à choux recipe to make cheddar gougères. The pâte à choux worked well, and I appreciated that the author has directions for making it in the mixer because beating pâte à choux by hand is a real pain. Russel's recipe ratio is the same one we learned at Le Cordon Bleu, actually. Still, I cannot agree with the author's choice of a ¼-inch piping tip to pipe the puffs and éclairs throughout the book. That's way too small a tip to pipe any choux pastry, really. In pastry school, we used a 12 mm tip, which is just about double what Russell recommends. I used a 12 mm tip to make these puffs in the end, but first I tried with a 6 mm tip, the closest tip I have to a ¼-inch, and it just didn't work. The size that you pipe varies according to the size of the tip. So to pipe gougères that are the size of a Canadian toonie, you literally shouldn't/can't do that with a ¼-inch piping tip. And on that note, the author doesn't mention how big to pipe the gougères. That'd be helpful for those of us that never make them.
Bourbon-maple glazed cheddar bacon biscuits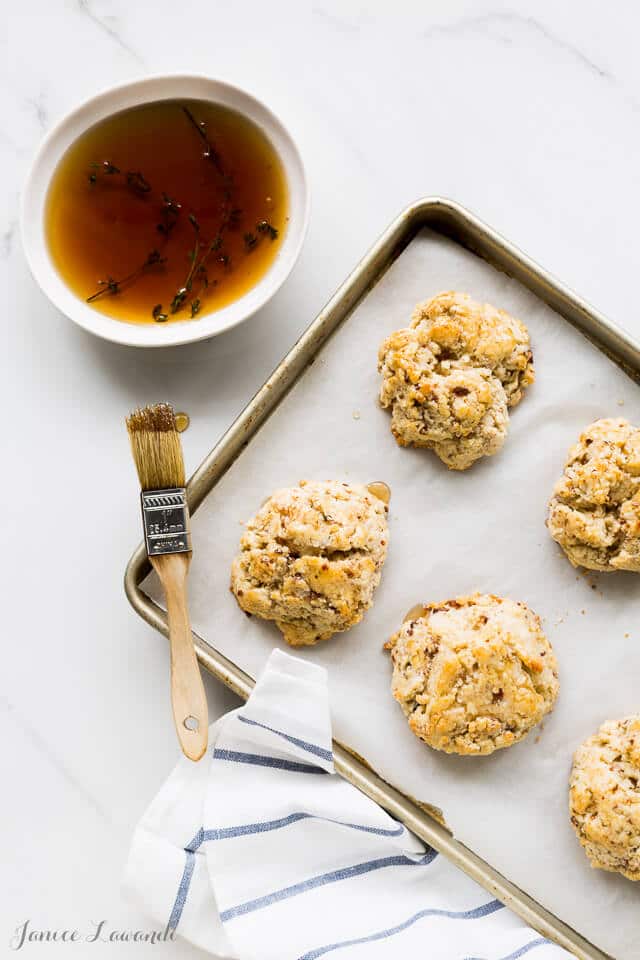 The cheddar bacon biscuits with bourbon maple glaze were a huge hit with my friends (and me too!). The thyme in the glaze really brings out that oaky barrel-aged flavour of bourbons and works so well with maple. I saved some for pancakes. Yum! Unfortunately, in the biscuit recipe, the ingredients list includes only baking powder, which is fine except the directions state to add "the baking soda". Most of us know that baking soda and baking powder are not the same chemical leaveners. And I knew right away that Russell most probably meant baking powder, firstly because no recipe would ever call for 4 teaspoon of baking soda unless we were working on a kilo scale recipe, and secondly because there isn't an acid present in the recipe to react with that baking soda. Clearly baking powder was the correct ingredient to use. I deduced this and you probably would too, but we can't expect every reader to come to the same conclusion. I fear somebody may read the directions and add 4 teaspoon baking soda instead of 4 teaspoon baking powder. Yikes! That would be inedible, if that happened.
Maple braided danishes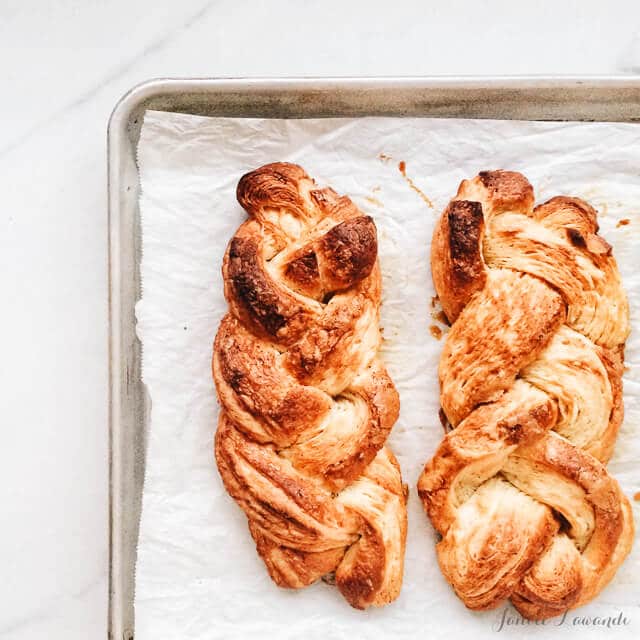 The final recipe I tested, the maple braided danishes, gave me the most trouble because of the way the recipe was written. I've made a lot of maple syrup recipes, but this was my first attempt at maple danishes. If you follow me on Snapchat, then you saw all the issues I had (undissolved yeast, butter block being the wrong size, measuring issues with the dough and the shaping, the yield of the recipe states 9 braids, but the directions say to make 6 braids, and the list goes on...). I was exhausted by the end and my friends were starved because I stupidly didn't pay attention to the 8 hour prep time for this recipe when I invited friends over to eat them with me. Yes, you read that right: EIGHT HOURS to make these beauties! Sorry, friends! I'll make it up to you one day for starving you all day. The prep time issue was completely my fault, of course, and not the fault of the book. Still, they watched my struggles along the way. Sure, we laughed, but it was also a little frustrating. In the end, the maple braided danishes turned out beautifully. But I was rather frustrated many steps of the way. I'm still not sure if the recipe is supposed to make 6 braids or 9 braids, and I'm not sure how thick the dough was supposed to be rolled before cutting it into strips. My strips were thick and therefore awkward to braid. The braids I made look nothing like those pictured in the book.
Final thoughts
The number one thing that I found odd throughout the book is the author's choice to use a different ratio of cake flour to bread flour for each recipe. I understand that different doughs may require different percentages of protein (and specifically gluten) to achieve the best textures. However, the problem remains that depending where your reader is from and the brand/country of origin of the flours used, baking with a mix instead of straight all-purpose won't fix the fact that Canadian flours are different than American flours (we usually have a higher protein content in our flours from a "harder wheat" as Nick Malgieri pointed out to me once at a book signing). And if you use King Arthur flours, theirs are also higher in protein. So using a mix doesn't make for a more reproducible result from one person to another. It's more of a nuisance than anything else. In the end, I used all-purpose throughout my tests, which the author suggests is a suitable substitute. And I chose to use all-purpose flour only because I expect most readers wouldn't have the different flours on hand and would probably make that same substitution as I did.
Do I recommend this book? Yes and no. I hope there will be a 2nd edition that is revised and corrected. If that happens, I'd have no issue telling you to go out and buy it. The way the book is now, I would say, if you love to bake and you geek out on ratios the way I do, this book would make an interesting investment for your collection, but be prepared to have to think on your feet and wing it for some recipes. I don't regret purchasing this book. Not at all. But I honestly stuffed my face with danishes at the end of the maple braided danish bake day, puzzling over how to handle this review. It stressed me out, not only because I didn't want to anger a publisher like Quirk Books, but also because I don't want to insult a published author like Russell (who also happens to be a pastry chef and blogger I've followed for years on Chasing Delicious). I wonder if this book suffered from a combination of tight deadlines and small budgets. This book reinforced my strong beliefs that publishing houses need to find funding for external, objective, professional recipe testing. At this point, I've tested a lot of books to review on my blog, but I've also worked on the side as a recipe tester for 3 cookbooks. With every project, I realize the importance of the recipe testing step and the huge impact this can have on the reliability of the finished book. I could say more about this, but I've probably said too much already. I'll save the rest for another day.
If you would like a copy of Making Dough: Recipes and Ratios for Perfect Pastries by Russell Van Kraayenburg, published by Quirk Books, you can find it on Amazon. While you wait for your order, here's the recipe for the basic biscuit dough as well as the bourbon-maple glazed cheddar bacon biscuits variant.
Please note that I purchased my copy of this book. I tested three recipes from the book before coming to these conclusions. The recipes here were published with permission from Quirk Books.