There are a lot of great new baking books that came out in 2020, and if you are looking for some new inspiration for yourself or to buy a book for your favourite baker, here's a rundown of my latest recommendations for books on baking that will make great gifts for yourself or for a loved one! And if you are buying a gift for a baker interested in the science of baking, make sure to check out this list of science of baking books for more ideas!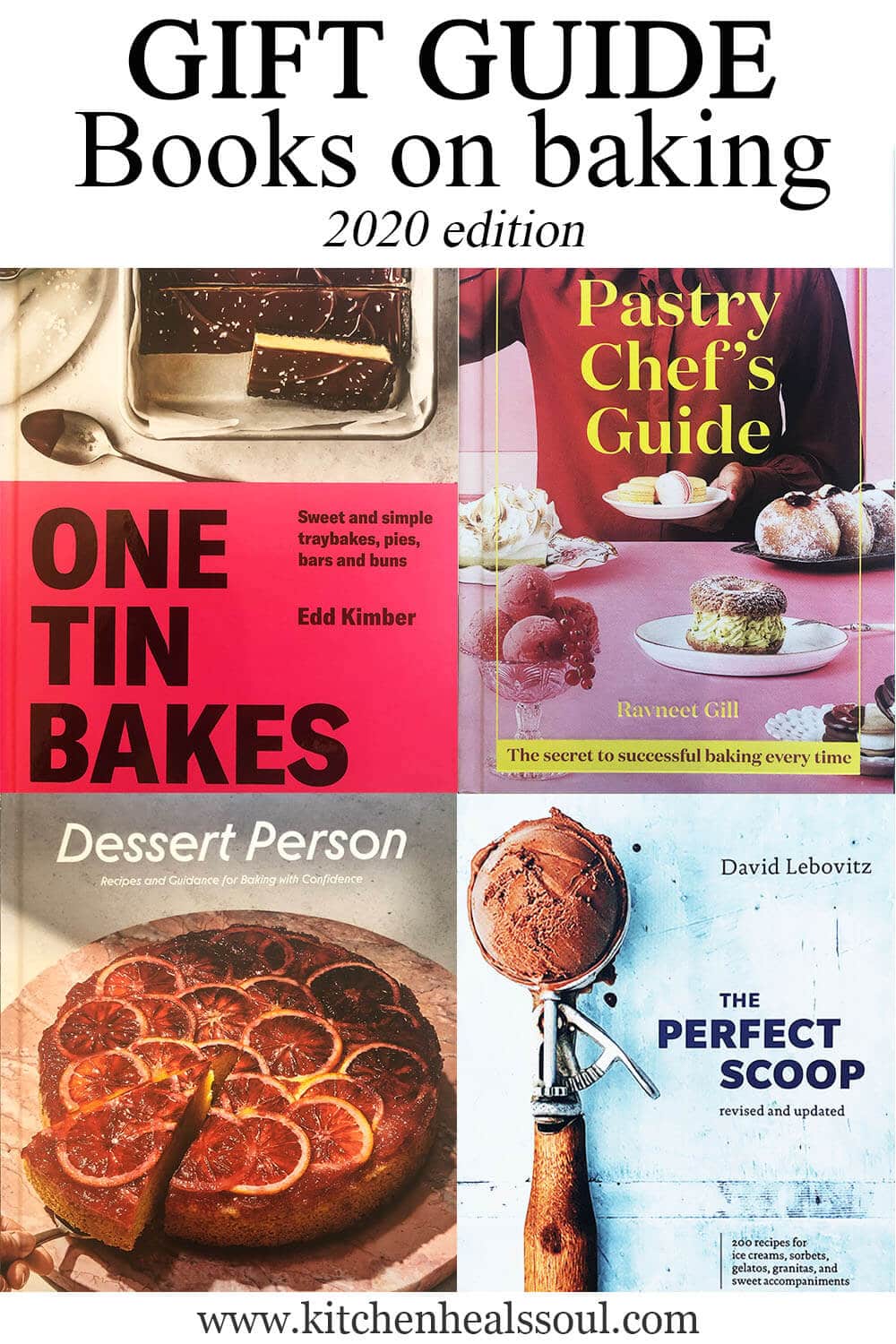 Disclosure: As an Amazon Associate, I earn from qualifying purchases.
Sarah Kieffer is the creative genius behind the pan-banging technique that was a game-changer in the cookie-making scene. That pan-baking recipe appeared in her first book The Vanilla Bean Baking book and that book is a favourite of mine and one I recommend a lot to friends and family. It's no surprise she dedicated a whole book to cookies, where she not only applies the pan-banging to other classics beyond chocolate chip cookies, but she also explores other types of cookies and bars too. I am a huge fan of cookie books and I own many, but this one is different and definitely one to add to the collection.
You can order 100 Cookies from Amazon or Indigo. And to purchase a copy of The Vanilla Bean Baking Book, you can also order it from Indigo or Amazon. This Dutch Baby pancake recipe came from The Vanilla Bean Baking Book.

I am a huge fan of Erin McDowell, who writes for many reputable publications, like Food52 and the New York Times. McDowell has a way of presenting recipes that makes even more challenging desserts manageable. She is a great educator and I highly recommend you watch her videos because she is technical, but not overly serious. She wrote The Book on Pie which was published this year and this is THE BOOK to buy your favourite baker who wants to learn how to make pie or who already dabbles in the art of pie-making. This book is far from basic and is a compilation of so many pies. I highly suggest pairing The Book on Pie with a metal pie plate and a French rolling pin as a gift.
You can order The Book on Pie from Amazon or Indigo.
Claire Saffitz was an editor at Bon Appétit magazine, and she became rather famous with the video series Gourmet Makes where Saffitz attempted to recreate commercial products in the Bon Appétit Test Kitchen. She tried her hand at recreating "simple" products, like Ben & Jerry's ice cream knockoffs, and more complex products, like Skittles and Cheetos. Saffitz's first book, entitled Dessert Person, is a rather impressive tome dedicated to the pastry arts, even more elaborate desserts, like croquembouche (made from pâte à choux) and tarte tropézienne from homemade brioche. The photography is as bold as you would expect from this ex-Bon Appétit editor. Crisp, strong shadows and bright light just like you see in the magazine. The premise of the book is that "There are no 'just cooks' out there, only bakers who haven't yet been converted. I am a dessert person, and we are all dessert people."
You can order Dessert Person from Amazon or Indigo.
First of all, you should follow Kelsey Siemens' Instagram account if you aren't already. She works (very hard!) at her family farm and she takes beautiful photos of the farm and what they are growing AND she bakes. Need I say more? She's written a baking book dedicated to baking through the seasons and it is stunning.
You can order The Farmer's Daughter Bakes from Amazon or Indigo.
If the honey cake on the cover of this book doesn't draw your attention and make you want to eat more cake and buy more books on baking, then are you sure you like baking and baked goods? That honey cake is made from very thin layers of cake batter spread evenly in circles on parchment paper, then stacked to layer them. It's a show-stopper! You'll need a mini offset spatula for this one, which is also my favourite baking tool and if you don't have one, get it!
You can order Baking at the 20th Century Café from Amazon or Indigo.
Ed Kimber, very well-known creative mind behind the blog The Boy Who Bakes and who also won the first season of the Great British Bakeoff, has dedicated an entire book to baking in one tin (or for us North Americans we'd say one baking pan). It's a beautiful book and the recipes are so creative. They are simple, but not boring and many of the recipes have several components to make really impressive desserts all in one tin. One Tin Bakes isn't just for sheet cakes. You'll also find recipes for bars, cookies, breads, and pies. And if you want to give this book as a gift, I suggest combining it with the suggested baking pan: this gorgeous 9x13 baking pan from Nordic Ware. You could also combine this book with Ed Kimber's first book, Pâtisserie Made Simple, which is a gorgeous book dedicated to French pastry.
You can order One Tin Bakes from Amazon or Indigo. You can also order Pâtisserie Made simple from Amazon or Indigo.
The slogan of Ravneet Gill's book is "The secret to successful baking every time" and her book is dedicated to all the base recipes and components that make up pastries, from doughs and batters to frostings and fillings. Once you have mastered these base recipes, you can combine them to make almost anything, and that's how pastry chefs operate. This book is very much a manual and has few pictures, but I think this could be a very handy reference for those home bakers who are getting more serious about baking.
You can order The Pastry Chef's Guide from Amazon or Indigo.
David Lebovitz's ice cream book was re-published this year, updated with new photos and recipes. It's a great reference for home bakers who would like to make ice cream. This book has ice cream for everybody, from classic flavours like vanilla and chocolate to more elaborate flavours like "prune and armagnac"! You'll even find sorbet recipes here and there's also ice creams made with eggs and without. I highly recommend this book if you want to make ice cream. I suggest pairing it with a basic Cuisinart ice cream maker and an ice cream scoop for a super fun gift!
You can order Perfect Scoop from Amazon or Indigo.
This is Yossy Arefi's second book and it might be even more beautiful than the first, Sweeter Off The Vine. I have both, and Snacking Cakes definitely has a different vibe. I love snacking cakes. To me, they are simple single-layer cakes. Sometimes they are frosted, but they don't always need to be! Arefi describes snacking cakes as "low-stress cakes" and that's exactly right: they are something to bake to keep you going through the week because we can all use a sweet treat either for breakfast or mid-afternoon or for dessert on a Tuesday. Life is hard. Snacking cakes will give you something to look forward to as we tread on.
You can order Snacking Cakes from Amazon or Indigo.
Please note that I was gifted a copy of Dessert Person, Perfect Scoop, and Snacking Cakes from Crown Lifestyle (Clarkson Potter and Ten Speed Press).