If you want a recipe for apple yogurt cake, look no further! This is David Rocco's recipe and it's like a dense apple torte with a wonderful crispy sugar topping. Keep reading to find the recipe and my book review of David Rocco's book "Made in Italy" .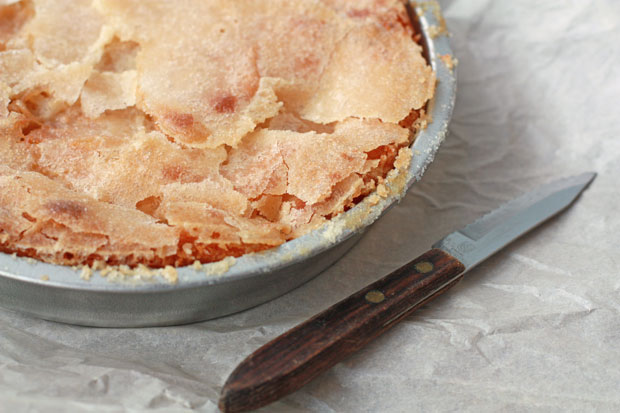 Disclosure: As an Amazon Associate, I earn from qualifying purchases.
Oh, David Rocco.... I watch him on tv, usually in awe. He's a Canadian who lives part-time in Italy. He hangs out with his buddies in Rome, and cooks. He visits fun places like a chestnut farm, and eats and cooks among the trees. What a life! How do I sign up for this gig?
With all honesty, I don't really want to have a tv show. I'd rather have my perfect little bakery. In the meantime, I have David Rocco's latest book "Made in Italy" to review.
So far, I've tested a handful of recipes. What I love about this book: the simplicity. The recipes are quite simple and rustic. You don't need a fancy food processor, blender, mixer, etc. to make David Rocco's recipes. The photos in the book reflect this simplicity, depicting simple, traditional Italian dishes. There are no fancy plating techniques here: the pizzas aren't perfectly round and there are sometimes dribbles of sauce on the serving plate photographed. The dishes really look homemade.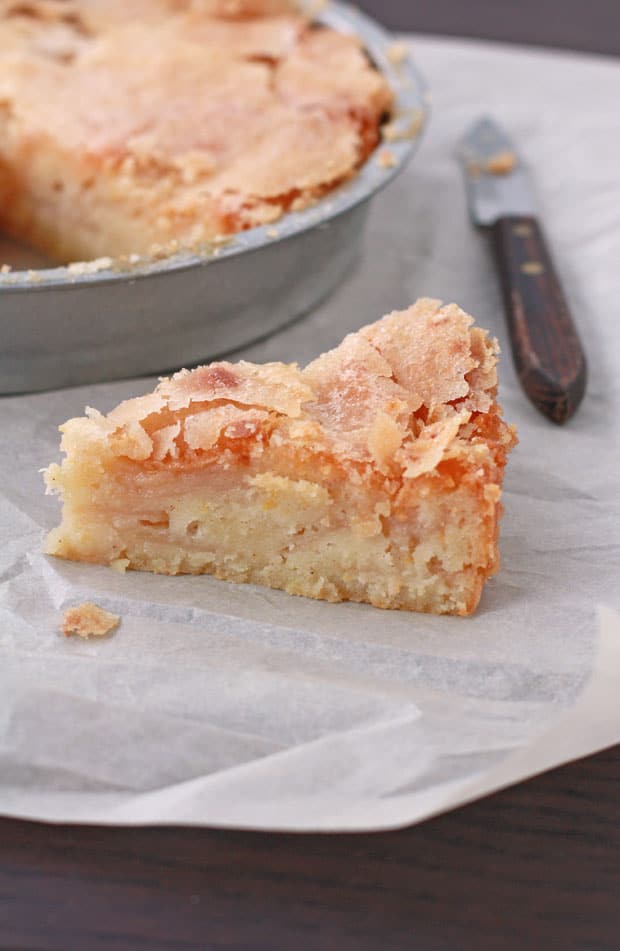 What I don't love (i.e. me being picky): solids (like flour, sugar, etc.) are measured in cups/milliliters (mL). My inner chemist thinks that volumes are for liquids, weights are for solids. Unfortunately, I think Canadian publishing regulations dictate that solids be reported for cookbooks in cups/mL. This makes absolutely no sense to me, but those are the rules. Oh well.
My other issue is with the ingredient lists. For the dessert (dolci) section, I think it is important to specify to use unsalted butter and granulated sugar, for example. However, in this book, these ingredients are listed as butter and sugar, which is fine for the experienced bakers who know what type of butter and sugar to use, but for a novice, I think it's important to specify exactly what ingredients were used. These are really minor details though, and I'm definitely going to continue cooking with this book.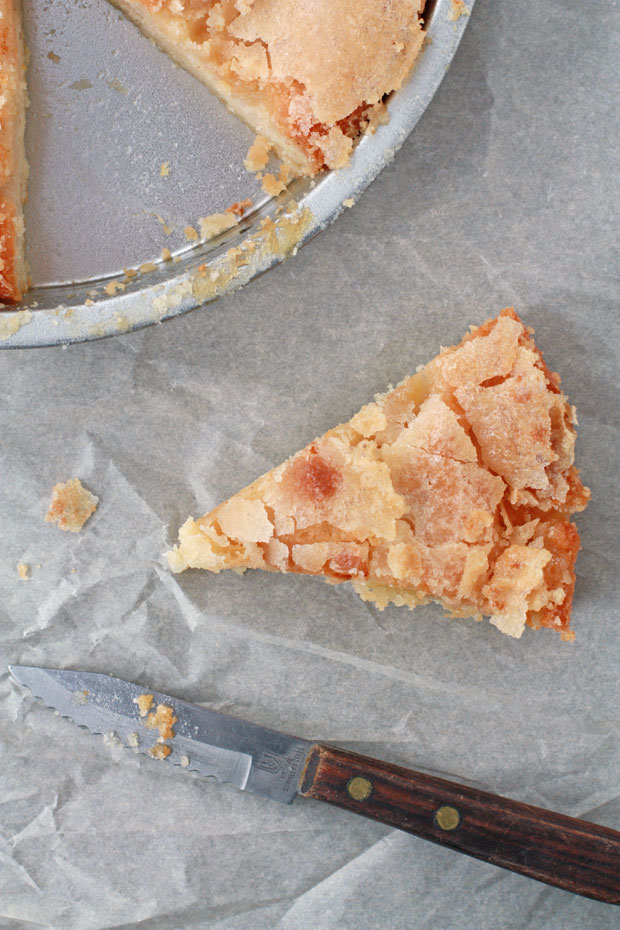 This apple yogurt cake is a dessert recipe adapted from David Rocco's "Made in Italy" (page 341). The recipe is really simple and can even be mixed together by hand (or with a hand mixer, as David Rocco recommends) if you don't have a stand mixer. The cake has a lovely moist texture and is full of apple slices. The original recipe said to bake the cake for 40 minutes, but mine took over an hour to bake. I love the crispy sugar topping that crackles as the cake cools and its crispy texture is a welcome sweet contrast to the soft, slightly tart apples. This is a great snacking cake and absolutely appropriate for the end of fall.
📖 Recipe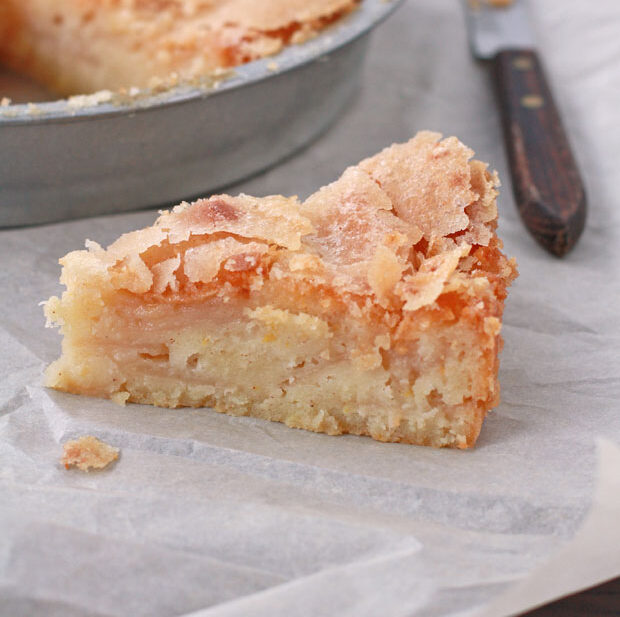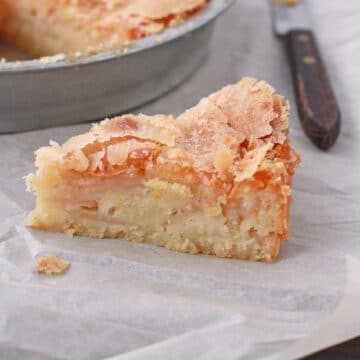 David Rocco's Apple Yogurt Cake
David Rocco's apple yogurt cake recipe from one of his books. This traditional Italian apple yogurt cake has a crisp sugar topping.
Ingredients
156

grams

bleached all-purpose flour

150 grams

1.25

mL

ground cinnamon

1.25

mL

Diamond Crystal fine kosher salt

100

grams

granulated sugar

200

grams

unsalted butter

melted, plus a little extra for buttering the pan

2

large egg(s)

125

mL

yogurt (2 % fat)

2

Cortland apple(s)

peeled, cored, and thinly sliced

15

mL

finely grated lemon zest

75

grams

granulated sugar

for the topping
Instructions
Preheat the oven to 350°F. Butter an 8-inch cake round.

In a medium bowl, whisk together the flour, cinnamon, and salt.

In the bowl of an electric mixer fitted with the paddle attachment, beat the ½ cup of sugar and the melted butter until it has lightened.

Add the eggs, one at a time, beating between each addition and scraping down the bowl as needed.

Reduce the mixer speed to low and add the flour mixture alternately with the yoghurt, beginning and ending with the flour.

Stir in the sliced apples and the lemon zest, and pour the batter in the prepared pan.

Sprinkle the ⅓ cup sugar evenly over the top of the cake.

The original recipe suggests a baking time of 40 minutes, but I think it needs to bake for over one hour (until a tester inserted into the center (not through an apple if possible!) comes out clean.

Let cool completely before serving.
Nutrition
Please note that I was sent this book by Harper Collins publishing, but my opinion is my own.