One of the simplest no-bake desserts you can make is this vanilla bean panna cotta (which is also gluten-free). You can serve it in jars and top it with jam for a stress-free dessert and you don't even have to turn on the oven to make it!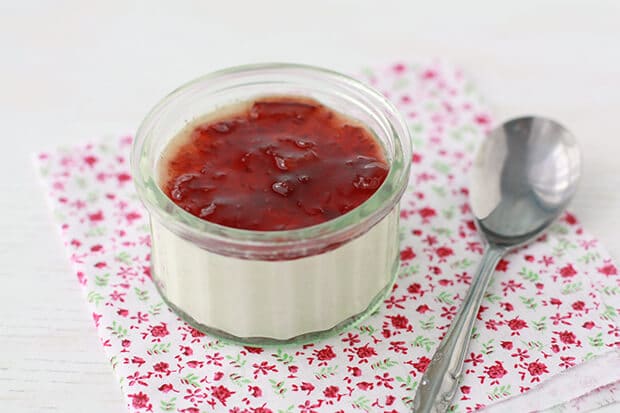 Disclosure: As an Amazon Associate, I earn from qualifying purchases.
Panna cotta is one of those easy desserts that you can throw together all while dealing with a life crisis. It takes about 10 minutes and then you just have to refrigerate it to set and chill until the next day. It can be lighter if made with whole milk, or a combination of milk and cream, and it can be seriously decadent if made with cream only. This vanilla bean panna cotta is lightly sweetened because I served it with some homemade strawberry jam. It's immensely refreshing and the perfect way to enjoy your homemade preserves (or whatever topping you prefer).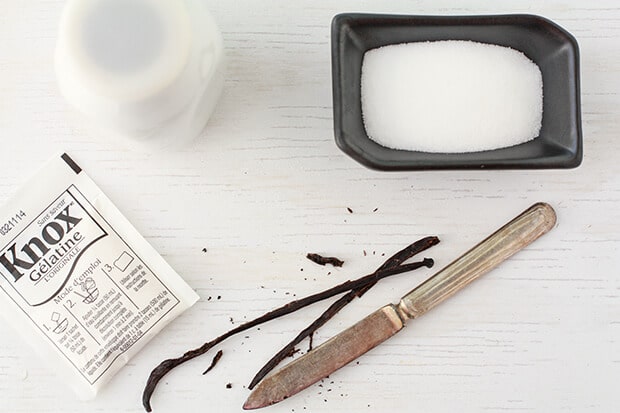 How to make vanilla panna cotta
To add vanilla flavour to panna cotta, you can use different types of vanilla, but you will have to add the vanilla at different times in the recipe, depending on the vanilla product you are using:
if you want to use a vanilla bean to make vanilla bean panna cotta, infuse the milk with a split, scraped vanilla bean BEFORE heating the milk
if you want to use pure vanilla extract to make vanilla panna cotta, flavour the warmed milk by adding vanilla extract AFTER you take the milk/cream off the stove
if you want to use vanilla bean paste to make vanilla bean panna cotta, flavour the warmed milk, in the same way you would use vanilla extract, adding the vanilla paste AFTER you take the milk/cream off the stove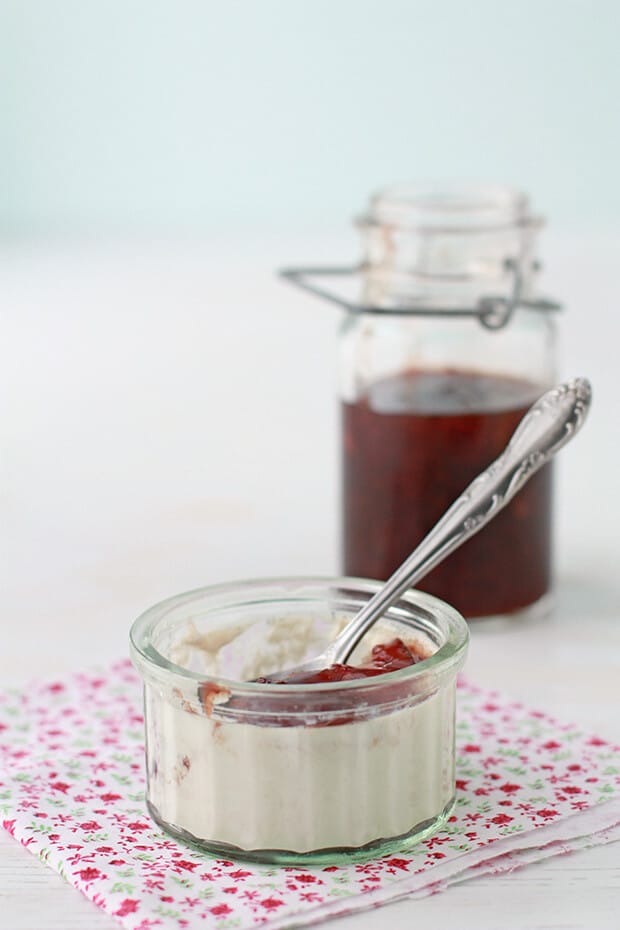 What goes with vanilla panna cotta
In general, I like to serve panna cotta topped with berries and fresh fruit in the summer when it's in season. But when fresh fruit isn't an option, a little strawberry jam makes a great topping for panna cotta!
In winter, gingerbread granola is a festive topping for vanilla panna cotta. You can serve panna cotta with homemade cookies like cocoa nib shortbread cookies. You could roughly chop classic shortbread and use that as a crunchy topping too. In the dead of winter, top vanilla panna cotta with three fruit marmalade and in spring, serve it with rhubarb jam (without pectin). Vanilla panna cotta is truly a blank canvas that can be topped with so many fun treats.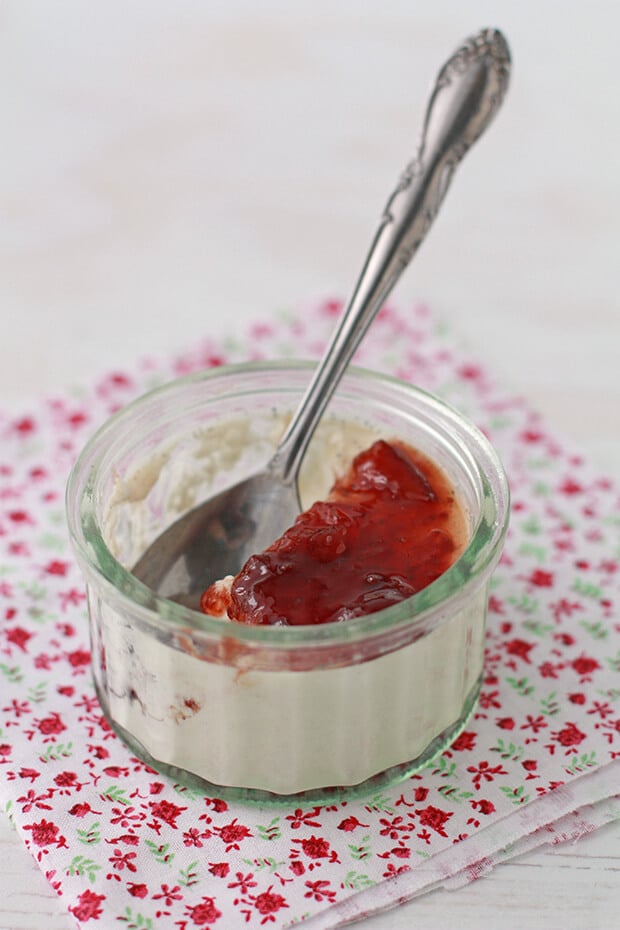 To add a ton of pure vanilla flavour to panna cotta, use a vanilla bean instead of extract. If you want a tea-flavoured panna cotta, try this Earl Grey tea panna cotta tarts recipe or this mascarpone panna cotta topped with lemon jelly and served with florentine cookies.
📖 Recipe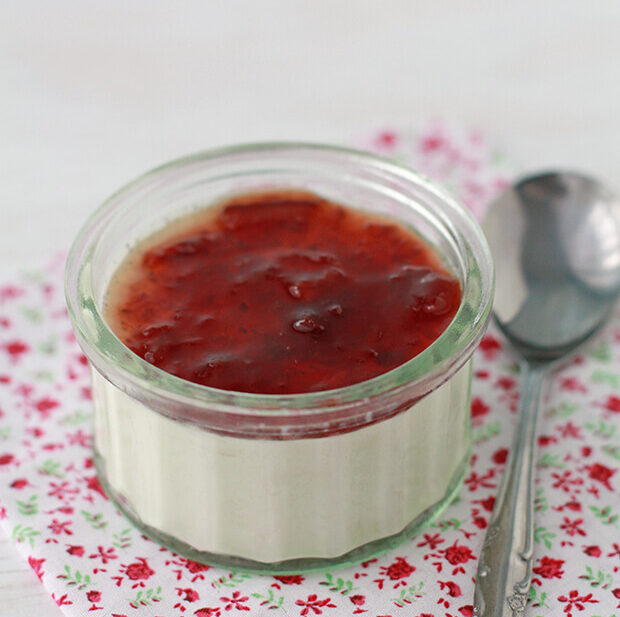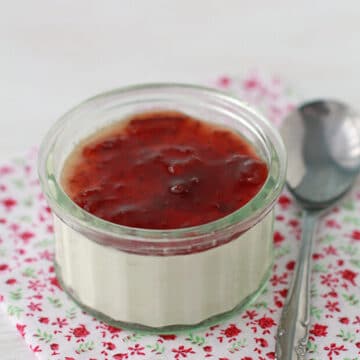 Vanilla Bean Panna Cotta
This vanilla bean panna cotta is a very easy dessert that you can make lighter with skim milk Serve with homemade jam for an easy dessert
Ingredients
1

packet

Knox unflavoured gelatin powder

63

mL

water

500

mL

skim milk (fat free)

or cream, or a mixture of both

1

vanilla bean

split in half and scraped

25

grams

granulated sugar

½

teaspoon

pure vanilla extract

jam or marmalade
Instructions
Place the water in a small bowl and sprinkle the gelatin evenly over top. Set it aside to bloom while you work on the rest of the recipe.

In a small saucepan, combine the cream and/or milk with the split vanilla beans, being sure to scrape all the seeds into the saucepan. Add the granulated sugar.

Heat the mixture on medium–low until it just begins to steam and is almost about to boil. Take the saucepan off the heat, and whisk in the bloomed gelatin mixture until it has completely dissolved. Let the mixture cool to room temperature before adding the vanilla extract.

Strain the mixture into 4 or 5 small ramekins or glasses, and transfer to the fridge to chill overnight.

Enjoy as is, or top with a dollop or two of your favorite jam.
Nutrition