Save those pumpkin seeds to make this easy snack with only 3 ingredients (actually 2 ingredients if you don't count the seeds). This toasted pumpkin seeds recipe is so simple, you're going to want to buy whole pumpkins often to make more!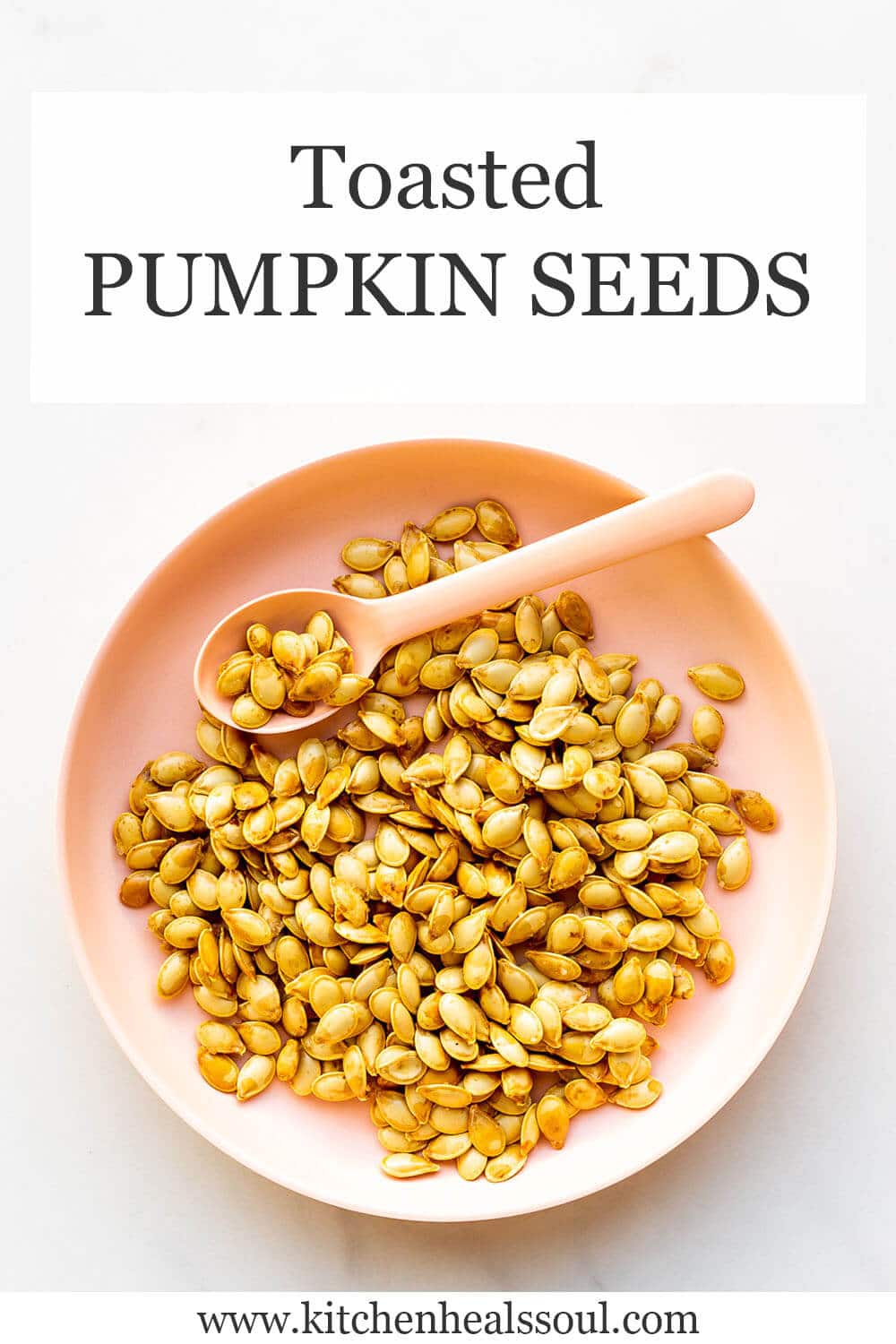 Disclosure: As an Amazon Associate, I earn from qualifying purchases.
If you love to bake with pumpkin, order your copy of the e-book All About Pumpkin so you can celebrate this star ingredient!
Pumpkin seeds are sometimes referred to as pepitas. These seeds don't require shelling to be consumed. They are small and the shells aren't so fibrous so when you eat them, you can eat them whole. You will inevitably have a lot of them when you scoop a pumpkin, here's what to do with them!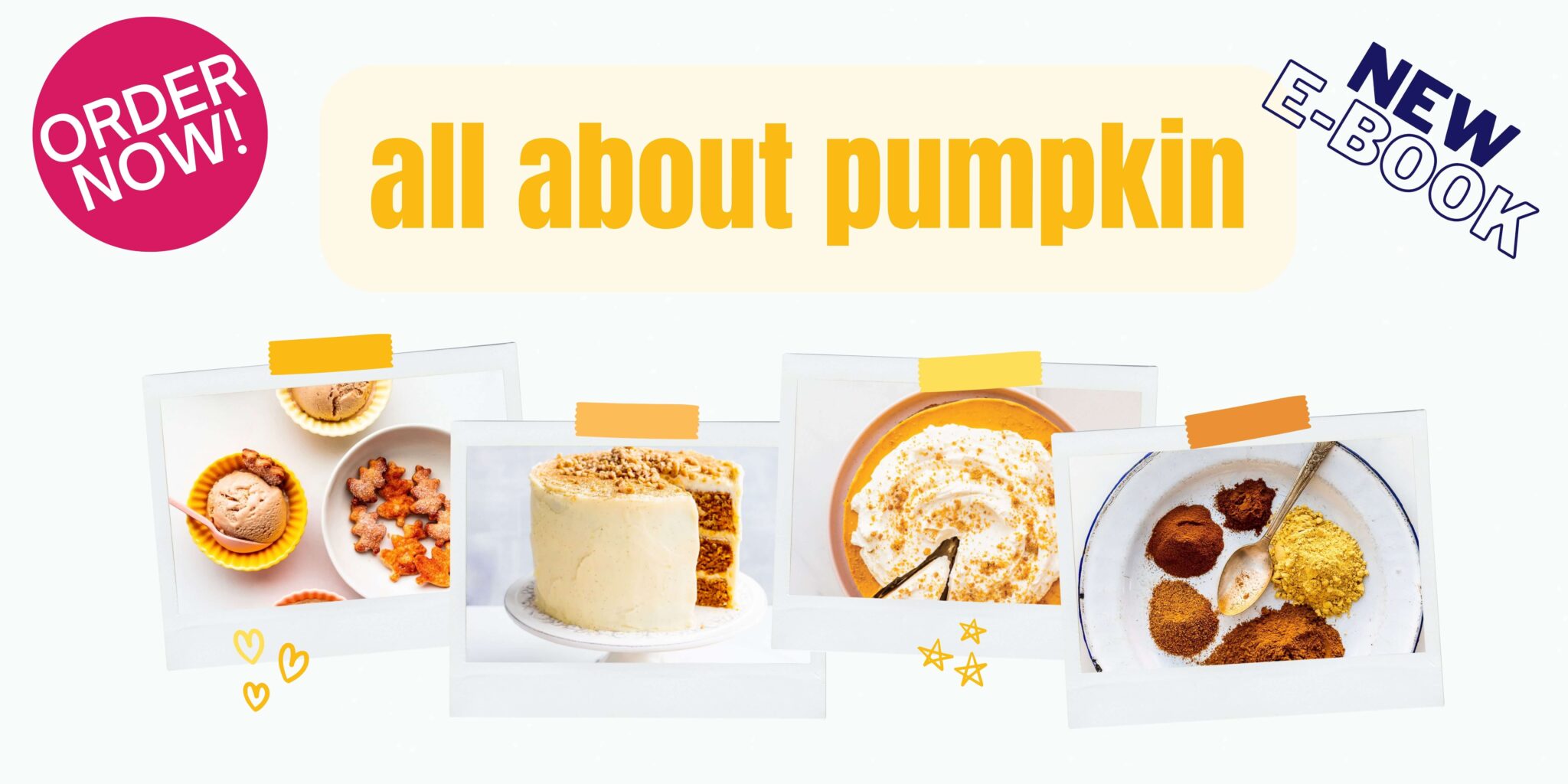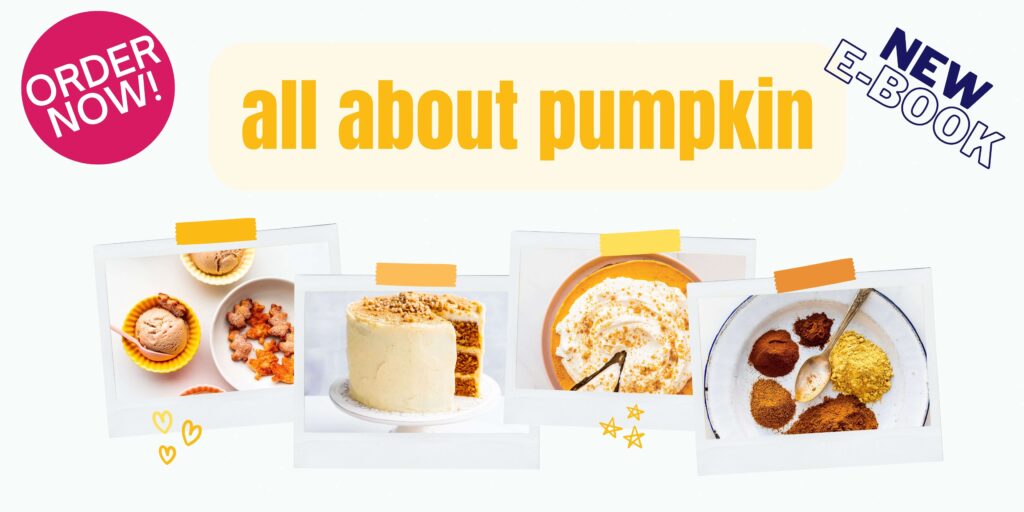 The size of the seed will vary. Sugar pumpkins yield small seeds that are perfect for toasting and eating whole (shell and all). On the other hand a carving pumpkin (jack-o-lantern) or bigger pumpkins may yield larger seeds with a tougher shell. Those pumpkin seeds can also be toasted using the same technique and recipe, but when it's time to eat them, you may want to crack open the shell and eat only the green seed inside because the outer shell can be tough to chew and can be hard to digest for many people.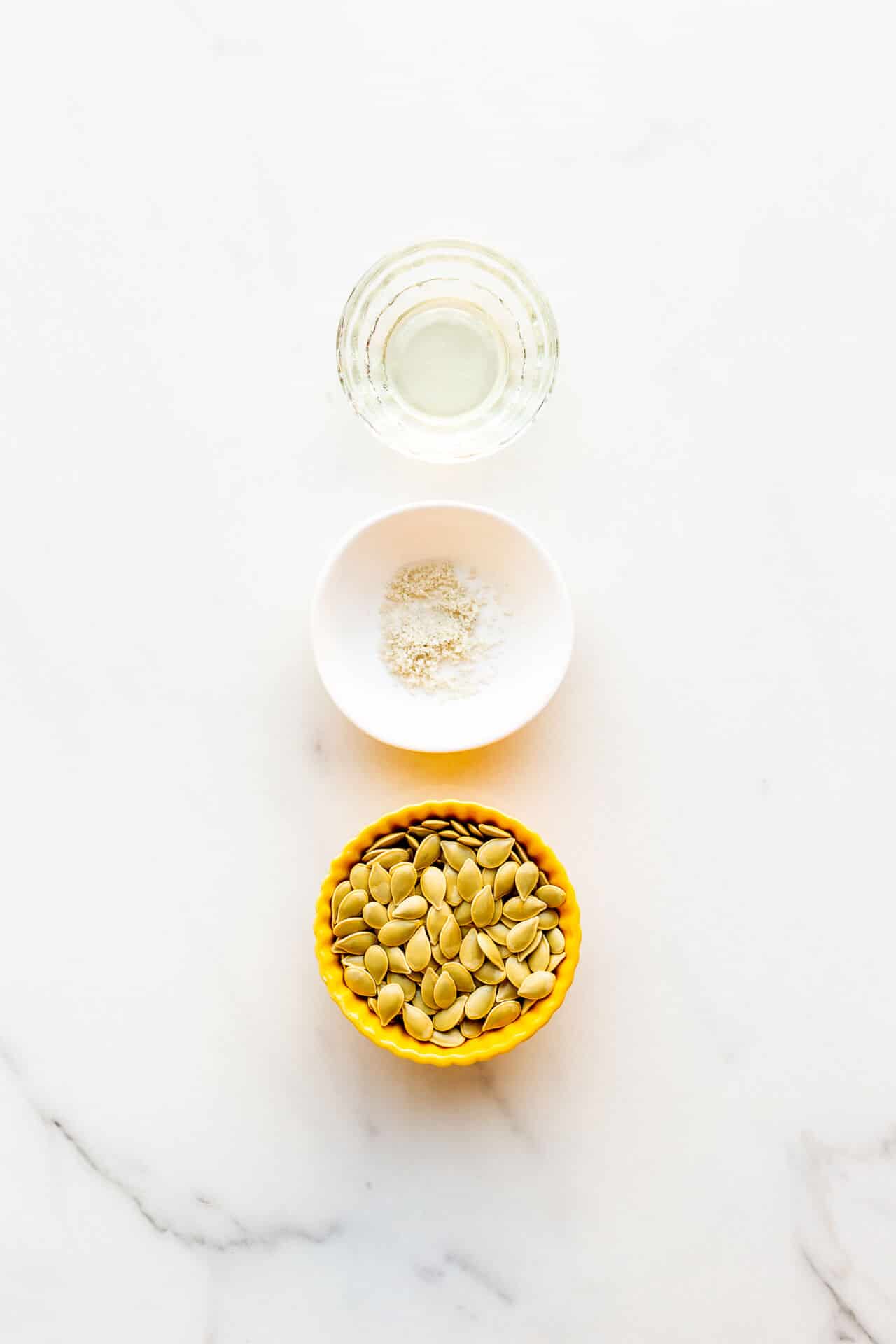 I've used this same technique to toast acorn squash seeds and this worked beautifully yielding crispy seeds as pictured. Any squash or pumpkin that yields small seeds will work well here. However, if the seeds are larger with a thicker shell, like carving pumpkins or kabocha squash seeds, when you toast these in the shell, you'll notice the shell is tougher to chew (and to digest), so for bigger seeds, when you snack on them, you'll have to break them open with your teeth to extract the little green seed inside the shell. If you aren't sure, just give it a try and see what happens!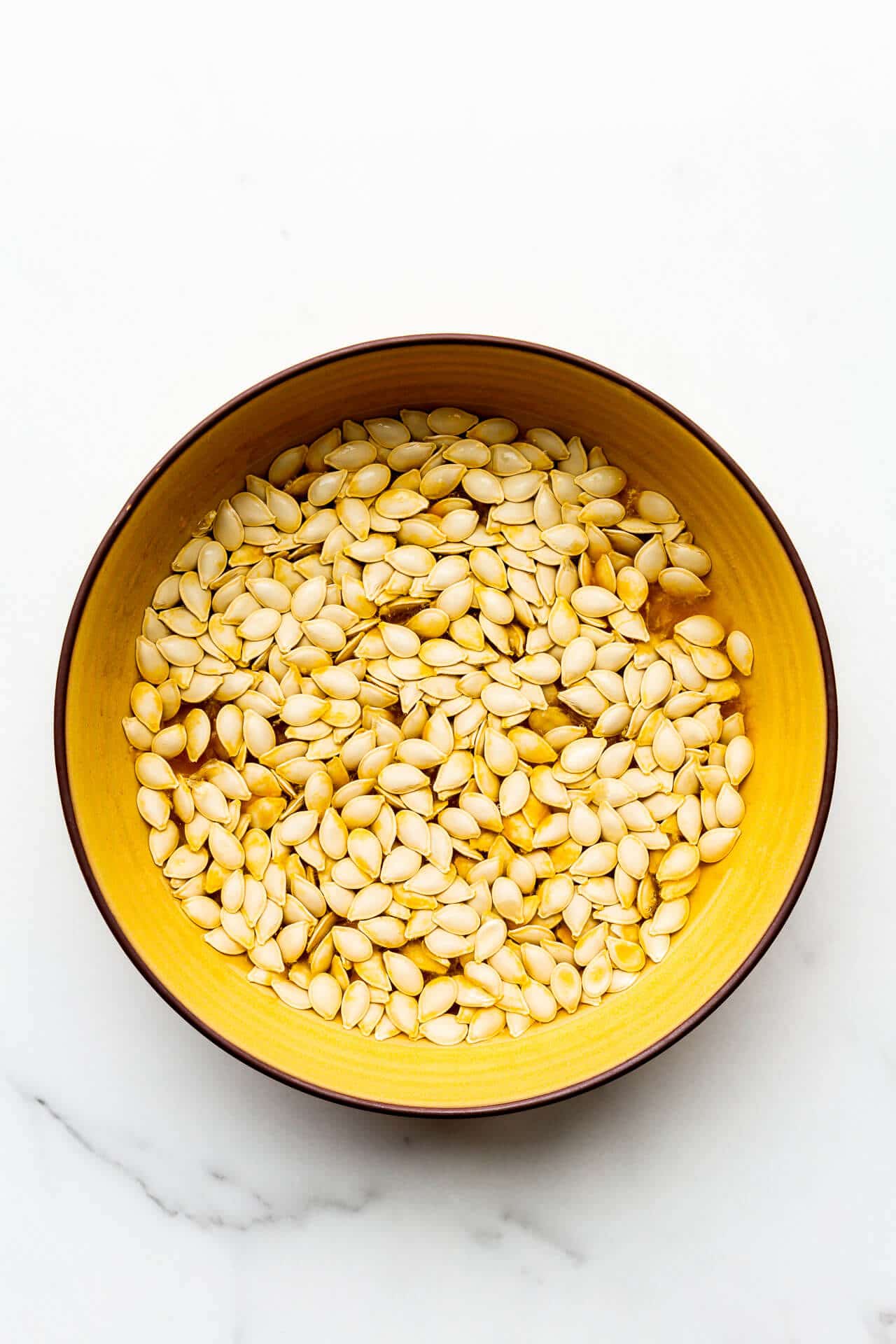 For crispy toasted pumpkin seeds, soak them before baking
Once you've removed the seeds from the pumpkin, be sure to manually take away as much of the pumpkin flesh that's left behind, but if you can't get it all off, don't worry: the next step is soaking the pumpkin seeds in cold water. The soaking step yields roasted seeds that are more crispy and the soak gives you ample opportunity to rinse away any extra gunk before baking.
After soaking seeds for about an hour, drain well, rinse a few times, then dump the strained seeds on a clean kitchen towel to pat dry thoroughly.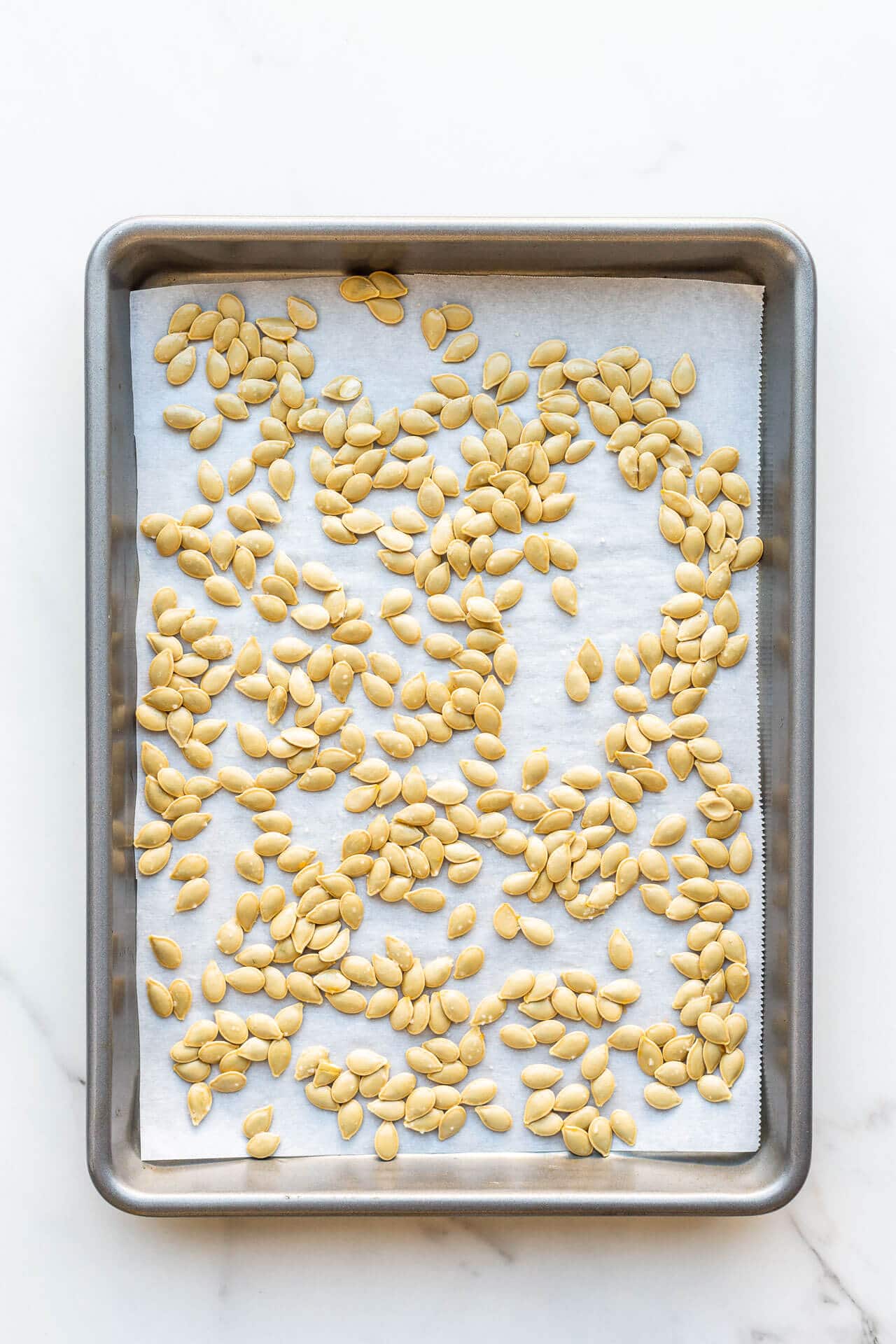 When you roast pumpkin seeds on a sheet pan to toast them, use a little oil and salt for the best flavour. Make sure you don't over-bake them because if the seeds brown too much in the oven, the flavour can become bitter and they are less tasty to snack on. If you'd prefer to make unsalted toasted pumpkin seeds, just skip the salt in the recipe and toast them in plain oil.
Once toasted, cool them completely and store the pumpkin seeds in an air-tight container to prevent them from becoming soggy.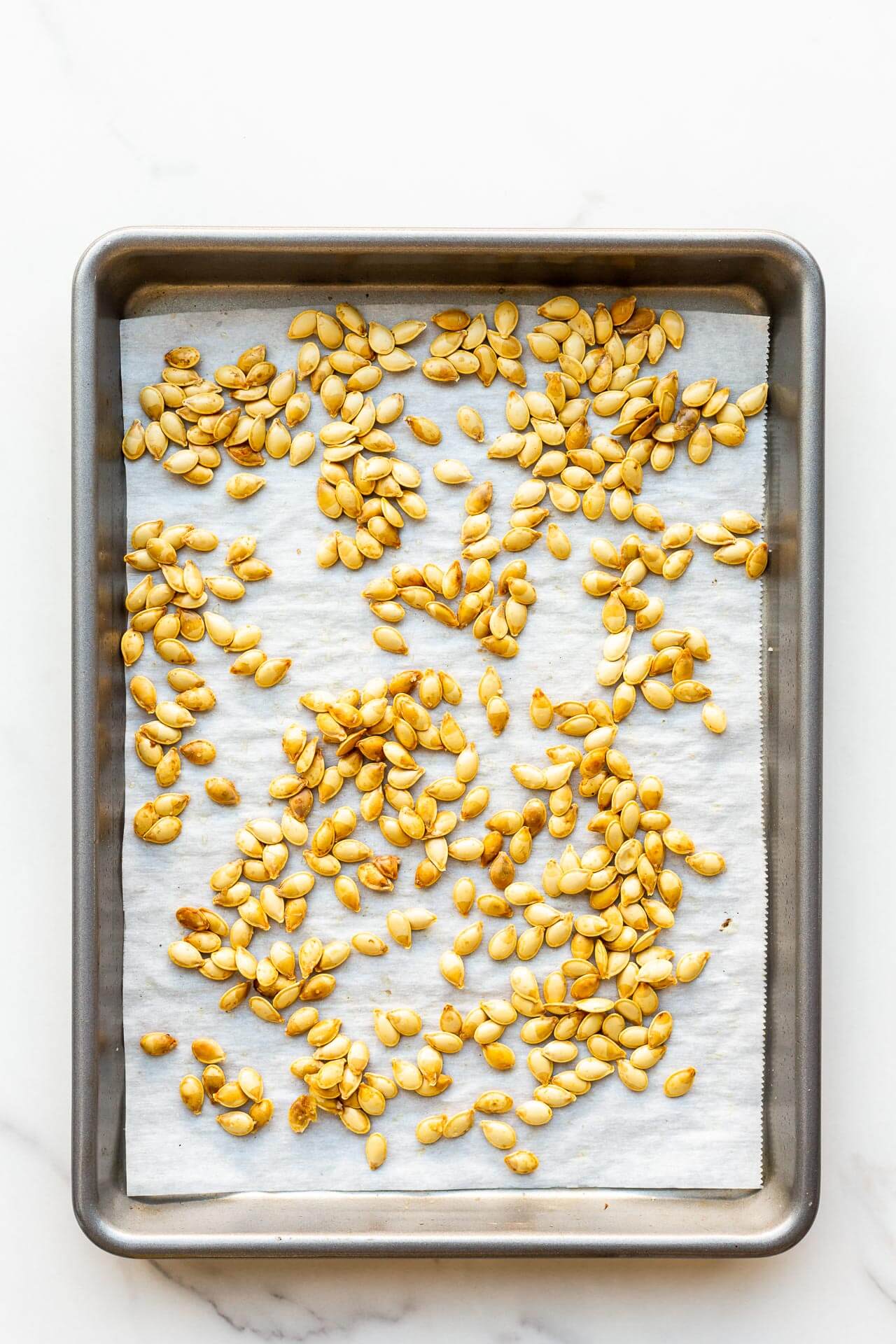 📖 Recipe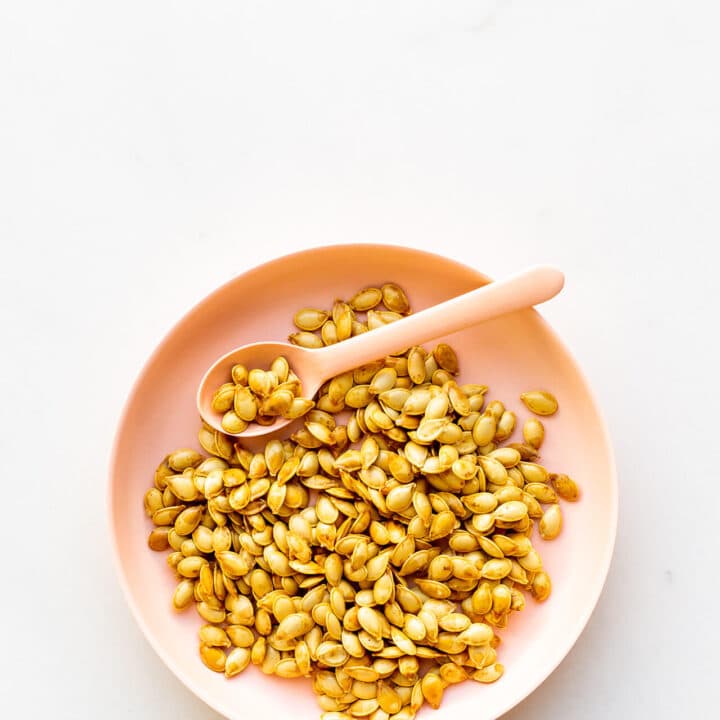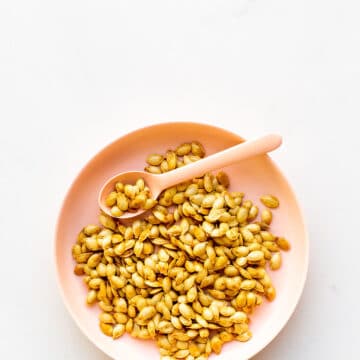 Toasted Pumpkin Seeds
Save those pumpkin seeds and make toasted pumpkin seeds, a super easy snack!
Ingredients
125

mL

pumpkin seeds

from a Sugar pumpkin or from an Acorn squash

7.5

mL

canola oil

grey salt

to taste (or you can use kosher salt or a flaky sea salt)
Instructions
Place the fresh pumpkin seeds in a big bowl. Pour cold water over top, stir with a fork, then let soak for 1 hour.

Drain the pumpkin seeds and rinse well. Dump the drained seeds on a large clean kitchen towel and pat dry.

Preheat the oven to 375 ºF (190 °C). Line a sheet pan with parchment paper.

Transfer the soaked seeds to a clean bowl. Add the oil and a generous sprinkling of salt (as little or as much as you want). Stir well to coat the seeds.

Place the pumpkin seeds on the sheet pan spreading them out into an even, single layer if possible so that they can dry properly. Roast for about 15 minutes or until golden brown. Don't let them get too dark because they will taste bitter so keep an eye on them when you bake them!

Let the toasted seeds cool completely, then transfer to an air-tight container to store.
Nutrition
Calories:
131
kcal
Carbohydrates:
3
g
Protein:
6
g
Fat:
11
g
Saturated Fat:
2
g
Sodium:
4
mg
Potassium:
164
mg
Fiber:
1
g
Sugar:
1
g
Vitamin C:
1
mg
Calcium:
11
mg
Iron:
2
mg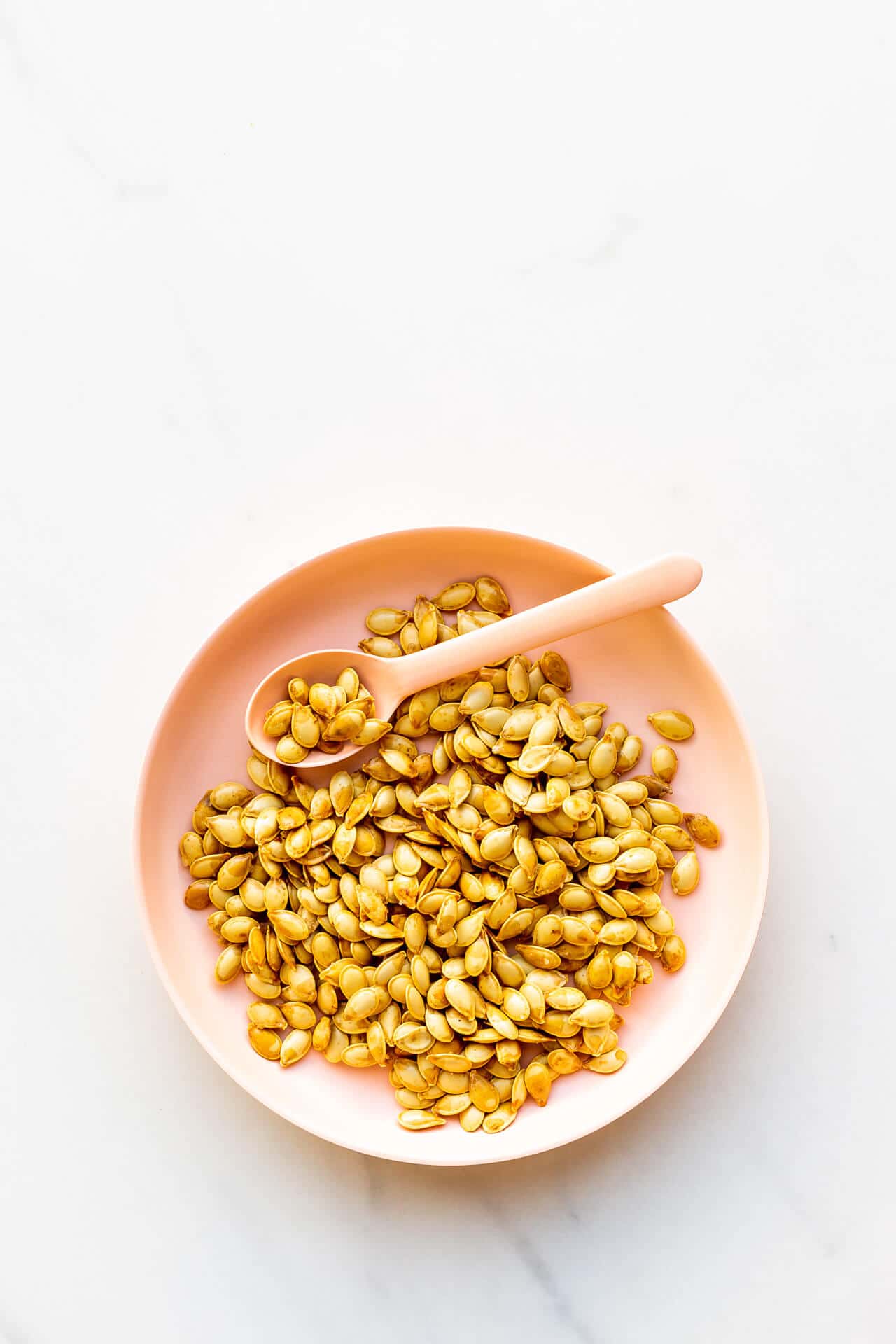 Once you've made toasted pumpkin seeds, besides snacking on them, you can try adding them to your favourite brittle recipe to make pumpkin seed brittle!
If you find the shell of your pumpkin seeds are tough, even after toasting them, it could be the type of pumpkin you used and the size of the seeds. The bigger the pumpkin or squash, the bigger the seeds and the tougher the shell. So small Acorn squash and Sugar Pie pumpkins yield crispy, easy-to-chew seeds that you can snack on, shell and all, while larger carving pumpkins (jack-o-lantern type) and Kabocha squash, for example, yield seeds with tougher shells, even after roasting. Here's a photo so you can see the difference in the size of the seeds.