Learn how to make sugar cookies with sprinkles. This recipe yields chewy cookies with crisp edges, like a classic drop sugar cookie, but with rainbow jimmies in the dough. The scoops of cookie dough are rolled in sugar and can even be rolled in more sprinkles for extra colour on the outside!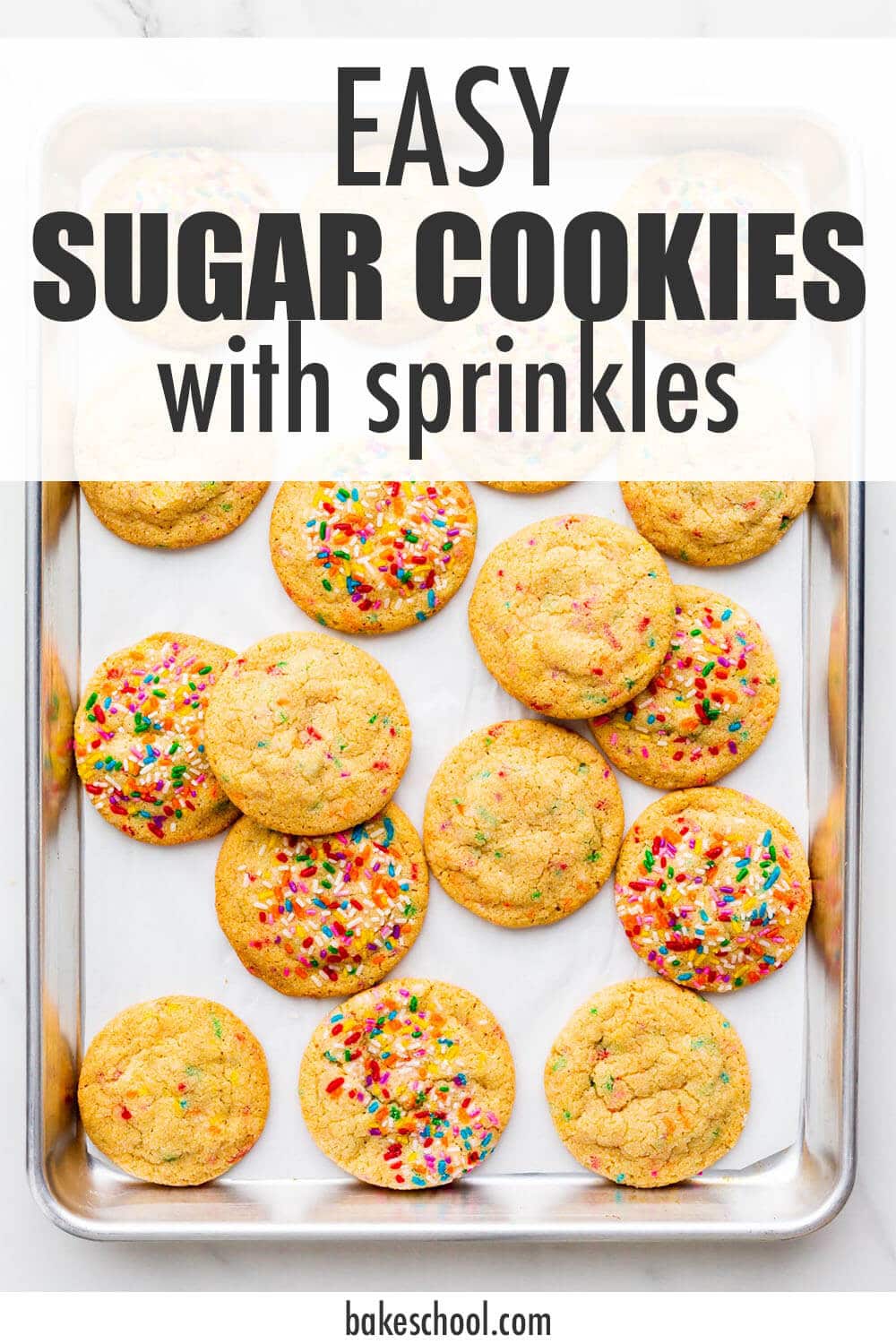 Disclosure: As an Amazon Associate, I earn from qualifying purchases.
Jump to:
The two types of sugar cookies
There are two types of sugar cookies that you can make: cutout sugar cookies and drop sugar cookies:
Cutout sugar cookies are made with a simple sweet cookie dough that is high in sugar and fairly high in fat too. You have to chill this cookie dough because it is rolled and cut out into shapes with cookie cutters. This is a popular type of cookie for cookie decorating because it holds its shape as it bakes and it is a sturdy cookie once baked and decorated, so the cookies can even be shipped without worrying about breaking. Christmas cookies are often cut-out sugar cookies.
Drop sugar cookies are made with a sweet, buttery cookie dough that is very vanilla-y, scooped into balls, then rolled in granulated sugar to coat them before baking. Some sugar cookies may have a crackled finish and may be soft and under-baked in the middle. These chocolate sugar cookies are a great example of a drop sugar cookie.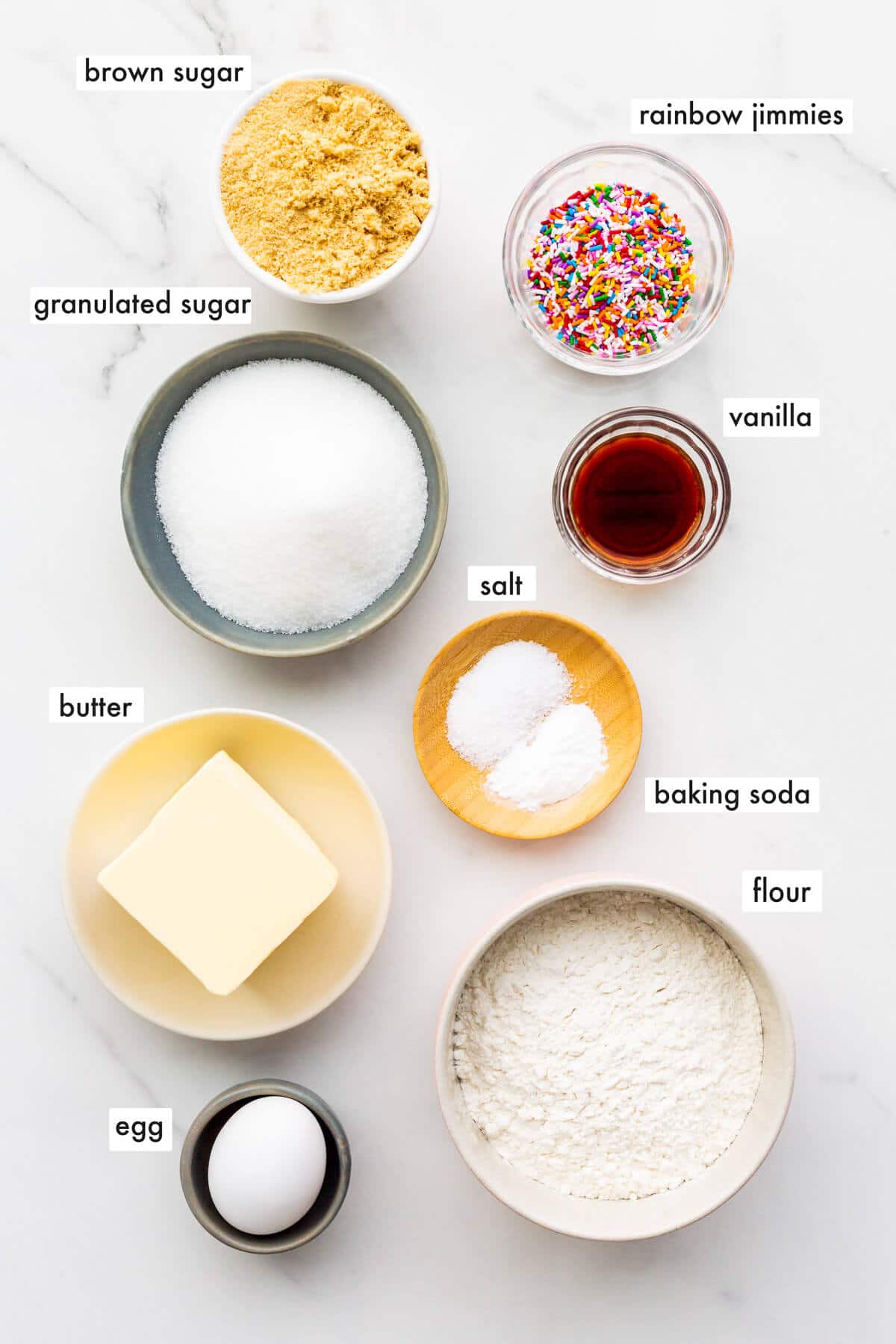 What are sprinkle sugar cookies made of
If you want to make confetti cookies, you will need the following ingredients:
butter, preferably unsalted butter because you will add salt to the dough, but if you have salted it, it will work. Just adjust the salt in the recipe accordingly, otherwise, your cookies may be too salty
granulated sugar is needed to sweeten, but also to help the cookies spread out when they bake. Granulated sugar also lends a crispy texture to the edges
a little light brown sugar, though you could use only granulated sugar in this recipe: I prefer the texture and flavour of sugar cookies that have a little brown sugar, which softens the texture and leads to a slightly thicker cookie.
large eggs, don't use smaller eggs because your cookie dough may be too dry and your cookies won't spread enough but don't use extra large eggs because they could cause the cookie dough to puff too much as it bakes, leading to a more cakey cookie
vanilla extract is very important in this recipe and you will need a full tablespoon to make that vanilla birthday cake flavour pop in these cookies. Otherwise, they may taste a little bland
all-purpose flour is needed to bind all the ingredients together and give the cookies structure, contributing to the chewiness of the cookies as well. If you don't use enough flour, your cookies may spread too much as they bake
baking soda is a base (alkaline) and helps the cookies brown more quickly to give them that golden-brown delicious look. You also need baking soda for the cookies to spread properly. Do not use baking powder. Read up on baking soda vs baking powder if you are unsure
salt is really important to balance out the sweet molasses flavour. Please don't skip it. I like to use Diamond Crystal fine kosher salt, but table salt will work, though the cookies will be saltier and you may want to halve the salt in that case.
sprinkles, specifically bright-coloured rainbow jimmies, also known as funfetti sprinkles, which give cheerful speckled punches of colour to the sugar cookies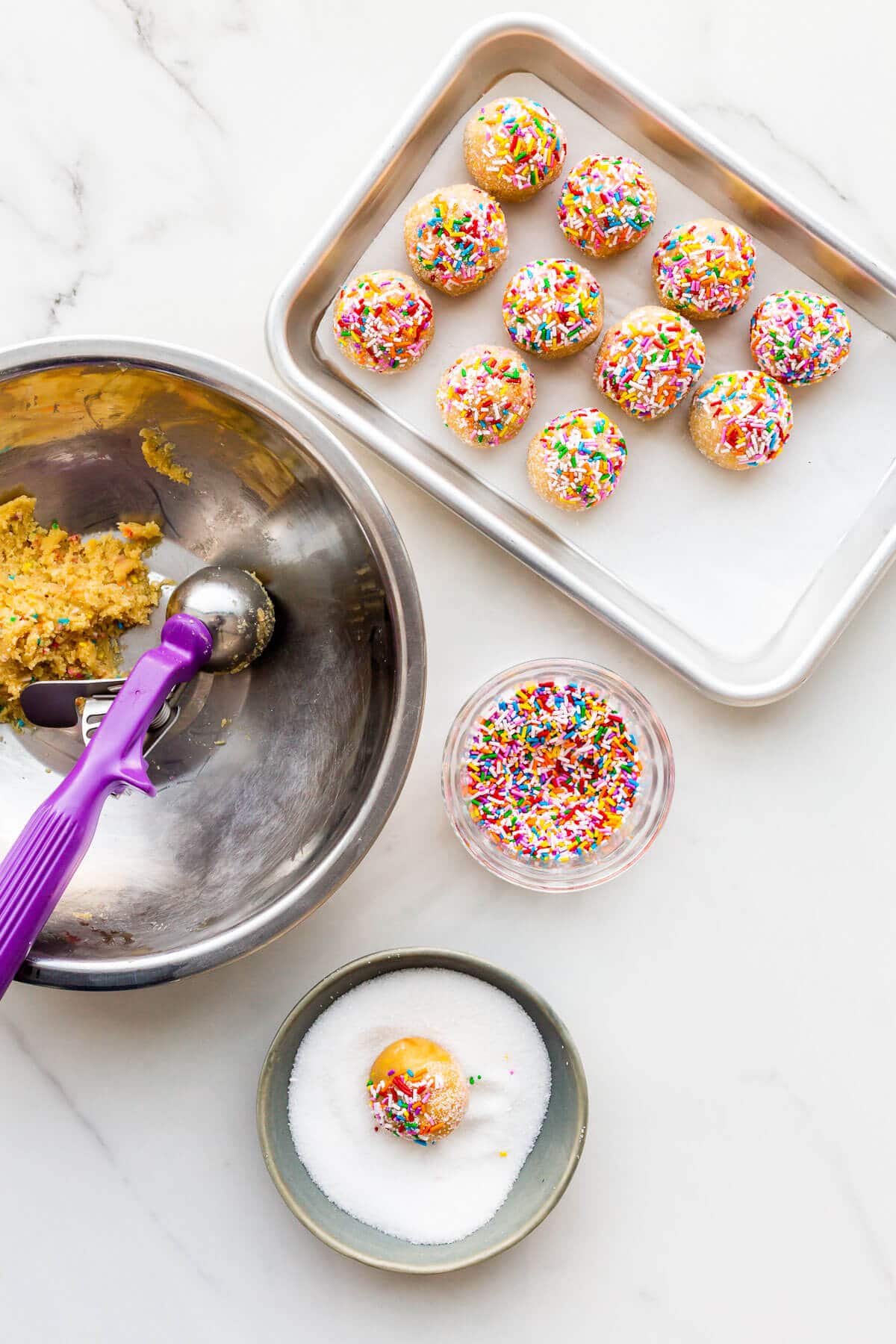 Special tools
You don't need anything special to make drop sugar cookies and you could even mix them by hand with a wooden spoon or silicone spatula. Still, if you can, I'd recommend using:
a stand mixer or an electric hand mixer to help you cream the butter and the sugar, and to incorporate the egg well. With a wooden spoon by hand, this task can be difficult to do and strenuous. For a stand mixer, an 5 quart Artisan mixer is perfect here, or you can use a Braun hand-held electric mixer (a more affordable option that does the job well)
a ¾ ounce cookie scoop (22 mL) to scoop uniform drop cookies. For bigger cookies, you could opt for a slightly larger 1 ounce or 1-⅓ ounce scoop. You will need to adjust the baking time if you use a larger scoop
an oven thermometer: this way, you will be sure that your oven is preheated to the correct temperature (175 ºC or 350 ºF) before you put the first sheet pan of cookies in the oven. You can use this Thermoworks Square DOT or the ChefAlarm to monitor the oven temperature.
Preventing cookies from spreading
Cookies that are high in fat and sugar tend to spread when they bake. This is why many sugar cookie recipes recommend chilling the cookie dough.
For this recipe, you don't have to chill the cookie dough to prevent spreading. There's enough flour to hold the cookie together, even though they are high in sugar. This naturally leads to more spread. This cookie has the right balance of wet ingredients, fat, and dry ingredients. They spread out just the right amount, retaining a little thickness in the middle, which gives them that chewy texture.
Tip: if you struggle with overly flat or thin cookies, read about why cookies spread to get some tips and tricks to stop this from happening next time!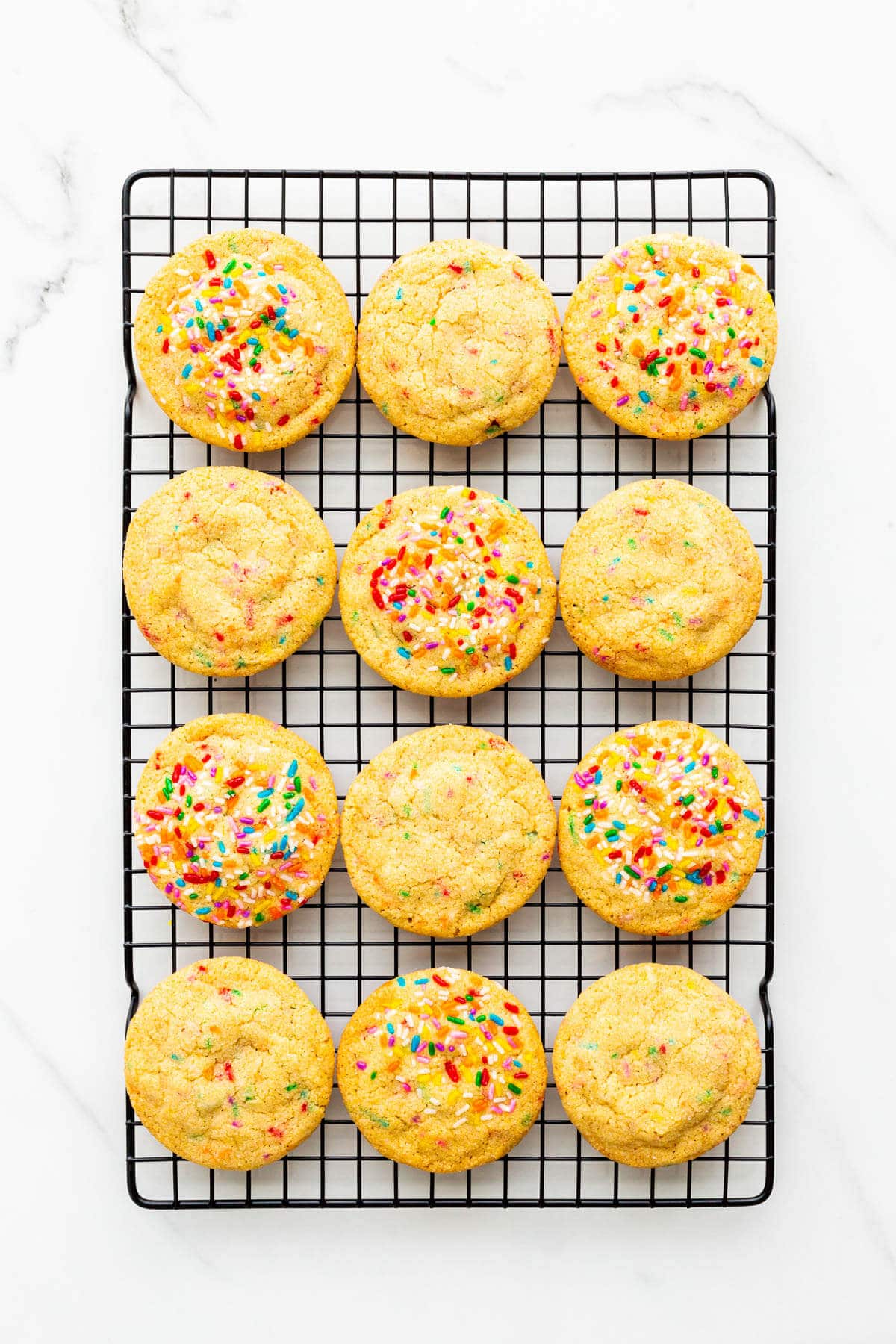 I tested this recipe with slightly less flour (30 grams less to be exact, or ¼ cup). This led to a slightly thinner cookie, as we'd expect. I prefer a thicker cookie. I opted to increase the amount of flour, rather than chill the cookie dough. Most of us want to make and bake cookies in the same day, without having to wait. Feel free to experiment with less flour and chilling, if that's what you prefer.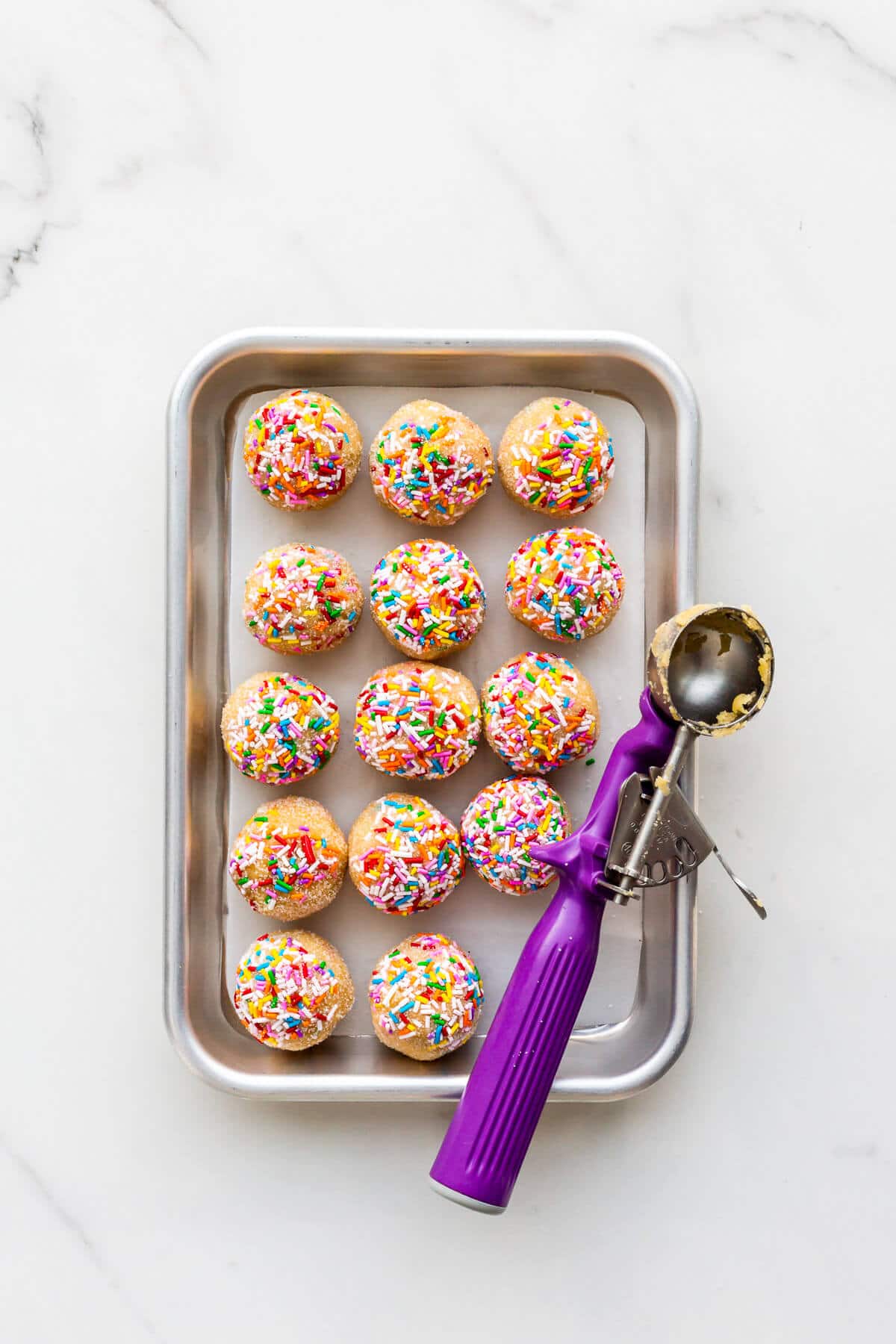 Achieving your perfect sugar cookie with sprinkles
Soft versus chewy cookies
My favourite type of cookie is very chewy. So, you'll notice I tend to bake cookies longer. A drop sugar cookie like this can take anywhere from 8 minutes to 16 minutes to bake, depending on the outcome you want. I highly recommend baking a test cookie so that you can see how they bake and adjust the baking time according to what you like:
For softer sugar cookies, bake them for less time, like 8–12 minutes at 350 ºF will probably suffice. You won't have as much colour on the edges, and they will be underbaked in the middle when you pull them from the oven
For chewy sugar cookies, bake them for longer, around 13-16 minutes at 350 ºF. You'll notice them puff more and they will have a more crispy edge and a dry appearance. They will be very chewy, and even chewier after you store them for a day in an airtight bag.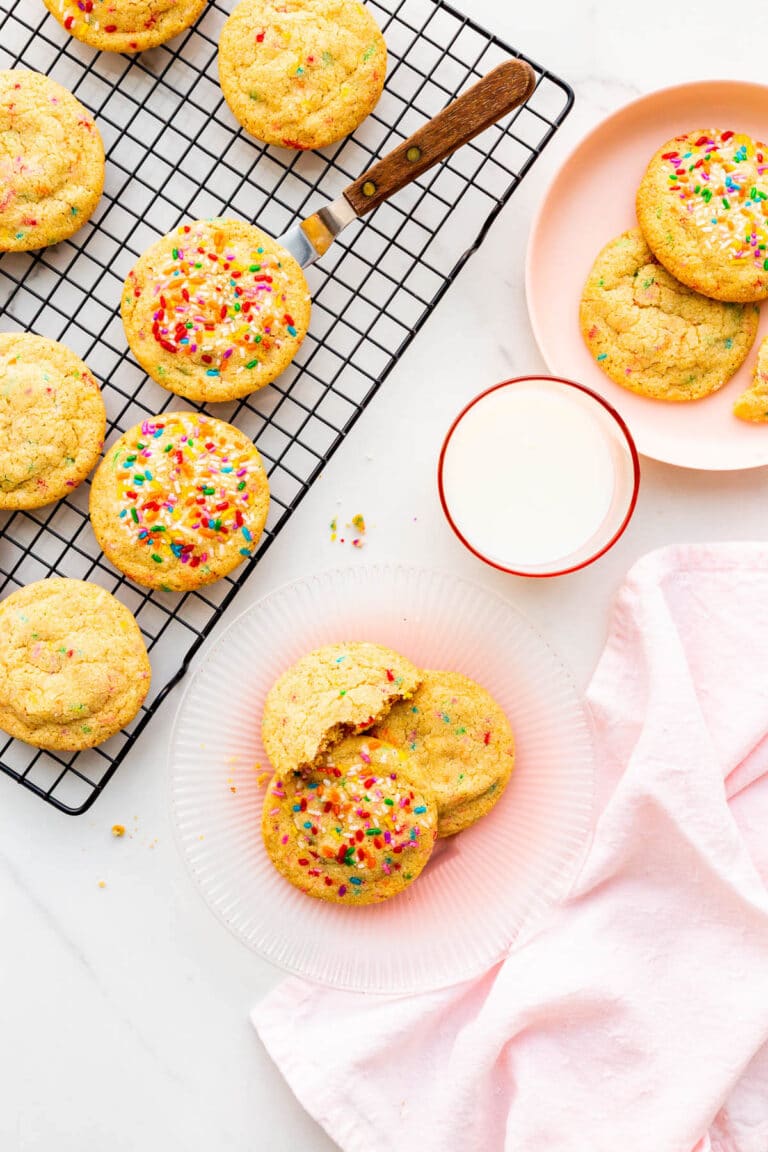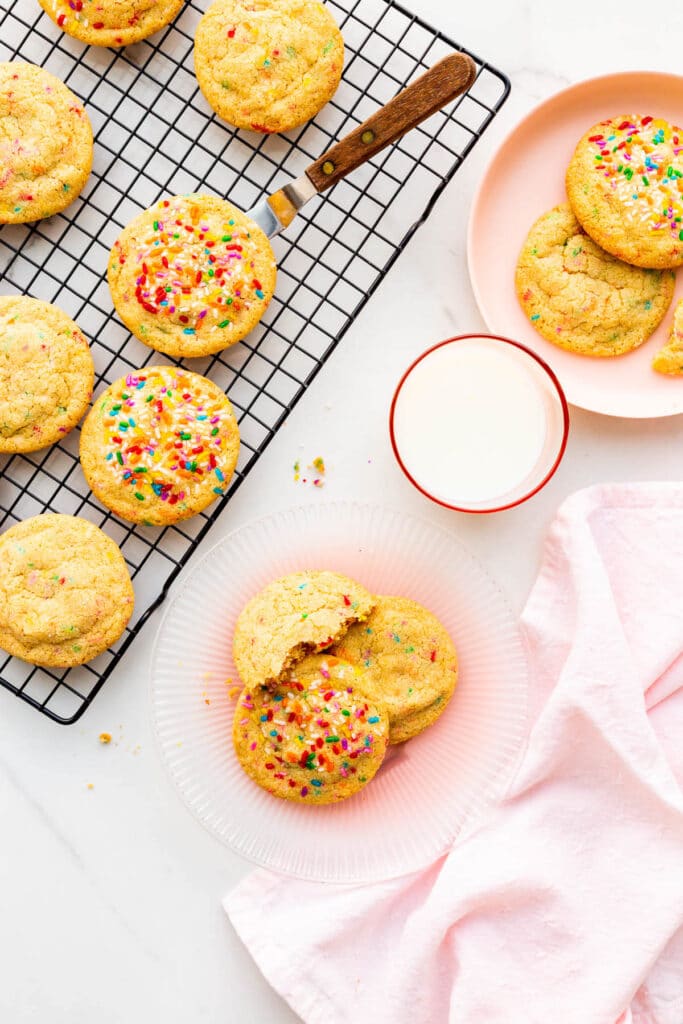 Incorporating more sprinkles
To make sugar cookies with sprinkles, you first will add sprinkles to the cookie dough. That's the most logical place for them. Still, you can also take the time to press the top of each scoop in more rainbow sprinkles before rolling the balls in sugar. This way you get double the sprinkles.
Types of sprinkles
Though I used rainbow jimmies for this recipe in the end, I also tested rainbow non-pareils, which are round tiny rainbow sprinkles. I preferred the colour effect with rainbow jimmies. Still, you can use whatever you had.
I've also seen bakers use quins, which are a softer type of sprinkle that is flat, and shaped like round paper confetti, stars, hearts, or other fun shapes. The word quins is a reference to sequins because the round confetti sprinkles look like sequins.
Make sure to use sprinkles with a pronounced colour. Pastel colours won't show up well once mixed into the dough and won't be as visible.
Do not use dragées or sugar pearls, which are very hard and crunchy, too hard for this type of application. The texture would be unpleasant.
I haven't tried sanding sugar, but I don't think it would be as effective either.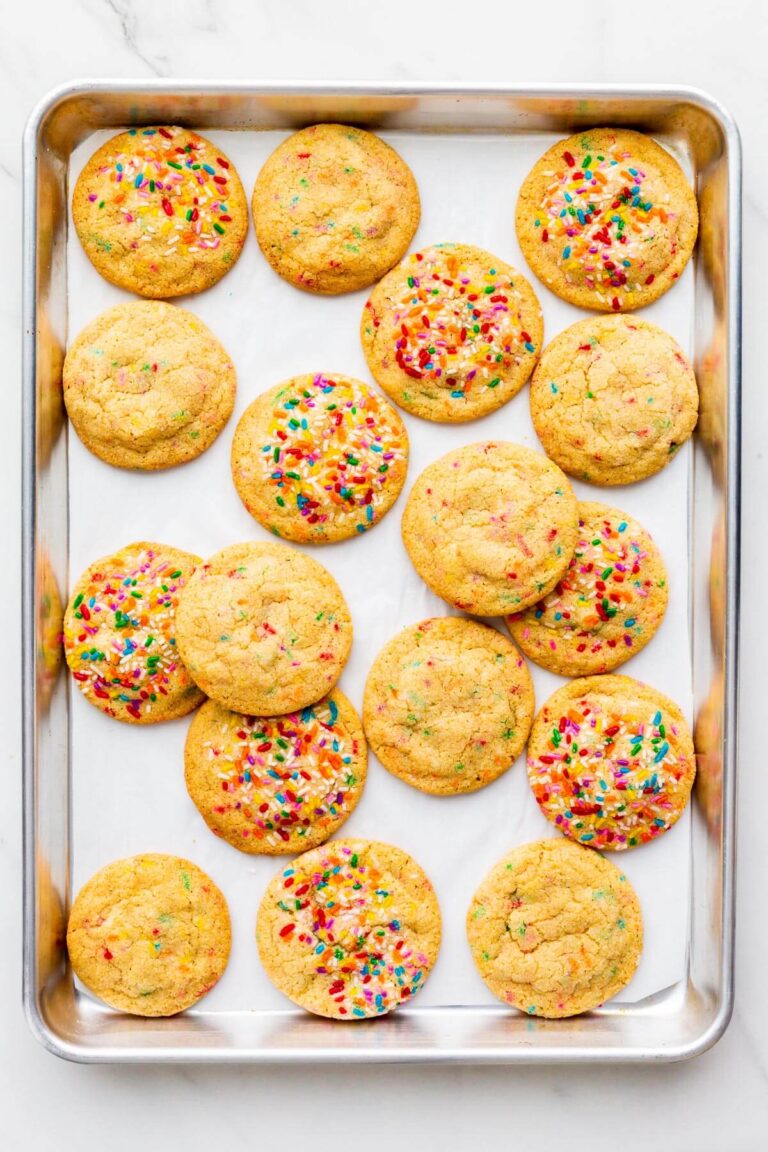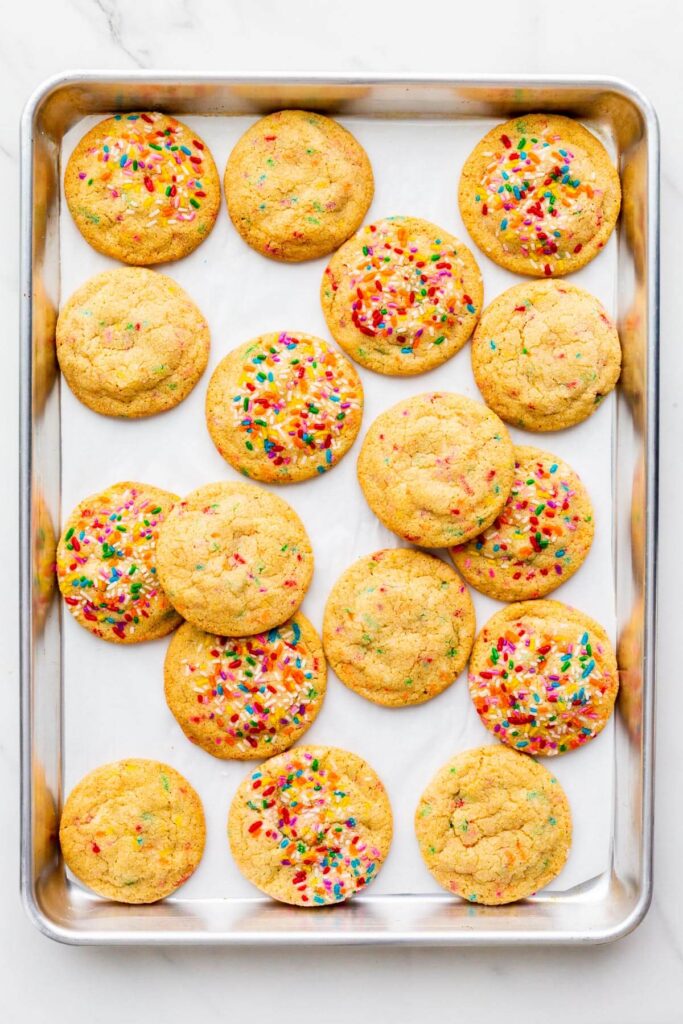 Storage tips
Store these sprinkle cookies in an airtight container or plastic bag for up to 3 days at room temperature. To prevent drying at room temperature for a few days longer than that, try adding a marshmallow to the container, or a slice of white sandwich bread, just like you would do for keeping brown sugar soft. For longer storage, store these cookies in the freezer, for up to 3 months.
📖 Recipe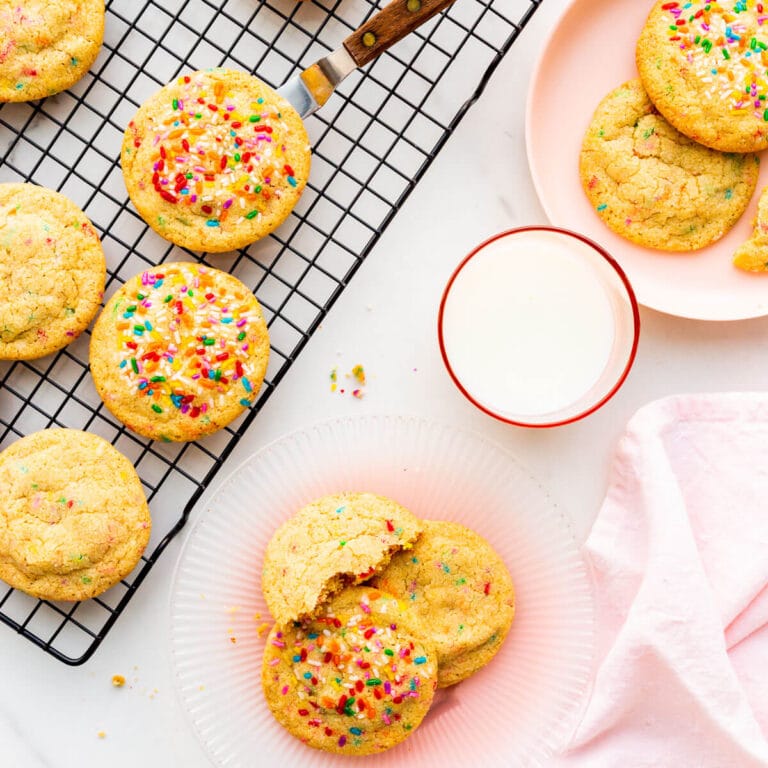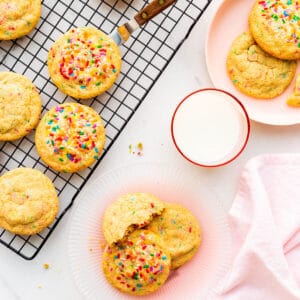 Sugar Cookies With Sprinkles
Learn how to make sugar cookies with sprinkles, a drop sugar cookie that is like the cousin of sprinkle birthday cake with a rich vanilla cake and sweet flavour.
Ingredients
280

grams

bleached all-purpose flour

45

grams

rainbow sprinkles

plus 45 grams (¼ cup) extra sprinkles for rolling

3.75

mL

baking soda

173

grams

unsalted butter

room temperature

150

grams

granulated sugar

plus 50 grams (¼ cup) more for rolling

100

grams

light brown sugar

1

large egg(s)

room temperature

15

mL

pure vanilla extract
Instructions
Preheat the oven to 350ºF (175 °C). Line large half sheet pans with parchment paper.

In a medium bowl, whisk together the flour, sprinkles, salt, and baking soda. Set aside.

In the bowl of an electric mixer fitted with the paddle attachment, cream together the butter, 150 grams (¾ cup) of granulated sugar and the brown sugar until it is light and fluffy (takes at least 3 minutes). Scrape down the sides of the bowl and mix again.

Add the egg and vanilla, and beat them in until the mixture is smooth and light.

Add the flour mixture slowly, on low speed and mix until the dough is combined.

Put the remaining 50 grams of sugar in a shallow bowl.

Scoop the dough using a cookie scoop (approximately 35 grams of dough per scoop), then roll into balls and coat them in sugar. Alternatively, you can dip the top of the balls of cookie dough in sprinkles first before rolling in sugar. Place each sugar-coated scoop of dough on a cookie sheet, spacing them out every 1.5 inches. You should be able to fit 8 per sheet pan.

For chewy cookies, bake them for 13–14 minutes (more or less), until they have spread out a little and puffed in the middle, are beginning to brown on the edges, and are just beginning to set in the middle. Bake less for soft cookies. Let cool for 5 minutes to firm up before transferring to a rack to cool completely.
Nutrition
Calories:
160
kcal
Carbohydrates:
23
g
Protein:
2
g
Fat:
7
g
Saturated Fat:
4
g
Polyunsaturated Fat:
1
g
Monounsaturated Fat:
2
g
Trans Fat:
1
g
Cholesterol:
24
mg
Sodium:
140
mg
Potassium:
25
mg
Fiber:
1
g
Sugar:
13
g
Vitamin A:
207
IU
Calcium:
9
mg
Iron:
1
mg