Learn how to make spritz cookies, a butter cookie that is pushed through a cookie press. This easy recipe is fast and doesn't require chilling. You can also pipe these cookie using a piping bag with a large star tip.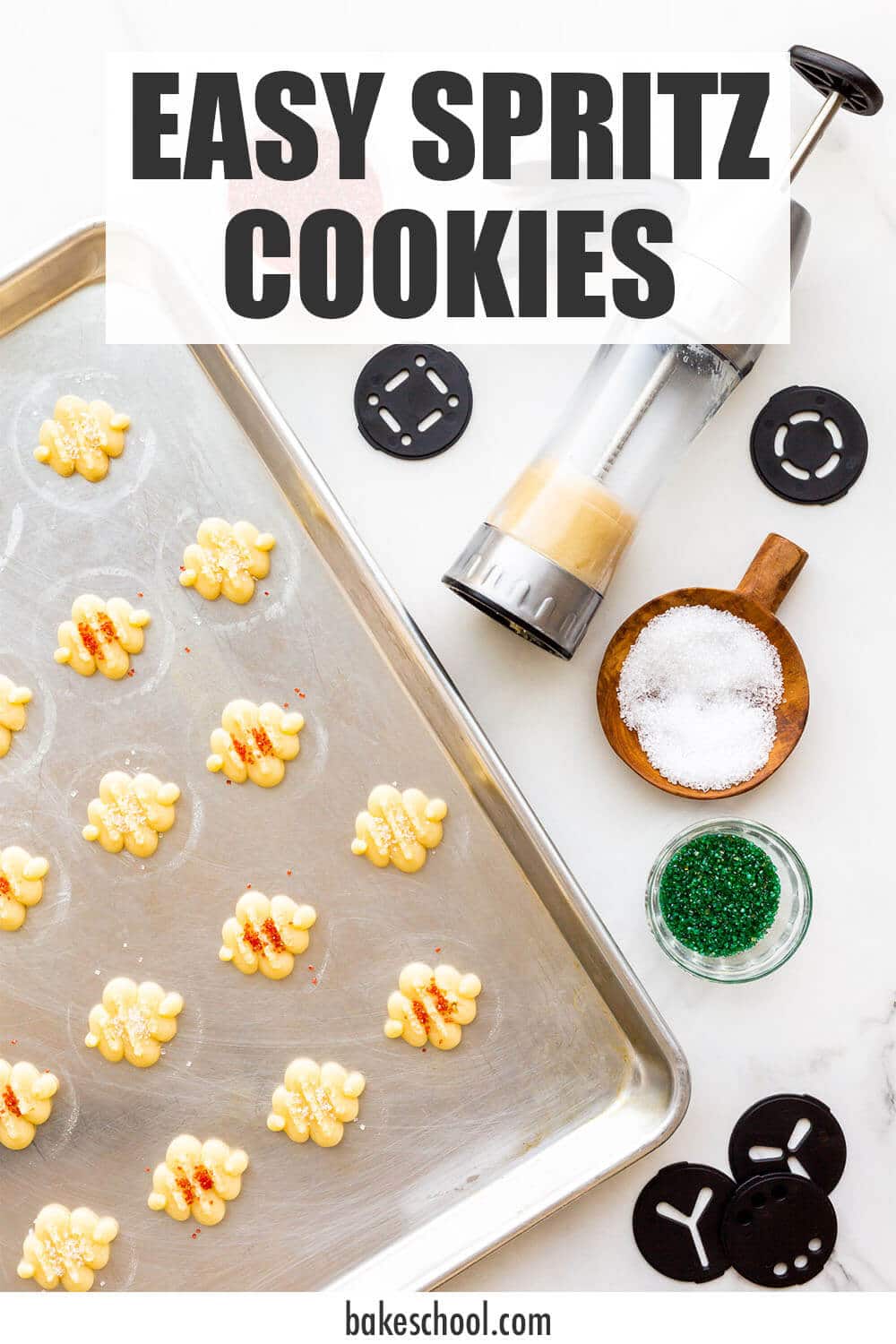 Disclosure: As an Amazon Associate, I earn from qualifying purchases.
What are spritz cookies made of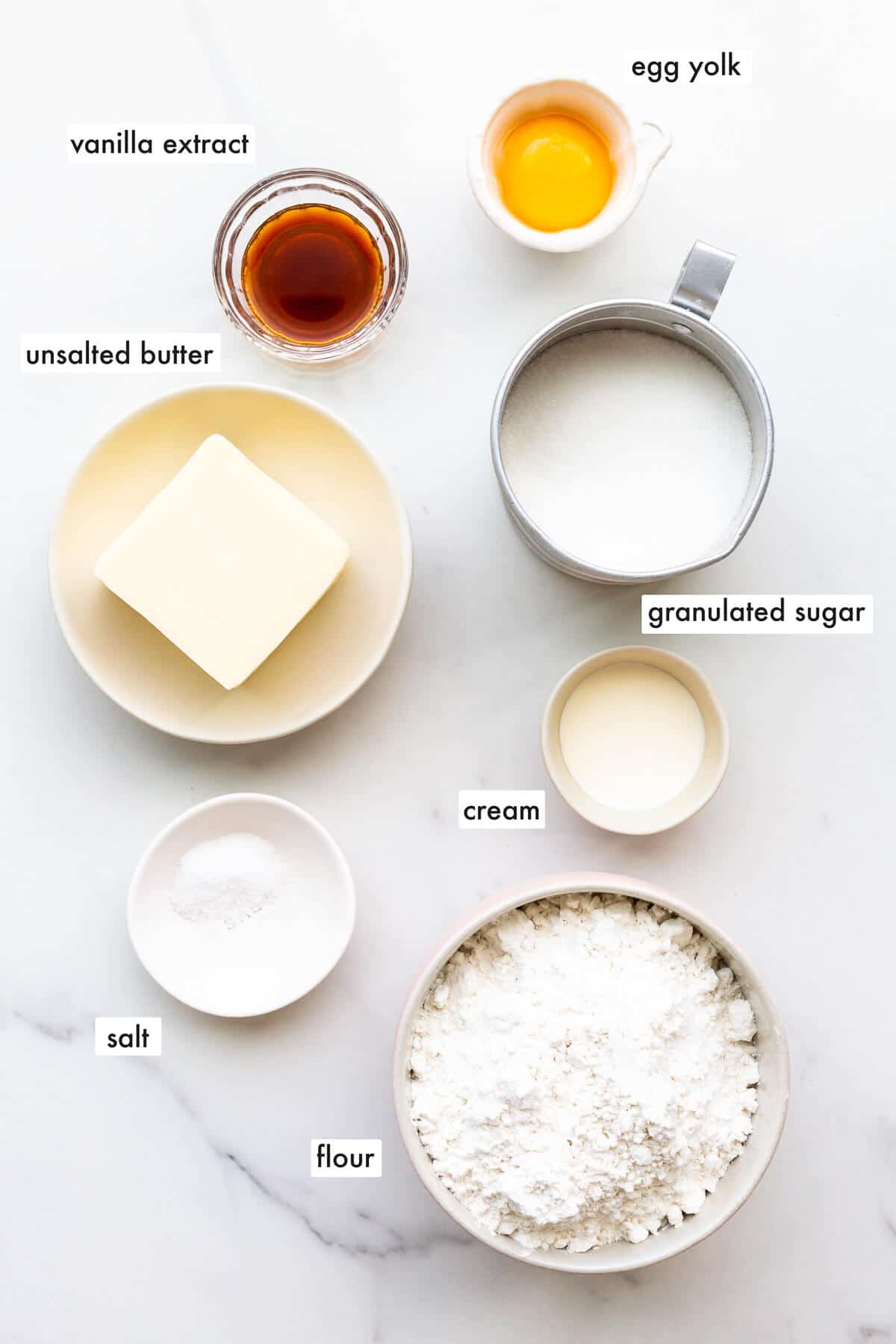 If you want to make spritz cookies, you will need the following ingredients:
butter, preferably unsalted butter because you will add salt to the dough, but if you have salted, it will work. Just adjust the salt in the recipe accordingly, otherwise your cookies may be too salty
granulated sugar which helps give these cookies a crisp texture.
large egg yolk, don't use smaller eggs because your cookie dough may be too dry and your cookies won't spread enough, but don't use extra large eggs because they could cause the cookies to be more cake-y. The egg yolk adds richness to the cookie but also helps bind the ingredients of the dough
whipping cream (35 % fat) is added to the dough to tenderize it but also help bind the ingredients. It also makes a softer dough which is easier to push through the cookie press without struggling
vanilla extract adds vanilla flavour to the cookies. You could use artificial vanilla extract, but use about half the amount since it may be more potent.
all-purpose flour is needed to bind all the ingredients together and give the cookies structure, contributing to the crispy texture of the cookies as well. If you don't use enough flour, your cookies may spread too much as they bake and if you use too much, you will have a hard time using the cookie press to form cookies
salt is really important to balance out the sweet flavour. Don't skip it. I like to use Diamond Crystal fine kosher salt, but table salt will work, though the cookies will be saltier and you may want to halve the salt in that case.
Tricks for using a cookie press
To be honest, I have a love-hate relationship with spritz cookies. They are so cute and festive, but gosh, every time I pick up the cookie press, I have to remember how to use the darn thing. The good news is a cookie press is not hard to use. Once you get the hang of it, it works well, forming perfectly even cookies in the shape you want and in minutes. Here are my tips and tricks for working with a cookie press:
skip the parchment paper and dispense the cookie dough onto ungreased, un-lined cookie sheets. Seriously, it works. Otherwise, you will have trouble pressing out cookie dough onto parchment paper because the cookie dough will lift the paper and then the dough will smear. Trust me. Do not use parchment paper for this recipe!
use a soft dough: the proportions of the dough are important as is the temperature of the dough in order for you to be able to press out the dough without struggling. I broke two cookie presses while developing spritz cookie recipes because my dough was too stiff.
unstick the baked cookies from the cookie sheet when they are still warm, before they get stuck. If you let the cookies cool on the ungreased sheet pan, they will stick. Then when you go to lift them, the cookies will break. There is a window of time when the cookies are firm enough to lift off the pan, but still warm. This is key. If the cookies are stuck, try setting the pan back in a hot oven to warm them up again. This works for bundt cakes too though. I can't guarantee the results.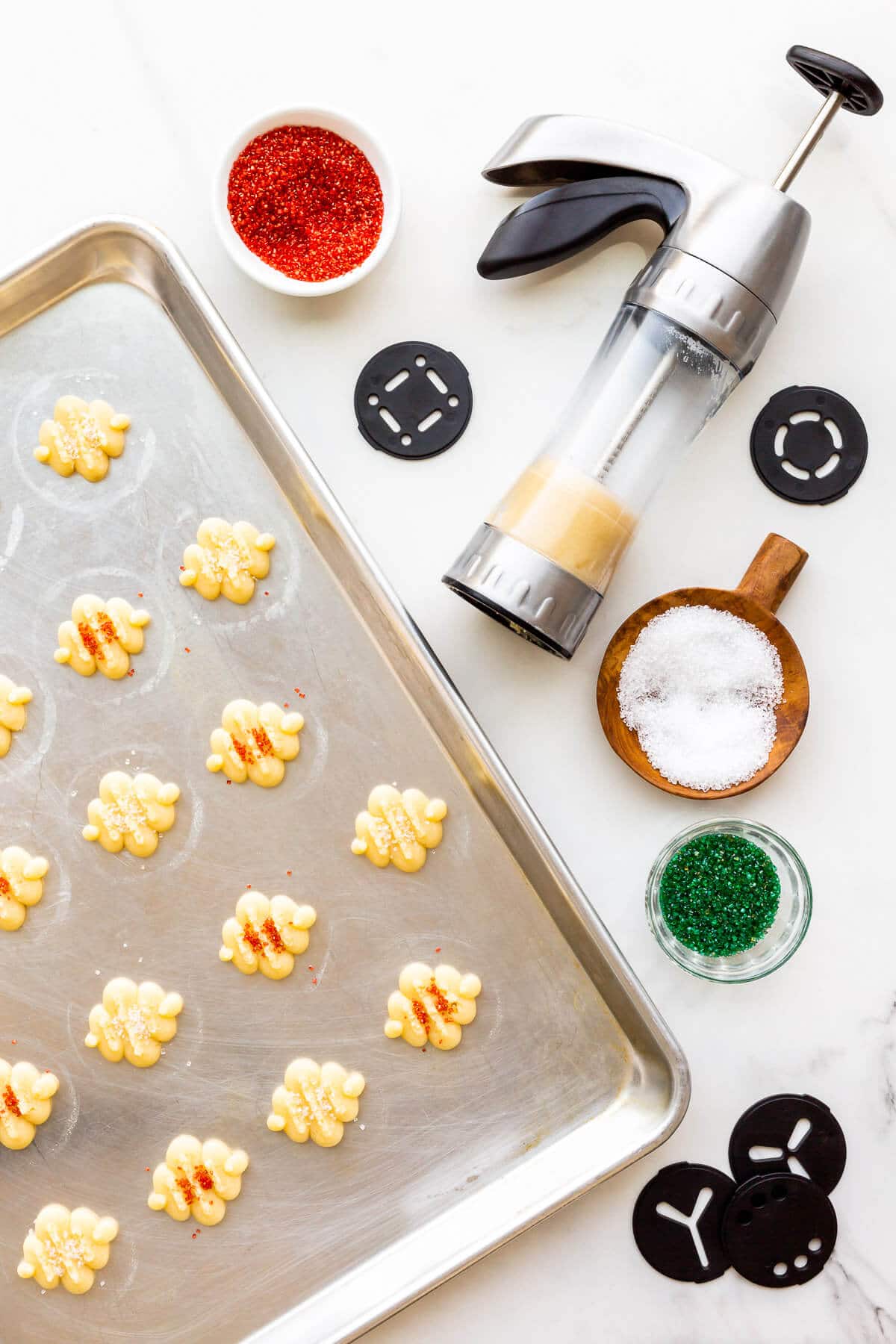 Baking spritz cookies that don't spread
First of all, you will notice that there are no chemical leaveners in this recipe. That's because we don't want to encourage the cookies to puff and rise up (from baking powder) or spread (which baking soda could cause).
Another trick: get the ratio of butter, sugar, eggs, and flour right to prevent cookies from spreading. Too much butter, sugar, or eggs can lead to cookies spreading as they bake. Not enough flour relative to those ingredients can also lead to cookies spreading. Make sure to measure your ingredients carefully.
While you may find that many recipes indicate to chill the dough before baking to prevent spread, like these sugar cookies, we don't need to do that with these spritz cookies. However, if you do notice that your spritz cookies are spreading, try chilling the pressed cookies on the sheet pan for 15 minutes until hard before baking. This could reduce the spread.
One final way to prevent cookies from spreading: bake the spritz cookies at a higher temperature, at 375 ºF instead of 350 ºF. This way the exterior of the cookie dries and sets before spreading.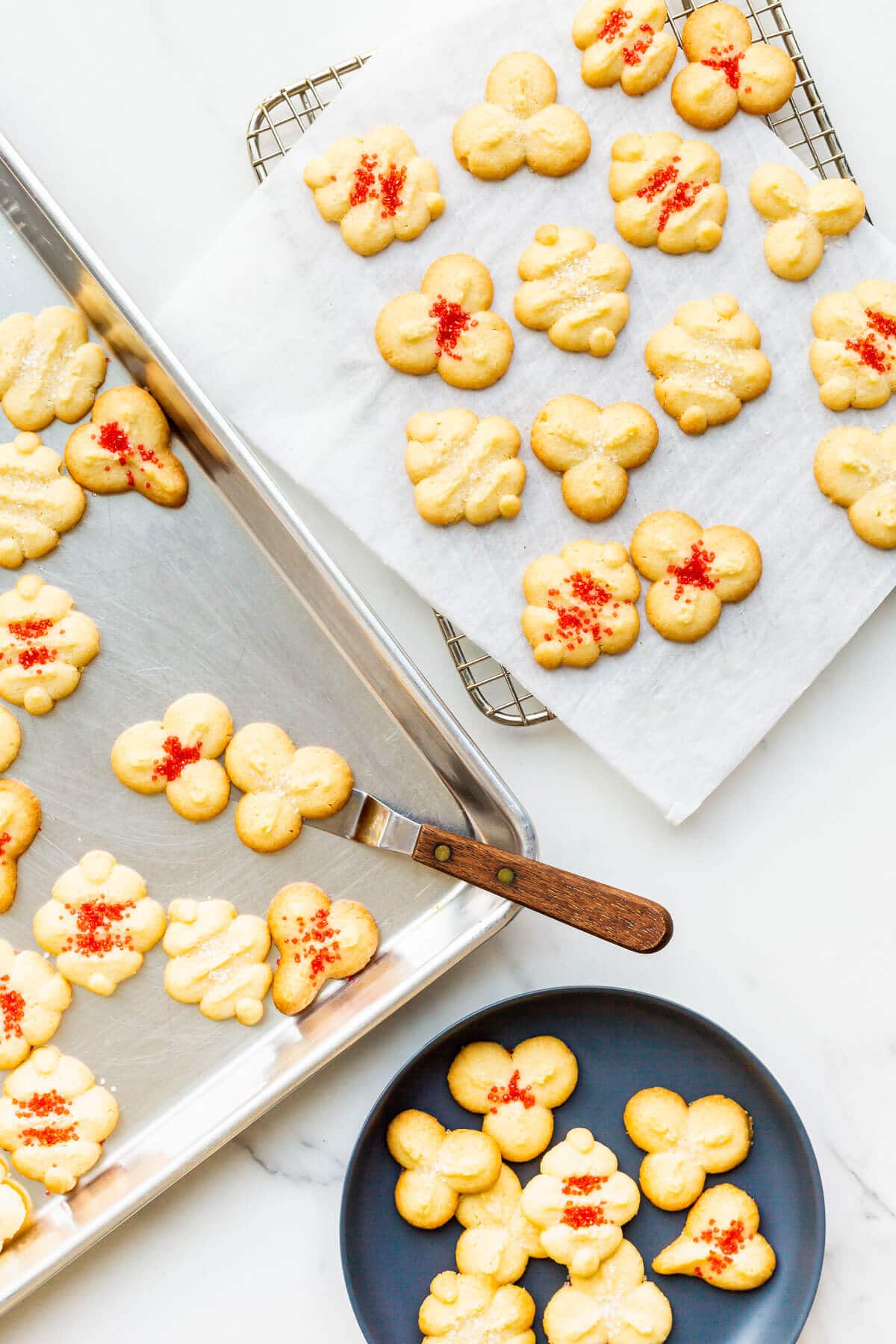 In case you are wondering, the cookie press I have is from Wilton (the latest version of the Wilton cookie press I have is available on Amazon). OXO also makes a cookie press that has a wider range of disks for more interesting shapes.
Ways to decorate spritz cookies
I usually like to keep spritz cookies plain because I like to dip them in hot cups of tea, but if you would prefer to garnish or embellish them, you can:
decorate them with sprinkles before baking. The heat will set the sprinkles in place. I like to use sparkly sanding sugar which is comes in a variety of colours and doesn't melt.
dip them in melted chocolate, like I did with these matcha gingerbread cookies and then garnish with sprinkles (if you'd like).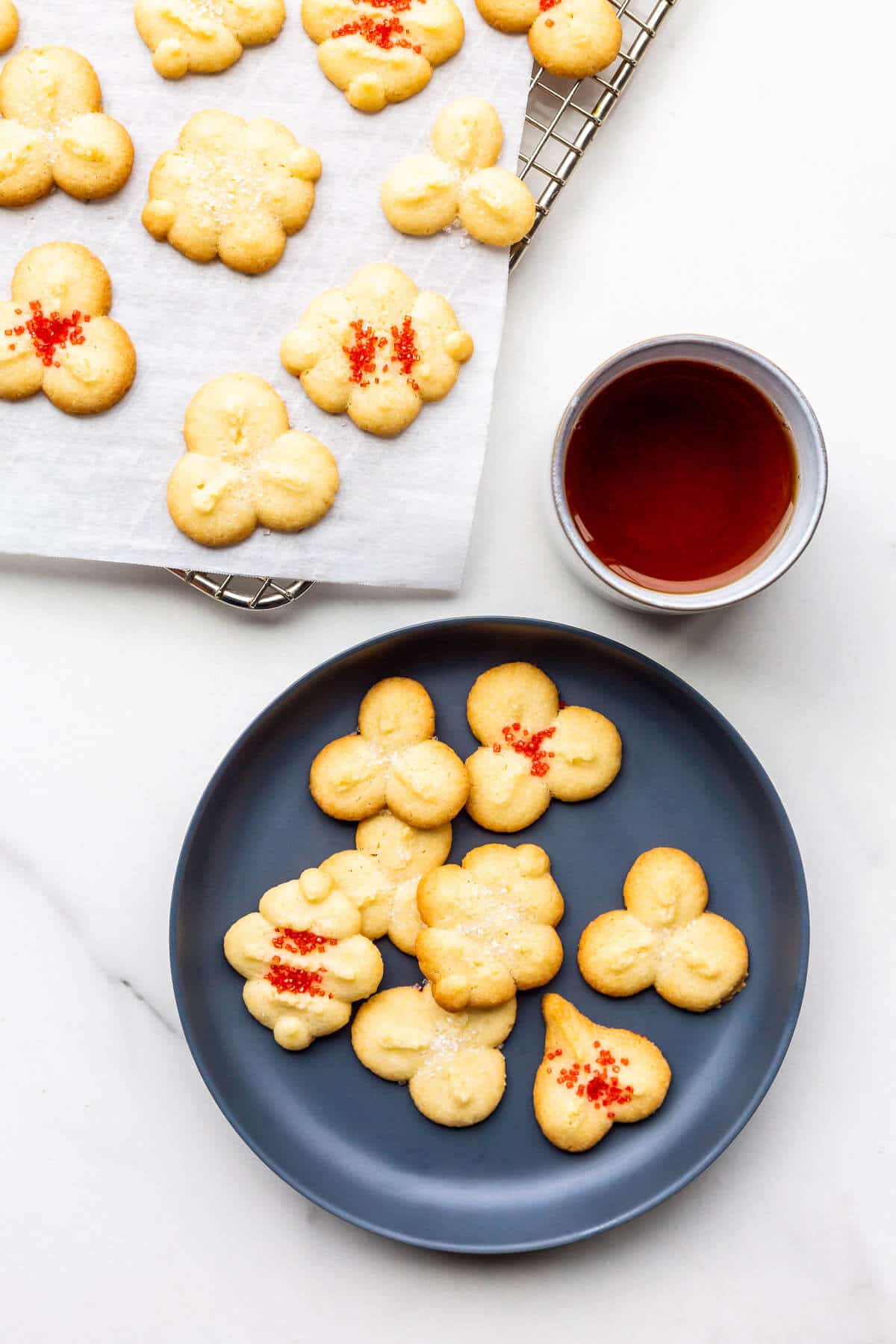 If you prefer rolling your cookies, try these sugar cookies, or for something spiced, you can make gingerbread, or even matcha gingerbread.
📖 Recipe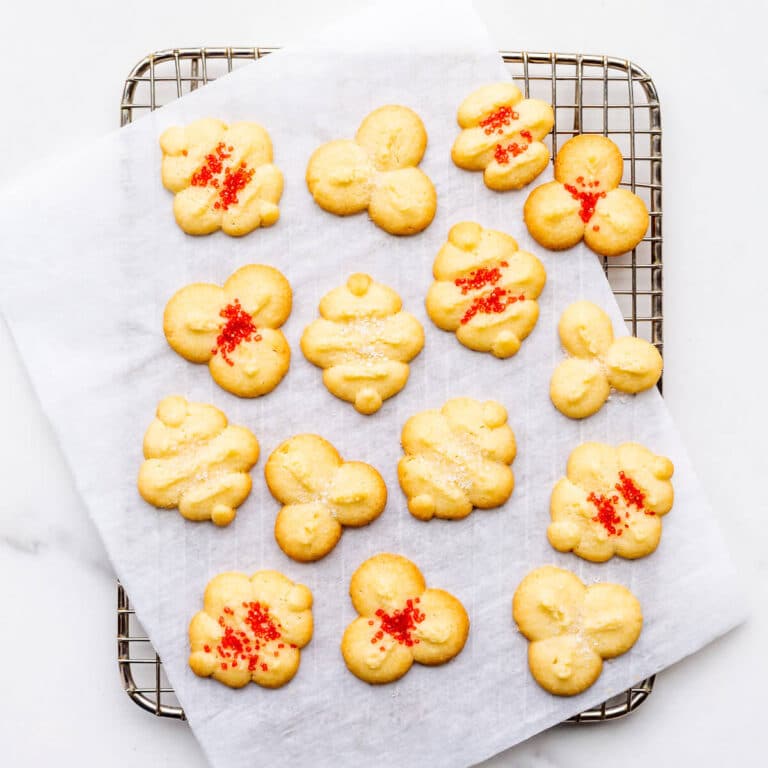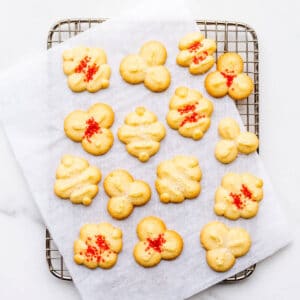 Spritz Cookies
These vanilla spritz cookies have a delightful simple flavour. You can use a cookie press to make them, or if not, a piping bag could work. 
Ingredients
15

mL

whipping cream (35 % fat)

5

mL

pure vanilla extract

1

large egg yolk(s)

230

grams

unsalted butter

softened

150

grams

granulated sugar

280

grams

bleached all-purpose flour

Sanding sugar

optional
Instructions
Preheat the oven to 375 °F (190 °C). Get out two cookie sheets, but don't line them with parchment.

Whisk the egg yolk with the cream and the vanilla. Set aside.

In the bowl of a stand mixer fitted with the paddle attachment, cream the butter with the granulated sugar and the salt. Add the egg yolk mixture and beat it in. Add the flour and mix it in on low until combined.

Press the cookie dough together and fit it into the cookie press barrel, fitted with the Christmas tree stencil (or whichever you choose). I used this cookie press from Wilton available on Amazon.

Press out cookies onto ungreased, unlined sheets, spacing them about an inch apart. If you are decorating with coloured sugar, now is the time to do so!

Bake the cookies until the edges are light golden brown (about 12 minutes).

Let the sheet of cookies cool no more than 2 minutes before using an offset spatula to gently unstick the cookies from the sheet pan. You need to do this when the cookies have just set but before they cool down too much, otherwise they will break.

Transfer to a wire rack to cool completely.
Notes
You can order the coloured decorative sugar on Amazon
Nutrition
Calories:
40
kcal
Carbohydrates:
4
g
Protein:
1
g
Fat:
2
g
Saturated Fat:
1
g
Polyunsaturated Fat:
1
g
Monounsaturated Fat:
1
g
Trans Fat:
1
g
Cholesterol:
7
mg
Sodium:
12
mg
Potassium:
5
mg
Fiber:
1
g
Sugar:
2
g
Vitamin A:
73
IU
Vitamin C:
1
mg
Calcium:
1
mg
Iron:
1
mg