This white fruitcake recipe is topped with a layer of marzipan and then covered in a brandy frosting. It's our favourite Christmas cake to serve around the holidays and one of the best recipes we've tried.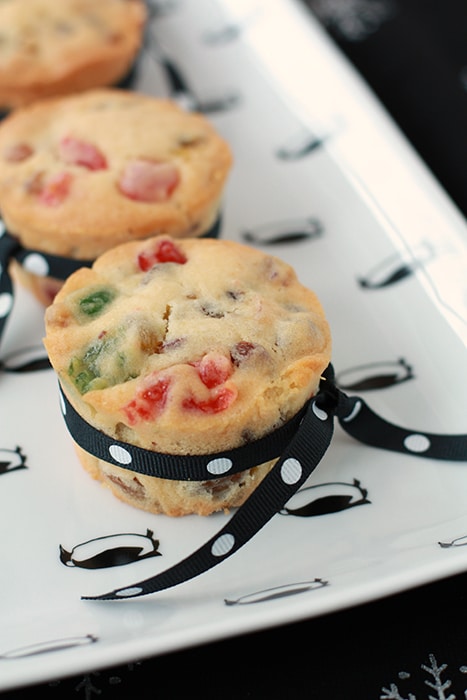 Disclosure: As an Amazon Associate, I earn from qualifying purchases.
Growing up, my mom would make fruitcake from my grandmother's recipe every Christmas season. I think most years, we all pretty much rejected the fruitcake in favour of chocolate treats and Egyptian shortbread cookies. Regardless, my mom kept up the tradition of baking her mom's fruitcake every Christmas, along with plum pudding served on Christmas day.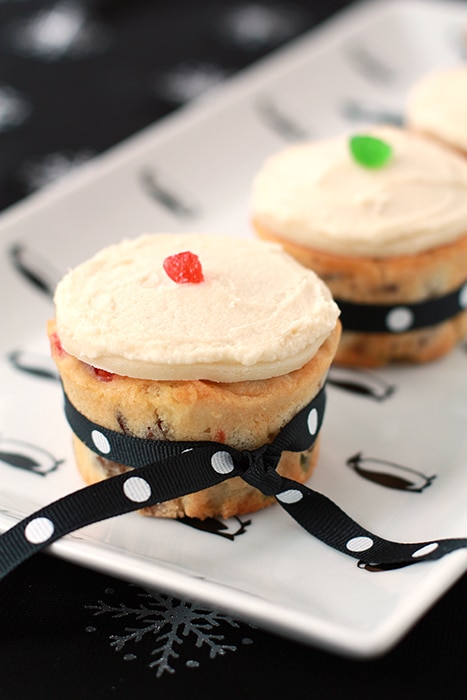 As a teen, I eventually warmed up to fruitcake and plum pudding, and now I look forward to these every winter season. When mid-November hits, I consistently ask my mom if she's made the plum pudding yet, not that she ever needs a reminder.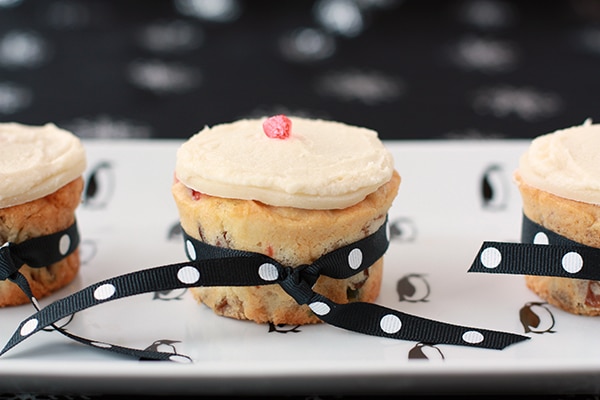 Fruitcake gets made in December in our house, and it's nothing like those heavy, dense bricks of fruitcake sold in grocery stores and on-line. Commercial fruitcake is unappetizing. They are hardly even cake because they are so full of fruit, and not just any fruit, very sweet candied fruit.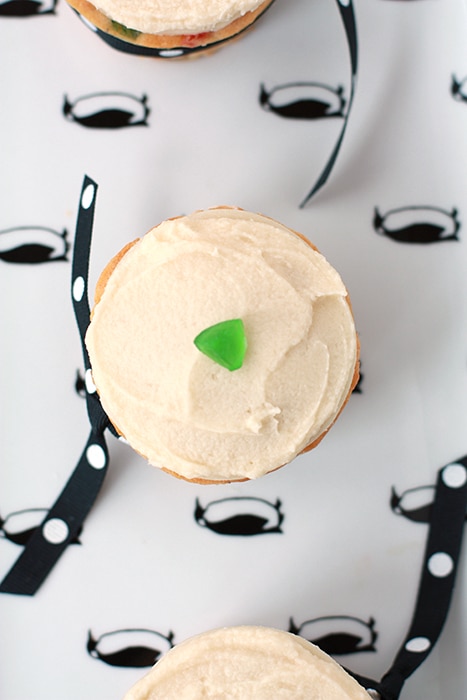 My grandmother insisted on baking "cake with a little fruit" when she baked fruitcake, and not "fruits with a little cake". Her recipe is not weighed down with cloyingly sweet candied fruits. Instead, hers is a lovely white cake, flavored with almond extract and with a few colorful candied fruits that poke through the cake in some spots.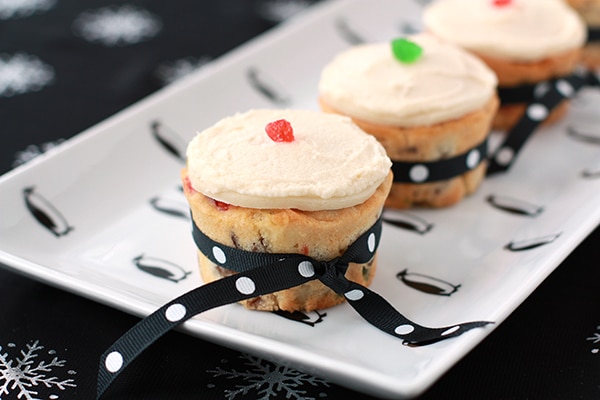 This fruitcake recipe features mainly raisins (we like to use golden raisins, but my grandmother's recipe actually calls for sultanas), plumped with boiling water and patted dry. Of course, a little of the usual citron, diced candied pineapple, and colorful green and red cherries are added (this is Christmas fruitcake after all!), but in just the right amount.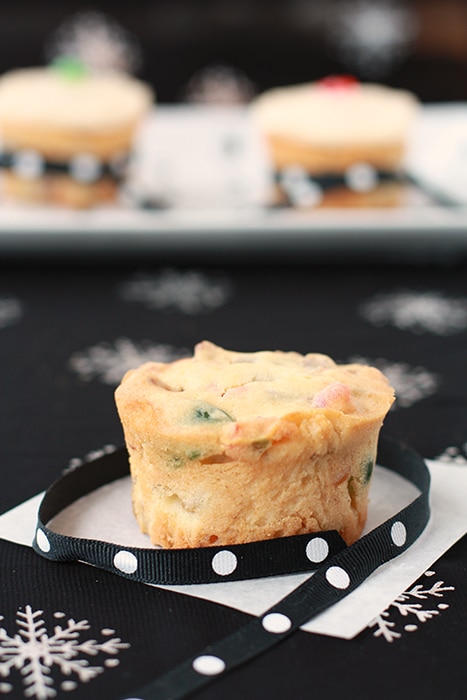 My grandmother's fruitcake recipe is definitely "cake with a little fruit" and I think it could probably convert all those fruitcake-haters into fruitcake-lovers. Sure, the thin layer of marzipan and brandy frosting might help convince you that this is an amazing fruitcake recipe, but honestly, the cake is delicious, ungarnished with a cup of tea.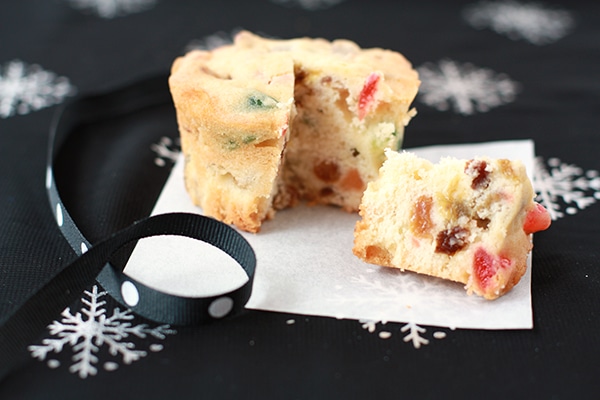 How long does it take to bake fruitcake in the oven?
For this post, rather than make one giant fruitcake, I baked the recipe in individual ramekins, so I could share them with friends. I also baked them at a lower temperature (325°F instead of 350°F) for longer to make them slightly moister. It's also better to bake fruitcakes at lower temperatures to prevent the fruit from burning. In general, the baking time will have to be adjusted according to the pans you choose to bake this recipe in. Here's a rough idea of how long it takes to bake this fruitcake recipe:
Fruitcake loaves: split batter between TWO greased and floured loaf pans and bake for about 1 hour 30 minutes
Individual fruitcakes: divide batter in greased and floured ramekins and bake for about 50 minutes
Sheet cake fruitcake: spread batter in greased and floured 9x13 pan and bake for 1 hour 20 minutes
Tube pan fruitcake: spread half the batter in a greased and floured tube pan (bake the rest in a loaf pan or muffin tin) and then bake for 1 hour to 1 hour 30 minutes
Cupcake fruitcakes: divide batter in greased and floured muffin pans and start checking with a cake tester after about 30 minutes.

White fruitcake with marzipan and brandy frosting
It's not Christmas without this recipe, and I really hope you'll give fruitcake one more chance! After the holidays are over, if you find yourself with leftover fruitcake, remember you can make these boozy Christmas cake balls! They are so good and I suspect a lot of people like them more than the cake itself.
📖 Recipe
White fruitcake with brandy frosting and marzipan
Ingredients
For the fruitcake
1

pound

golden raisins

,

or sultana raisins, 454 grams, soaked in 2 cups boiling water, drained and patted dry

¼

lb

candied citron

,

113 grams

½

lb

glacéed cherries

,

230 grams, green and red, quartered

¼

lb

candied pineapple

,

113 grams, diced

4

cups

bleached all-purpose flour

,

600 grams

2

teaspoon

baking powder

1 ½

cups

unsalted butter

,

345 grams, room temperature

2

cups

granulated sugar

,

420 grams

4

large egg(s)

1

teaspoon

pure almond extract

1

cup

whole milk (3.25 % fat)

,

250 mL, I used 1% fat milk
For the frosting and garnish
½

cup

unsalted butter

,

115 grams, room temperature

2

tablespoon

brandy

1

teaspoon

pure vanilla extract

2 ¼

cups

icing sugar

,

280 grams, plus more for rolling out the marzipan

500

grams

marzipan,

for two loaf cakes, you will only need as little as 200 grams marzipan to cover the tops

~5

glacéed cherries

,

red and/or green, optional for decorating
Instructions
To make the fruitcakes
Preheat the oven to 325°F. Grease and flour two muffin pans (24 muffins total). Alternatively, you can use two 9x5 loaf pans (greased and floured, and lined with a piece of parchment fitted at the bottom).

In a large bowl, stir together the rehydrated raisins and candied fruits. Add about ½ cup (or more) of the 4 cups flour and stir so that all the fruits are coated with flour.

Whisk the baking powder into the rest of the flour. Set the dry ingredients aside.

In the bowl of an electric mixer fitted with the paddle attachment, cream the butter and sugar.

Add the eggs one at a time, mixing and scraping down the sides of the bowl between each addition.

Add the almond extract and mix again.

Add the flour mixture alternately with the milk, beginning and ending with the dry ingredients.

When the flour is completely incorporated add the flour-coated fruits and mix on low til they are evenly dispersed throughout the batter.

Divide the batter among the muffin cups and bake them for about 30 minutes, until a cake tester poked through the center of the batter (not through the fruit) comes out clean. For loaf cakes, they will take 1.5 hours to bake.

Let them cool completely before unmolding.
To make the frosting and marzipan
Prepare the frosting by beating together the butter, brandy, vanilla and powdered sugar until it is nice and smooth. Add as much powdered sugar as needed to obtain the desired consistency.

Roll out the marzipan using powdered sugar until it is ¼ cm (~0.1 inches) thick. Cut with round cookie cutter so that just the tops of the fruitcakes are covered with a thin layer of marzipan.

Top each fruitcake with a marzipan circle glued down with a small dollop of frosting.

Top with a smear of frosting and garnish with a sliver of glacéed cherry.
Give back
If you enjoy the free content on this website, say thank you!
Notes
To make fruitcake loaves, you will bake this cake recipe in two loaf pans that have been greased, floured, and lined with a rectangle of parchment fitted to the base of each pan. You will need 400 grams (200 grams per cake) of marzipan to top the loaves and two batches of frosting to cover both cakes on top and on the sides.