If you want to make cinnamon raisin bread, but you don't want to struggle with the kneading, here's a recipe for no knead cinnamon raisin bread baked in a Dutch oven. Feel free to omit the cinnamon if you want plain no knead raisin bread. This recipe is easy to make, it just takes some time because it has an overnight rest.
As an Amazon Associate I earn from qualifying purchases.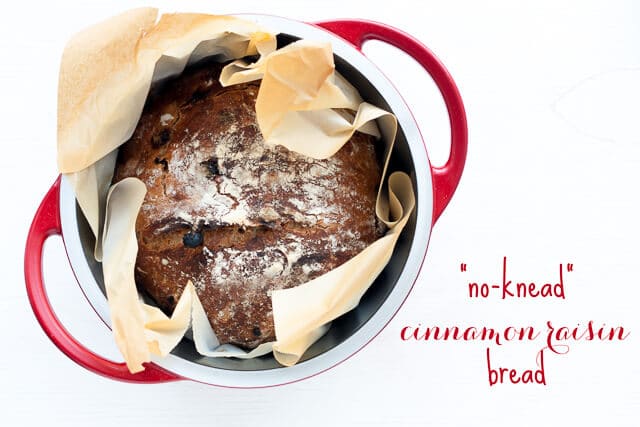 Disclosure: As an Amazon Associate, I earn from qualifying purchases.
How can you make bread without kneading it?
Most yeasted bread recipes require a full 6 minutes of kneading in a stand mixer, more if done by hand. Kneading untangles the gluten proteins and assembles them into a network that is elastic, stretchy, and pliable and it is an essential step in bread making. Kneading is what makes bread different than a cake, for example. So how can we get away without kneading bread dough? Cue longer rest periods.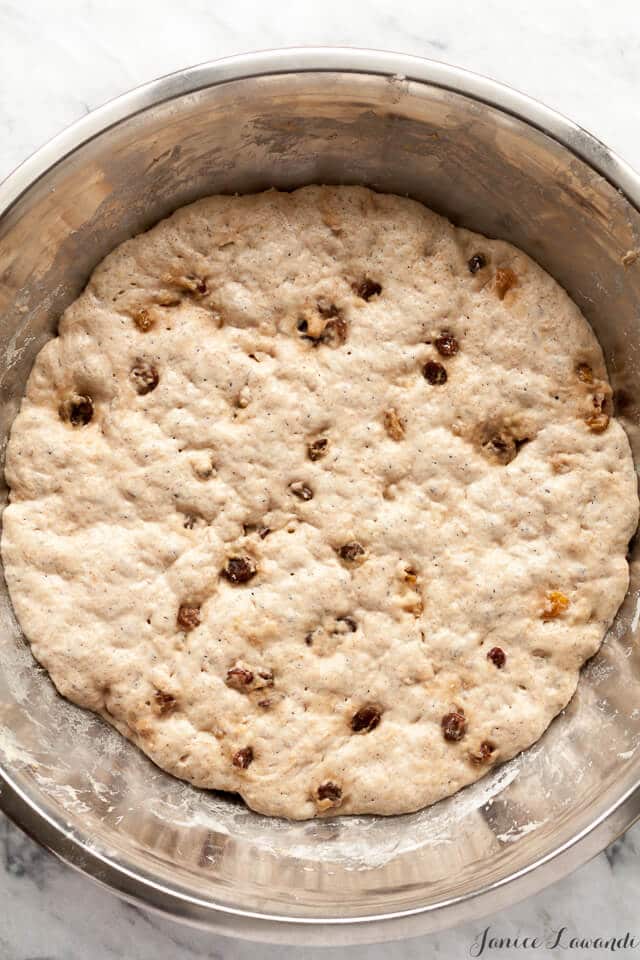 The hardest part of this recipe is the rest period, which is over 12 hours and a very long time to wait when you are craving raisin bread. The rest period is important since you aren't manually kneading the dough.
You can get away without kneading bread dough by incorporating a very long rest period into your bread making. The long rest period allows the enzymes in the dough mixture to break down the proteins in the flour into smaller and smaller pieces. Those smaller pieces are much easier to assemble into an elastic network. All it takes is a few folds of the dough to help the gluten network assemble and develop once those proteins have been broken down.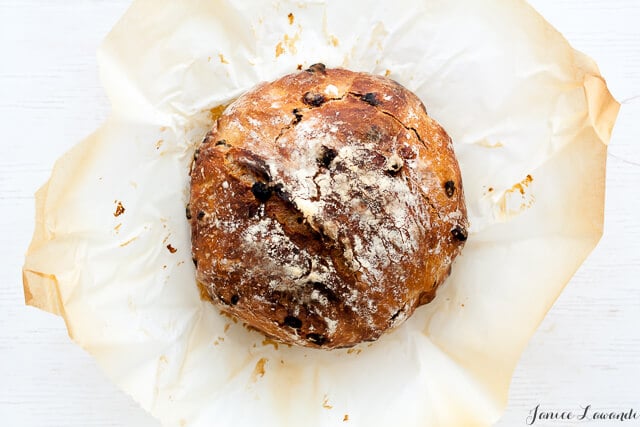 No-knead bread ratio
The basic ratio for this recipe is one-to-one (1:1) by weight as you can see in most recipes. The NY Times recipe calls for instant yeast, but I only had active yeast, so I tried using it by dumping it directly into the flour and I also tried activating it in a little warm water first. I didn't notice a difference so go ahead and dump in the yeast, whatever yeast you are using.
When to add the raisins in bread dough
I deviated from the original recipe by using a mixture of water and milk, a little sugar, cinnamon, and raisins. I broke all the bread rules and dumped all my add-ins at the beginning because given how easy this recipe is supposed to be, there was no fumbling to get raisins evenly dispersed into a dough later. Nope. Just stir everything together with a wooden spoon in a big bowl, cover, and wait patiently for the magic to happen. It will, if you are patient. I do the same when I'm making Christmas stollen bread: I add the raisins to the mixer bowl when the bread is kneaded. It's easier to do so at the beginning than at the end.
I found it a little tough to shape the dough because it's quite floppy, but clearly from my two attempts, you can't see the struggle. It'll be okay. Trust me. Just do it! And if you want your cinnamon raisin bread before tomorrow, try this Irish soda bread with raisins. It's way faster and it doesn't have yeast!
For crusty bread, use a Dutch oven with a lid
To bake this bread, I used this Nordic Ware Pro Cast Traditions 3-Quart Enamel Multipurpose Pot with Cover (available on Amazon) which was the perfect size for this loaf. Worked beautifully, as you can see! It's important to use a baking vessel with a lid. In fact, it's essential.
You'll notice in the recipe, the baking instructions indicate that you bake COVERED for 30 minutes, then you uncover the pot and continue baking without the lid to finish baking. The lid is pivotal to achieving a crusty loaf. By enclosing the bread in a hot, covered baking vessel, the water in the dough will rapidly vaporize and turn to steam. The lid will trap the steam in the pot which will moisten the surface of the bread dough. And since steam is a better conductor of heat, that hot steam will actually do a better job of baking the surface of the loaf of bread, resulting in a faster bake on the edges, which will dry out and become crusty.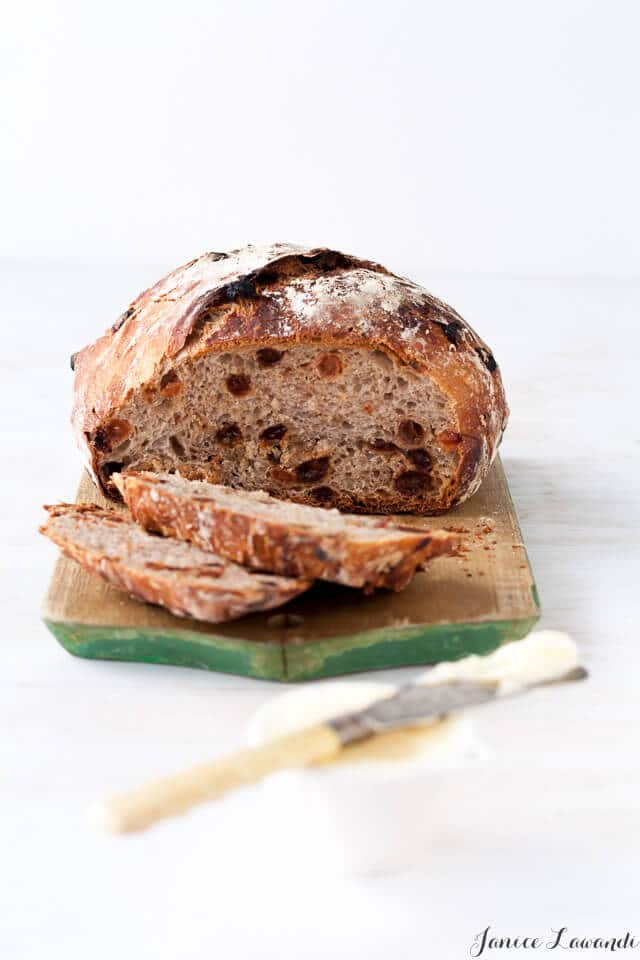 It seems counterintuitive that a humid environment would promote crust formation when you bake bread, but it's true. Remember those videos of Julia Child throwing ice cubes into her hot oven when baking baguette? She did that to achieve a better crust on her baguettes!
📖 Recipe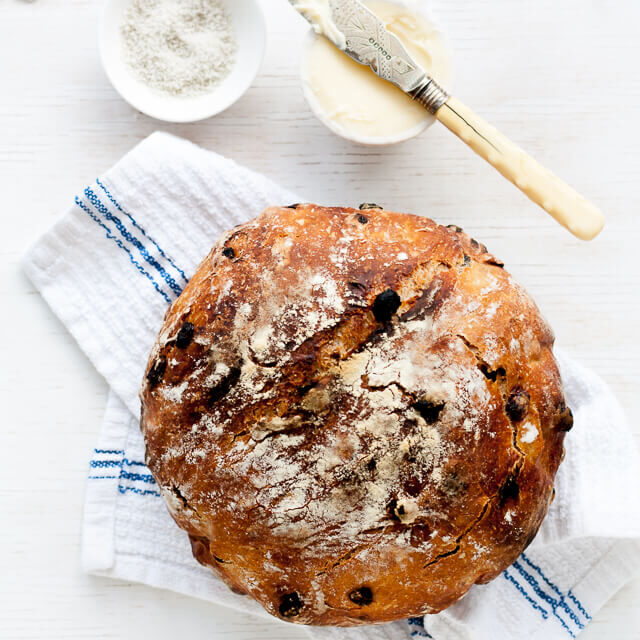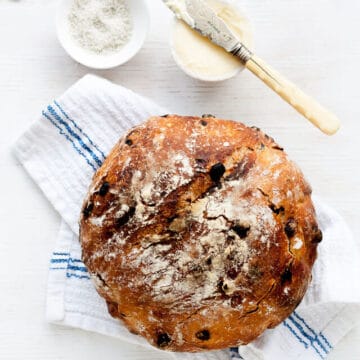 No-Knead Cinnamon Raisin Bread
This no-knead bread recipe is a good way to start making bread. Just follow the steps, give the dough lots of time to rise, et voilà! This cinnamon raisin no-knead bread is baked in a Dutch oven and tastes great toasted with lots of salted butter
Ingredients
375

grams

bleached all-purpose flour

0.5

teaspoon

active dry yeast

22.5

mL

granulated sugar

10

mL

ground cinnamon

120

grams

sultana raisins

I used a mix of golden and Sultana

188

grams

whole milk (3.25 % fat)

188

grams

water
Instructions
Whisk together the flour, yeast, salt, sugar, raisins, and cinnamon in a big bowl.

Dump in the milk and water, and stir it in with a wooden spoon.

Cover the bowl with plastic wrap and leave on the counter for over about 15 hours.

Dump out the dough on a floured surface and with the help of a pastry scraper, scoop and fold it two times, then let it rest loosely covered for 15 minutes.

Transfer the dough to floured parchment paper, forming a round-ish ball with one of the folds on top of the ball (or you can cut slits later just before baking, up to you!). Let rise 2 hours covered with a floured tea towel (or generously flour the top of the dough before covering as I did).

About an hour before the dough is ready for baking, begin preheating the oven to 450 ºF (230 ºC).

About 30 minutes before the dough is ready for baking, place the Dutch oven with it's lid on in the oven to heat up thoroughly.

When the dough is ready and the Dutch oven has heated up sufficiently, take the pot out, remove the lid, and using the parchment paper as handles, lift the dough/parchment and lower it (parchment and all)into the centre of the pot. Give the pot a couple shakes to get the dough centred and settled inside. Cover with the lid and let bake 30 minutes covered, then 20 to 30 minutes uncovered til a deep dark crust forms.

Let cool completely before devouring.
Notes
Adapted from Mark Bittman adaptation of Jim Lahey's recipe for no-knead bread in the New York Times
Nutrition
Please note this post contains affiliate links to Amazon. If you buy a product I recommend, I will get a small commission, and the price you have to pay will not change in any way.