If you've run out of flour, or you can't eat flour, you can still make this recipe for gluten-free flourless peanut butter cookies made with all-natural peanut butter.
This recipe was also tested with all-natural almond butter and tahini to show that these flourless cookies can be made with any all-natural nut butter or seed butter you have. And since you make this recipe by hand with just a bowl and a spoon, it's a great activity to do with kids!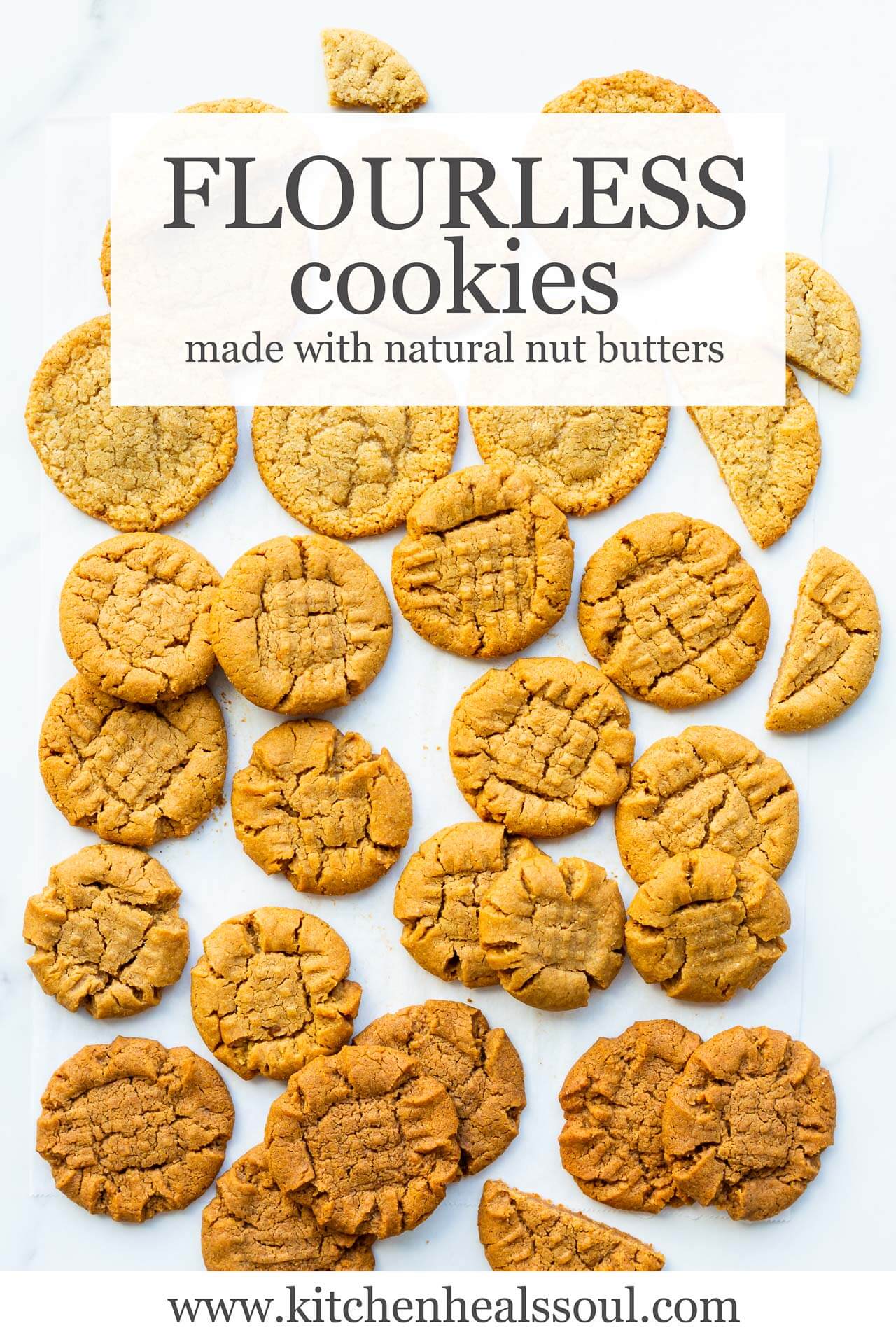 Disclosure: As an Amazon Associate, I earn from qualifying purchases.
Jump to:
What does flour do in cookie recipes?
Flour plays an important role in cookie recipes and it also represents a significant percentage of the ingredients in most baking recipes. Take away the flour, and you only have fat, sugar, and eggs left to work with, along with leavening agents, like baking soda and/or baking powder, and flavour agents, like salt and vanilla.
Flour provides structure to cookies, via protein and gluten. Gluten is a structure builder in baked goods and reduces the spread of cookies as the fats and sugars melt with the heat of the oven.
Besides providing structure, flour absorbs moisture and oil in cookie doughs and it also lends a certain amount of texture and chew via the gluten network that forms as you stir your cookie dough.
How can you make cookies without flour?
Developing a flourless cookie is tricky, given that the role of flour in baking is so important. You can't just omit the flour and expect a cookie recipe to perform as usual. This is where ground nuts and nut butters come in handy.
Nuts are a combination of fat, fibre, and protein, so smooth nut butters can actually replace both the flour and the butter in a cookie recipe by providing structure and fat to cookies.
The classic flourless peanut butter cookie recipe formula is 1 cup of peanut butter, 1 cup of sugar, and 1 large egg. This is the recipe published for Kraft regular peanut butter (the no-stir kind that has sugar and salt added, as well as some hydrogenated fats to prevent fat separation).
The bakery Ovenly in NYC developed a variation on this recipe and published in their book (available on Amazon). Their flourless peanut butter cookie formula is 1-¾ cups peanut butter, 1-¾ cups sugar, and 2 large eggs. Ovenly recommends using Skippy for their recipe, which is also a no-stir peanut butter with sugar, salt, and hydrogenated oil added. Ovenly doesn't recommend using all-natural peanut butter for their recipe.
Sure, you could substitute gluten-free flour mixes for all-purpose flour in the classic peanut butter cookie recipe or in your favourite giant peanut butter cookies under most circumstances, but that's not what this recipe is about! This recipe is about simplifying the cookie to the most basic ingredients that *most* people will have in their cupboards and their fridges, without a trip to the store.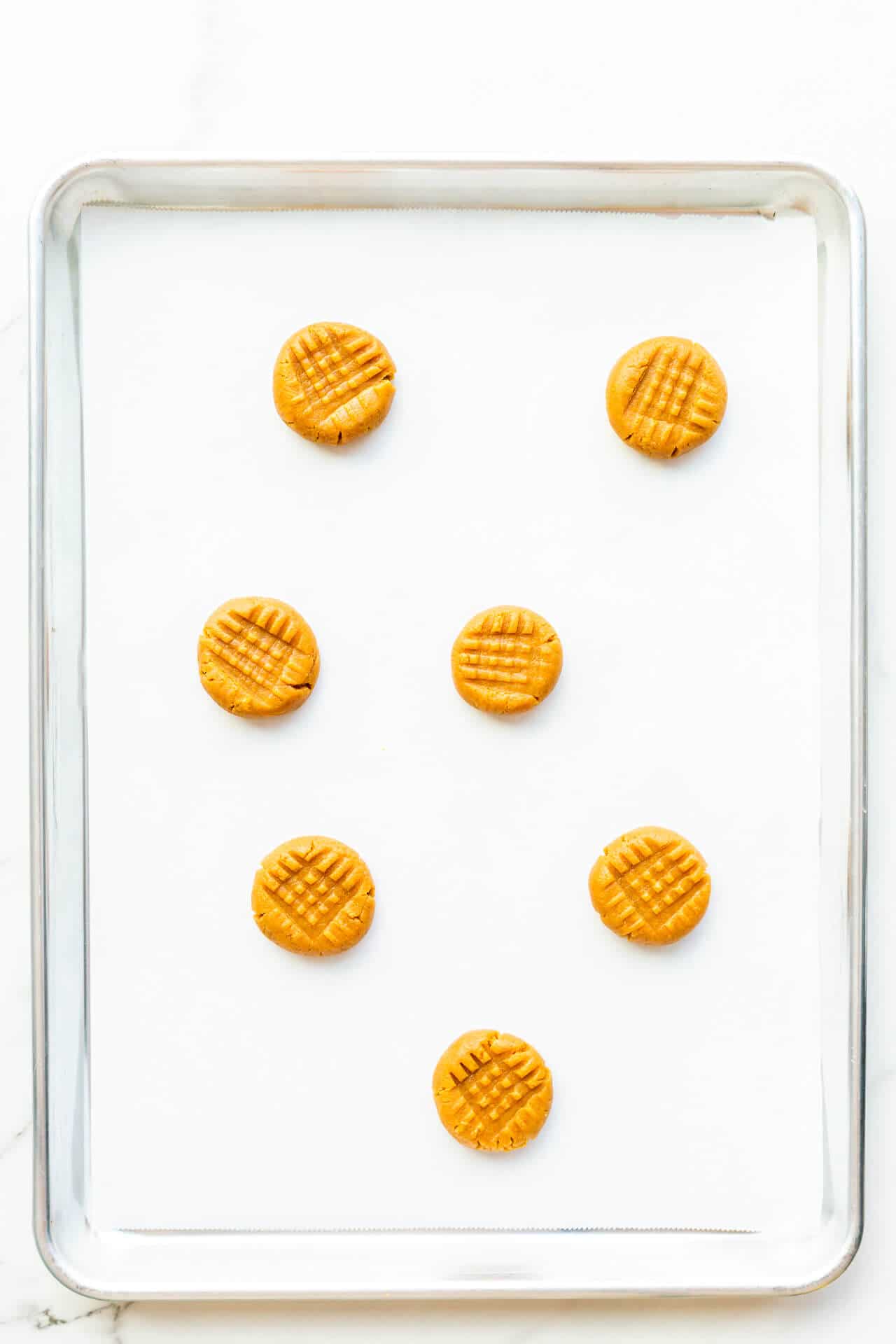 The difference between all-natural peanut butter and regular
For peanut butter to be labelled as peanut butter in the US, it has to contain at least 90 % of peanuts. This means that the variation from brand to brand, and product to product, is from the remaining 10 %. The only ingredients added in American peanut butters are salt, sweeteners, and vegetable oils, and these ingredients cannot account for more than 10 % of the product. Anything else, and the product can't be labelled as peanut butter.
Regular peanut butter is made from ground peanuts, as well as hydrogenated fats (which are solid at room temperature), which help to homogenize the product so that the oil doesn't separate. The hydrogenated oils also give the product a thick, spreadable consistency at room temperature.
If your nut butter is labelled as "no stir" or if it doesn't have a layer of oil on the top of the jar, it has additives to make sure the product is shelf-stable and to keep it evenly mixed, even at room temperature.
Per tablespoon (15 grams), most regular peanut butter usually has 8 grams of fat, 60 mg sodium, 4 grams of carbohydrates (including 1 gram of sugars), as well as 3 grams of protein. Depending on the brand, some may have more sodium and more sugar added (as much as 4 grams per tablespoon!). Of course, the nutritional values will vary from brand to brand, and will depend on what's added to the product, but also the variety of peanuts used to make the product.
All-natural peanut butter contains only ground peanuts. Some brands may have added salt for flavour, but that's the only extra ingredient you might find in all-natural peanut butter.
Per tablespoon (15 grams), all-natural peanut butter has 7 to 8 grams of fat, depending on the brand, as well as 3 grams of carbohydrates (including 1 gram of sugars), and 4 grams of protein.
Depending on the brand you buy, the nutritional values may vary, and all-natural peanut may have 0 mg sodium or as much as 70 mg sodium. Except for the sodium, all of these nutrients come directly from the peanuts. They aren't added to the mix. Since all-natural peanut butter is made from peanuts only, any nutritional variation would come from the variety of peanut used, but also if any oils were added to grind the nuts into a smooth consistency.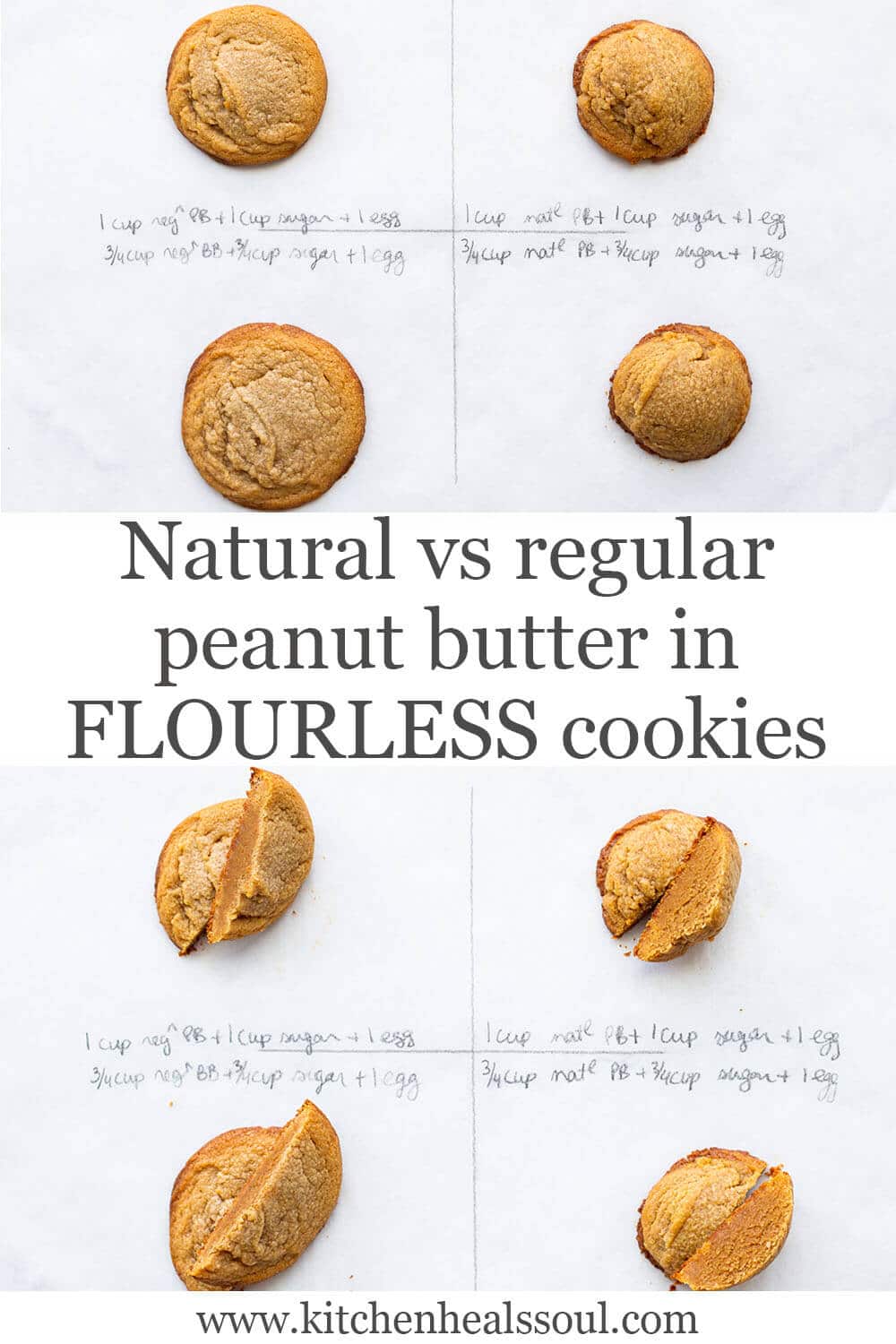 How does all-natural peanut butter compare to other all-natural nut butters?
Every nut and seed has a different nutritional profile, so the all-natural nut butters you can buy at your local grocery store will vary in the amount of fat, carbs, and protein they contain. Generally though, most have 7 to 8 grams of fat, 3 to 4 grams of carbohydrates, and 2 to 5 grams of protein. Tahini, for example, is a butter made from ground sesame seeds, and it is more fluid than peanut butter.
Regular vs all-natural peanut butter in flourless cookies
Going into this recipe, I expected that, using the same recipe, varying only the nut butter used, flourless cookies made with regular peanut butter would spread less than the cookies made with all-natural peanut butter. Boy, was I wrong (see photo). The opposite was true. Flourless cookies made with all-natural peanut butter actually spread less than those made with regular peanut butter.
Of course, this is only true if you have properly mixed your natural peanut butter. Remember, natural peanut has a tendency to separate into a layer of fat overtop the ground nuts. If you've opened a jar, and haven't stirred it properly, there's a risk that what's left in the jar may contain more fat per gram, or less fat per gram, depending on how you scooped it.
It's very important that when you open a jar of any natural nut butter, you have to mix it very well to get the nut oil combined and evenly distributed with the solids. If your nut butter has more oil, the cookies will spread more. And if it's got less oil, the cookies will end up more dry or crumbly.
How to mix a jar of all-natural peanut butter (and other nut butters)
There's no denying it: all-natural peanut butter is a real pain to use because the oil separates to the top of the jar as the product sits. This goes for all other natural nut butters, tahini, and nut-free butters made from seeds. You need to stir vigorously to get the nut butter properly mixed and to do so, you have a few options:
roll up your sleeves and stir vigorously for over 5 minutes with a big sturdy spoon. This will be messy if the jar is very full.
invert the jar and let gravity do the work, with a good shake or two to help it along. Yes, this is a great option, but then the cap of the jar is full of peanut butter, and for that reason, I am not a fan.
dump the contents of the jar into a bowl, and use an immersion blender (hand blender) to mix the oil with the solids. This works great if you are motivated to do the transferring of the nut butter from jar to bowl, then from bowl back to jar. This is also messy.
You have options for how to properly mix a jar of all-natural peanut butter, but regardless of the path you choose, the task is still messy, unfortunately. There's no way around it. Once mixed, store it in the fridge, which slows down the separation, but even then, you will still have to give it a stir before proceeding.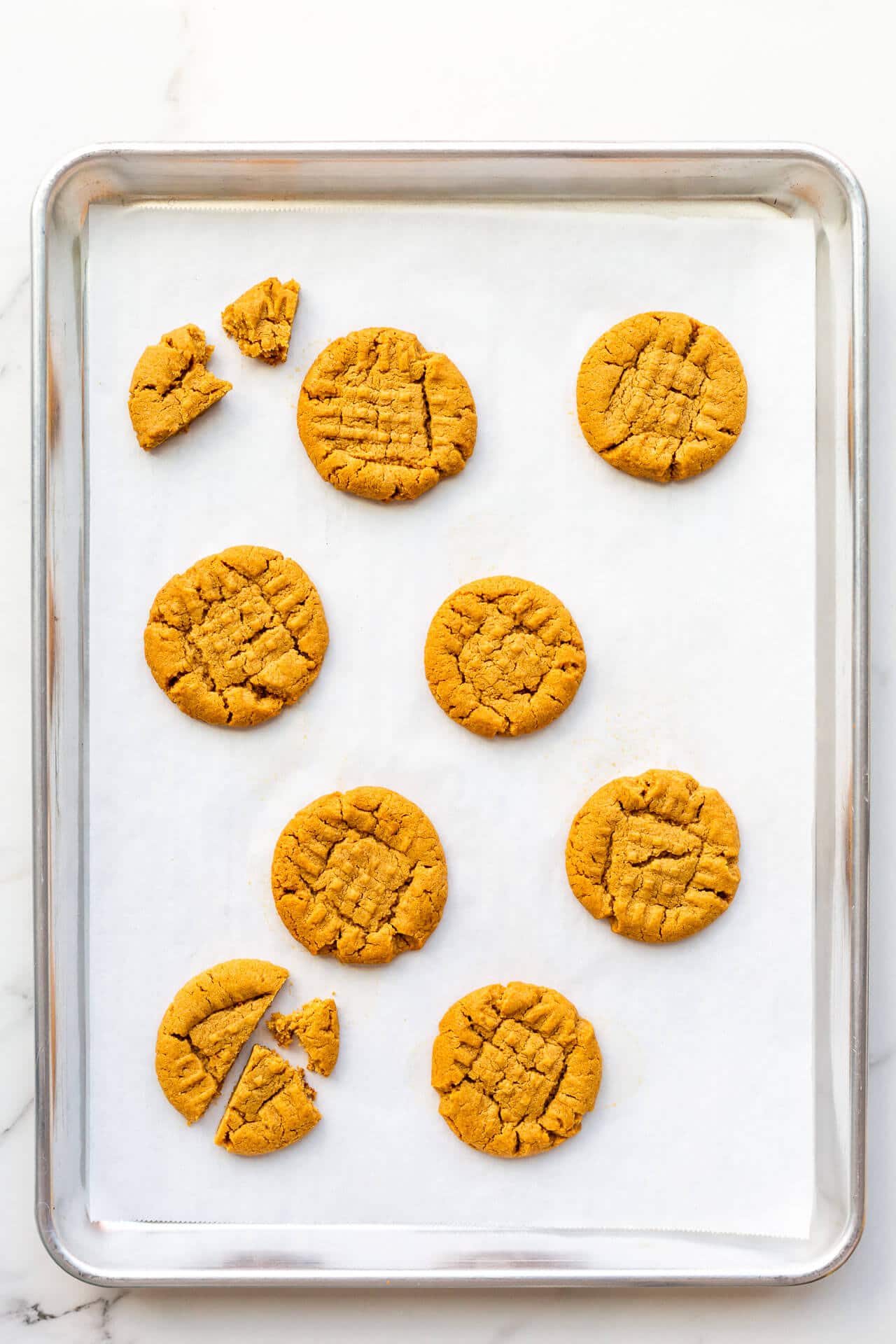 Using different nut butters and seed butters
I tested this flourless peanut butter cookie recipe with two different brands of natural peanut butter that had differing fat contents to make sure it works (I tested with Kraft natural peanut butter with sea salt, and a grocery store brand of natural peanut butter). In all cases, I felt I got the best flavour using a single nut butter, instead of a combination of nut butters, or a combination of nut butter and ground almond. Combining a nut butter with another nut just diluted the flavour and made the cookies bland.
Flourless almond cookies vs peanut butter
I also tested this recipe with an all natural roasted almond butter to make flourless almond butter cookies. The roasted characteristic of the product I used gives the cookies a darker colour as you can see in the photo, but you can also use raw, un-roasted almond butter. They all perform very similarly.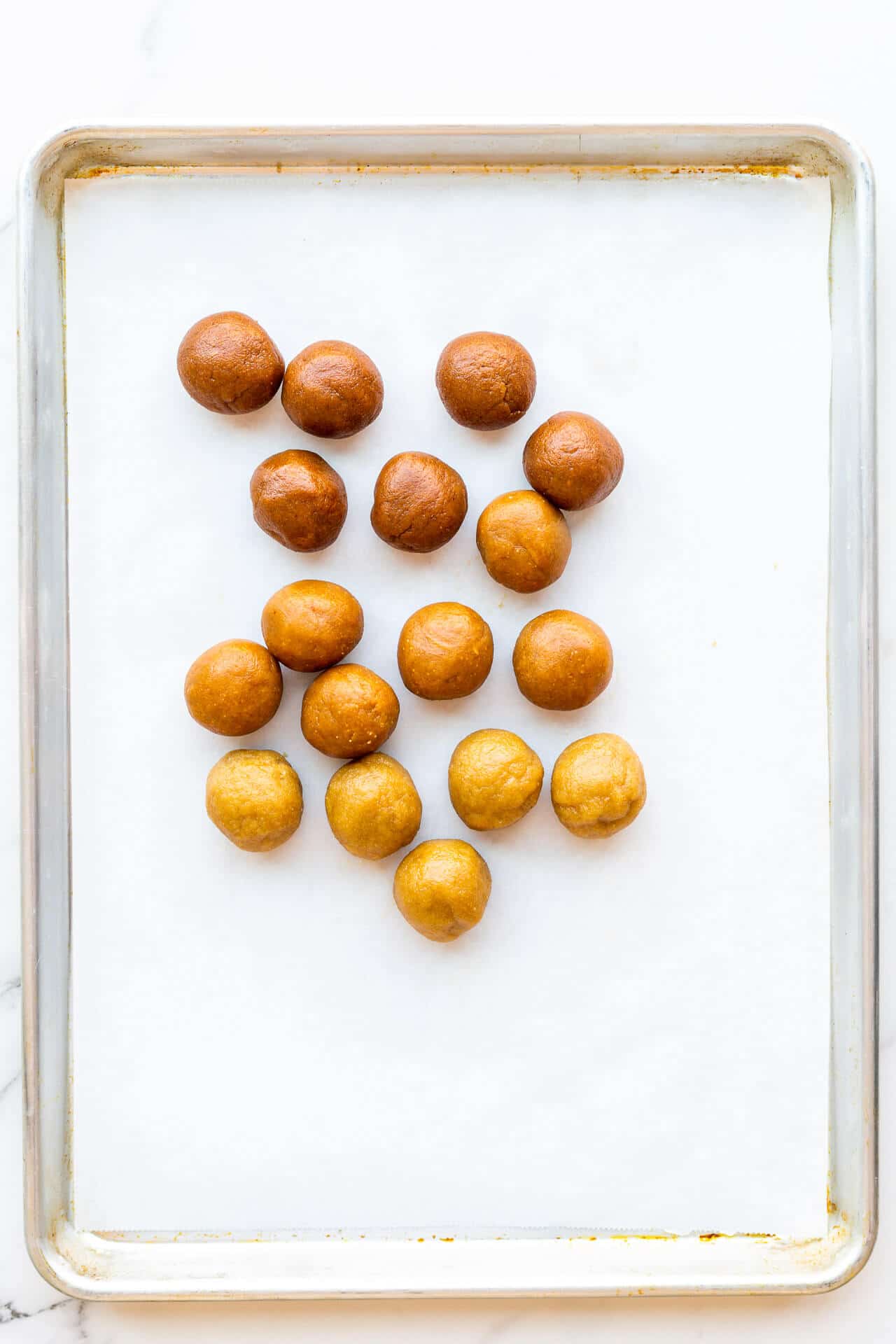 Flourless tahini cookies vs peanut butter
I also tested the recipe with all-natural tahini from the brand Alkaneter (you can find it on Amazon).  Tahini is more liquidy and the flourless tahini cookies spread more in the oven. For this reason, if you use tahini in this recipe, DO NOT press down the scoops of cookie dough and don't use a fork to make a fork pattern like you would classic peanut butter cookies. Please leave the cookie dough scoops be, as is. Trust me. They will melt into a perfect cookie and spread all by themselves in the oven, without your help. On the other hand, the flourless peanut butter cookies and flourless almond butter cookies must be pressed with your palm or a fork to help them spread out a little when they bake.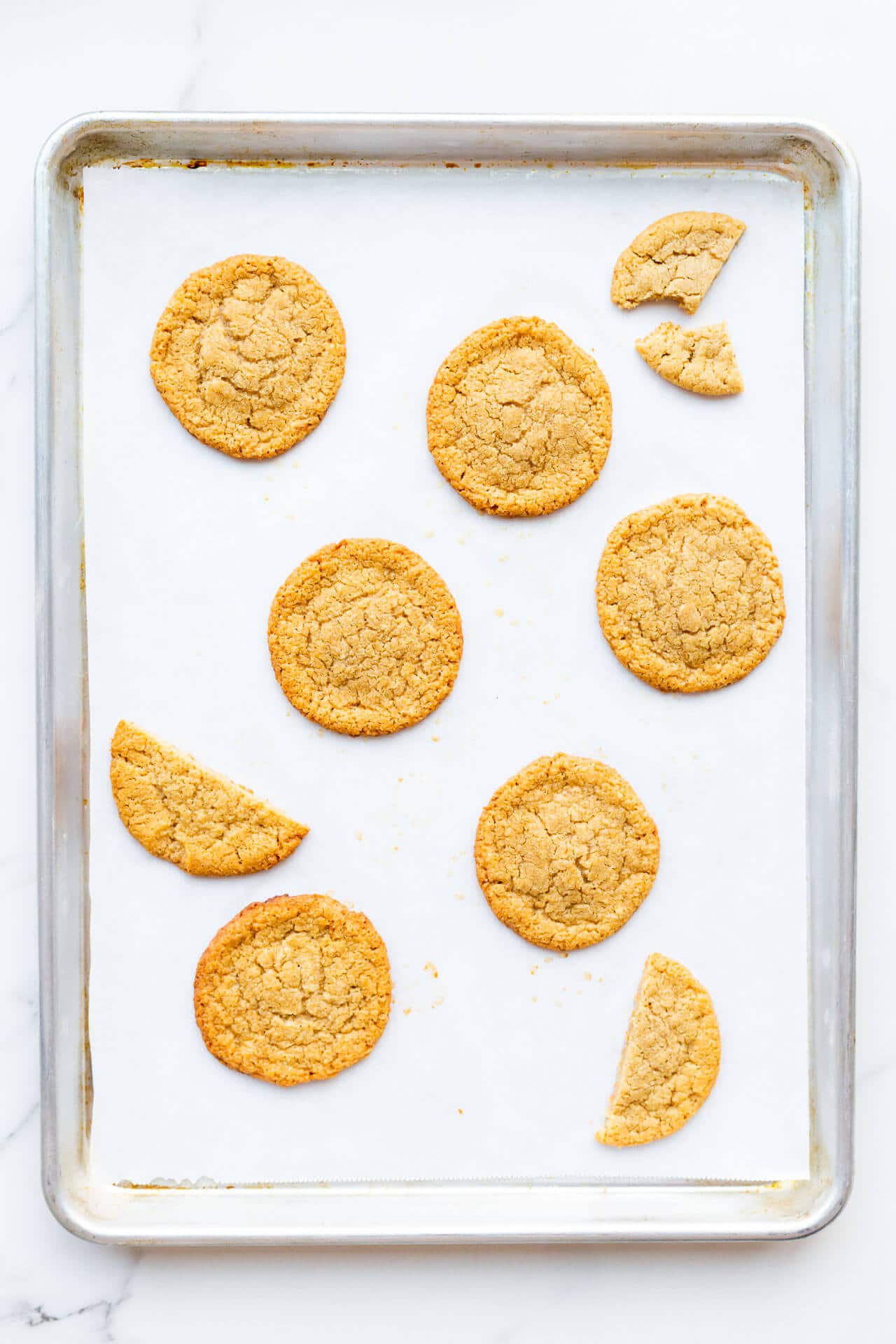 A note on using other nut butters in this recipe
Sunflower seed butter
This recipe could probably be made with sunflower seed butter, but given that there is baking soda in the cookie dough, it's possible that the cookies will turn green when the sunflower seed butter comes into contact with the baking soda and heats up in the oven.
Recall that baking soda is a base (meaning it's alkaline) and sunflower seed butter contains a compound called chlorogenic acid. In the presence of a base, one molecule of chlorogenic acid will react with another molecule of chlorogenic acid and forms a dimer and coloured complexes with proteins, and when this happens, your baked goods turn green. Your cookies will still be edible, but if you've ever baked with sunflower seed butter, this could happen if you are mixing it with baking soda, just so you know. Here's a reference from the literature on the colour change of chlorogenic acid in sunflower seeds if you are curious.
These flourless peanut butter cookies are a satisfying treat that everyone can enjoy and they are truly all about the peanut. There are no ingredients to interfere with that flavour of the nut.
Regular peanut butter
I also tested this recipe with Kraft regular peanut butter (the kind that doesn't require stirring and that has sugar, salt, and hydrogenated oils added to it). It works, BUT you have to chill/freeze the cookie dough for 15 minutes to reduce spreading. I did this in the freezer. So once you scoop the cookie dough and form smooth balls, place the cookies on a plate and freeze them for 15 minutes. Bake them at 325 ºF like the other cookies, adjusting the time according to how they are looking.
With regular peanut butter, you will notice these cookies spread more, which is why you don't press them before baking! Also, I haven't tested this recipe with other brands of regular peanut butter, so I can't say how these will react to different brands. I'd expect that other peanut butters will behave similarly.
Special equipment
It can be difficult to make cookie dough by hand in a bowl with a wooden spoon, so usually I prefer to use an electric hand mixer or even a stand mixer. For this recipe, it can actually mixed with a wooden spoon without too much difficulty. Here are other tools that will make your life easier for this recipe:
Don't forget, if for whatever reason, you have extra flourless peanut butter cookies or if they spread too much (or too little) for your liking, you can always chop them up into small pieces and fold them into ice cream to make cookie ice cream!
📖 Recipe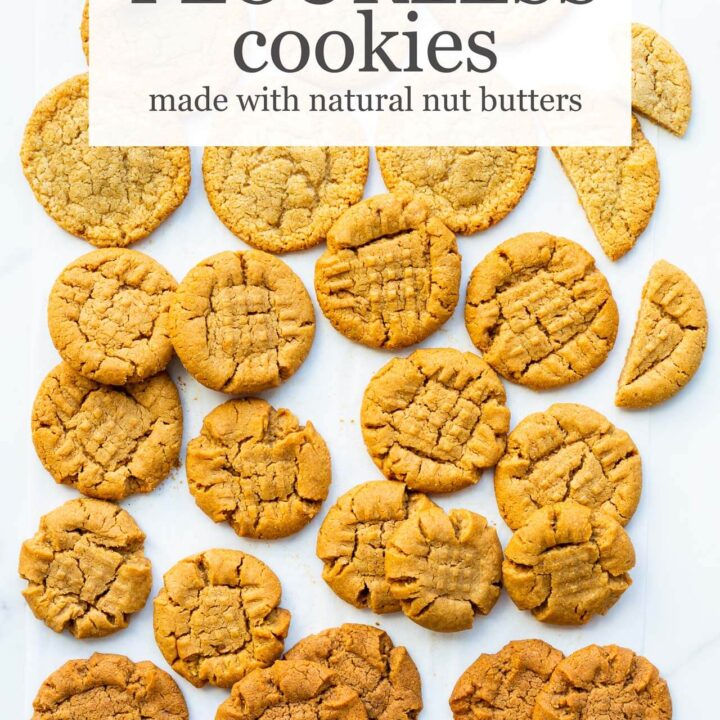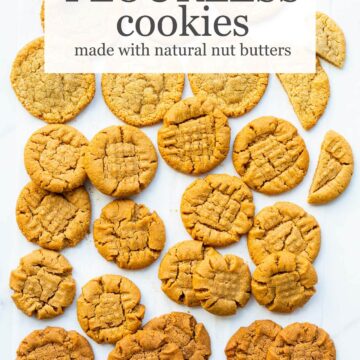 Flourless Peanut Butter Cookies
This flourless all-natural peanut butter is very simple and can be made with kids, using just a bowl and a wooden spoon. The recipe also works with all-natural almond butter and tahini
Ingredients
255

grams

all natural, unsweetened smooth peanut butter

or 250 grams all-natural almond butter or 250 grams tahini, room temperature, SEE NOTE

1

large egg(s)

200

grams

light brown sugar

5

mL

Diamond Crystal fine kosher salt

OPTIONAL, if your nut butter has no salt added SEE NOTE (or use 2.5 mL (½ tsp) table salt)

1.25

mL

baking soda
Instructions
Preheat the oven to 1325 °F (165 ºC). Line two cookie sheets with parchment paper

To a large bowl, add the all-natural peanut butter with the egg. With a wooden spoon, stir vigorously until the mixture forms a thick paste.

Sprinkle the brown sugar, the salt, and the baking soda over top. Stir very well to evenly distribute the ingredients until you form cookie dough.

Scoop 30 gram portions of dough and roll each into a ball. Place 8 per cookie sheet, leaving a few inches between each.

With a fork, press down the dough to form the classic criss cross pattern of peanut butter cookies. Note for tahini, leave the balls of cookie dough as is and DO NOT press down at all!

Bake the cookies, one sheet at a time, for about 15 minutes, until the bottom edges begin to brown lightly.

Let the cookies cool completely before transferring to store them in a container.
Notes
Before you measure out your nut butter, please make sure to mix it really well and scrape up the ground nuts at the bottom of the jar when you are mixing it. Once the jar is well mixed THEN you can measure it out, but only then! 
If your nut butter already has salt, do not add the salt! For example, I've tested this recipe with an all-natural peanut butter made with sea salt. It is plenty salty and so with this nut butter, I don't add more salt.
For tahini cookies, DO NOT press down the scoops of dough at all. The tahini dough as is will spread plenty. For other nut butters (peanut butter and almond butter), you need to press down the dough with your palm or a fork to help it along.
If you find your cookies spread to much, next time, use *slightly* less nut butter: the same recipe works with 220 grams (1 cup–2 tbsp) of nut butter or tahini. I tested it! The cookies spread slightly less! 
Please note these cookies were baked at 325 ºF, which is 25–50 ºF less than most cookies. Otherwise, I found the cookies scorched on the bottom, as you can see in the photo above of natural vs regular peanut butter where the underside of the cookies are quite dark
Substitutions:
replace the egg with a chia egg that is 2.5 tablespoon water + 1 tablespoon ground chia. You can also use ground flax to make a flax egg if you prefer.
replace the brown sugar with regular granulated sugar, or a mixture of the two.
Nutrition
Calories:
132
kcal
Carbohydrates:
15
g
Protein:
4
g
Fat:
7
g
Saturated Fat:
2
g
Cholesterol:
10
mg
Sodium:
152
mg
Potassium:
110
mg
Fiber:
1
g
Sugar:
13
g
Vitamin A:
15
IU
Calcium:
18
mg
Iron:
1
mg