Learn how to make a banana pouding chômeur with this easy recipe! This buttery cake has a layer of bananas with maple syrup and cream baked underneath for a decadent, easy dessert!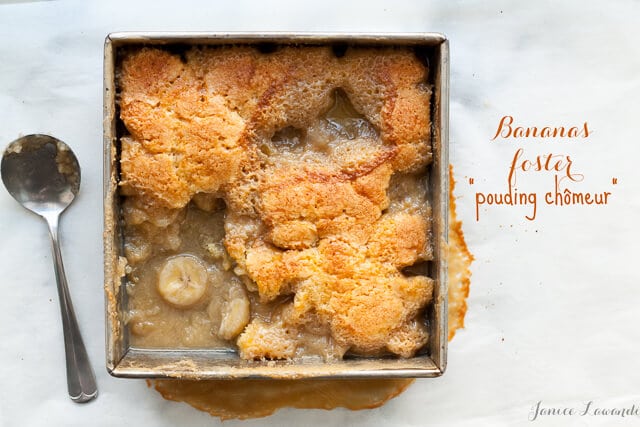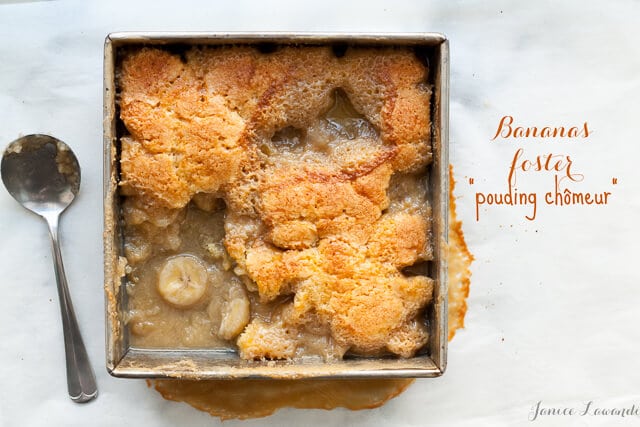 A few weeks ago, Caroline Dumas, a Montreal chef restaurateur and cookbook author, accused Danny St-Pierre, another chef and cookbook author, of plagiarizing her recipe for pouding chômeur. Apparently, Caroline Dumas had been internalizing her rage over this for many, many years until she was presented with an opportunity to basically blow up publicly on a radio show and accuse him. She was mad. He was confused. From his reaction, it was clear that he wasn't aware of the blunder and that he has a staff behind him and his websites. It seems that somebody from his team goofed and copied/published word-for-word Caroline Dumas' entire pouding chômeur recipe, all the way down to the note at the end that you can add strawberries to the syrup layer. All that without a single credit or link back to her.
Ouch.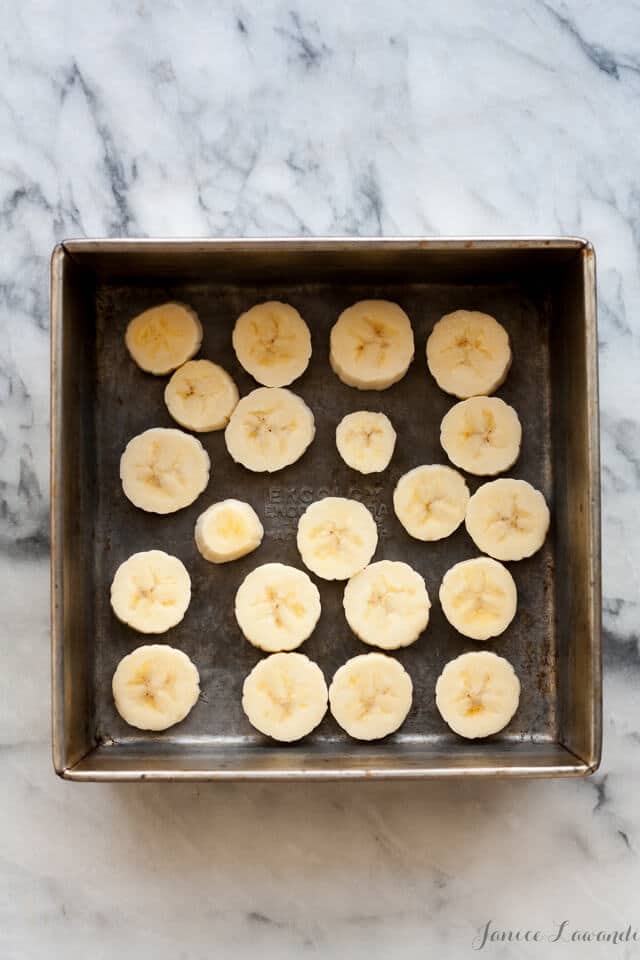 Disclosure: As an Amazon Associate, I earn from qualifying purchases.
To make the situation even more dramatic, the Twitterverse hashtagged it #poudingchomeurgate and all the newspapers and radio jumped on the story. Even a grocery store tried to cash in on the media blitz by labelling their containers of pouding chômeur as "façon Caroline Dumas" or "façon Danny St-Pierre". There were online polls to gauge whose side the public was on. In general, a lot of us felt bad for the way Danny St-Pierre was ambushed on the radio. You'd think Caroline Dumas would have spoken to him beforehand about the issue before exploding on the radio...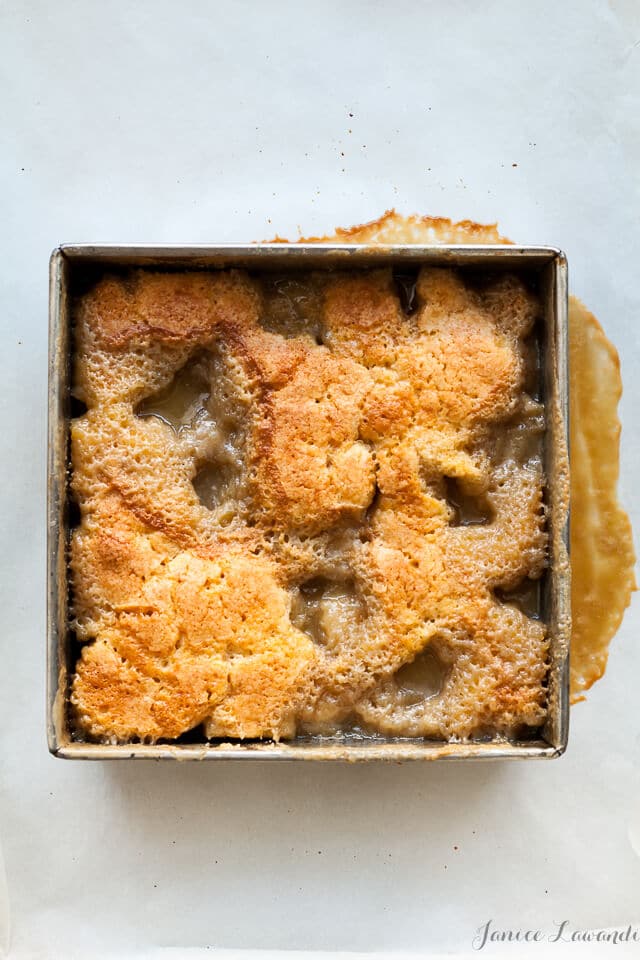 Like every other media scandal, #poudingchomeurgate quieted down and apologies were apparently exchanged all around. Still, it amazes me that people don't understand that copying something word-for-word isn't right, especially those working in the media and even worse, those working behind the scenes for big names. On the other hand, #poudingchomeurgate unleashed a whole lot of mocking because a lot of people interpreted that Caroline Dumas was claiming to have "invented" the pouding chômeur, which is clearly not the case. I gather her signature pouding chômeur syrup calls for equal parts cream and maple syrup, whereas traditional pouding chômeurs use brown sugar and boiling water because it was a "poor man's pudding" baked during the Great Depression, and maple syrup costs a small fortune. Her recipe has been published on a few websites and books over the last 10 years, and Martin Picard of Au Pied de Cochon apparently even uses it and has published it himself in his cookbook (of course, crediting Dumas).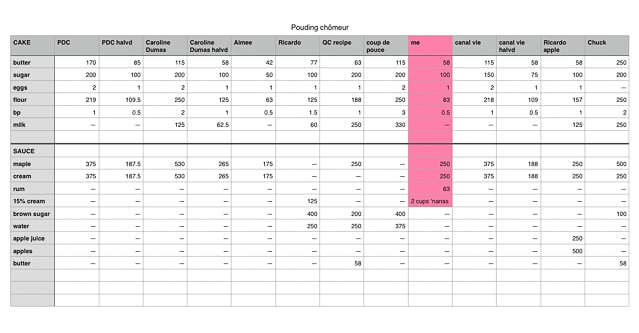 When I was prepping for this recipe, I did a lot of research and math, as usual, and of course, I made a spreadsheet (pictured above). I converted all the recipes into grams/mLs. There are probably hundreds of versions of pouding chômeur with slight variations, and a lot of people seem to use a 1:1 ratio of maple syrup and cream for the yummy sauce hidden beneath the cake layer. Perhaps Caroline Dumas started that trend. I can't say because I don't have the proper tools to research that. In general, nobody's reinventing the wheel here either (including me): it's a basic butter cake recipe dolloped over a pool of syrup. I'm sure they are all yummy, and they all yield some version of pouding chômeur. This one's my latest version to add to the pool: with a boozy maple syrup base reminiscent of bananas foster. I added both vanilla and salt to my cake layer because I think that's important, while most recipes don't (data not included in table).
This is one of many great maple syrup recipes to warm you up as winter drags on and on. It's easy and it's sweet with a good amount of bananas foster flavour and a fluffy cake top. It might not be the prettiest, but it sure hits the spot! If it's rhubarb season, try this rhubarb pudding cake recipe, another easy dessert recipe with fruit baked on the bottom. Or for something simpler, there's always the best banana bread recipe ever.

📖 Recipe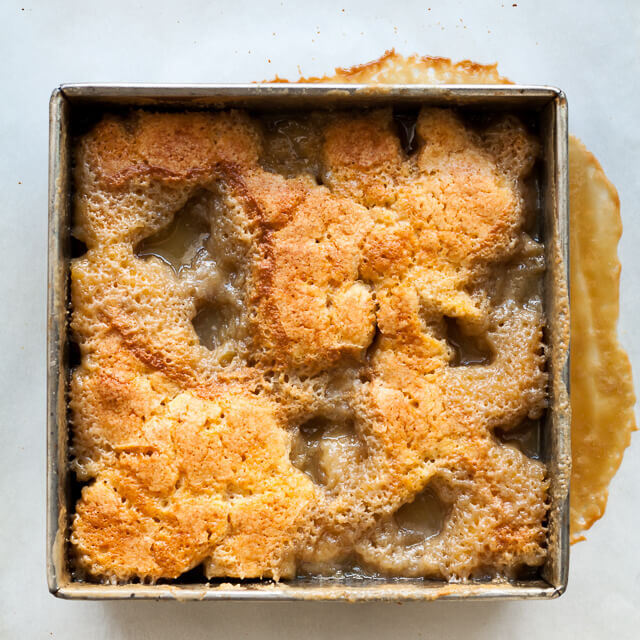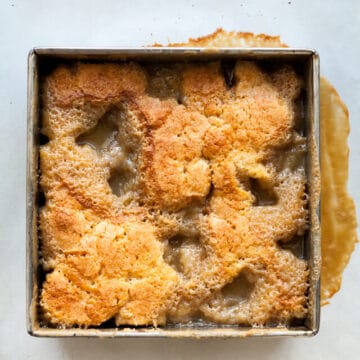 Bananas Foster Pouding Chômeur
This bananas foster pudding cake is a riff on the classic Quebecois dessert, the maple pouding chômeur with a bananas foster layer on the bottom and vanilla cake on top.
Ingredients
Bananas foster ingredients
250

mL

pure maple syrup

1 cup, medium

250

mL

whipping cream (35 % fat)

1 cup

63

mL

spiced or dark rum

¼ cup

2

ripe banana(s)

about 2 cups, sliced and divided
Instructions
In the bowl of a mixer fitted with the paddle attachment (or in a bowl with a hand mixer), cream the butter and the sugar. Add the egg and beat well , scraping down as needed. Add the vanilla and continue beating on medium-low for several minutes until the mixture is light and fluffy.

In a separate bowl, whisk together the flour, baking powder, and salt. Dump this mixture into the mixer bowl and beat on low to combine.

Transfer to a bowl, cover, and refrigerate for at least an hour.

Preheat the oven to 400 °F (200 °C).

In a medium saucepan, combine the maple syrup, whipping cream, dark rum and half the bananas. Heat on high and bring to a boil. Boil for a minute or two.

Scatter the rest of the banana slices in the bottom of an 8x8-inch baking dish (preferably at least 2-inches high to minimize spillover later). Pour the syrup over the bananas, then dollop the cake batter over top with the help of a couple spoons (or you can use your fingers).

Place the baking dish on a parchment-lined sheet and bake for 30 minutes or until a cake tester inserted in the centre of the cake layer comes out clean. The cake will have browned nicely too.

Serve warm (but not straight from the oven because you might burn your mouth off).
Nutrition