I have been on the quest for the perfect pumpkin cranberry bread for a while. So many tests went into this recipe, even though, in the end, the recipe is very easy, straightforward, and downright simple. This moist pumpkin bread incorporates as much pumpkin as possible, without compromising the baking time and the texture/crumb of the final loaf! I've also written out what you can do differently next time you make a pumpkin bread to improve your loaf cakes!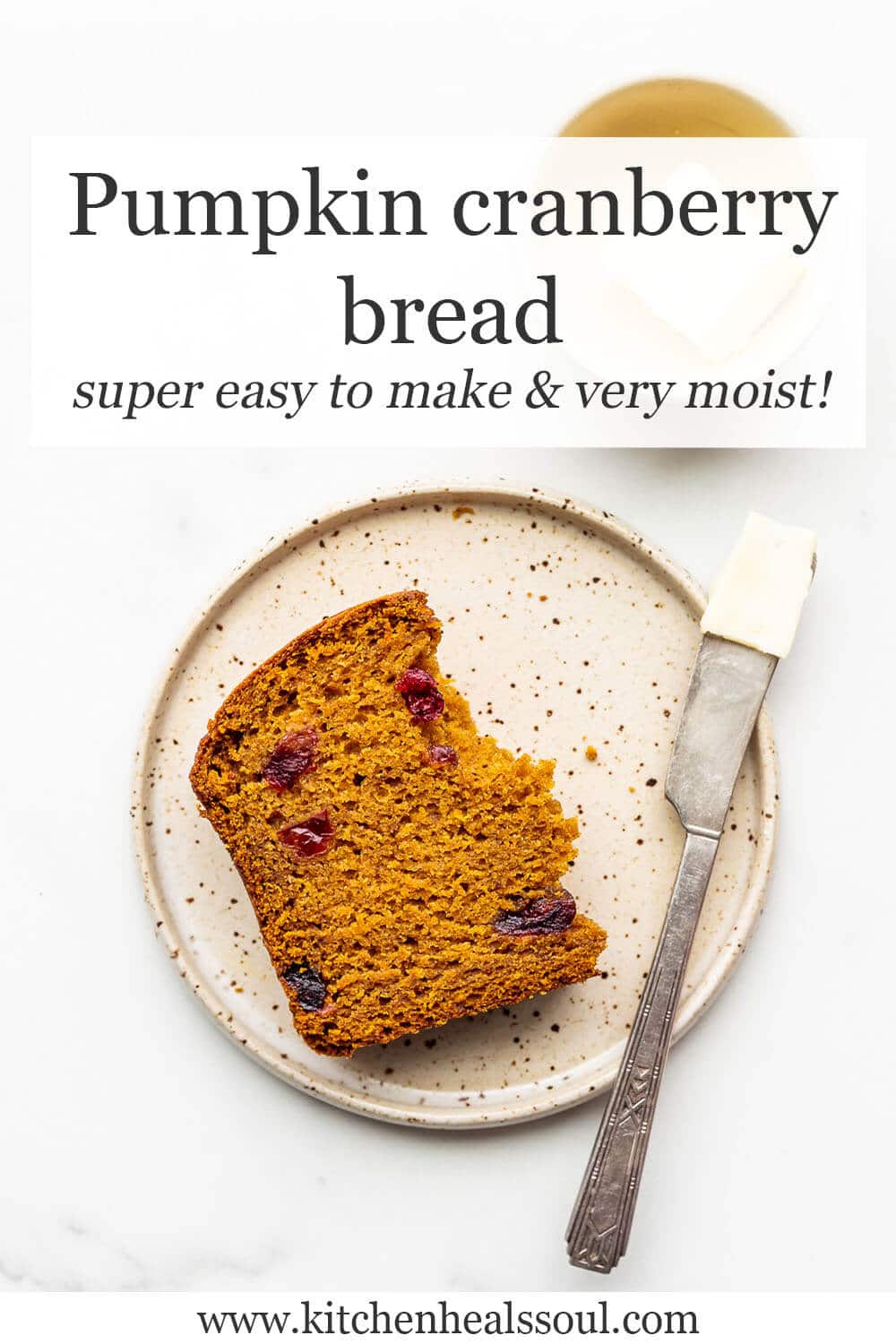 Disclosure: As an Amazon Associate, I earn from qualifying purchases.
If you love to bake with pumpkin, order your copy of the e-book All About Pumpkin so you can celebrate this star ingredient!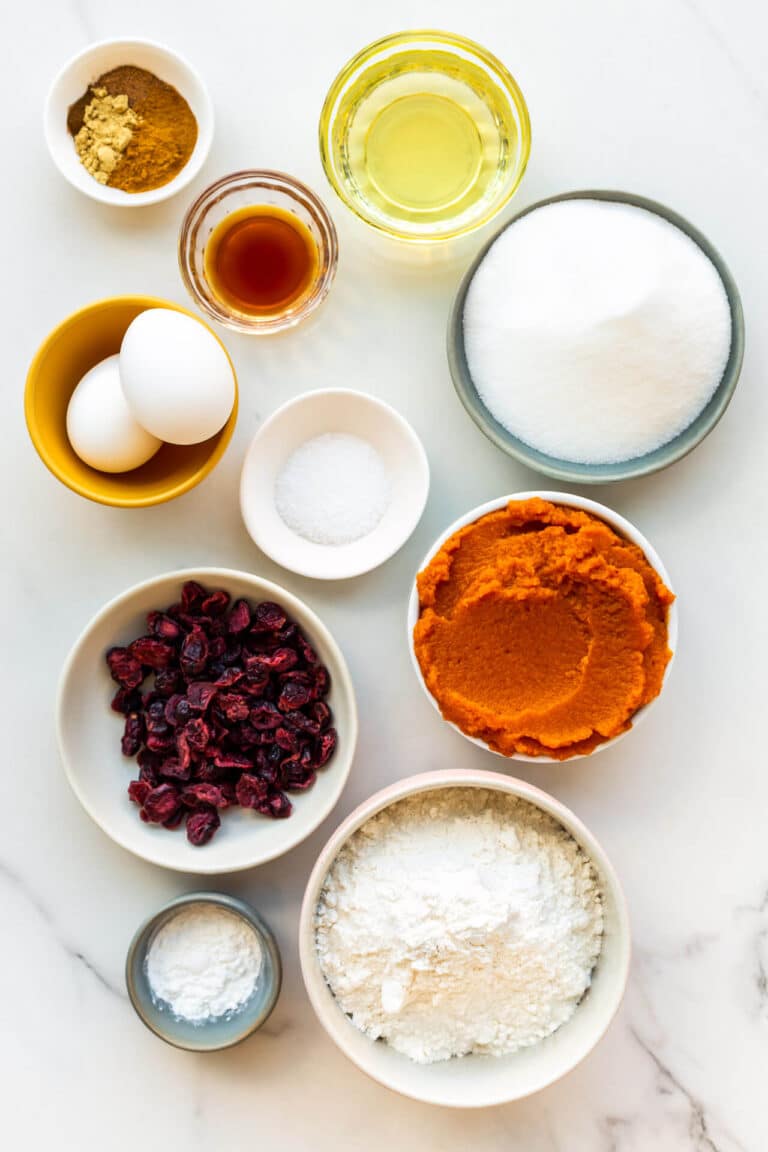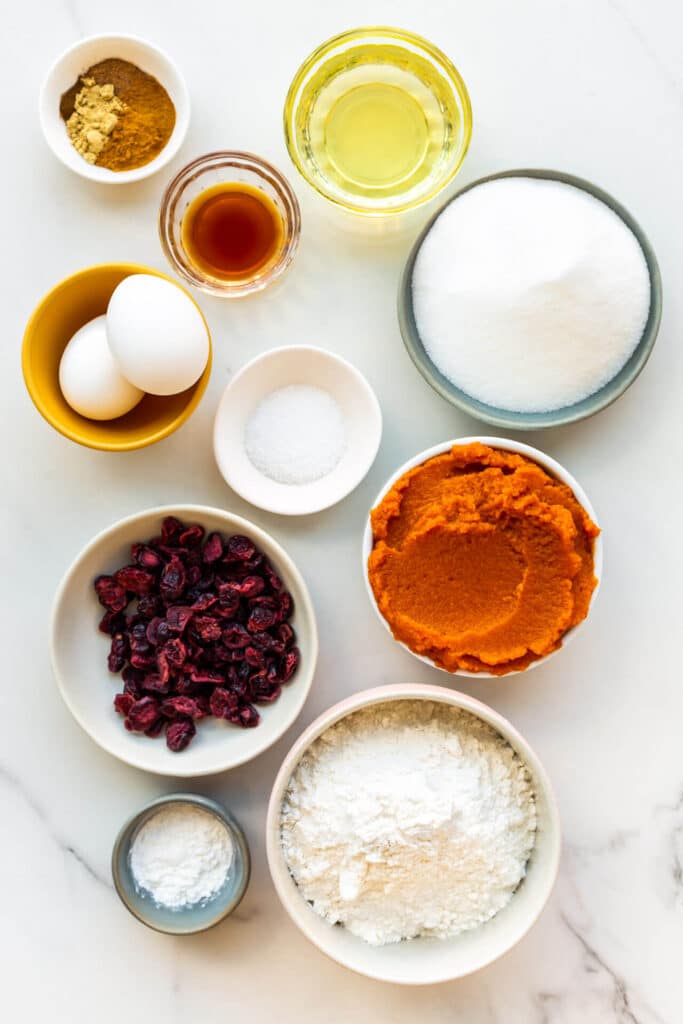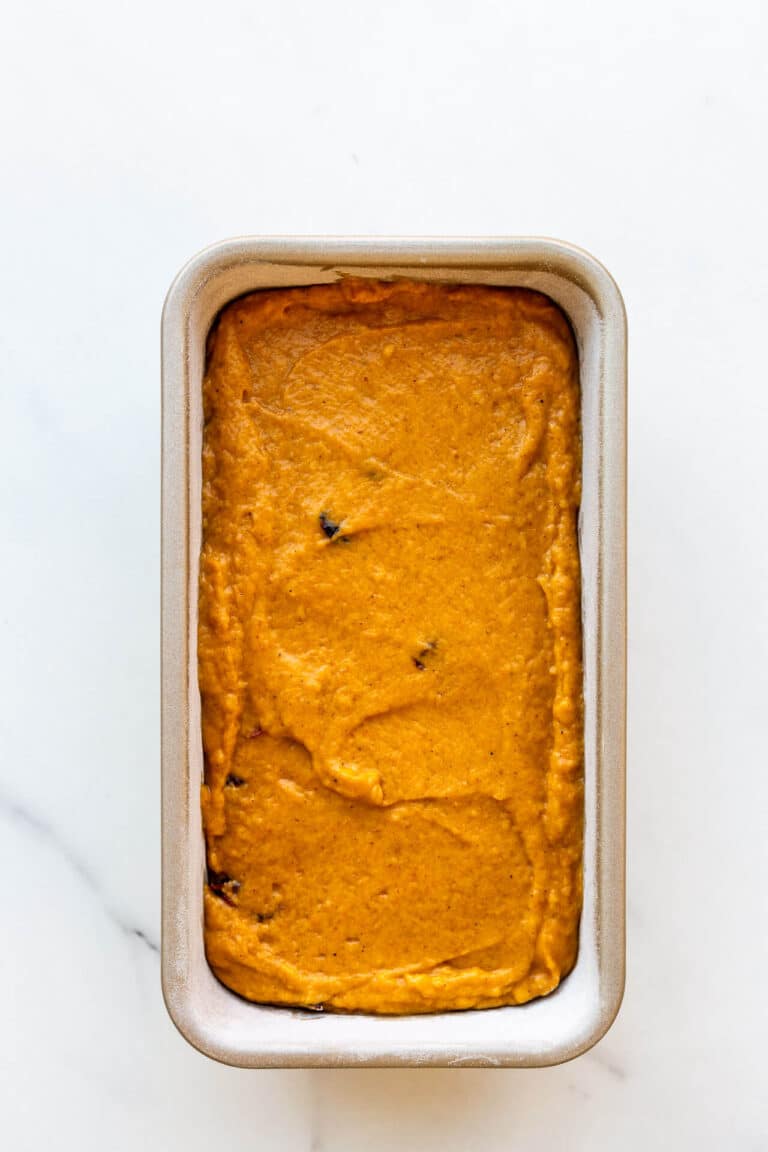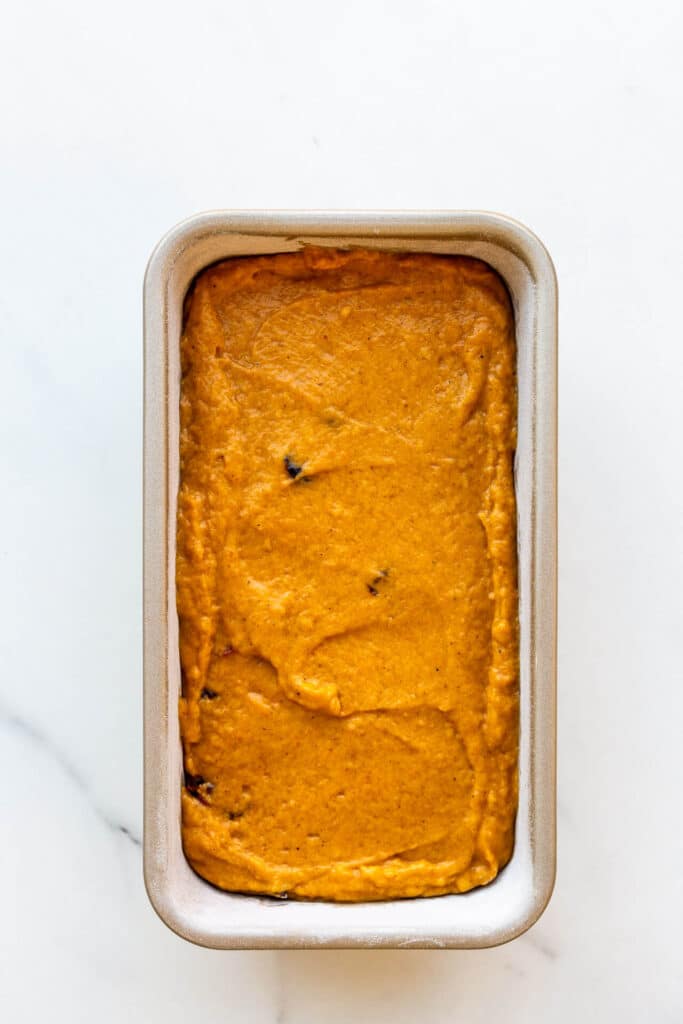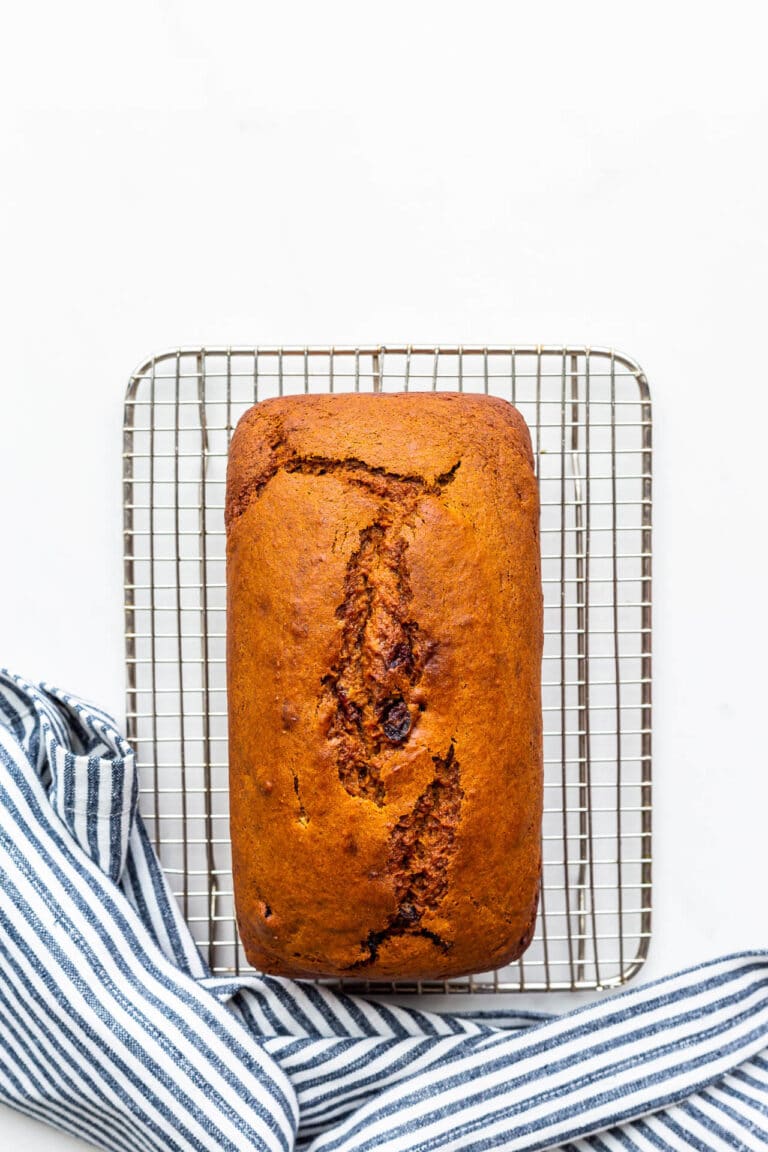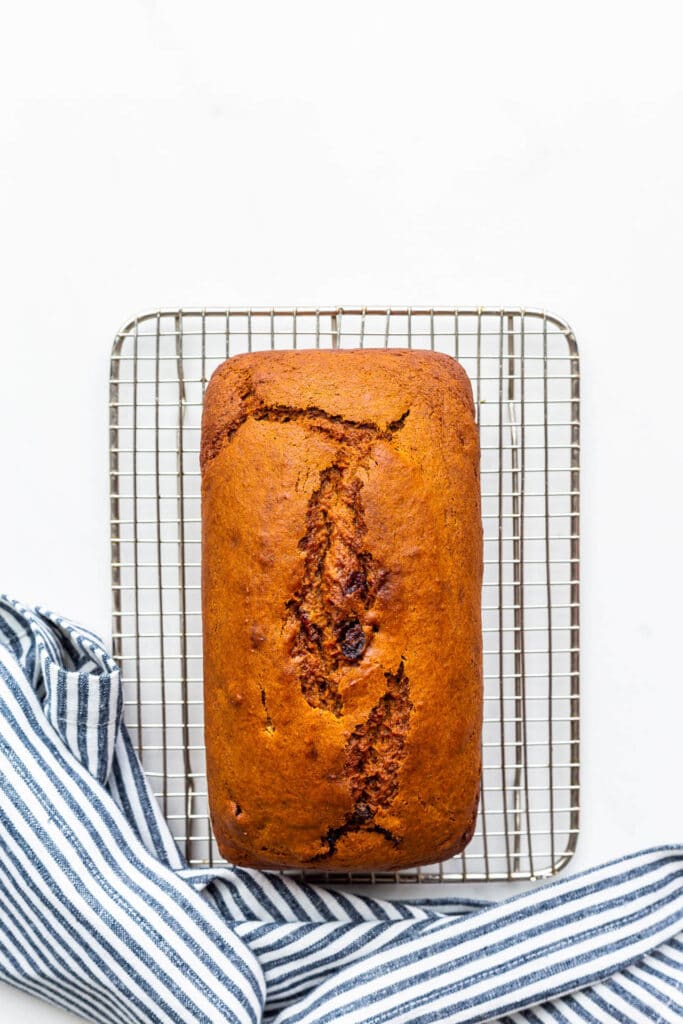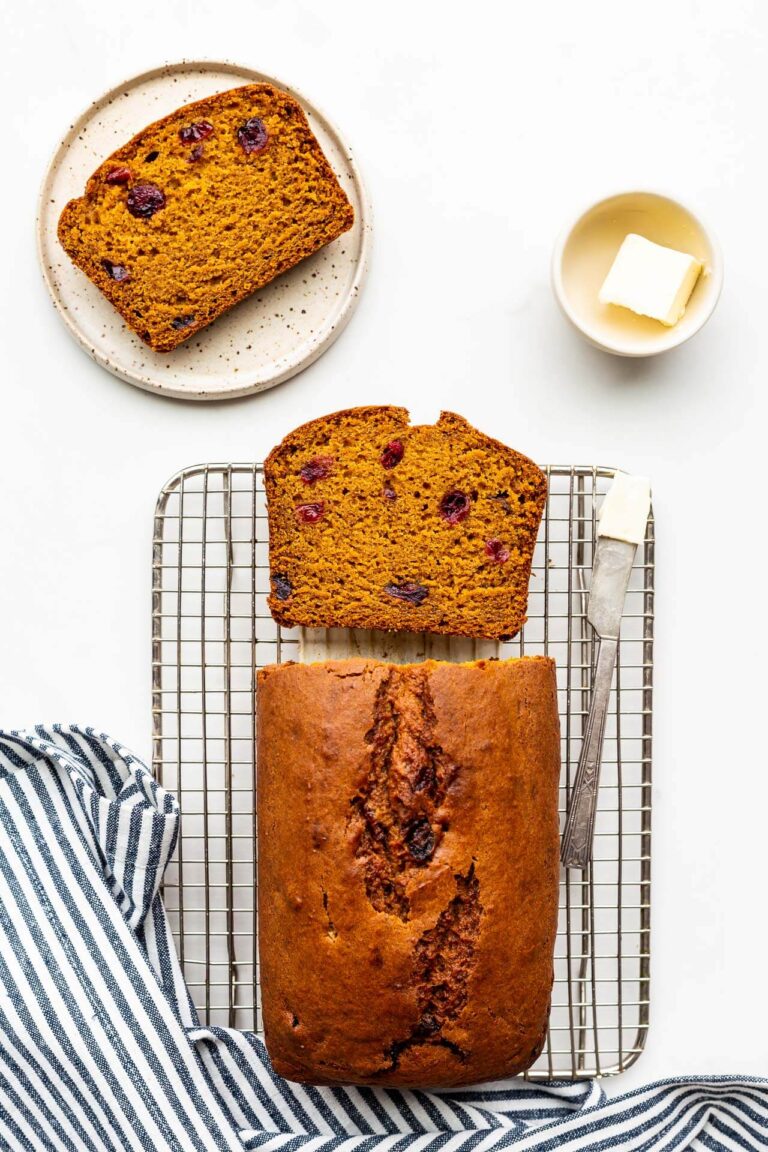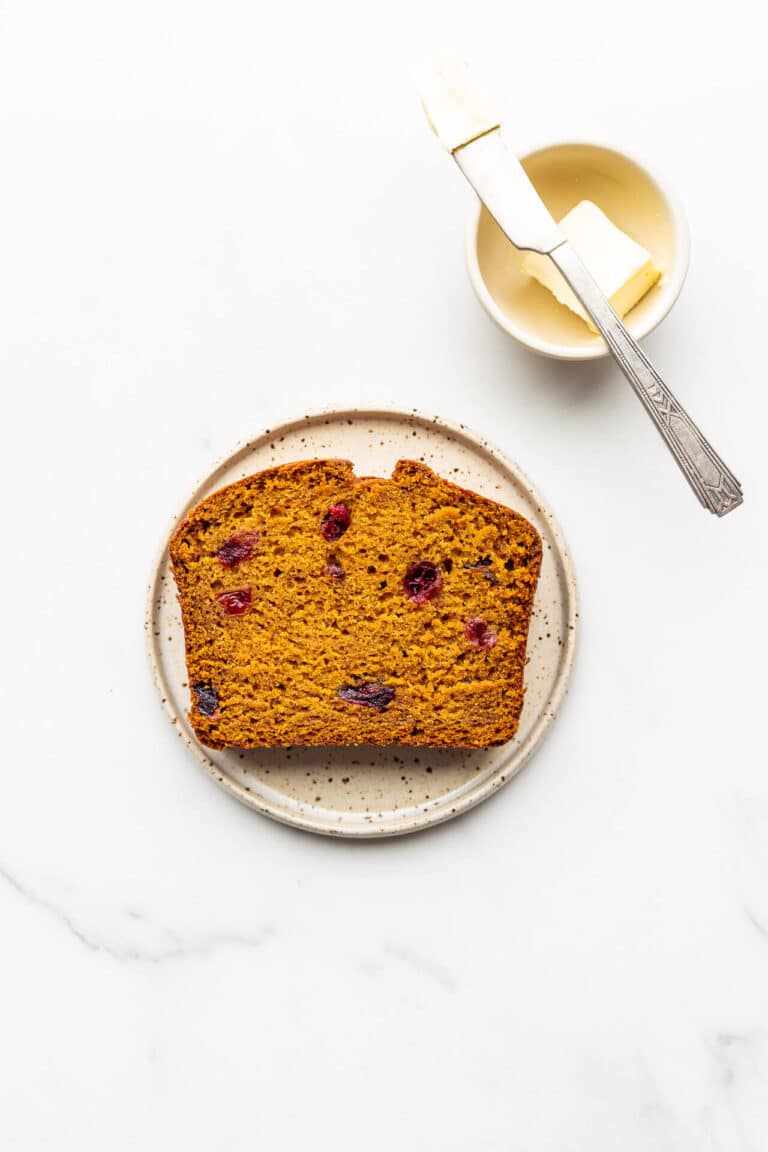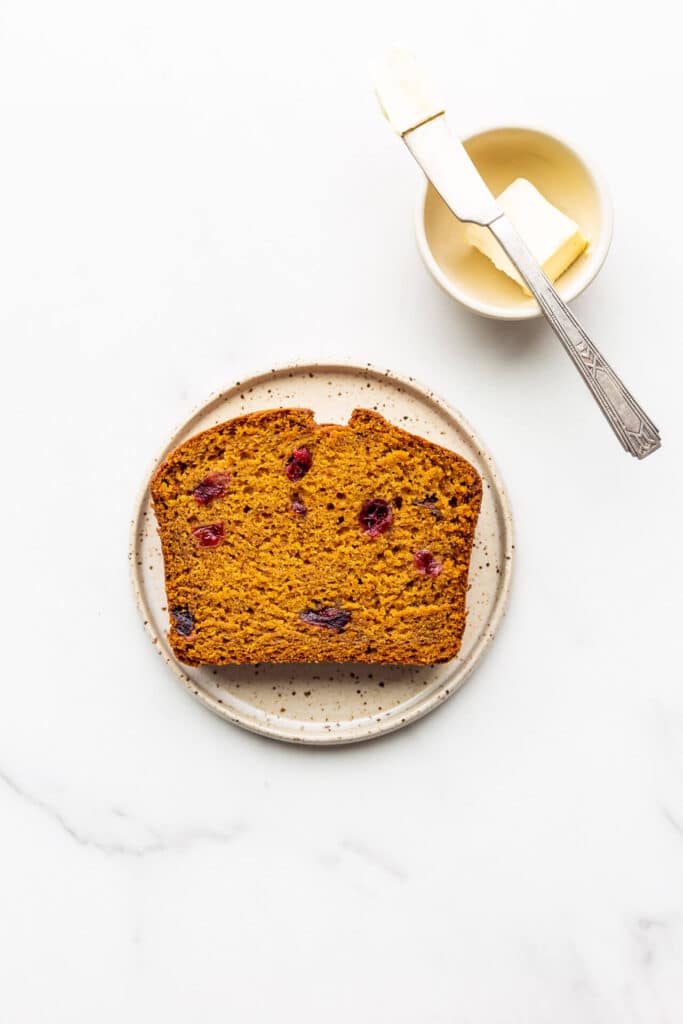 📖 Recipe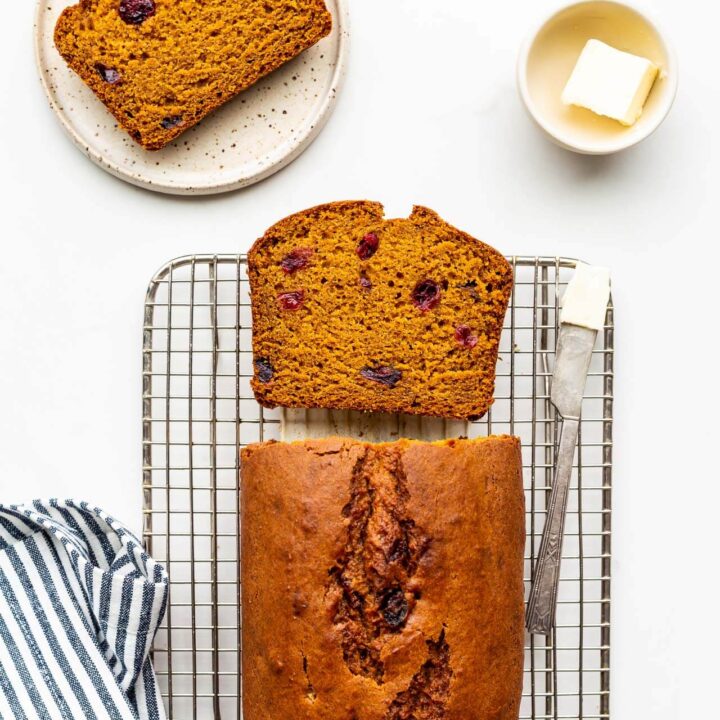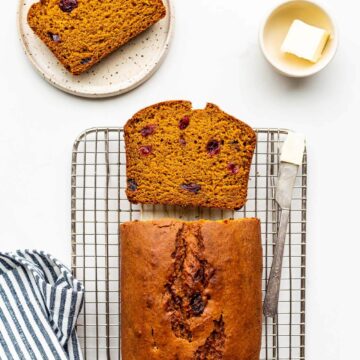 Pumpkin Cranberry Bread
This pumpkin cranberry bread has a great texture: moist on the inside with a great crust. It's lightly spiced and slices well, without being too delicate. This recipe works with canola oil or melted butter.
Instructions
Preheat the oven to 350ºF (175 °C). Butter and flour a 1-pound loaf pan, either a 9x5-inch (23x12.5x7.5 cm) loaf pan (like this Nordic Ware pan on Amazon) or for a taller loaf, use an 8.5x4.5-inch (21.5x11.5x7 cm) loaf pan (like this Oxo pan on Amazon). Line the bottom with a rectangle of parchment. Set aside.

In a large bowl, whisk together the flour, baking powder, baking soda, salt, cinnamon, ginger, nutmeg, and cloves. Set aside.

In a separate bowl, whisk together the pumpkin purée, oil, granulated sugar, brown sugar, eggs, and vanilla.

Pour the wet mixture over the dry ingredients. Stir the ingredients just to combine them. Don't over mix. Fold in the flour-coated dried cranberries. 

Pour the batter into the prepared pan and smooth it out. Bang the pan on the counter to help remove any air pockets.

Bake the pumpkin cake until a cake tester inserted into the centre comes out clean. This takes about 1 hour 15 minutes. Keep checking it every so often after an hour of baking.

Place the pan of baked pumpkin bread on a cooling rack and let it cool for 15 minutes before unmolding it on the rack to cool completely.
Notes
Most canned pumpkin purées are pretty dry, but some are watery. To be sure you aren't adding excess liquid to this pumpkin cake recipe, strain the pumpkin before measuring it. To do so:

Set a strainer over a deep bowl and line it with a couple layers of cheesecloth.
Place the pumpkin in the lined strainer and let drain for at least 30 minutes.
Occasionally, give the pumpkin a stir, a press, or a squeeze to help remove any excess liquid.
Once the pumpkin is thicker and less watery, you are ready to measure out the cup for this recipe.

If you are using defrosted pumpkin purée, you may notice the water will separate upon defrosting. Again, this is a good reason to strain it before using.
Nutrition
Calories:
299
kcal
Carbohydrates:
47
g
Protein:
3
g
Fat:
12
g
Saturated Fat:
1
g
Cholesterol:
27
mg
Sodium:
291
mg
Potassium:
153
mg
Fiber:
2
g
Sugar:
27
g
Vitamin A:
4903
IU
Vitamin C:
1
mg
Calcium:
44
mg
Iron:
2
mg
The role of the ingredients and mixing method
The baking ingredients you use can make or break a recipe, so make sure to choose wisely! Here's a little extra info on what to use and how to make the right baking substitutions when necessary so that you can make perfect pumpkin bread every time.
Oil versus butter
I am very much team butter for almost everything, but in this case, I think baking pumpkin bread with canola oil leads to a more moist, soft texture. Both baking ingredients would work in this recipe and you could make an easy baking substitution by replacing the 125 mL (½ cup) of canola oil with the same volume of another oil (perhaps a light-tasting olive oil or sunflower oil!) or you could replace the oil with the same amount or up to 170 mL (⅔ cup) of unsalted butter, melted and cooled before incorporating in the recipe. You would consider adding a little more butter than oil to the recipe because butter is only 80 % fat, whereas vegetable oils are 100 % fat. So to keep the amount of fat constant, you'd need slightly more butter than oil.
Many cakes are made with butter because you use the creaming mixing method to mechanically incorporate air into the butter and sugar mixture, which helps lighten the crumb of the final cake. But in this case, we are using the muffin method of mixing, also called the two bowl method, so using butter isn't as essential for this recipe.
The beauty of baking with butter, besides its ability to trap air, is its flavour: butter contains milk solids which add a ton of flavour. But the drawback is that butter is solid at room temperature, which means cakes and quick breads baked with butter and eaten at room temperature tend to seem more dry at room temperature, even if they aren't actually.
Sugar
I've baked this recipe with only granulated sugar, and I've also tested it with a combination of light brown sugar and granulated sugar. Both work. By all means, use what you have. If you are using a liquid sugar, like maple syrup, your batter might be wetter so you might have to either:
use less
replace only a portion of the sugar with maple syrup to avoid adding too much liquid to the recipe and throwing off the texture
If you want to try this recipe with honey, be careful: honey will lead to a darker quick bread and more browning in the oven. You should also only replace a portion of the sugar with honey to avoid throwing off the recipe. You may have to do a few trials to get it right.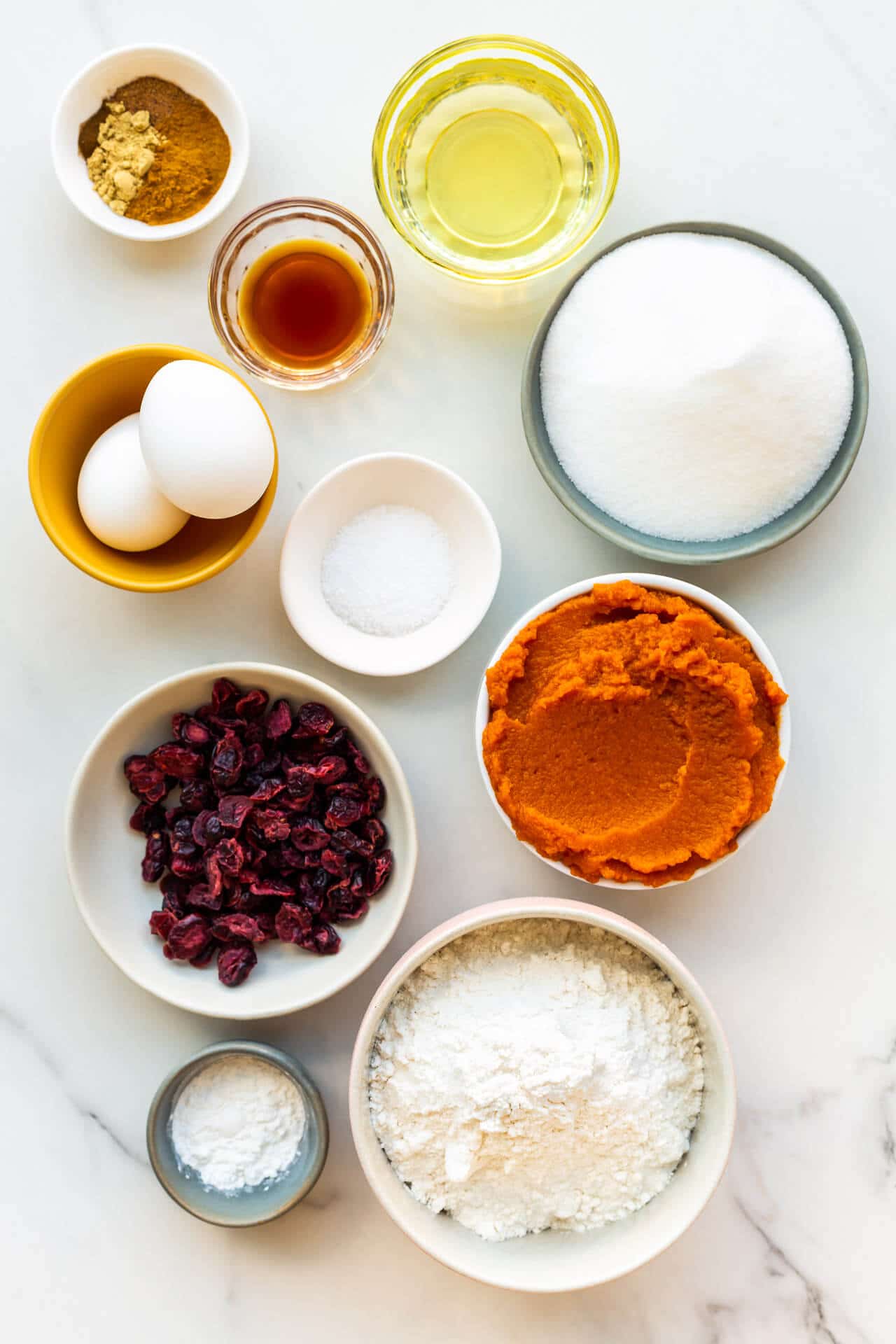 Pumpkin: canned versus homemade
You can use canned pumpkin for this recipe. It's easy and convenient, it's pretty consistent, and it works well! Still, if you want to venture into making homemade pumpkin purée, that works too, but you will have to make one of two adjustments to bake with homemade pumpkin purée:
strain out the excess moisture. Regardless of whether you boiled the flesh of the fruit or you roasted the fruit to make your purée, you will notice some pumpkins are quite watery and yield a very fluid pumpkin purée. That excess water will throw off the recipe ratio, leading to a wet cake batter that won't bake properly. Make sure to strain the purée through a few layers of cheesecloth to remove that excess water and ensure your loaf cake bakes properly.
cook it down to boil off the water and concentrate the flavour. This is a very interesting option to concentrate the flavour of homemade pumpkin purée, which tends to be quite mild in flavour. Pour the pumpkin purée into a a saucepan and heat it up to thicken it. This is the same principle for making pumpkin butter and apple butter. The goal is to make a more concentrated mash or purée that you can bake with, without compromising texture.
Don't forget to save the seeds if you make your own pumpkin purée to bake with so that you can snack on toasted pumpkin seeds later. As for the canned pumpkin, my brands of choice are E.D. Smith in Canada and Libby's in the US. Both of these work well in this recipe and the canned pumpkin isn't watery or wet, which is perfect for making this recipe.
If you open a can of your favourite canned pumpkin and find it's very wet, try straining it before proceeding, or cook it down as mentioned above. Otherwise, you may end up with textural defects in the final cake. Regardless of the brand you choose, make sure to use pure pumpkin and not pumpkin pie mix, which contains other ingredients and already has spices in it.
Cranberries
Initially, I did a few tests with fresh and frozen cranberries, but the final loaf cake presented gummy areas around the berries, probably from the fruit juice that is released as the batter heats up. I finally switched to dried cranberries in this recipe and the results are fantastic. As you'll see from the ingredient photo, the dried cranberries I used looked quite dry, but once the pumpkin bread is baked and cooled, you'll see when you slice into it that the cranberries are plump and juicy. For this reason, in this recipe, I only recommend using dried cranberries. Generally, dried cranberries are sweetened, but if that's not the case, they will still work here.
Baking soda versus baking powder
My debate of whether to use baking soda or baking powder continues, even to this day. Like with banana bread, most pumpkin breads follow the exact same formula with up to 250 grams (2 cups) of flour and up to 375 mL (1.5 cups) of mashed banana or pumpkin purée, with 2 large eggs, 0.5 cup of fat (up to ¾ cup), and 200 grams (1 cup) of sugar (which can be granulated or brown sugar, or a combination of both).
The recipes are all very similar for banana bread and pumpkin cakes, but many favour baking soda alone as the only leavening agent for pumpkin loaf cakes. Some recipes use a large excess of the leavener (as much as 10 mL or 2 teaspoons for one loaf cake!), which surprises me considering that an excess of baking soda will have a big impact, not only on the texture and browning of the cake, but also on the flavour of the baked goods, leaving a taste that can seem soapy when eaten.
I thought I could eliminate the baking soda completely and use only baking powder, which is what I have done successfully for pumpkin breads with up to 250 mL of purée/liquid ingredients for every 250 grams (2 cups) of flour. This worked well for basic banana bread with 375 mL (1.5 cups) of mashed banana too. But when you go beyond that a cup of liquid/mashed pumpkin in a pumpkin bread recipe, the baking powder doesn't seem to provide enough oomph to get the loaf cake to rise tall and stay risen until the cake has baked through and set properly. Inevitably, you end up with a gummy, under-baked layer on the bottom.
For this recipe, I wanted to use 375 mL (1.5 cups) of pumpkin, and the only way that I could get the recipe to work was with a combination of baking soda and baking powder, 5 mL (1 teaspoon) of each. It's a lot of baking soda, but it seemed necessary, and the results were so good that I didn't feel the need to test further.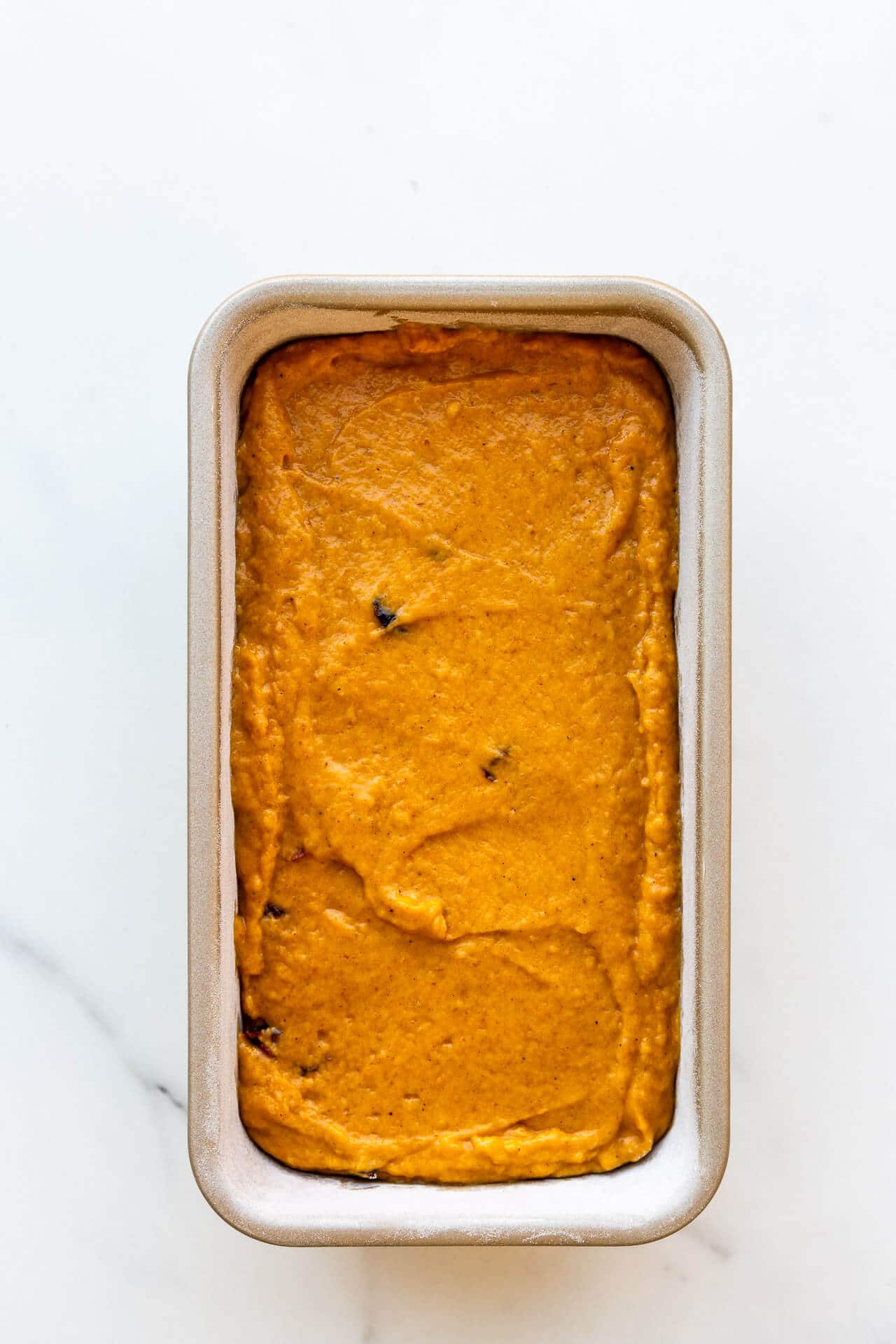 Troubleshooting pumpkin bread recipes
It's dry
It's unlikely this recipe will yield a dry cake, even if you over-bake it a little (in an attempt to avoid the dreaded soggy bottom!). If your cake is dry, it's possible you may have mis-measured the oil or the pumpkin purée. Even if you forgot the eggs, the recipe would still work since it's actually almost exactly the same as this eggless healthier pumpkin bread!
A dry cake texture could also indicate that you overworked the cake batter by stirring it too much. This would develop the gluten network leading to a dryer texture. Stir just until the wet and dry ingredients are combined, and don't keep stirring.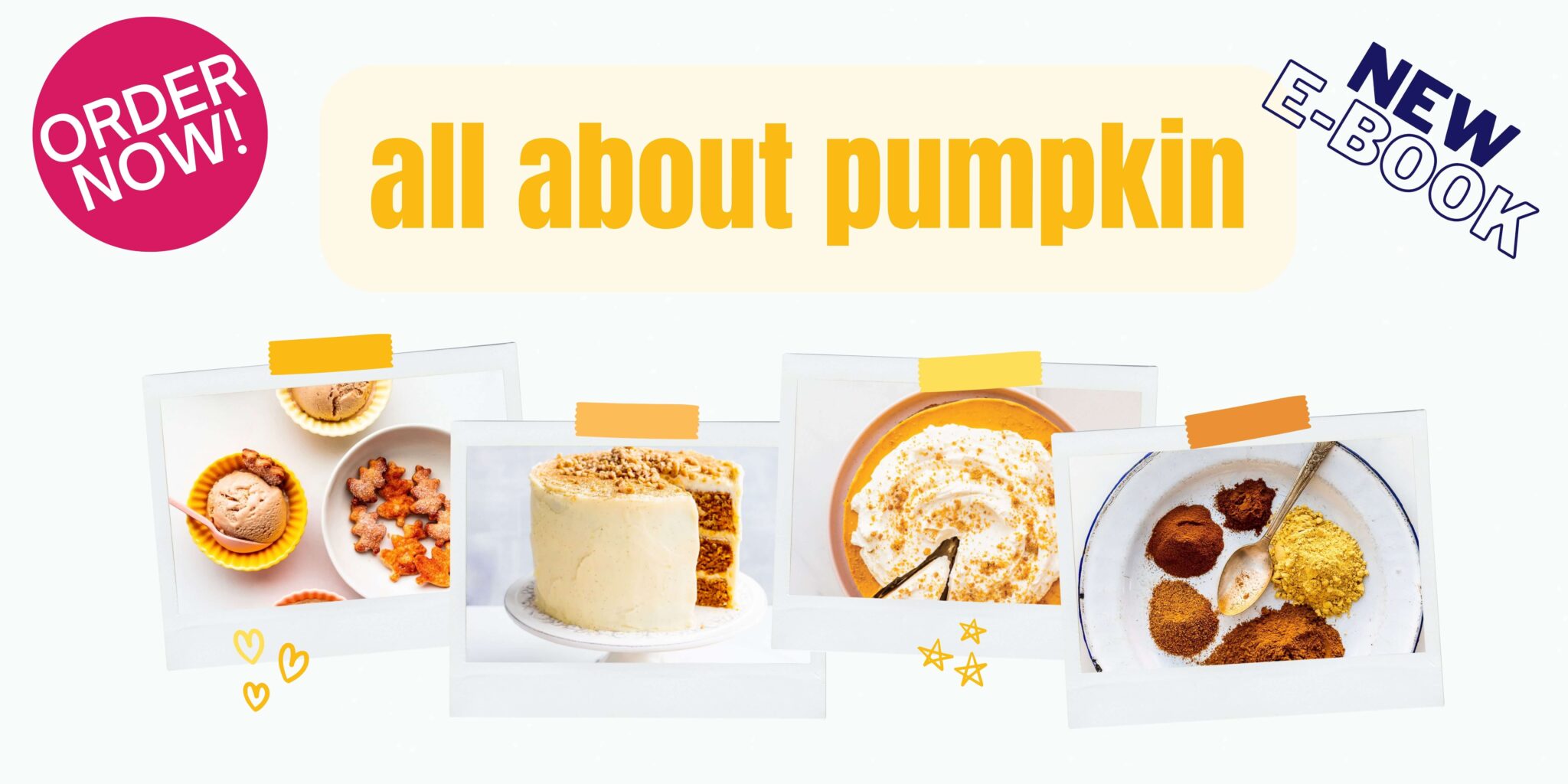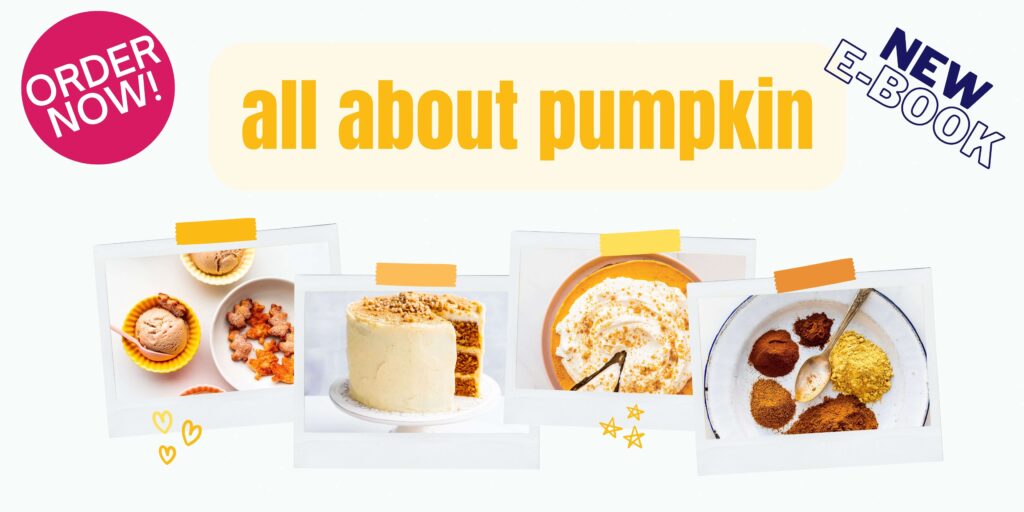 It's too delicate
This pumpkin cranberry loaf cake is not dense, and it is very tender, so make sure to cut it into thick slices! Still, if you find your cake is falling apart when you go to serve it, this means there's a problem. Did you mix your ingredients together properly and enough?
Of course, you don't want to over-mix cake batters and you don't want to develop the gluten network too much, but if you haven't properly whisked together your dry ingredients separately from the wet ingredients, there's a possibility that the batter was uneven and not homogenous, which could lead to weak spots in the cake. In the same way, an over-mixed cake batter may yield a dry cake that may be more prone to crumbling.
Another reason your cake might be falling apart is if you didn't smooth out the batter in the pan and remove air bubbles. This would lead to larger holes in the crumb of the cake, making it more prone to collapsing.
It's wet or gummy on the bottom
With recipes like banana bread and pumpkin bread, the goal is to incorporate as much fruit purée as the batter can handle. Too much will throw off the ratio of wet to dry ingredients. This means you may not have enough flour to absorb that moisture, leading to a gummy bottom on your quick breads.
Similarly, if you don't bake your quick breads for long enough, you may also noticed a line of gummy batter on the bottom of the loaf. Remember to use a few methods to check if your cake is done baking before you remove it from the oven. Otherwise, if the crumb is even a little under-baked, you will notice cake collapse, which is most obvious when you cut into the loaf: you will see a thin line of dark dense cake. That's under-baked moist cake batter that collapsed.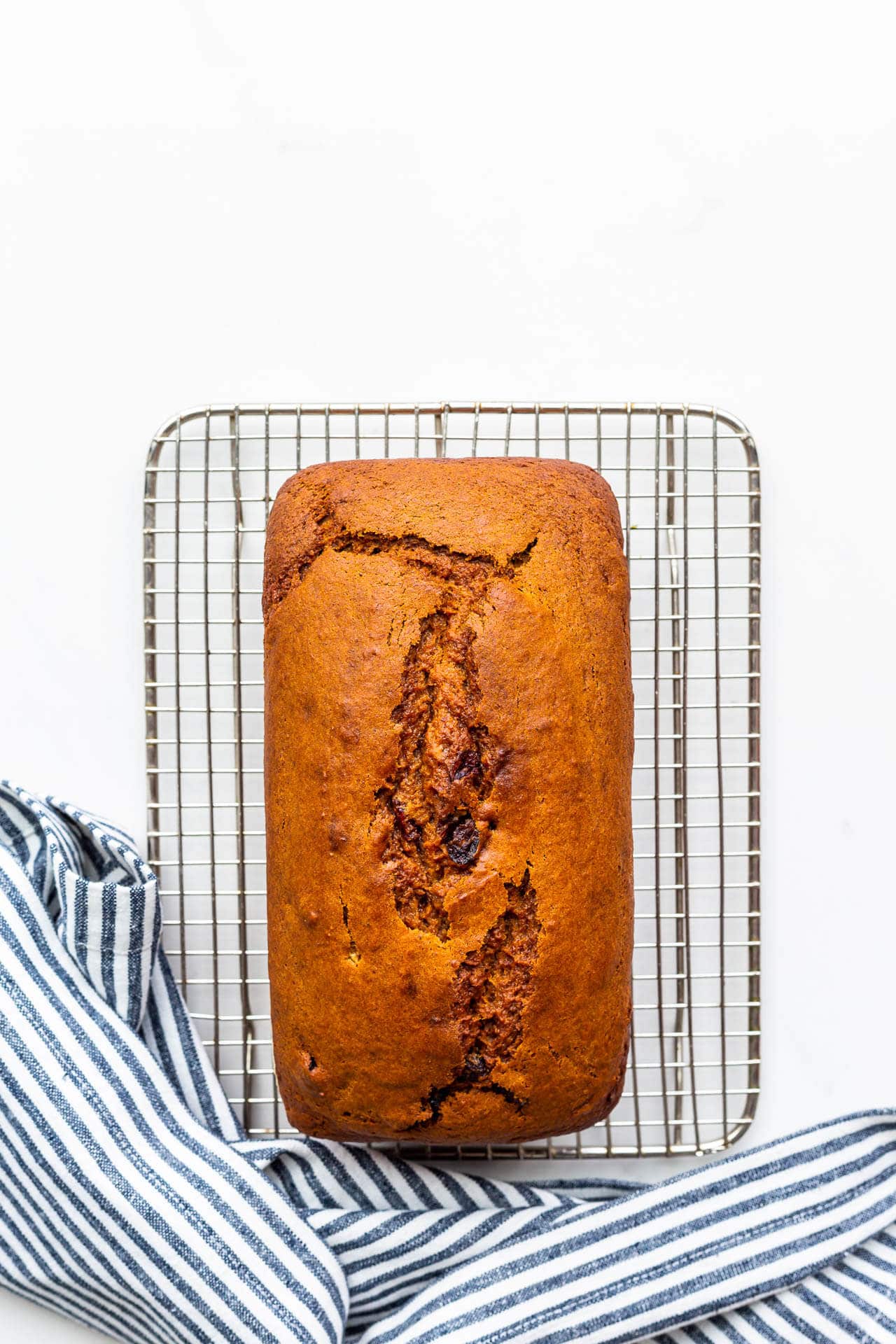 The outside gets too dark
The trouble with loaf cakes is that they are tall and thick. They take a long time to bake. Most loaf cakes and quick breads take 60 minutes or more to bake properly and to achieve the perfect crumb. If you find your loaf cakes and quick breads are getting too dark, you can try covering them in a sheet of foil towards the end of baking to slow down the browning on top. There are other things to consider:
if your loaf pan has a dark finish, consider dropping the temperature by 25 ºF so bake your loaf cake at 325 ºF instead of 350 ºF. Remember not all baking pans will yield the same results in the oven and the material and finish have a lot to do with the browning of your baked goods.
if your recipe has a lot of baking soda, consider cutting back on the baking soda and incorporating baking powder instead. Remember baking soda is basic (alkaline) and if there isn't enough acid around to neutralize it, your batter will also be basic and lead to more Maillard browning in cakes and to darker baked goods. On the other hand, baking powder is a balanced chemical leavener, combining baking soda and an acid, so it won't have an impact on the pH of your batter and won't cause the browning we see in most baking soda-leavened recipes.
The cake surrounding the berries is gummy or wet
Originally, I was trying to bake pumpkin cranberry breads with fresh or frozen cranberries and with more pumpkin purée in the batter. The trouble is that the berries release a lot of moisture into the cake batter surrounding them. This leads to gummy, wet pockets surrounding the berries, even if you flour them before folding them into the cake batter. This is why the final recipe is made with dried cranberries instead of fresh or frozen. These help absorb the moisture in the batter leading to the perfect pumpkin bread, without any gumminess.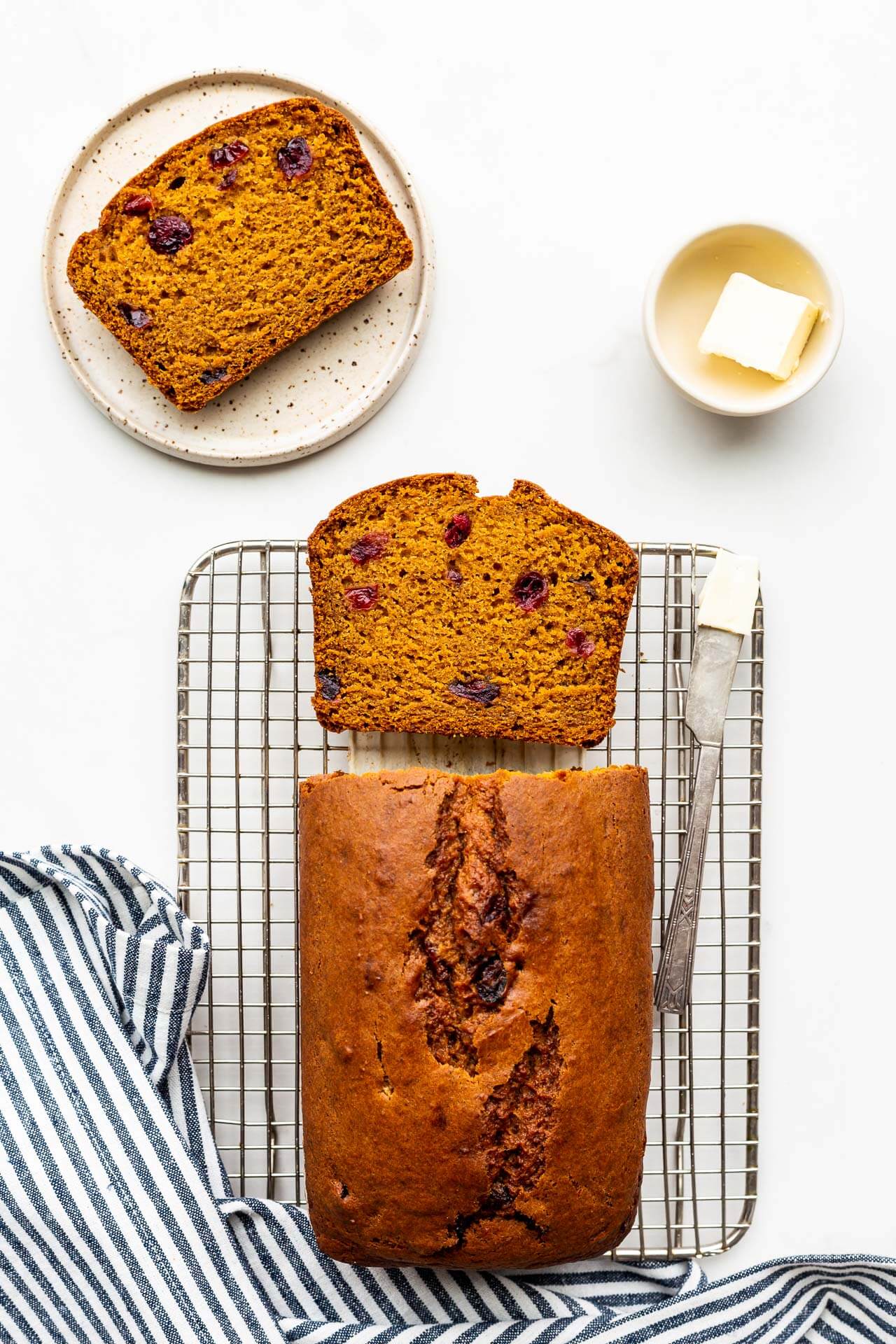 For other versions of pumpkin bread, try these: