Learn how to make blood orange pâte de fruit with less sugar with this recipe. This reduced-sugar pâte de fruit recipe leads to a flavourful fruit jelly that is set with pectin.
Most of us don't make candy confections very often. So far, I've made popcorn brittle, vanilla marshmallows, and maple fudge. With most of these recipes, the ratio of ingredients is key. However, let's face it, I may have a Ph.D. in Chemistry, but I am still the queen of math errors. In grad school, I was often "off" by a factor of 10, meaning my decimal point got placed at the wrong spot. Brilliant. I cannot stress how colossally annoying it is to make careless math errors only to realize it at the end of an experiment. And of course, last week, I made a doozy in my first batch of blood orange pâte de fruit that I carried through 3 subsequent batches until I realized what I had done. It took me 4 batches of pâte de fruit, and much swearing until it dawned on me that the amount of sugar I had calculated was half what it should be.
Reminds me of that famous Latin quote "Errare humanum est"—to err is human. (Yes, I took Latin for 5 years in school and that's pretty much all I remember).
Disclosure: As an Amazon Associate, I earn from qualifying purchases.
Since I put so much effort into my study in accidentally-reduced sugar pâte de fruit, I figured I might share it with you. My first batch did not set. At the time, I blamed the fact that my instructions said to "boil for 5 minutes" and I blamed the lack of set on my low final cooking temperature of 216ºF. I took this "failure" as an opportunity to do some experimenting and optimizing. I went through bags and bags of blood oranges, as I tested two different cooking temperatures and if adding an acid to the recipe impacted the set (in case the juice of the blood oranges wasn't enough). At the end of 4 batches, I had a pretty decent recipe for pâte de fruit, though it was a bit firmer/more pectin-y than I would have liked, and also it took almost 2 days to set (and not the 3 hours that many recipes claimed).
I suppose a clumsy math error led me to develop a way of reducing the sugar in pâte de fruit, didn't it? The sugar is pivotal to getting the jelly to set, but the other important factors are temperature and pH. However, in this case, increasing the cooking temperature (from 216ºF to 220ºF) was not enough, and adding a little lemon juice to the recipe didn't help either. So far, the best way I found to achieve a set reduced-sugar pâte de fruit was to cook it to 224ºF before adding the pectin.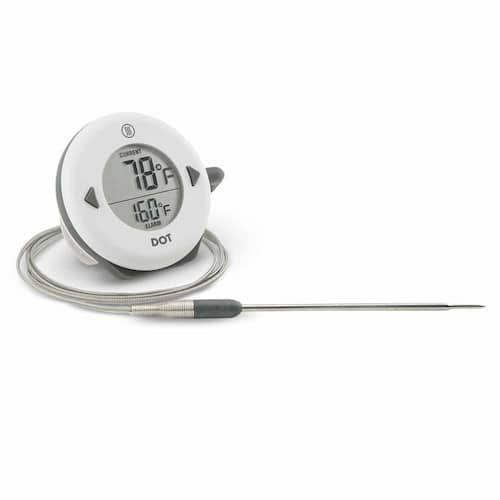 To measure the temperature while making candy, use a probe thermometer with a longer cable like the ChefAlarm so that you can leave the probe in the pot and keep your hands away from the hot sugar!
This pâte de fruit is more intensely orange and less sweet than the usual pâtisserie kind. And, I cannot stress how important it is to note that this pâte de fruit with half the sugar recipe takes significantly longer to set than traditional full-sugar pâte de fruit, which can set within hours of making it. This recipe took a couple of days to set all the way through. It took so long that I thought it was a failure after it sat out overnight and remained soft. The only reason I realized it worked was because I was so angry at my supposed failed recipe attempts that I had rejected the batches to my dining table for two days because I just didn't want to deal with them. This post also proves that failures and mistakes are an opportunity to learn (even if your first instinct is to throw everything in the garbage).
As with the grapefruit pâte de fruit, it is best to not store these for prolonged periods because some water can separate out, unless you store them with a desiccant of some kind (as suggested by Pastry Chef Online). And if you want more reduced-sugar inspiration, check out this review of Baking with less sugar by Joanne Change, a baking book dedicated to the different ways of using less sugar in baking recipes.
📖 Recipe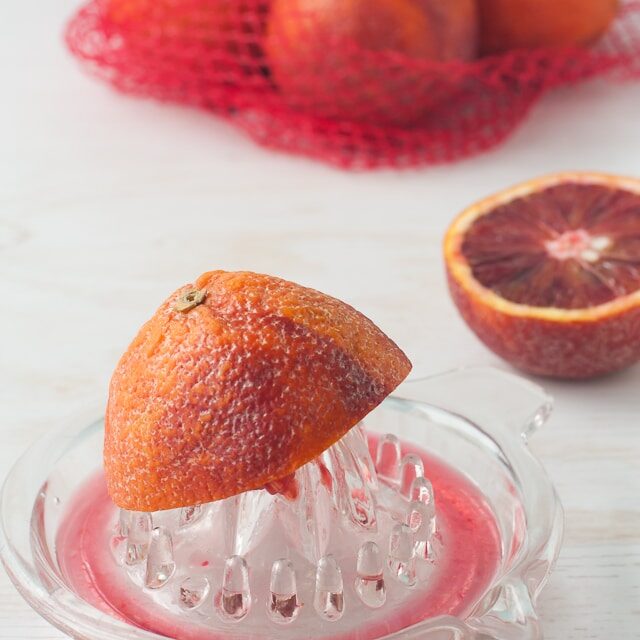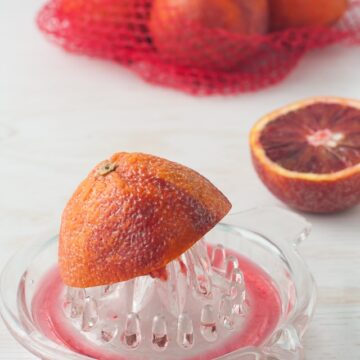 Reduced-sugar Blood Orange Pâte de Fruit
This pâte de fruit is more intensely orange and less sweet than the usual pâtisserie kind. It's made with half the sugar so it takes significantly longer to set than traditional pâte de fruit recipes.
Ingredients
1

whole blood orange

~160 grams, washed

166

grams

freshly squeezed blood orange juice

150

grams

granulated sugar

¾ cup

7

grams

unsalted butter

½ tbsp

1

pouch

liquid pectin

I used Certo brand

granulated sugar

to coat the squares of pâte de fruit
Instructions
Grease and line an 8x8-inch square pan with parchment, making sure that the parchment runs up the sides. I like to use metal 8x8-inch square pans like this one on Amazon. Open the liquid pectin packet and stand it up in a mug or a glass by the stove for later.

Bring a medium pot of water to boil, and boil the whole orange for about 10 minutes to soften the peel. Let cool slightly, then cut the boiled orange in half. You will only need one half for a batch of pâte de fruit—I suggest you make a quick jam with the other half.

Cut the boiled blood orange half in large chunks, removing any pits along the way. Place the grapefruit in a food processor and blend for at least a full minute to completely purée the fruit and to chop all the fibers/skin. You may need to add a little of the fruit juice to the processor to really finely grind the fruit.

Transfer the fruit purée to a large pot, along with the juice, and granulated sugar. Bring the mixture to a boil on high, stirring constantly. Monitor the temperature with a digital candy thermometer (like this probe thermometer from Thermoworks).

When the mixture hits 118ºF (48ºC), add the butter, and continue to stir and cook the mixture until it hits 223—224ºF (106ºC).

When you reach the final cooking temperature, immediately take the pot off the stove and dump in the liquid pectin. Stir well to make sure it gets evenly mixed in, then transfer the hot mixture to the prepared pan.

Let the pâte de fruit set overnight, uncovered, until it is completely set throughout. Unmold the pâte de fruit, and cut it into 1-inch squares with a large, oiled kitchen knife and, just before serving, toss the cubes in granulated sugar to coat them. Store the uncoated pâte de fruit between parchment sheets.
Nutrition