Say goodbye to the frustration of complicated baking math with the Pan Volume and Recipe Scaling Calculator Workbook! With these easy-to-use spreadsheets, you'll effortlessly modify any recipe to fit the pans you own. No more baking math headaches or guesswork when you want to swap baking pans!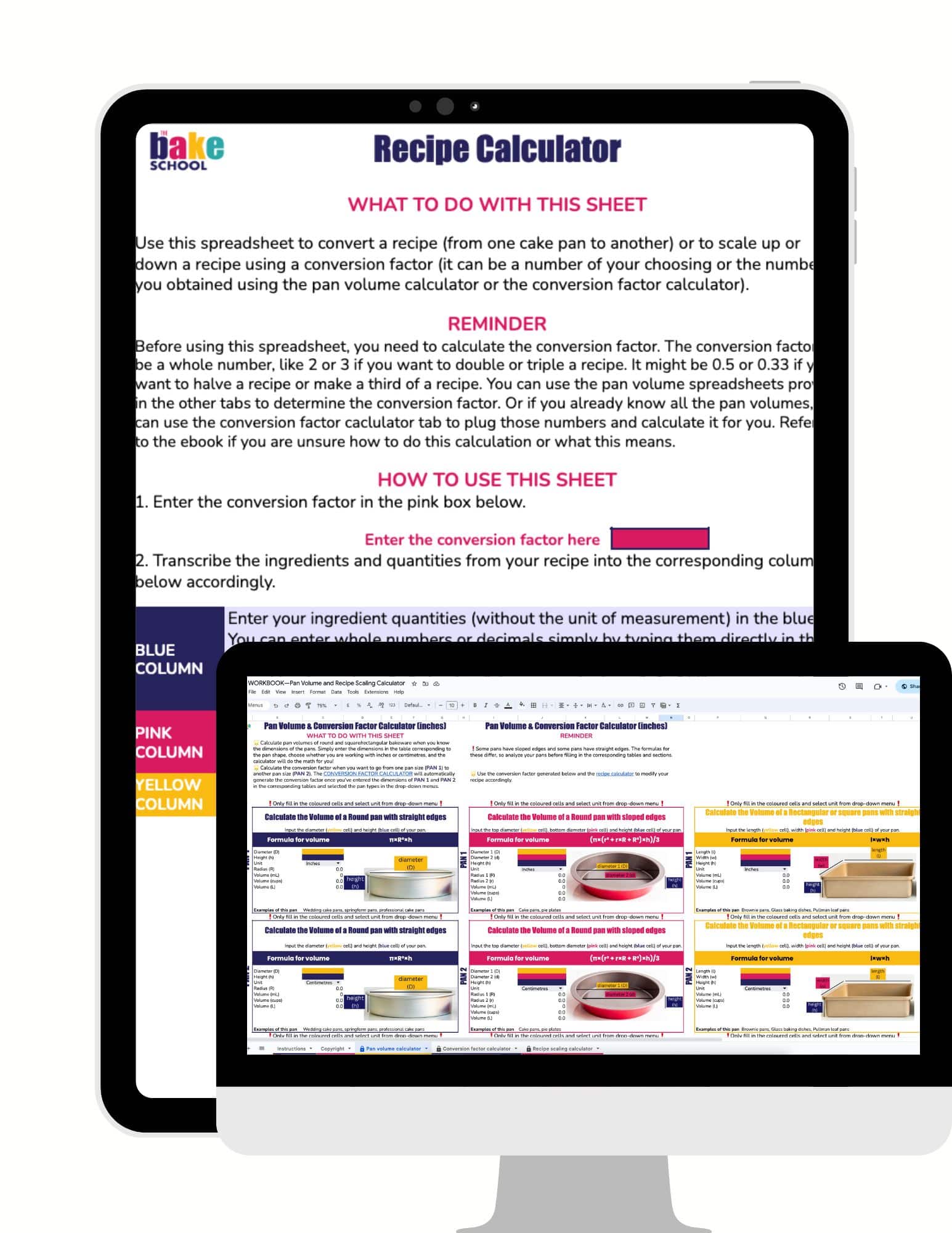 Unlock a whole new world of baking possibilities: you'll be able to explore all those recipes you set aside because they called for pans you don't own. Now you can make the most of the bakeware you have! Get ready to bake like a pro with our comprehensive workbook that opens up a new level of baking flexibility!
This workbook is a companion to the ebook about Scaling Recipes Up or Down Like a Pro. I highly recommend you buy the bundle of both the ebook and this workbook to better understand the logic and processes behind the math and the spreadsheets.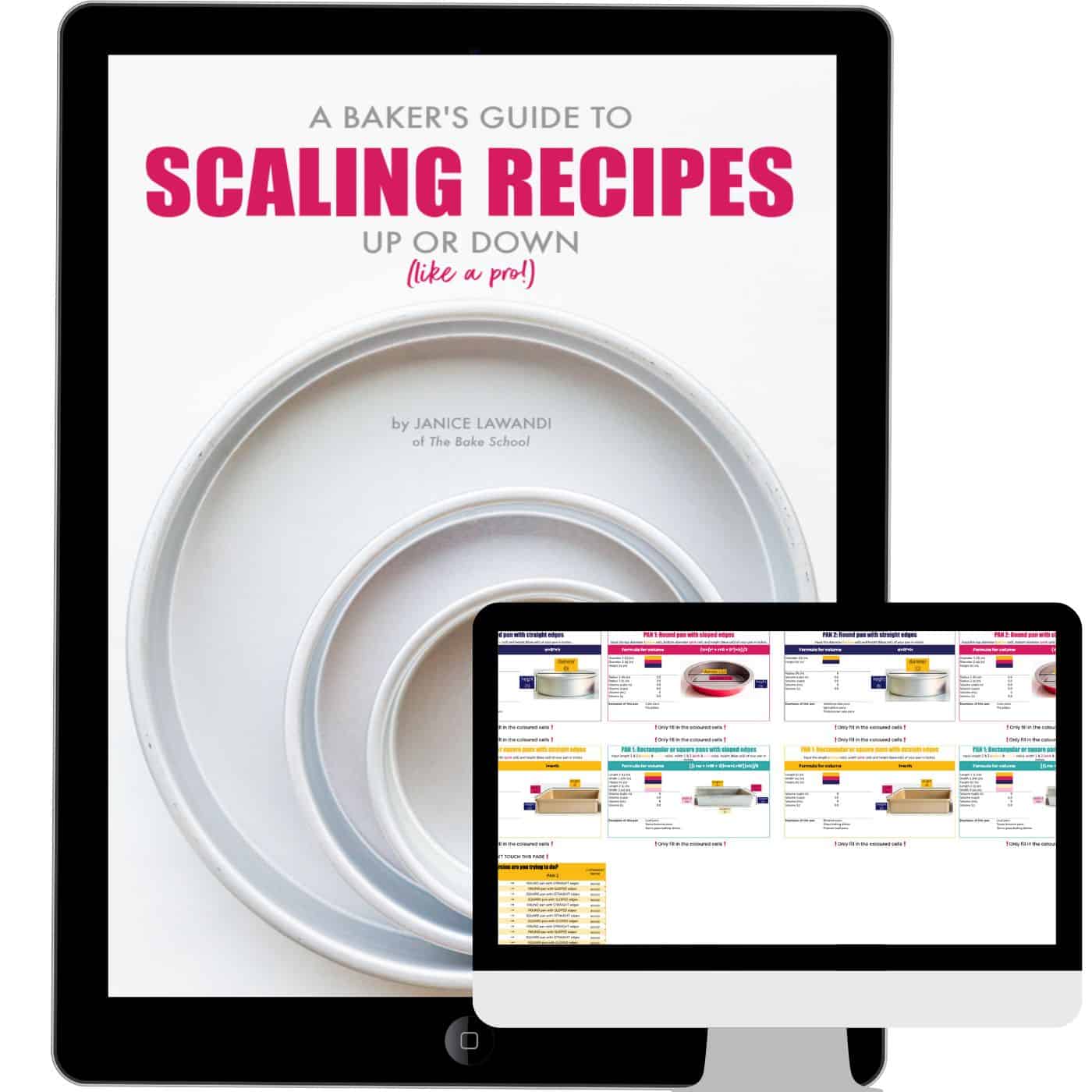 Scaling Recipes Up and Down BUNDLE
Includes both the ebook and workbook so that you can learn how to scale recipes up and down like the pros!
What This Workbook Does
This workbook is a set of spreadsheets designed to empower bakers of all levels. With this workbook, beginner bakers, experienced bakers, and even professional bakers can easily modify any recipe to suit the pans they have available. The workbook includes:
a volume calculator spreadsheet that allows you to input the dimensions of your pan(s) in inches or centimetres to calculate the volume of the pan(s) for you.
a conversion factor calculator that allows you to input two pan volumes or two batch sizes to calculate the conversion factor for you.
a recipe scaling calculator that allows you to input an original recipe and a conversion factor and it will scale a recipe up or down for you, doing the math for you to create a new recipe with new quantities.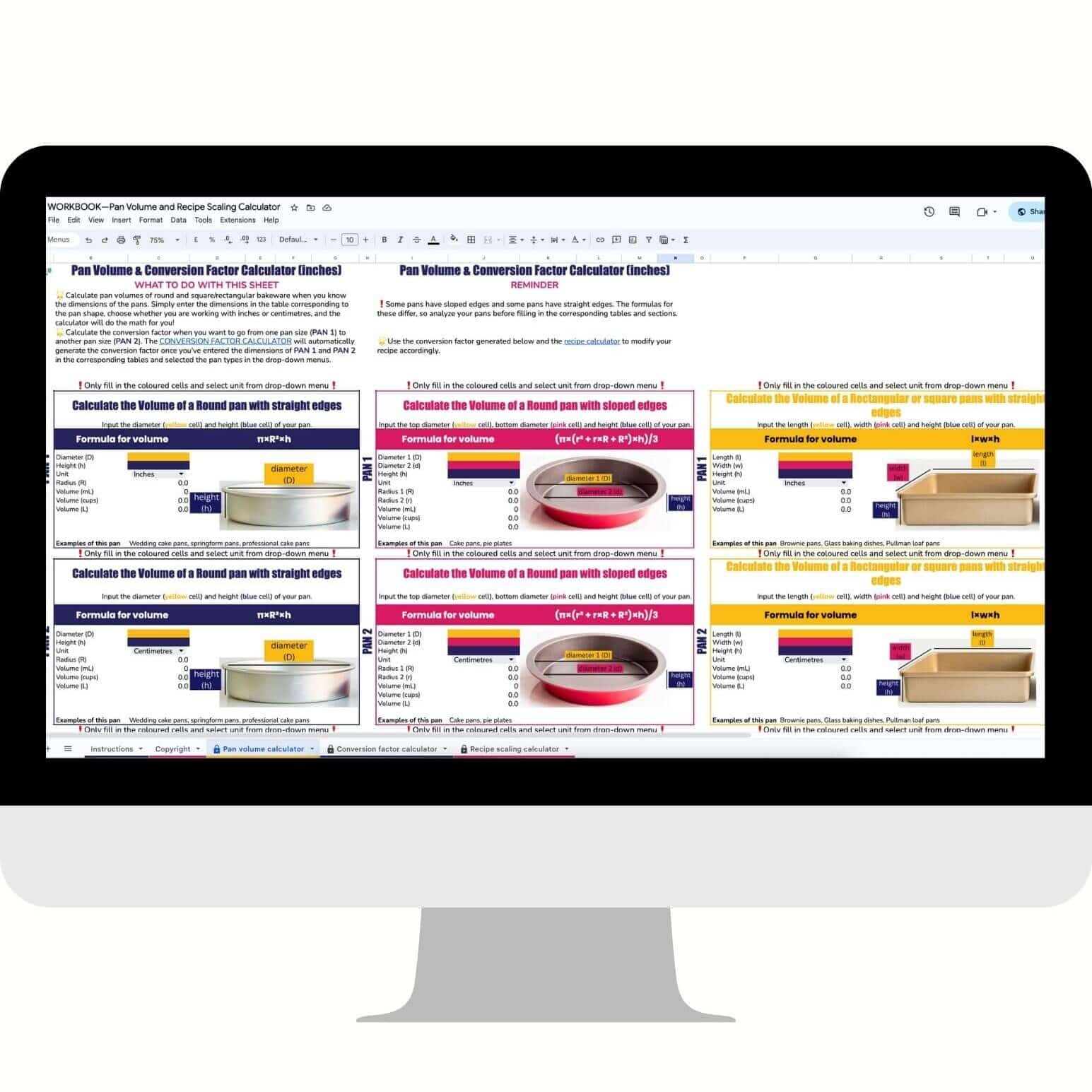 This comprehensive tool empowers you to create delicious treats tailored to your exact pan sizes. Elevate your baking skills and achieve consistent results with this must-have digital product.
Note: This product is a digital workbook that is a set of spreadsheets in Google Sheets. The workbook can be exported to use in Excel if you prefer. The formatting may be affected but the formulas should remain the same. This product does not include physical copies or physical spreadsheets.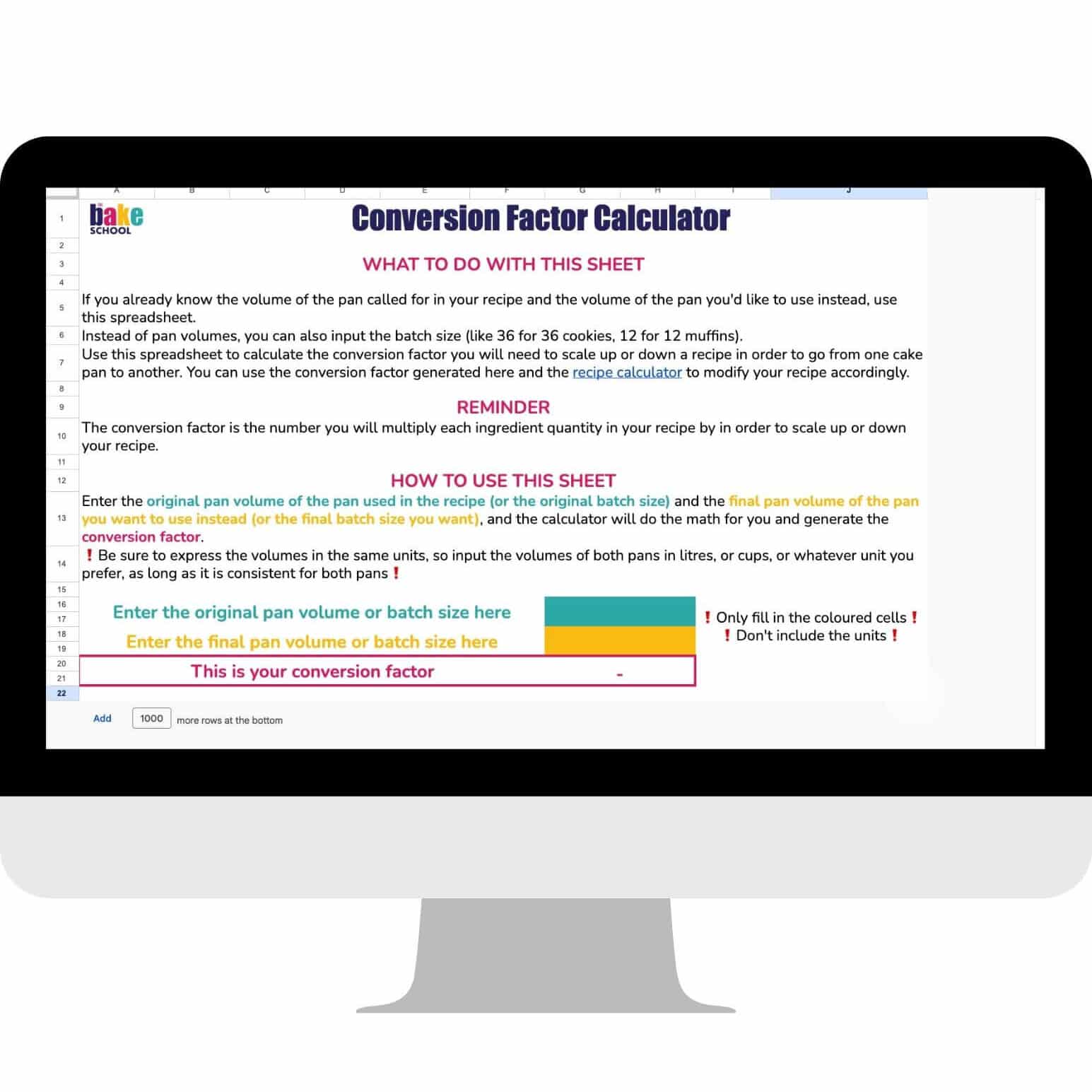 For Bakers of All Levels
This workbook isn't just for advanced bakers. It's for bakers of all levels who struggle with baking math and scaling recipes up and down.
For beginner bakers, this workbook will do some of the tricky baking math for you! Experienced and professional bakers will appreciate the convenience of quickly scaling recipes up or down based on their needs. This workbook streamlines the process of adapting recipes to different bakeware, saving valuable time and effort.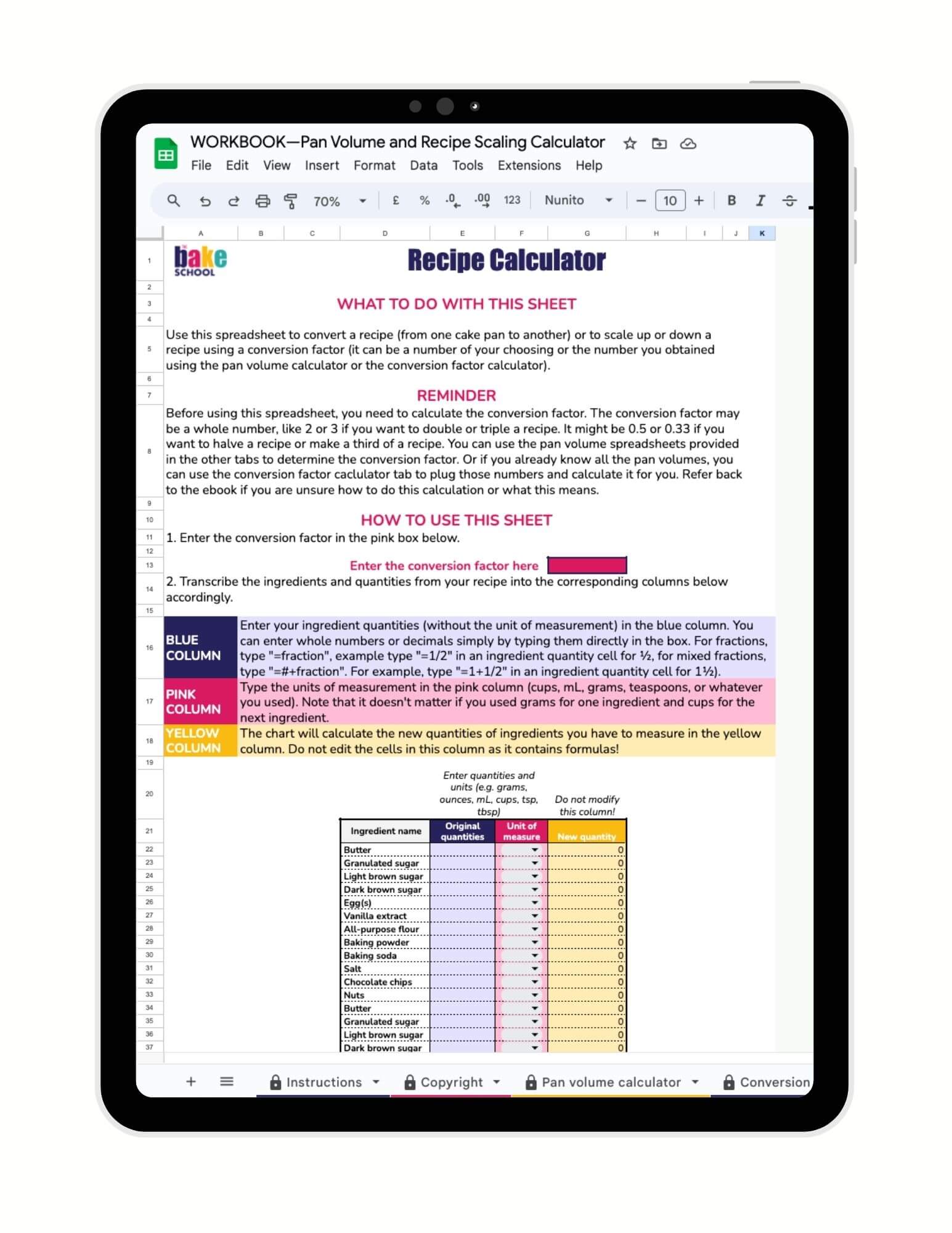 Imagine effortlessly transforming any recipe to bake it in the pans you own. Whether you're a beginner baker, an experienced enthusiast, or a professional, this workbook is a game-changer. With the Pan Volumes and Recipe Scaling Calculator Workbook, you'll gain the skills and confidence to tackle any recipe and make it your own!
What You'll Get
Accessing the Workbook is a breeze. Once you make your purchase, you will receive instant access to a one-page PDF with a link inside. Click the link and it will open a Google Sheets template in a new browser tab or window. All you have to do is click the button to Use the Template and you're all set!
You can use the Workbook and its spreadsheets directly in Google Sheets or export the workbook to Excel to save it to your computer.
Note: You will need either a Google Drive account and/or Excel to be able to use this workbook
The workbook is designed to be user-friendly, with intuitive spreadsheets and calculators that are easy to navigate. Input the data you've got and let the calculator do the rest!
Frequently asked questions
How do I download the workbook?
Place your order here. Once completed, you will receive an order confirmation email from Podia for your records with a button to view/download the product. You will be directed to a new page to download the product.
Please check your Spam and Junk folders if missing emails.
Follow the Podia instructions to download your PDF onto your mobile device or computer. Save it somewhere that's easy to find on your device! The PDF will contain a link to open the Google Sheets Template that you can click again and again to use the calculators within.
If you really can't figure it out, email us.
I'm having trouble downloading the workbook, can you help me?
Please email here.
I am unhappy, how do I get a refund?
I'm sorry you are unhappy with your purchase. All sales of Digital Products are considered final and no refunds or exchanges will be issued since it's impossible to make a return on a digital product. Please email here to send me your comments.
How do I share the workbook with my friends?
Please do not share the download files you purchased with others. Instead, encourage your friends to purchase their own copies. You are welcome to save the PDFs for future reference but the purchase is non-transferable.
How much is the workbook?
The workbook is USD 19.99. The purchase will give you access to any future updates and upgrades to the workbook.
Sales taxes and surcharges may apply.