This is a recipe for a warm milk sponge cake that is a great base for layer cakes and trifle.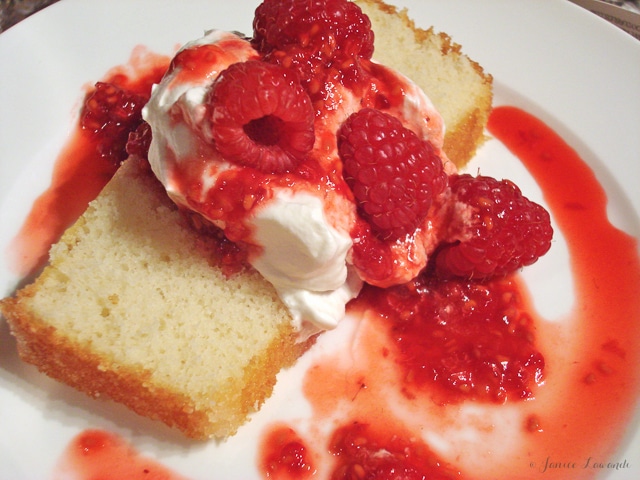 First question that pops to mind when you hear the words "Zilla's cake": who (or what) is "Zilla"?
My answer: "Good question, and you know what? I have no clue who (or what) is 'Zilla.'"

I do know what a "Zilla's cake" is: it is essentially an English warm milk sponge cake. And it is the perfect cake for any occasion, especially since it's a cinch to whip together. It is wonderfully spongy: when you press on it lightly with your finger, you can hear the spongy sound of the air releasing from inside the tiny bubbles of the cake.
This sponginess makes it ideal for soaking flavourful syrups, or liqueurs like sweet sherry for a berry trifle in summer or an eggnog trifle in winter. I'd say it's comparable to a genoise in that sense, but much, much easier to throw together: none of the careful folding in of the flour into airy eggs and sugar.
This is my mom's favourite cake recipe, passed down from her mom, which makes this recipe extra special. And now, I'm passing it on to you so that you can enjoy it too! You can use this recipe to make the framboisier cake.
Warm milk sponge cake
This warm milk sponge cake recipe is the easiest homemade sponge cake you can make!
Ingredients
125

grams

(

1

cup

)

all-purpose flour

5

mL

(

1

tsp

)

baking powder

1.25

mL

(

¼

tsp

) Diamond Crystal fine kosher salt

125

mL

(

½

cup

)

milk (2 % fat)

skim milk or whole milk will also work here

15

grams

(

1

tbsp

)

unsalted butter

5

mL

(

1

tsp

) pure vanilla extract

2

large eggs

200

grams

(

1

cup

)

granulated sugar
Instructions
Preheat the oven to 350 ºF. Butter and flour an 8-inch cake pan or an 8-inch springform. Line the bottom with parchment paper. Set aside.

Sift the flour with the baking powder and salt into a medium bowl. Set aside.

In a small saucepan (or in a microwave safe bowl), heat the milk with the butter until the butter is melted on low heat. Add the vanilla and let cool slightly.

In the bowl of an electric mixer fitted with the whisk attachment, whip the eggs with the sugar until very light and fluffy. The mixture should at least double in volume, if not more.

Add dry ingredients alternately with wet ones.

Bake for 35 minutes or until golden brown. A cake tester inserted into the middle should come out clean. The cake will be spongy and light and spring back when gently pressed.

Let cool slightly before unmoulding onto a wire rack to cool completely.
Notes
- If you have the patience, you can beat the eggs and sugar to the ribbon stage. If you don't have the time, just make sure that they are frothy. I'm not sure that beating them to the ribbon stage is necessary, but this time I did go the extra mile and was pleased with the extra sponginess that it gave the final cake.
- When adding the wet and the dry alternately, remember to start and end with the dry. Thus: dry, wet, dry, wet, dry. This is one of the golden rules of baking, although I'm not quite sure why.
- We always butter (or spray with cooking spray) the inside of the pan and coat it with sugar (not flour) because sugar is delicious, whereas a layer of flour on the outside of a cake can taste gross. This means that you have to be very careful and get the baked cake out of the pan when it is just cool enough to release from the pan, but not so cool that the sugar has recrystallized, thereby irreversibly gluing the cake to the inside of the pan. Let it cool a maximum of 10 minutes before removing the cake from the pan.
- The 35-minute baking time is pretty exact. Normally, my mom and her mom would bake this in a tube pan (angel food cake pan). It always takes exactly 35 minutes for the cake to bake. No joke. This time, I chose to deviate from the tradition, and I baked it in a loaf pan. And, once again, it came out perfectly! The only difference was that it baked for 47 minutes. Now, I've only baked it once in the loaf pan, so I cannot say for sure that it will take you 47 minutes. So start checking it after 45 minutes, or when you notice the edges coming away from the sides.
Nutrition
Calories:
130
kcal
|
Carbohydrates:
25
g
|
Protein:
2
g
|
Fat:
2
g
|
Saturated Fat:
1
g
|
Cholesterol:
31
mg
|
Sodium:
56
mg
|
Potassium:
77
mg
|
Fiber:
1
g
|
Sugar:
17
g
|
Vitamin A:
88
IU
|
Calcium:
35
mg
|
Iron:
1
mg
Instead of making a trifle, I opted to top slices of Zilla's cake with whipped cream sweetened with just a touch of sugar (and please, no whipped topping! It's REALLY not the same as fresh whipped cream), and a fresh raspberry sauce made with crushed fresh raspberries, sugar, and Chambord (raspberry liqueur). The end result was divine, for dessert (and breakfast the next morning). Zilla, I love you, whoever (or whatever) you are! Your cake rocks!