Easily go from baking ingredient measurements in cups to grams and ounces in any baking recipe with the help of this baking ingredient conversion chart. This chart includes baking essentials like butter and oil, eggs, dry ingredients (like nuts and flour), sugars, chocolate, and cocoa powder!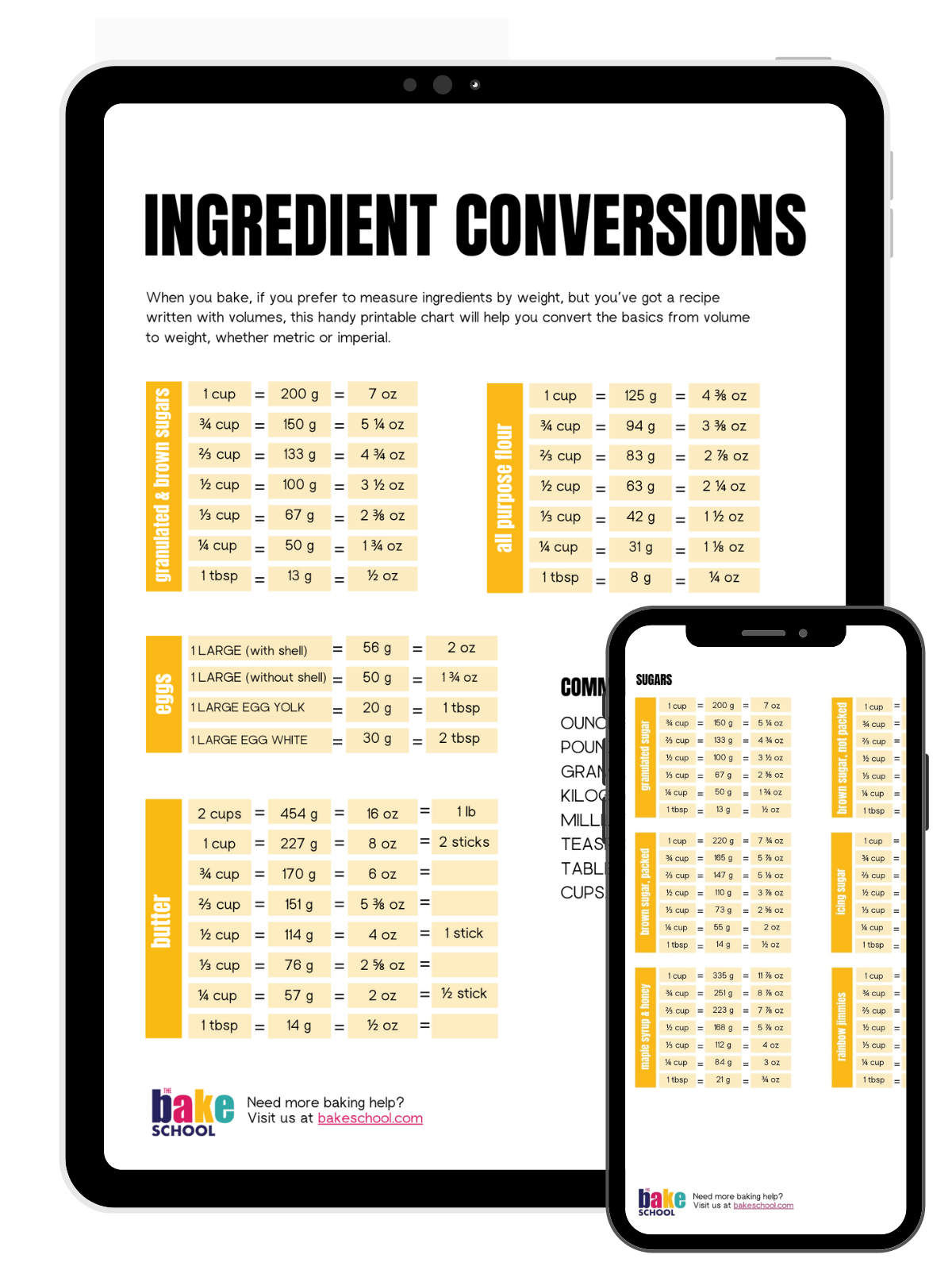 Are you tired of struggling with measuring cups and creating more dirty dishes when you do? Say goodbye to the hassle and hello to precision baking with our comprehensive Baking Ingredient Conversion Chart. Whether you're a seasoned baker or just starting, this chart is your new kitchen companion!
Why You'll Love This Chart
Effortless Precision: Baking is an art, and precise and accurate measurements are key to creating the best, most consistent baked goods. This ingredient conversion chart takes the messy measurements out of baking by providing accurate conversions from both cups to grams and cups to ounces.
Master Every Recipe: No more recipe frustration! Easily convert any recipe, no matter where it's from, to your preferred unit of measurement. Expand your baking horizons and take on recipes from around the world with confidence.
Bake Like a Pro: Professional bakers understand the importance of precise measurements. With this chart, you'll feel like a pro baker in your own kitchen, impressing family and friends with your consistently perfect treats.
Comprehensive Ingredient List: From common essentials like flour, sugar, and butter to specialty baking ingredients, our chart covers it all. You'll never have to search the internet for conversions again; it's all right at your fingertips.
Convenience & Efficiency: Print this pdf baking ingredient chart or save it as a digital file - it's designed for your convenience. Hang it on your fridge or store it in your recipe binder, so you can access it easily whenever you're in the mood to bake.
---
Why You Need This Ingredient Conversion Chart
This is an essential baking chart for those who want to take their baking to the next level and achieve more consistent results, like the pros. With this ingredient conversion chart, you will learn to save time weighing ingredients and you will have an easier time scaling up and down baking recipes.
---
Baking Ingredient Conversion Chart Details
This six (6) page baking ingredient conversion chart pdf will guide you through the ins and outs of how to convert ingredient measurements in baking recipes. This chart is sold alone here, but I highly recommend getting the entire bundle of baking conversion charts, which not only covers baking ingredient conversions, but also cake pan conversions, oven temperatures, volumes, weights, and more.
Baking Conversion Charts Bundle
---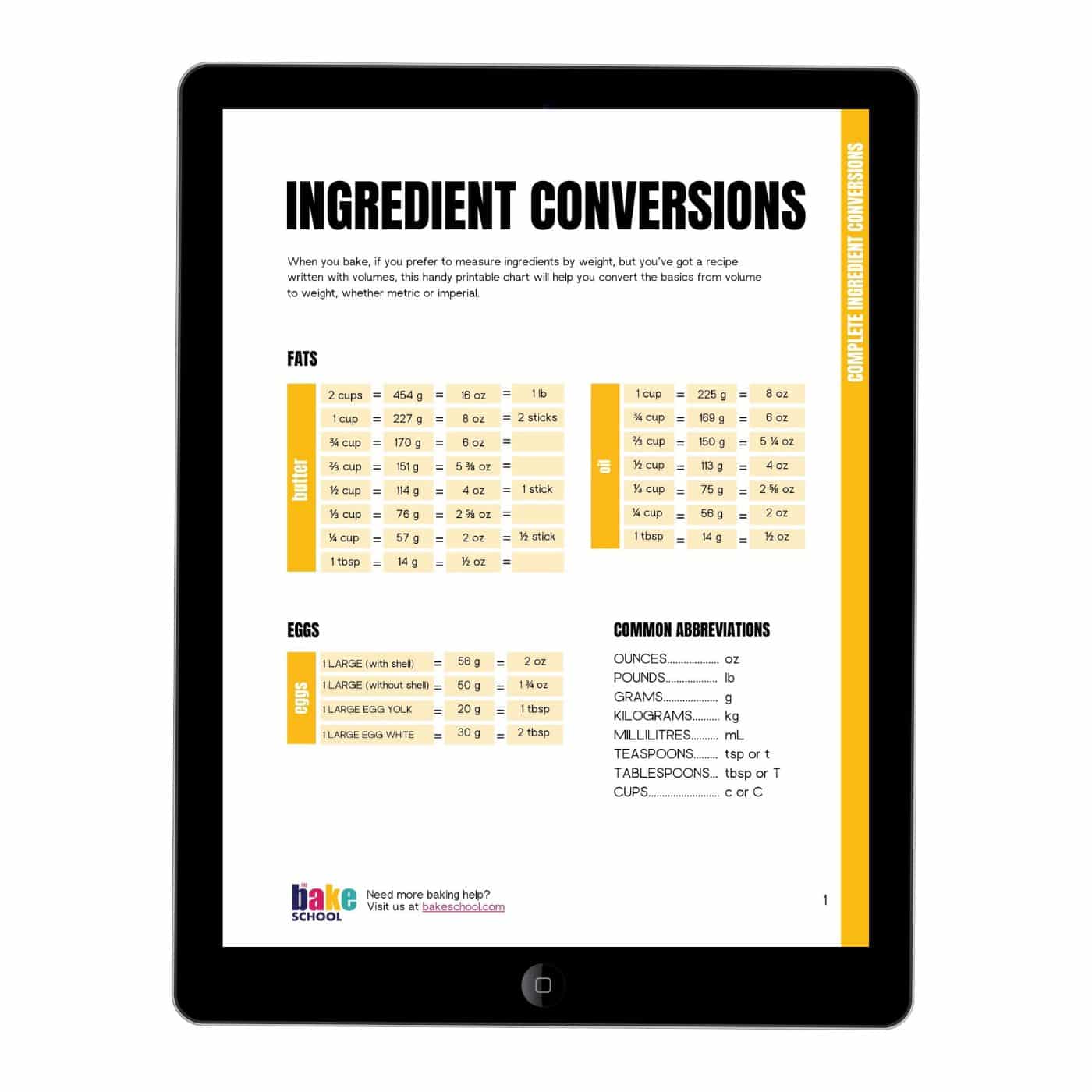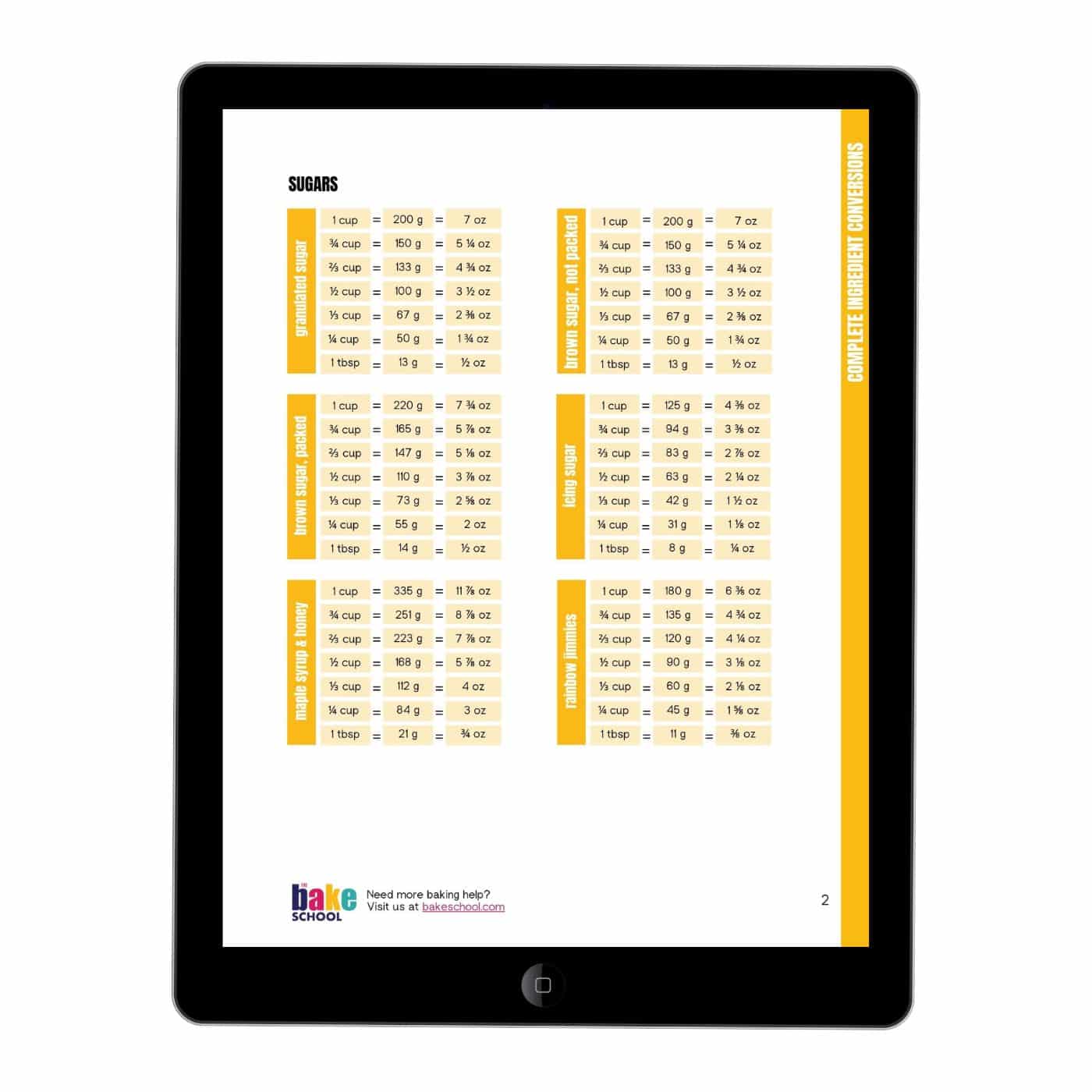 ---
The baking ingredient conversion chart includes:
volumes to weights and weights to volumes
extensive list of baking ingredients (including fats, eggs, sugars, flours, chocolate, nuts and seeds, and more) so you can tackle and convert most recipes
---
What you get
When you purchase this chart, you will receive a link to download a pdf version, which you can save on your smartphone and/or tablet so that you can use it every time you bake.
The pdf can also be printed in colour or black and white.
---
Frequently asked questions
REFUND POLICY
All sales of Digital Products are considered final and no refunds or exchanges will be issued.
PROTECTION OF INTELLECTUAL PROPERTY
Please do not share the download files you purchased with others. Instead, encourage your friends to purchase their own copies. You are welcome to save the PDFs for future reference.