Whether you are a new baker trying to fill your pantry with everything you need or an experienced baker prepping for holiday baking or a trip to the store, use this baking ingredients list to make sure you have everything you need to tackle your next baking project! You can use it as a shopping list too!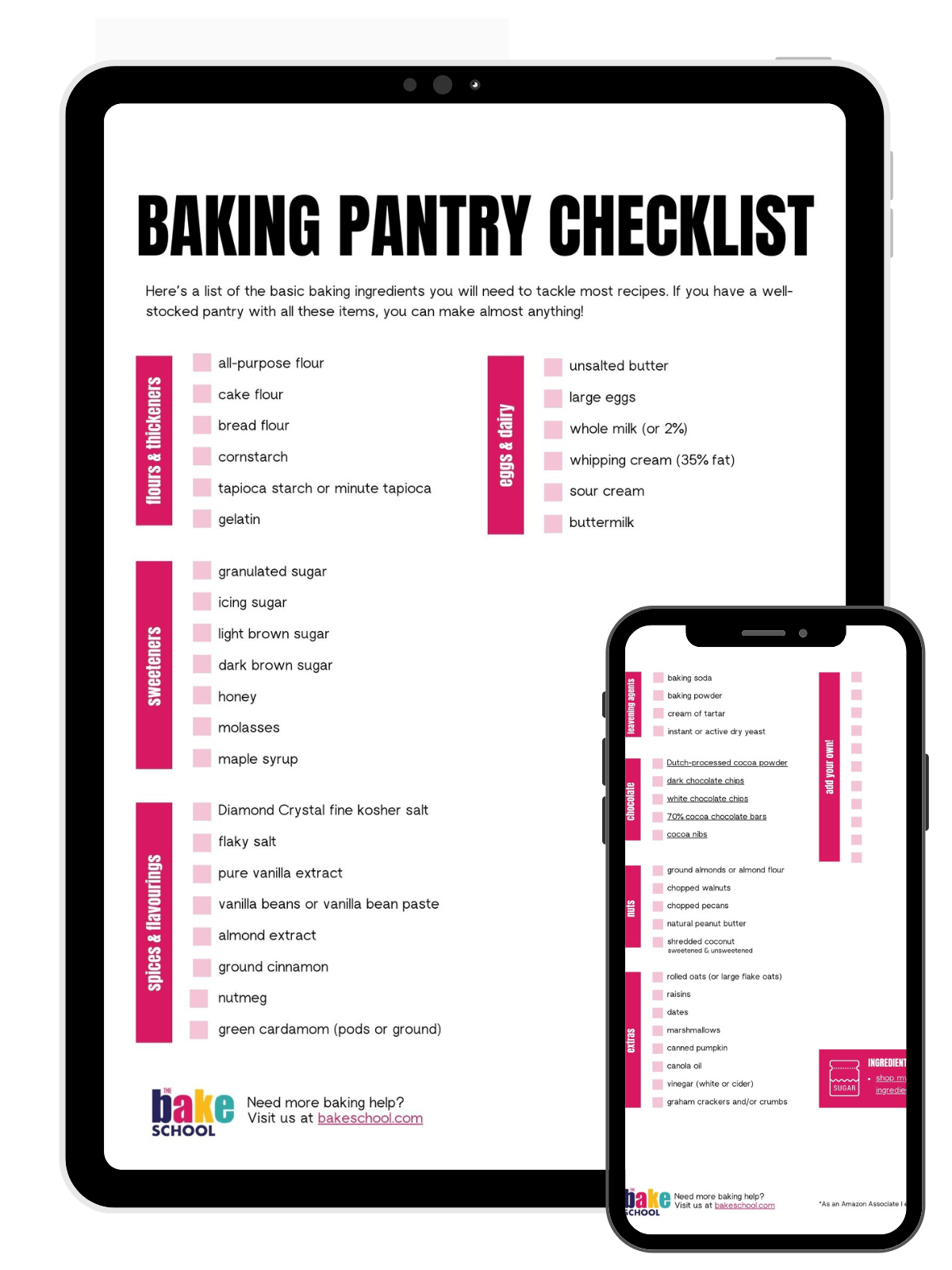 Have you ever started to make a cake and then realized you were missing one key ingredient? Stop having to go to the grocery store mid-recipe by using this baking pantry checklist so you are sure you are stocked up on all the important ingredients to tackle most baking recipes before you start!
Why You'll Love This List
Effortless: Follow the checklist to take the stress out of shopping for baking ingredients! Check an item off the list if it's missing and then head to the store ahead of your next baking session.
Bake Like a Pro: Professional bakers have a full pantry at their disposal so that they can jump into any and all recipes at a moment's notice. With this chart, you'll feel like a pro baker in your own kitchen and your pantry will be stocked accordingly.
Comprehensive Ingredient List: From common essentials like flour, sugar, and butter to specialty baking ingredients, our chart covers it all. If you have everything on this baker's shopping list, you will be able to jump into most baking projects without a trip to the store!
Convenience & Efficiency: Print this pdf baking ingredients list or save it as a digital file - it's designed for your convenience. Hang it on your fridge or store it in your recipe binder, so you can access it easily whenever you're in the mood to bake.
Why You Need This Baking Shopping List
This is an essential list of baking ingredients so you can fill your pantry like the pros and tackle most baking recipes at a moment's notice. With this ingredient shopping list, you will be able to stock your pantry with the essentials.
Baking Pantry Checklist Details
This two (2) page baking ingredient shopping list pdf is organized according to the sections of the grocery store so you can confidently shop the aisles without going back and forth. This chart is sold alone here, but I highly recommend getting the entire bundle of baking conversion charts, which not only covers baking ingredient conversions, but also cake pan conversions, oven temperatures, volumes, weights, and more.
Baking Conversion Charts Bundle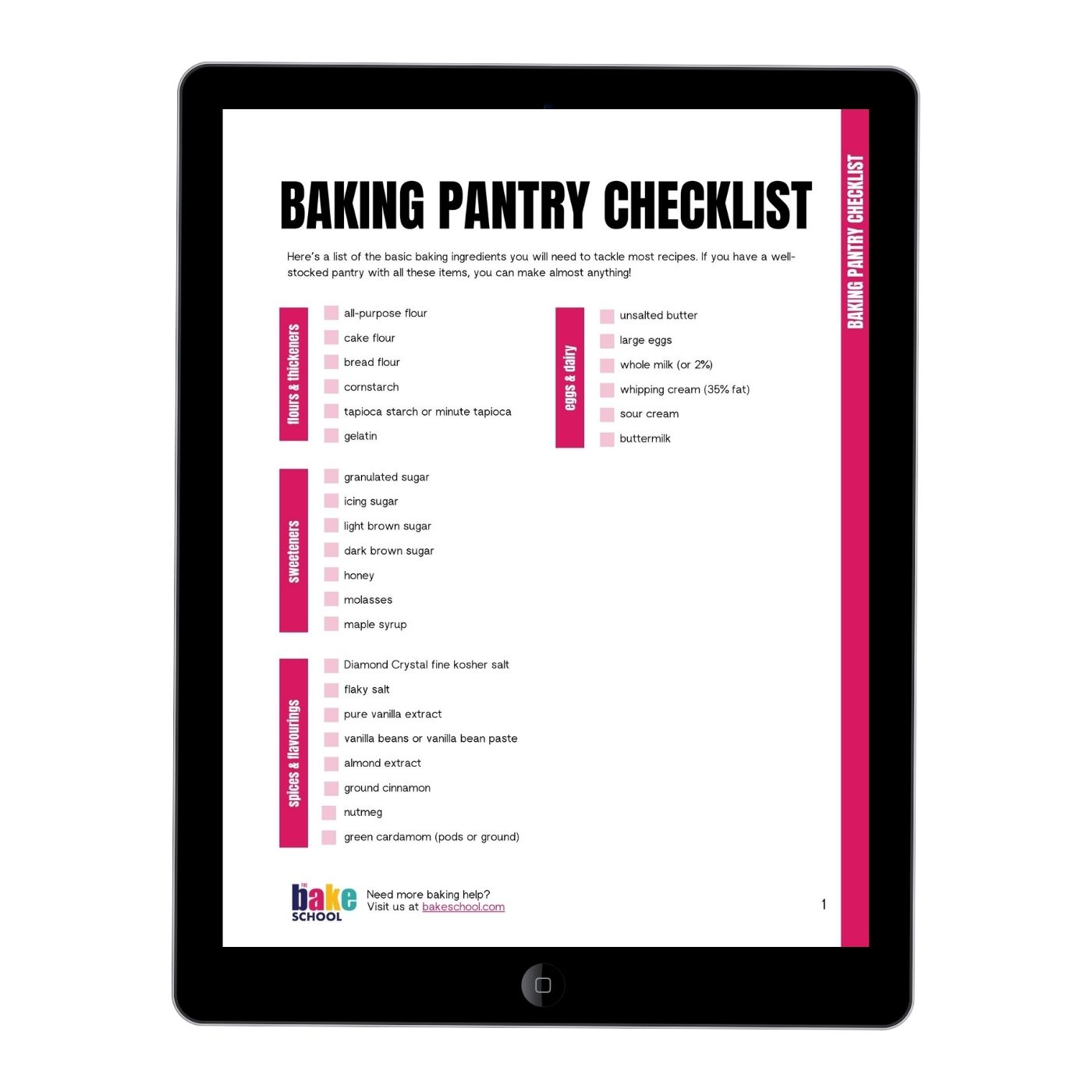 The baking ingredients list includes:
flours
thickeners
sugars
spices
flavourings
eggs
dairy
leavening agents
chocolate
nuts
add-ins (like sprinkles and dried fruit)
What you get
When you purchase this chart, you will receive a link to download a pdf version, which you can save on your smartphone and/or tablet so that you can use it every time you bake.
The pdf can also be printed in colour or black and white.
Frequently asked questions
REFUND POLICY
All sales of Digital Products are considered final and no refunds or exchanges will be issued.
PROTECTION OF INTELLECTUAL PROPERTY
Please do not share the download files you purchased with others. Instead, encourage your friends to purchase their own copies. You are welcome to save the PDFs for future reference.