I am so excited about the new baking book releases this fall that I've actually pre-ordered/ordered most of these titles already. A lot of cookbooks get released every fall season in anticipation of Christmas shopping, so I've narrowed it down to this short list of the baking cookbooks that I think you might want to look into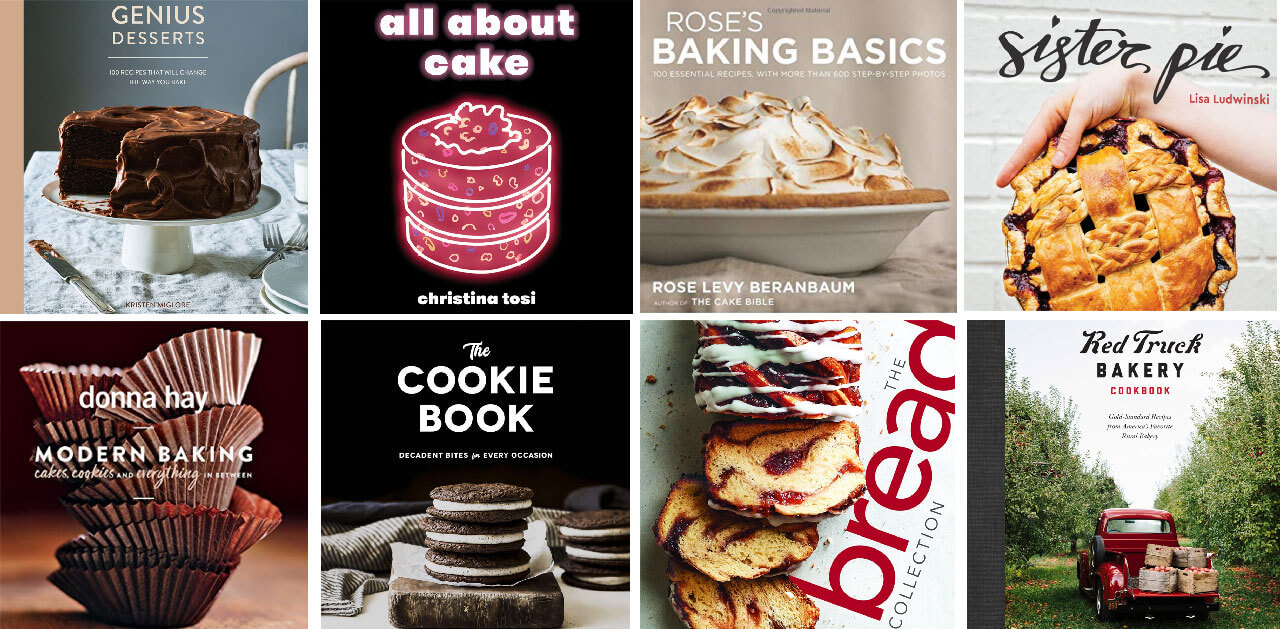 Disclosure: As an Amazon Associate, I earn from qualifying purchases.
Food52 Genius Desserts: 100 Recipes That Will Change the Way You Bake (Food52 Works) by Kristen Miglore (available to order from Amazon)—
Food52 Genius Desserts is out and I already ordered and received my copy. Now I just have to decide what to make because I want to bake it all. Genius Desserts is a collection of the best, quirkiest, most interesting baking recipes collected from over a century's worth of sources, selected and tested by Food52's Kristen Miglore. So, though Miglore is listed as the author, each recipe is attributed to somebody else. In this book, you will find recipes for everything, from a classic olive oil cake from Maialino and Rachel Binder to Lucky Peach's parsnip cake (this is on my to-bake list for sure!) and J. Kenji Lopez Alt's "ten-minute lime cracker pie," which I find particularly intriguing. Miglore has taken the time to collect the best techniques in this tome, so this baking cookbook is definitely a great resource if you want to learn something new or something different about baking.
All About Cake by Christina Tosi (available for pre-order from Amazon)—To say I'm ecstatic about the release of Christina Tosi's latest book is an understatement. I am a HUGE fan (which is the only coherent sentence I managed to utter when I bumped into her in NYC in 2014). Her first book, Milk Bar, had such a big impact on my baking career and my blog. My favourite layer cakes to make are her Milk Bar cakes and Tosi has now dedicated an entire cookbook to cake, from simple microwave mug cakes and impressive bundt cakes to her signature cake truffles and naked layer cakes. This book will no doubt inspire us all even more than the first one.
Rose's Baking Basics by Rose Levy Beranbaum (available for pre-order from Amazon)—I have many of Rose Levy Beranbaum's cookbooks and when I was just starting to really get into baking, I turned to "RLB" because of the very "scientific," clear way she lays out her recipes, often in table format! This book is claiming you will have no-fail results if you bake from it and it's got over 600 photos to guide you through the baking recipes.
Sister Pie: The Recipes and Stories of a Big-Hearted Bakery in Detroit by Lisa Ludwinski (available for pre-order from Amazon)—This year, I vowed to do less crying over failed pies so I have been practicing making pie. I have purchased a stack of books about pie making and I have pre-ordered Sister Pie to add to my collection. Sister Pie is a collection of 75 recipes, with some standout flavour combinations like rhubarb and rosemary, sour cherry and bourbon... If you love pie, Sister Pie is definitely going to bring you much inspiration for your pie-baking adventures
Modern Baking by Donna Hay (available for pre-order on Amazon)—Lately, Donna Hay has been publishing larger cookbooks, with more recipes, more photos, and more pages. Modern Baking contains over 250 baking recipes so you know it's going to be a big cookbook at 400 pages. I'm a fan of Donna Hay's style and photography, and I love how she manages to write baking recipes in about 5 to 10 lines of text each. It all seems so easy when Donna Hay does it.
The Cookie Book: Decadent Bites for Every Occasion by Rebecca Firth (available on Amazon)—Rebecca Firth of the very popular site Displaced Housewife has put together a GORGEOUS cookbook centred on cookies. This book looks stunning and it will be interesting to see her twists on the classics. I want to bake her Cold Brew Cookies With White Chocolate + Espresso Beans because they sound amazing. I love a good cookie book and this is definitely a cookie cookbook to add to the collection.
The Bread Collection: Recipes for Baking Artisan Bread at Home by Brian Hart Hoffman (available to order on Amazon)—If you want to learn to make everything from classic flaky biscuits to sourdough bread, this book is for you. It was just released at the beginning of September and clocks in at over 100 bread baking recipes. I am a big fan of the magazine Bake from Scratch and everything Brian Hart Hoffman does. He puts together quality books and magazines and surrounds himself with the greatest in the industry. This latest book dedicated to bread is definitely one to bake from.
Red Truck Bakery Cookbook: Gold-Standard Recipes from America's Favorite Rural Bakery by Brian Noyes and Nevin Martell (available to pre-order on Amazon)—Former President Barack Obama endorsed this bakery, quoted as saying "I like pie. That's not a state secret . . . I can confirm that the Red Truck Bakery makes some darn good pie." Need I say more? There's a caramel pumpkin pie that caught my attention because it's sweetened with caramel instead of straight sugar. I think this book will elevate the classic American baking recipes and I look forward to reading Red Truck Bakery's take on tradition.
I cannot wait to get my hands on these baking cookbooks, even though I did say at some point this year that I needed to buy less cookbooks... Screw that. I'm going to fill my bookshelves with ALL the baking cookbooks I can because they make me happy and I'm sure that you will enjoy them too!