This is a homemade candied bacon jerky recipe that is made at home, in the oven, without a dehydrator.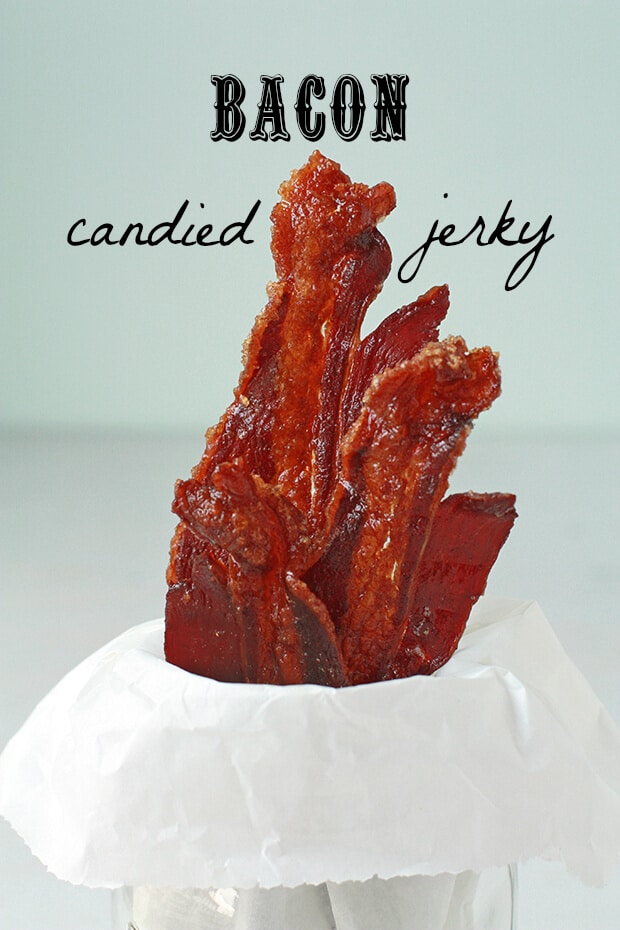 Disclosure: As an Amazon Associate, I earn from qualifying purchases.
There was this Montreal foodie craft fair, le Salon J'ai Faim, several months back. And at this fair, there was this one booth selling candied bacon jerky, and the company that made that bacon was J.J.Comestibles. The bacon they were selling was sweet and salty, with a little kick from some cayenne. It was THE best bacon I've ever had. I bought myself one piece to test it out, and then I went back for a whole bag of their candied bacon because it was so fantastic.
Confession: I am totally hung up on and still in love with the bacon fat strips in that bacon from J. J. Comestibles. It was sweet, crispy, bacon-y goodness. It was so delicious that I almost didn't share. Almost. I mean, come on: just look at it!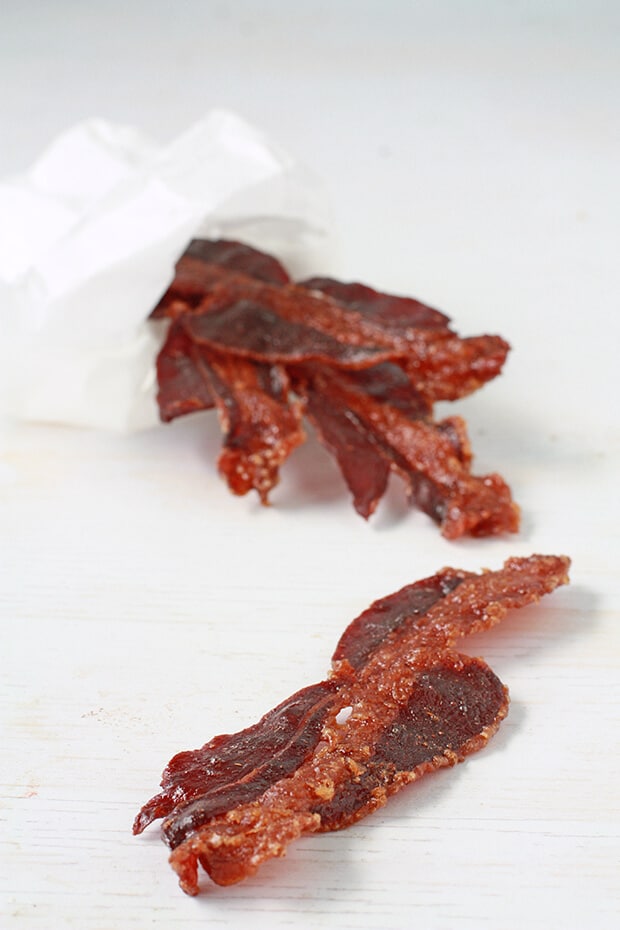 It's taken me months to try to make it myself for a few reasons, but mainly my paralyzing fear of the smoke detector. When that sucker goes off, all hell breaks loose in my apartment. There is usually a mad, panicked scramble for a step ladder. The fight to quickly find a kitchen towel among my mess. Then there's me on the ladder, heart pounding, desperately trying to fan the smoke detector into understanding there's no fire. Meanwhile, my cat is long gone, having bolted straight to the closet. She is no help when alarms sound (or for that matter, when doorbells ring or somebody knocks at the door). Making candied bacon had me fretting over this scenario because in my mind, a hot oven plus sugar dripping into bacon fat equals smoke, doesn't it?
I don't have the secret to J. J. Comestibles' bacon jerky, but I have this version to tide me over in the meantime. This candied bacon jerky recipe yields crispy salty-sweet bacon with a slight chew and a kick of cayenne (and hooray! no smoke!). It's everything I was looking for. Of course, if J. J. Comestibles happens to be selling some candied bacon jerky at the next fair, I will line up for it again, and again, and again, even if I can make my own at home. It's that good.
What is bacon jerky?
Bacon jerky is a snack made from strips of bacon that are dried out. It can be made in the dehydrator or the oven, just like beef jerky. You can also make candied bacon jerky by coating the bacon strips with brown sugar before baking. This will yield a sweet coating that you can also add cayenne to if you'd like spicy bacon jerky.
How do you make bacon jerky without a dehydrator?
If you don't have a dehydrator to make bacon jerky, use your oven. Bake the bacon jerky low and slow in a low temperature oven for many hours, almost 3 hours if you can. This allows the bacon to cook and dehydrate to become crispy and a little chewy. Flip the strips every hour to make sure that the bacon dries out as evenly as possible.
📖 Recipe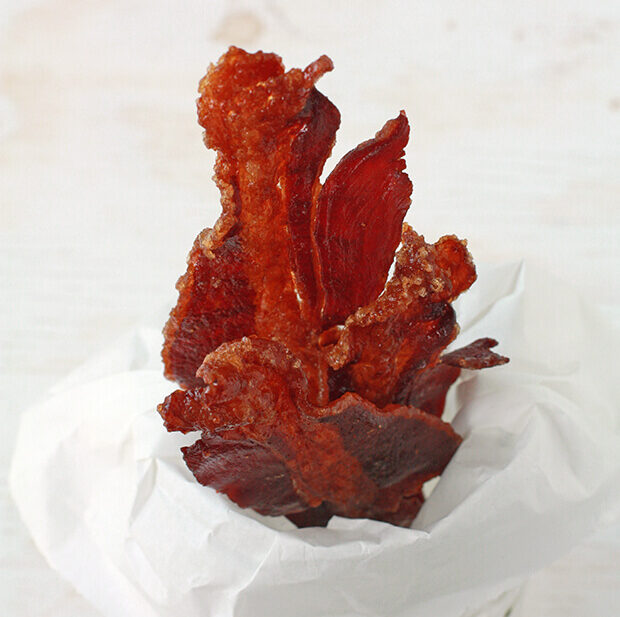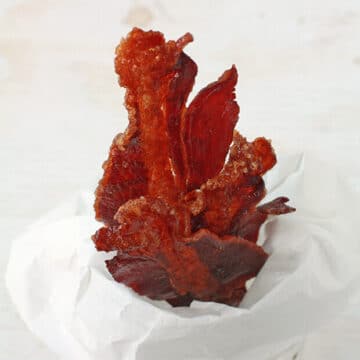 Candied Bacon Jerky
Spicy candied bacon jerky baked in the oven so that you can make bacon jerky in the oven without a dehydrator.
Ingredients
100

grams

light brown sugar

½ cup

¼

teaspoon

cayenne

10

strips

bacon

I used the reduced sodium bacon that my grocery store sells, nothing fancy
Instructions
Preheat the oven to about 225 °F (107 °C). Use a rimmed baking sheet with a fitted rack for this recipe if you can. Line the baking sheet with foil and spray the rack generously with cooking spray.

In a shallow bowl, combine the brown sugar and cayenne. Dip/pat each slice of bacon on both sides in the sugar mixture, shaking off excess, and then place on the wire rack (note: you may or may not be able to squeeze them all on one pan).

Bake the bacon for about 2.5–3 hours, flipping the strips every hour. When the bacon is done, it will be a deep mahogany brown and will have shrunk quite a bit. Let the bacon cool a minute then move it around every so often to ensure it doesn't stick to the pan. The bacon will firm up as it cools. I won't judge you if you eat it all in one sitting.
Notes
For the baking rack lined sheet pan, I used one from Chicago Metallic, which you can buy on Amazon
Nutrition
Calories:
130
kcal
Carbohydrates:
10
g
Protein:
3
g
Fat:
9
g
Saturated Fat:
3
g
Polyunsaturated Fat:
1
g
Monounsaturated Fat:
4
g
Trans Fat:
0.03
g
Cholesterol:
15
mg
Sodium:
148
mg
Potassium:
58
mg
Fiber:
0.01
g
Sugar:
10
g
Vitamin A:
29
IU
Vitamin C:
0.04
mg
Calcium:
9
mg
Iron:
0.2
mg