Learn how to make crispy sourdough discard crackers. This easy recipe is a great way to quickly use up the discarded sourdough starter you accumulate from regularly feeding your starter.
Disclosure: As an Amazon Associate, I earn from qualifying purchases.
If you are building up a new sourdough starter, you are likely feeding it daily (or even twice a day!), which means you are discarding often. Using the method for how to grow a new sourdough starter, you will discard 50 grams of starter every day. This means you will end up with 250 grams of sourdough discard in only 5 days.
Cue sourdough crackers. They are easy to make and they are excellent to have on hand for snacking or if companies coming to serve with drinks!
Jump to: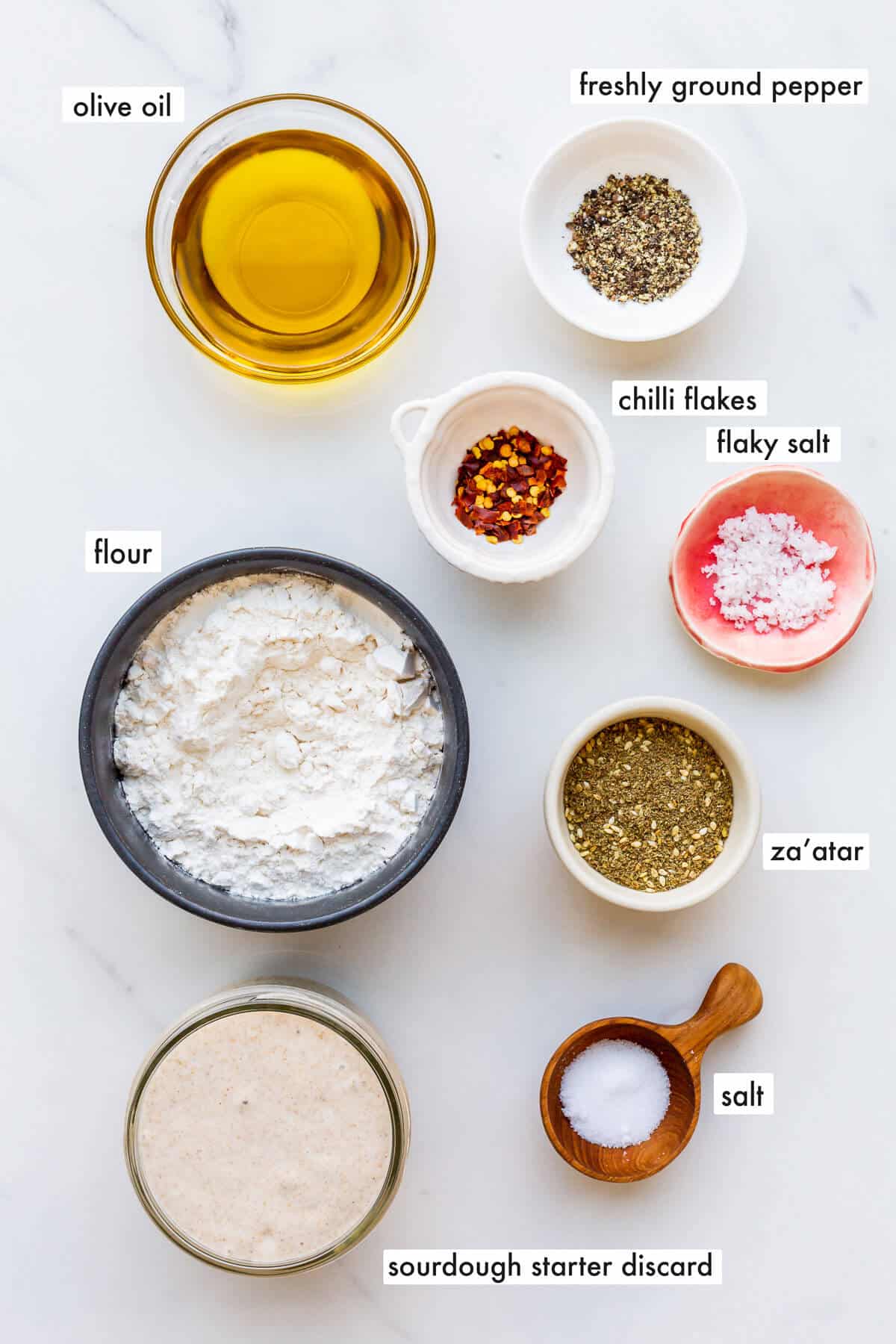 Ingredients
You likely have all the ingredients you need to make sourdough crackers:
sourdough starter discard—this is the starter I discard every time I feed my sourdough starter.
olive oil—I use the olive oil I cook with, which is an affordable extra virgin olive oil. Nothing too fancy.
flour—I use regular bleached all purpose flour for crackers.
salt—I use table salt in crackers because I want them to be salty.
spices—hot pepper flakes work great, though some people will incorporate garlic or onion powder.
toppings—coarse/flaky sea salt, as well as spice blends or za'atar make great toppings for crackers
See recipe card for quantities.
The most "tricky" ingredient on the list is the sourdough starter discard because you will have to have sourdough starter leftover from multiple feedings to make this recipe. I like to store the discard in a clean 250 mL (1 cup) jar in the fridge. I add to it every time I feed my starter. When the jar is full, I promptly make crackers with it.
Substitutions
With a short list of ingredients, the substitutions are limited.
Flour - I use bleach all-purposed flour to make the dough, but you can use a combination of all-purpose with rye, whole wheat, or other whole grain flours. Replace up to 20 % of the weight of flour with your alternative. More may make the dough harder to work with.
oil - you can replace the olive oil with canola oil or another vegetable oil. Use an oil you like to eat, but watch for oils that are very flavourful because they may impart a stronger taste to the crackers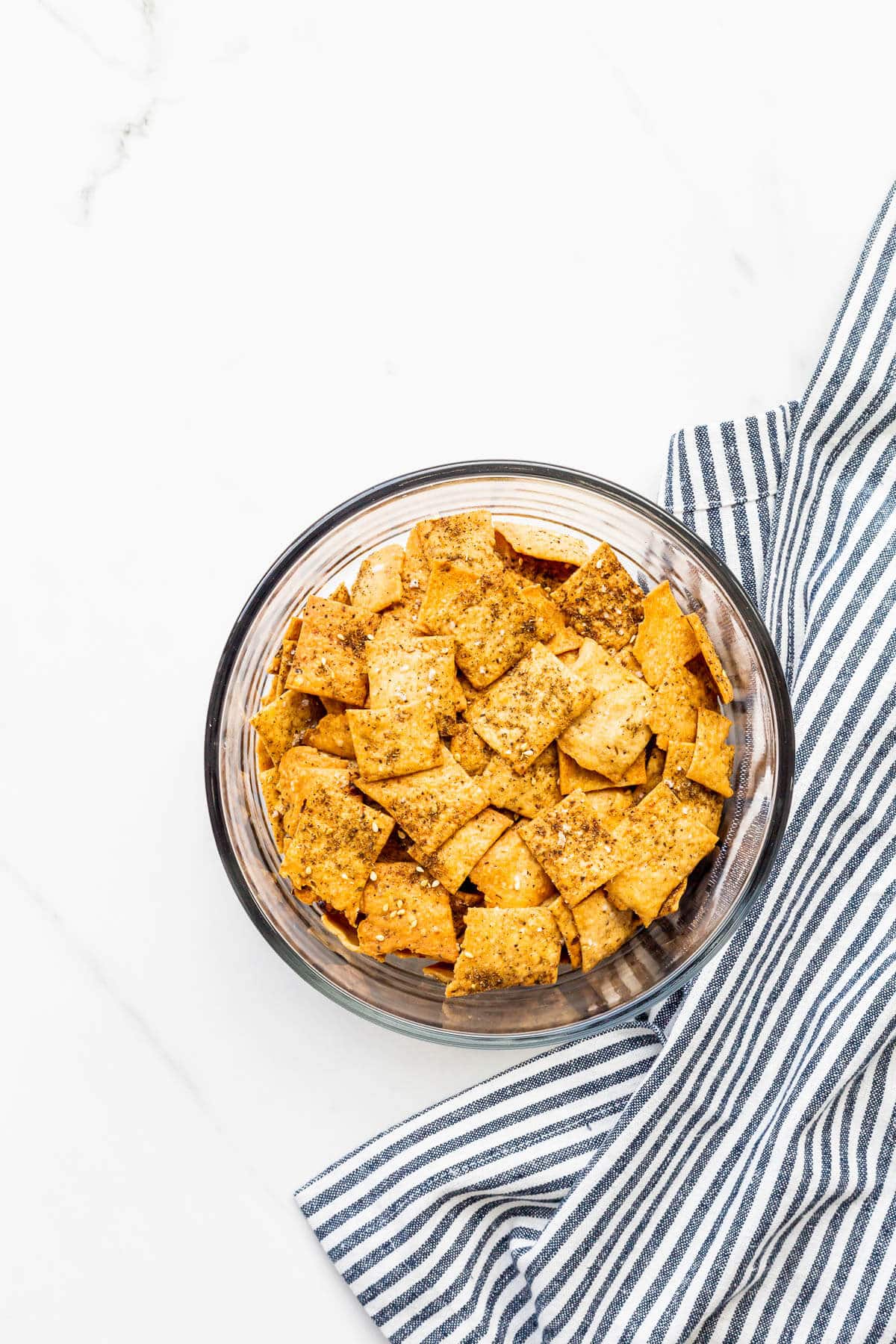 Variations
These olive oil crackers are a blank canvas for so many great savoury flavours
Spicy - add chili pepper flakes to the dough and also sprinkle on top with salt before baking. I also like to sprinkle with freshly ground black pepper
Everything but the bagel - grab your favourite "everything but the bagel" seasoning mix and sprinkle generously on the crackers before baking them
Sour - sprinkle with sumac and salt before baking for a play on salt and vinegar crackers
Middle Eastern - sprinkle with za'atar before baking. It's a blend of dried thyme, oregano, sesame seeds, and sumac) and it's so delicious on crackers!
Italian - I'm obsessed with the Trader Joe's "Spicy Italian sprinkle," which contains fennel seed that really add a lovely flavour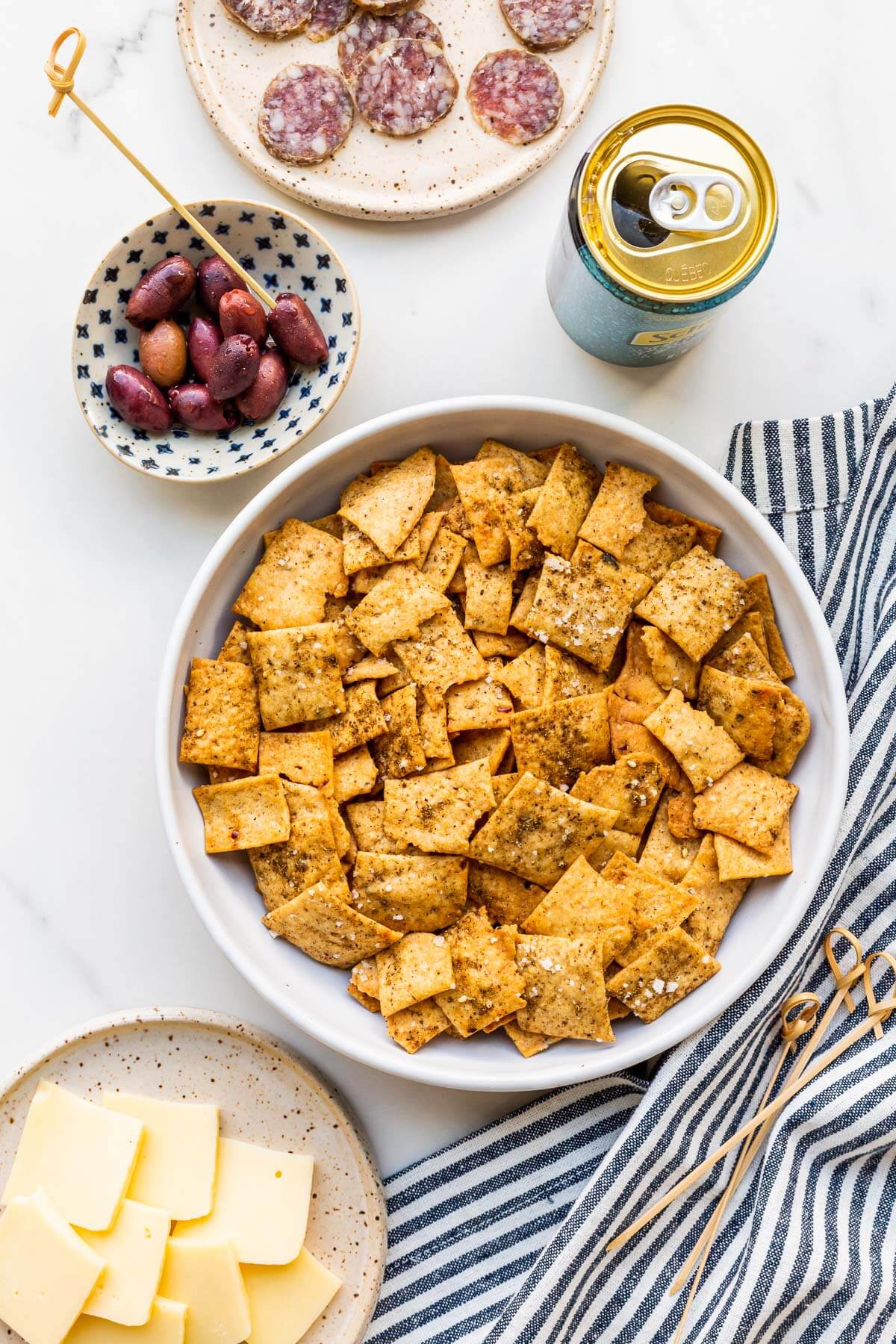 If you are using a spice mix or seasoning mix, if it's quite salty, you may have to pull back on the salt in the dough. You will have to do a little trial-and-error to find just how salty you want your crackers and what works with the seasoning mixes you are using.
I've also been testing out versions with cheese, or dried powdered cheese (similar to the orange powder in boxed macaroni and cheese), but with mixed results. Powdered cheese tends to brown/burn too fast before the crackers are done drying out. So for now, I can't recommend using cheese as a topping or in the cracker dough.
Instructions
Crackers are easy. Mix the dough in a bowl, shape it into a disk to chill overnight, then roll it out and cut it into crackers. Season generously and bake them until golden brown and crispy!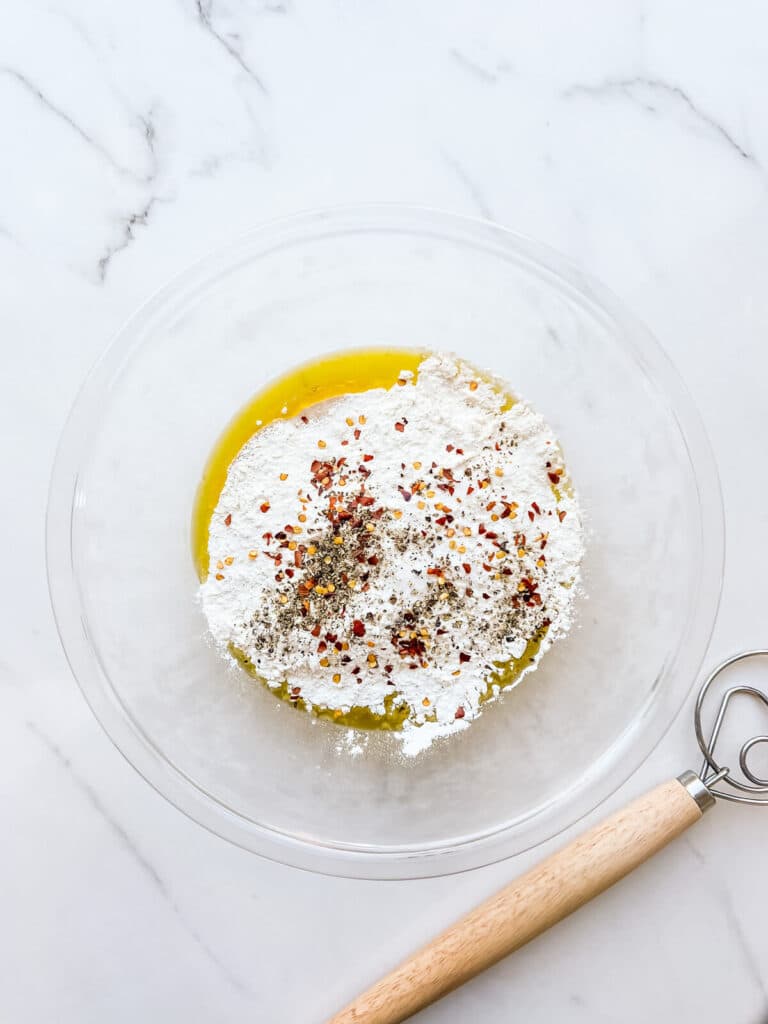 Combine all the ingredients (except for the garnishes) in a medium bowl.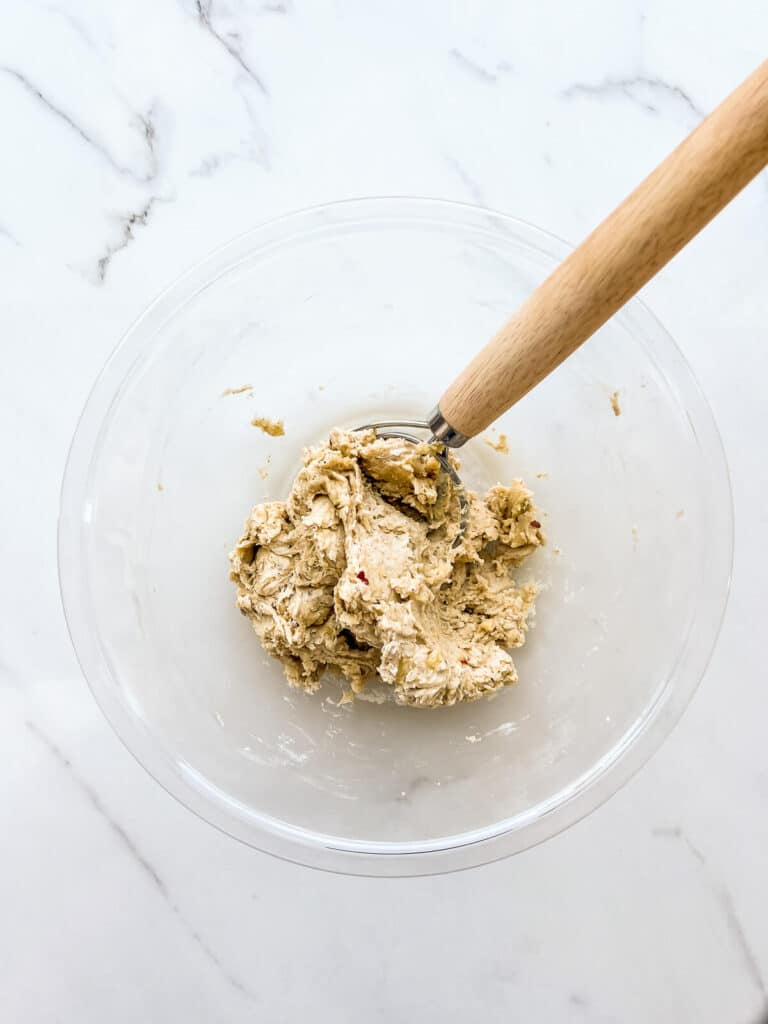 Use a dough whisk to mix the dough well.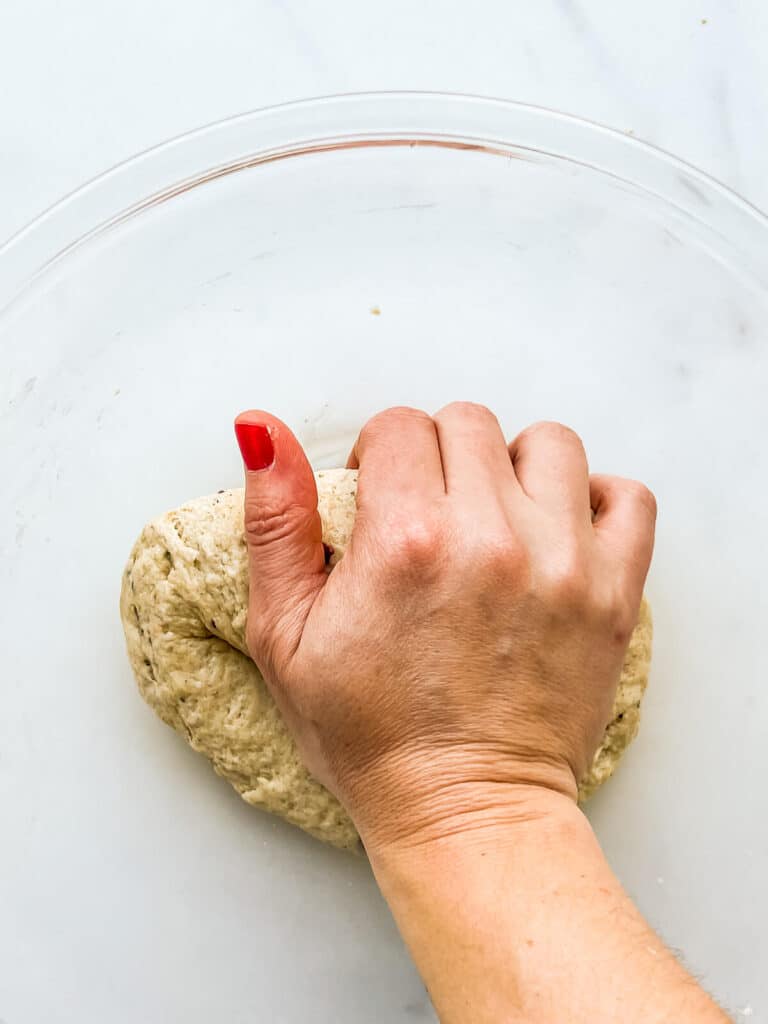 Knead the dough a little to bring it together into a smooth disk.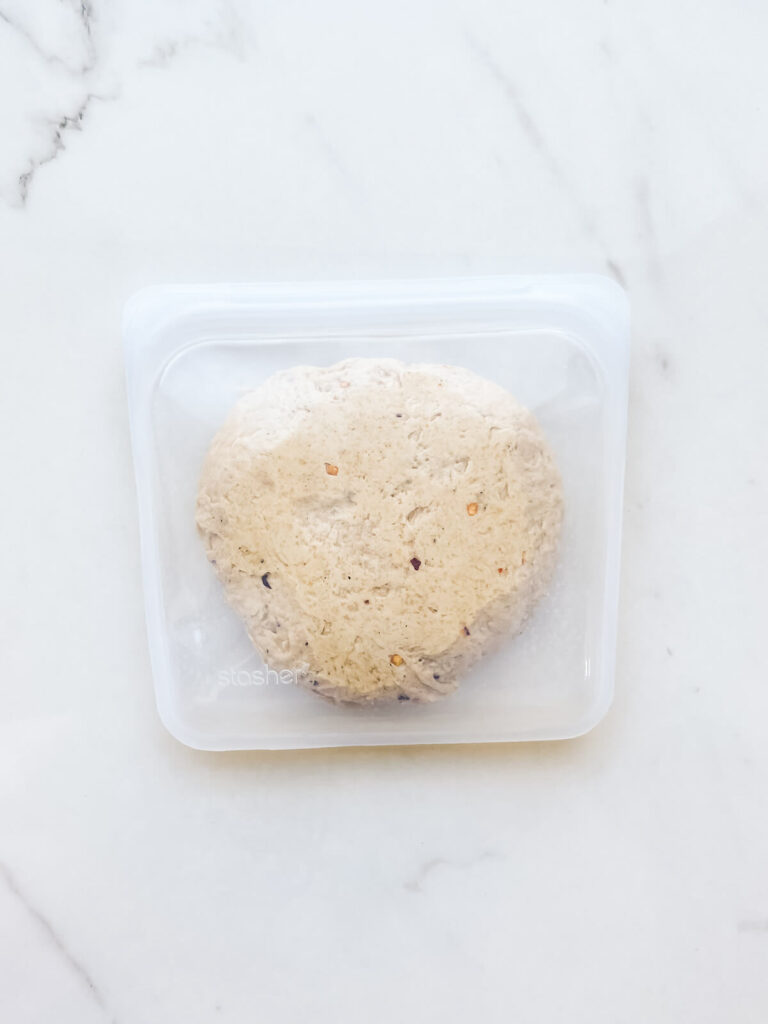 Wrap the disk of dough and chill it overnight in the refrigerator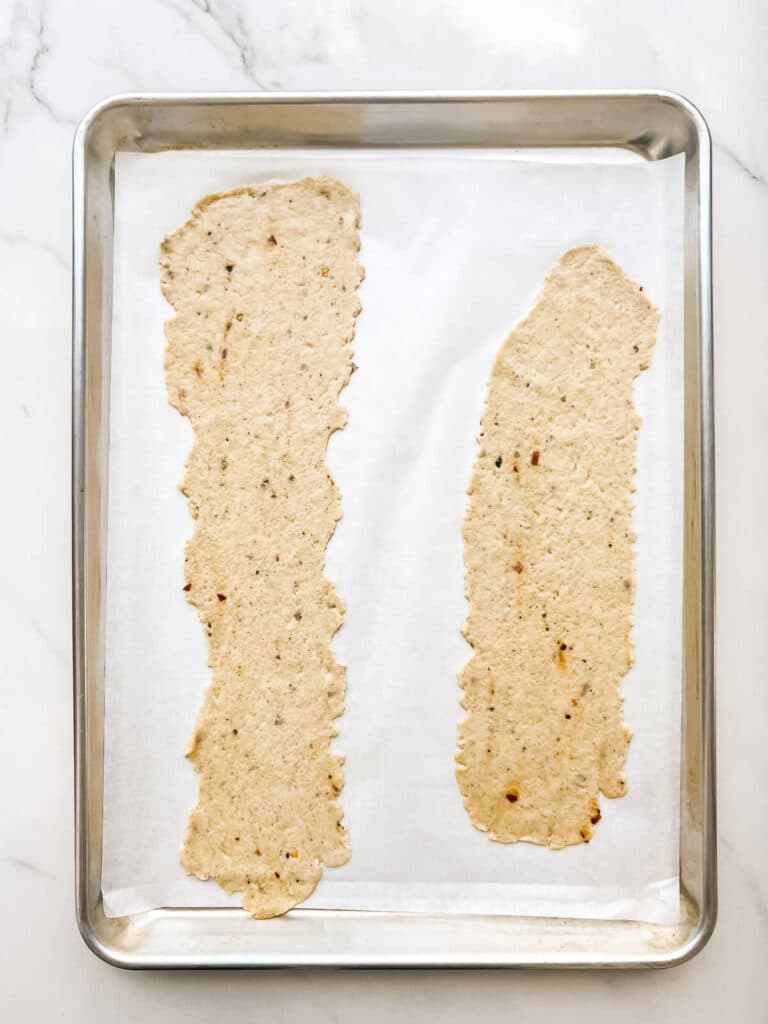 Roll out the dough with either a rolling pin by hand or you can use a pasta machine, gradually increasing the setting from 1 to 4 or 5, for crackers that are fairly thin, but not too thin (⅛–1/16" thickness or 1.6 to 3.2 mm thick).
Use a pizza wheel (pizza cutter) or a knife to cut out crackers. Leave them where they are on the parchment paper because they are too soft to move around at this stage.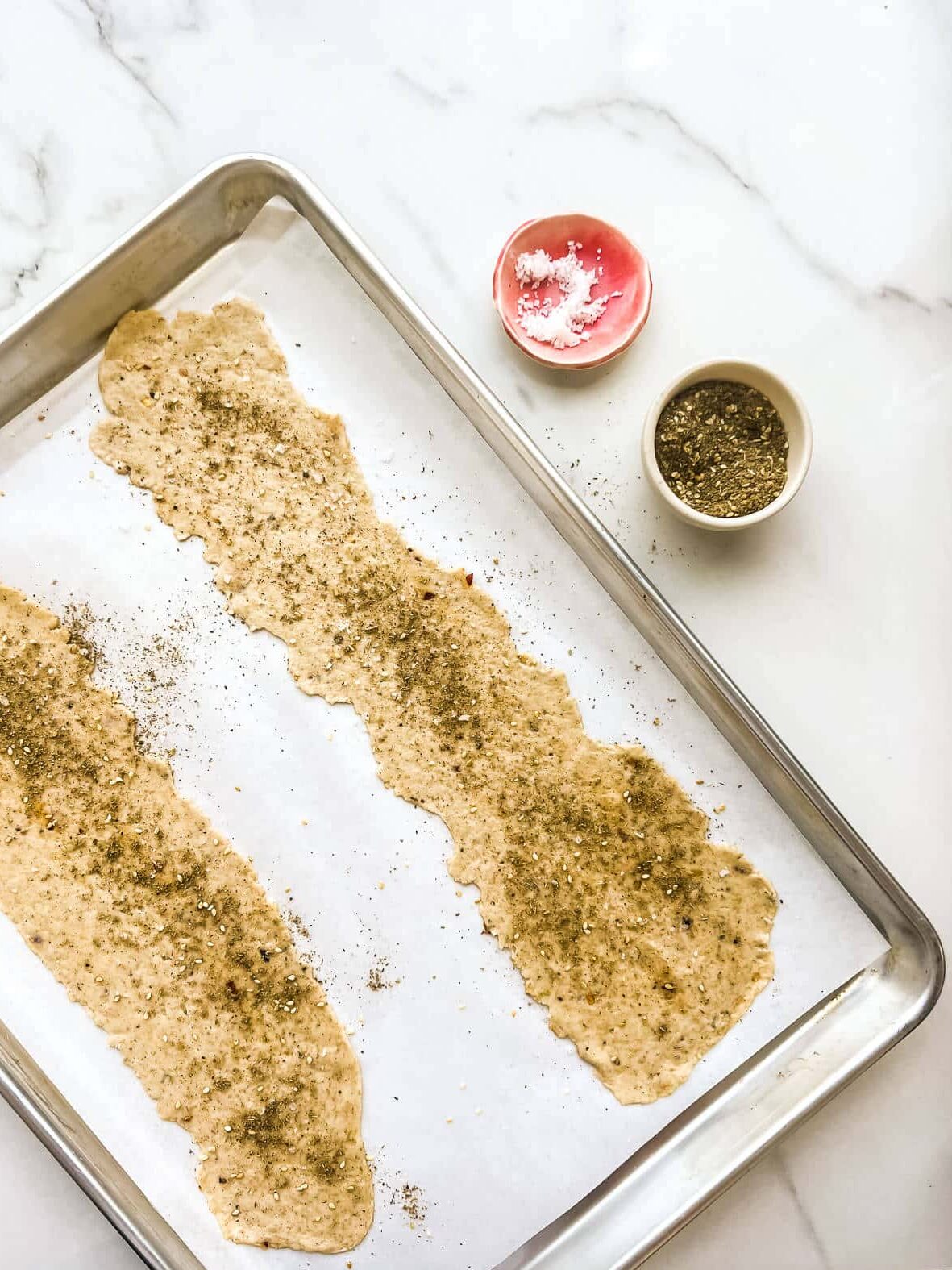 Make sure to season the crackers generously
Bake the crackers until they are light golden brown. Honestly, it can be tricky because it seems they go from underbaked to burnt the minute you turn your back. Pay attention towards the end of the baking to make sure they don't brown too much.
Hint: if the crackers get too dark, immediately pull the sheet pan out of the oven and dump the crackers onto another pan quickly to get them cooled down as fast as possible. This will slow down any further browning.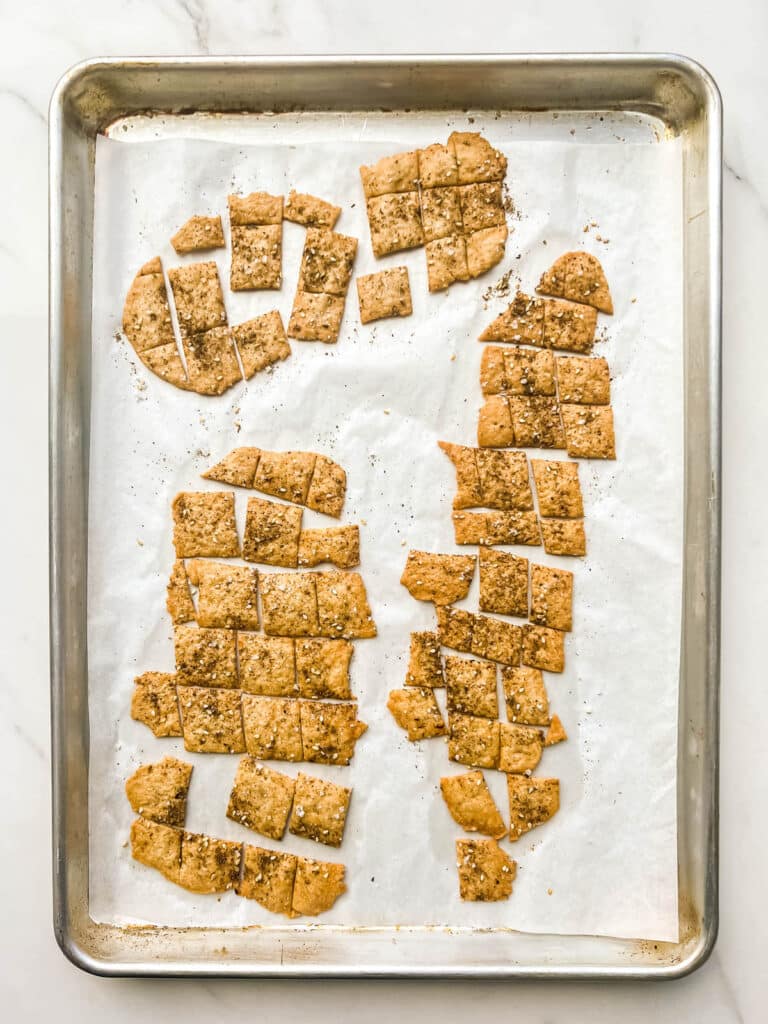 Equipment
You don't need much to make sourdough crackers. Here's a rundown of the basic tools that will get the job done:
If you plan on making crackers every week, I highly recommend trying to use a pasta machine to roll out the dough. You can use a hand-cranked model, but I love to use the KitchenAid pasta roller attachment for my stand mixer so all I have to do is guide pieces of the dough through the rollers, while the machine does the work.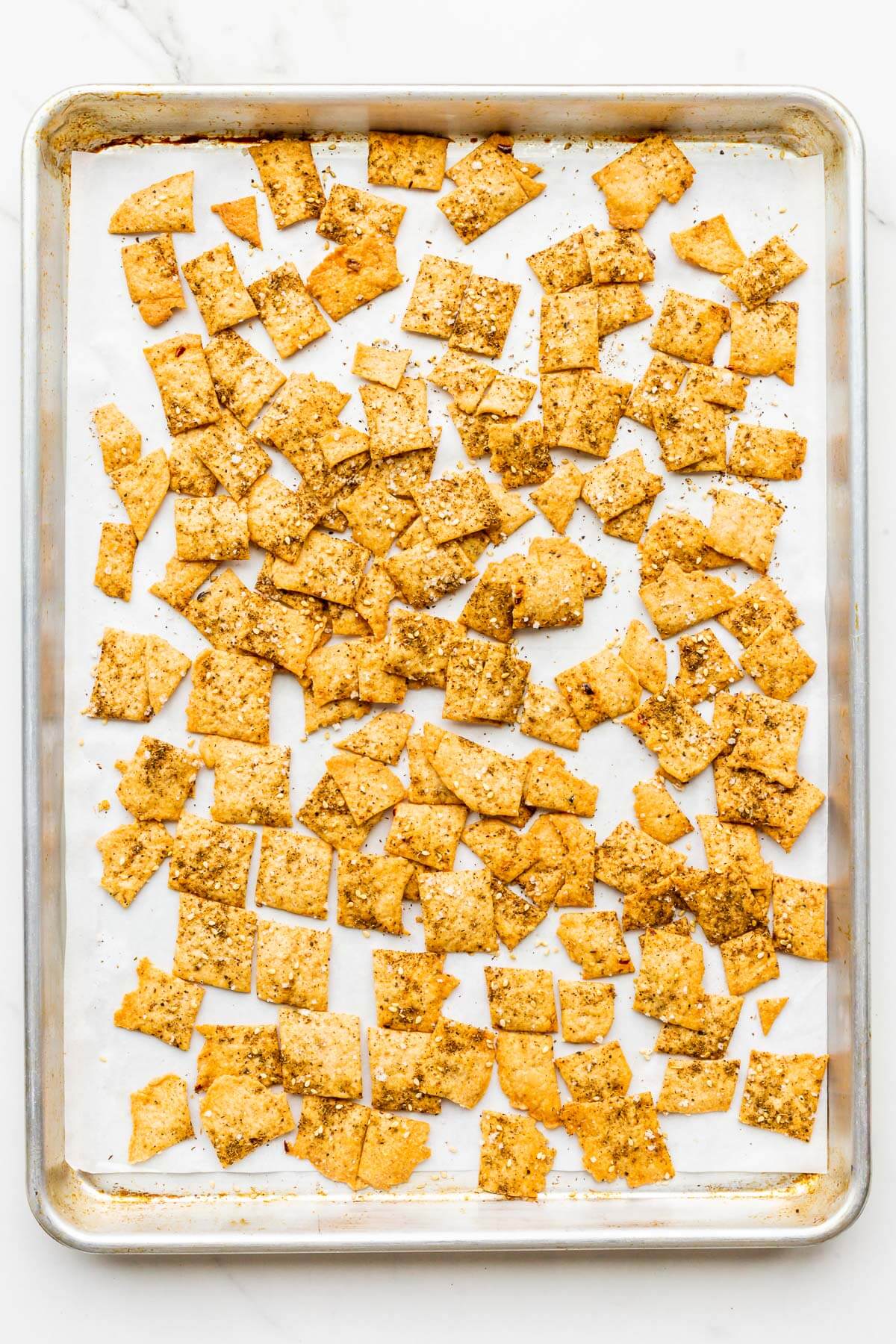 Storage
Store the baked crackers in an airtight container in a cool dry place for up to one month. They store very well as long as they stay dry.
If the crackers are exposed to humidity, they will become chewy and the texture won't be as nice. If this happens, try to place them on a sheet pan at 300 °F and heat them in the oven to try to evaporate the water and recover that crispy texture.
Top tip
Keep your jar of discard in the refrigerator and every time you have enough to make crackers, do so. This way, it never goes to waste and you'll always have a snack on hand.
📖 Recipe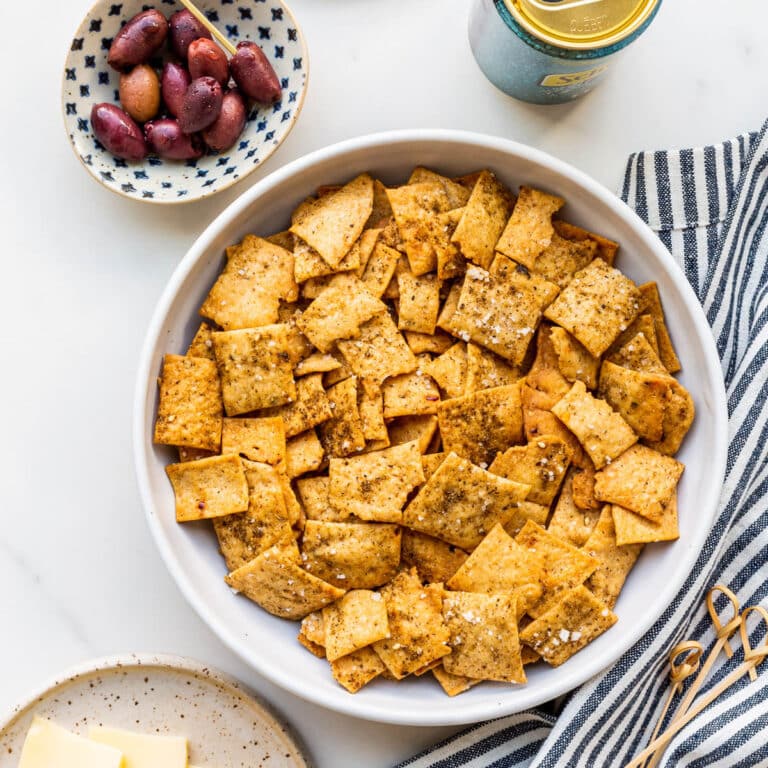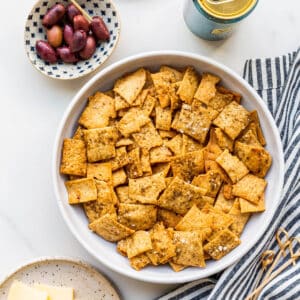 Sourdough Discard Crackers
Learn how to make the best sourdough discard crackers with this easy recipe. You can roll the dough for these olive oil crackers with a rolling pin, though I prefer to use a pasta machine to do the job quickly.
Ingredients
Sourdough discard cracker dough
260

grams

sourdough starter

60

mL

extra-virgin olive oil

156

grams

bleached all-purpose flour

2.5

mL

freshly ground pepper

2.5

mL

crushed hot pepper flakes
Finishing
Flaky sea salt

za'atar

or your favourite spice blend
Instructions
Sourdough discard cracker dough
Combine all the ingredients in a medium bowl. Use a Danish dough whisk or a wooden spoon to mix them well. The dough will be a little shaggy at first.

Knead the dough a few times to smooth it out, then shape it into a disk.

Cover the bowl in plastic wrap or place the disk of dough in a reusable sandwich bag.

Refrigerate the dough overnight or for up to 2 days.
Finishing
Preheat the oven to 350 °F (175 °C).

Roll out the dough until it is very thin. You can do this with a rolling pin between two sheets of parchment. I prefer to use a pasta roller to do the job, dividing the dough into 8 equal pieces and passing each piece through the machine from setting 1 to 4 until each forms a long, thin strip of dough.

If rolled out by hand on parchment, remove the top paper and transfer the parchment sheet with the dough to a sheet pan. If rolled out with a pasta roller, transfer the strips of dough to parchment paper-lined sheet pans.

Sprinkle the rolled out cracker dough generously with flaky salt and garnish with za'atar or your favourite spice blend.

Cut the dough into 1 inch squares using a pizza wheel.

Bake the crackers until golden brown. This takes about 20 minutes or so.

Let cool, then transfer to an airtight container to store for up to one month.
Nutrition
Calories:
160
kcal
Carbohydrates:
21
g
Protein:
3
g
Fat:
7
g
Saturated Fat:
1
g
Polyunsaturated Fat:
1
g
Monounsaturated Fat:
5
g
Sodium:
1
mg
Potassium:
21
mg
Fiber:
1
g
Sugar:
0.1
g
Calcium:
3
mg
Iron:
1
mg
FAQ
Why is my cracker dough tearing and hard to roll out?
I have noticed that if you store the cracker dough in the fridge for more than 2 or 3 days maximum, the structure within the dough (gluten) breaks down and the dough tears more easily when rolled. It becomes so delicate that it is too difficult to roll out with a pasta roller, and hard to manipulate when rolled thin. Make sure to roll out your cracker dough within a couple days of making the dough!
Why are my crackers soft and chewy?
You have to bake crackers for long enough to evaporate the water so that they dry out. If there's any residual water left in the crackers, they are chewy and bendable, instead of crispy and crunchy. Make sure to bake them until golden brown, but keep an eye on them towards the end of the baking time because they burn quickly!
Why won't my crackers brown nicely in the oven?
The crackers are baked in a moderate oven (350 °F) for approximately 20 minutes. It takes that long for the colour to develop in them because remember sourdough discard tends to be quite acidic! Sourdough starter has a pH below 5, so the dough tends to be quite acidic too and Maillard browning reactions will be slower. Maillard browning is faster at higher pH (more basic or alkaline).
What is discard?
Each time you feed your sourdough starter, you will remove a portion to use it to make bread, or you will discard it. This ensures you have a small, manageable amount of starter. If you don't ever discard or remove a portion and continue to feed it, you will end up with a huge amount of starter, more than you can use to make bread as a home baker.
When can I use sourdough discard?
When you first mix a new starter, throw out the discard every day for at least the first week, if not two weeks. On the first days of building a new starter, the lactic acid and acid-loving microbes aren't present or thriving yet. You'll notice the smell of your starter may be odd or cheesy. Throw out the discard every feeding until the starter smells sour or boozy, after a week to two weeks of consistent feeding. After this point, you can use the discard to make crackers and the starter to make bread.