We Daring Bakers went all fancy this month as we dressed up our cakes with pretty cake wraps of biscuit joconde imprimé. The joconde is an almond-based, light cake that is very pliable, and therefore is useful for rolled cakes; it can be wrapped around desserts to form a border of cake around ice cream and mousse.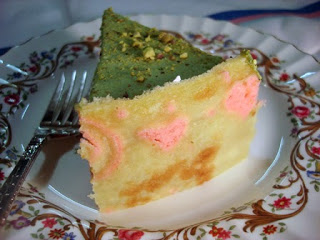 The only criteria we had was that our dessert had to include the joconde cake in it. I had played with joconde recipes before, so this wasn't a new technique for me. Instead, I dared myself to fill my joconde cake with gelatin-based mousses since I had never experimented with gelatin before. I adore mousse cakes because they are so light and yet so flavorful. I went for a traditional raspberry mousse for my first layer (brought to you by Nick Malgieri). And, inspired by my pending trip to South East Asia, I decided to make a matcha (green tea) mousse for the top of the cake. I'm pretty sure matcha powder is from Japan (far from South East Asia), but let's pretend...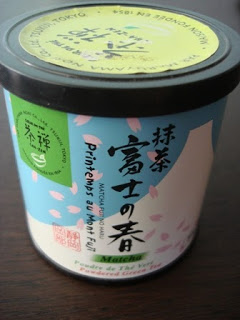 Disclosure: As an Amazon Associate, I earn from qualifying purchases.
I came up with the following recipe for the matcha mousse. I based my techniques on Nick Malgieri's raspberry mousse.
Both mousse recipes (mine and Nick Malgieri's) worked out beautifully, yielding smooth, light, and creamy layers that were not overly sweet. The raspberry was a great tangy flavor to pair with the matcha. I topped the cake with some ground pistachios.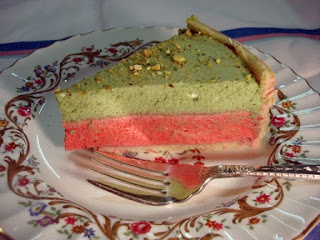 I guess the word to describe the color contrast between the raspberry and the matcha would be tacky, if you ask me! I feel the average French pastry chef would shake their heads at my pink and green creation. Actually, they'd probably point and laugh. That's okay. I was proud of my first mousse cake, and it tasted amazing, even if the color combination was a little odd.
The left-overs were just as good, though I was a little surprised to find that the raspberry color faded a little at the edges of the raspberry layer.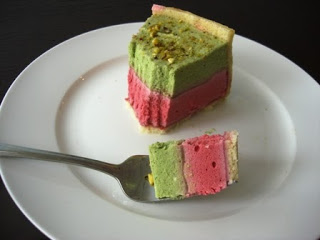 I think next time, I might try my hand at a mousse with tangy yogurt or sour cream to pair with the lightly sweetened, matcha green tea mousse, and thus avoid the unsightly color combo.
📖 Recipe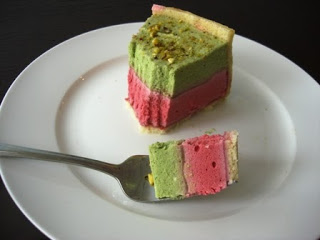 Matcha Green Tea Mousse
Ingredients
150

mL

low fat milk (1 % fat)

70

grams

granulated sugar

2

teaspoon

matcha green tea powder

1

packet

Knox unflavoured gelatin powder

~2.5 tsp

4

tablespoon

water

250

mL

whipping cream (35 % fat)
Instructions
In a small saucepan, heat the milk, sugar, and matcha powder over medium heat for about 5 minutes until the sugar is dissolved and the mixture is heated through, stirring constantly. Don't allow it to boil, just gently heat it until it's steamy. Then, set the pan aside, off the heat.

Strain any undissolved matcha and collect the matcha milk in a separate bowl. Set aside.

In a small, stainless steel bowl, pour the Knox powdered gelatin over the cold water. Let stand for 5 minutes to bloom.

While the gelatin is blooming, heat a saucepan of water to a gentle simmer, then place the bowl of bloomed gelatin over the simmering water to gently melt the gelatin, stirring constantly. The solution will go from cloudy to clear.

Take the bowl of gelatin off the heat and whisk it into the milk mixture. Set aside to cool slightly.

Whip the cream to stiff peaks, but not granular (don't make butter!).

Carefully pour the tepid matcha milk into the whipped cream, and fold to incorporate it. (Don't be afraid to really mix it well and get out all the lumps.)

Your mousse is ready to be poured over a cake base and chilled overnight (remember to prepare the cake base before making the mousse!).