Easily swap pans in any baking recipe with the help of this baking pan conversion chart, including a list of cake pan sizes, pan volumes in cups and millilitres, bakeware equivalents, and tips for substituting one baking pan for another!
Oven Temperature Conversion Chart Details
This one (1) page oven temperature conversion chart pdf will guide you through oven temperature equivalents in Fahrenheit, Celsius, and even gas marks. This chart is sold alone here, but I highly recommend getting the entire bundle of baking conversion charts, which not only covers bakeware and cake pan conversions, but also ingredients, oven temperatures, volumes, weights, and more.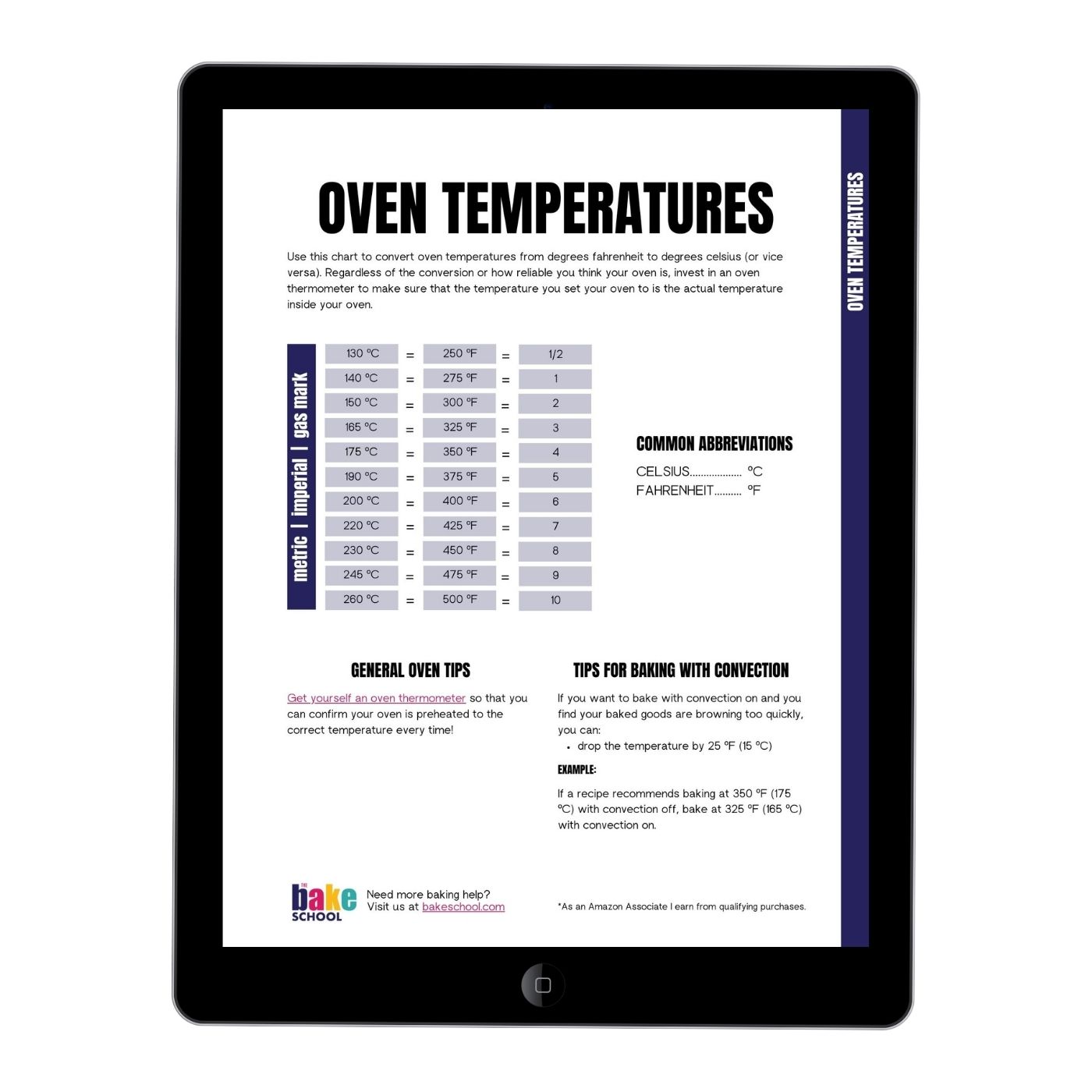 What you get
Easily convert from degrees Fahrenheit to Celsius or even gas marks with this helpful PDF. This one (1) page PDF includes:
Oven temperature conversions
Fahrenheit to Celsius to gas mark
This chart will give you the ability to bake from recipes around the world because you can easily convert the oven temperature to match the settings of your home oven.
Baking Conversion Charts Bundle
Why You Need This Oven Temperature Conversion Chart
This is an essential baking chart for those who want to bake with recipes from around the world. With this oven temperature chart, you will have oven temperature conversions at your fingertips so you can easily go from degrees Fahrenheit to Celsius or even Gas Mark settings.
What you get
When you purchase this chart, you will receive a link to download a pdf version, which you can save on your smartphone and/or tablet so that you can use it every time you bake.
The pdf can also be printed in colour or black and white.
Frequently asked questions
REFUND POLICY
All sales of Digital Products are considered final and no refunds or exchanges will be issued.
PROTECTION OF INTELLECTUAL PROPERTY
Please do not share the download files you purchased with others. Instead, encourage your friends to purchase their own copies. You are welcome to save the PDFs for future reference.