Find out the sugar cooking stages and corresponding temperatures with this convenient sugar syrup temperature chart!
Sugar Syrup Temperature Chart Details
This two (2) page sugar syrup temperature chart pdf will guide you through the stages and temperatures of cooking sugar and what types of recipes you may use the syrup for at each stage. This candy temperature chart is sold alone here, but I highly recommend getting the entire bundle of baking conversion charts, which not only covers sugar cooking stages, but also ingredients, oven temperatures, volumes, weights, and more.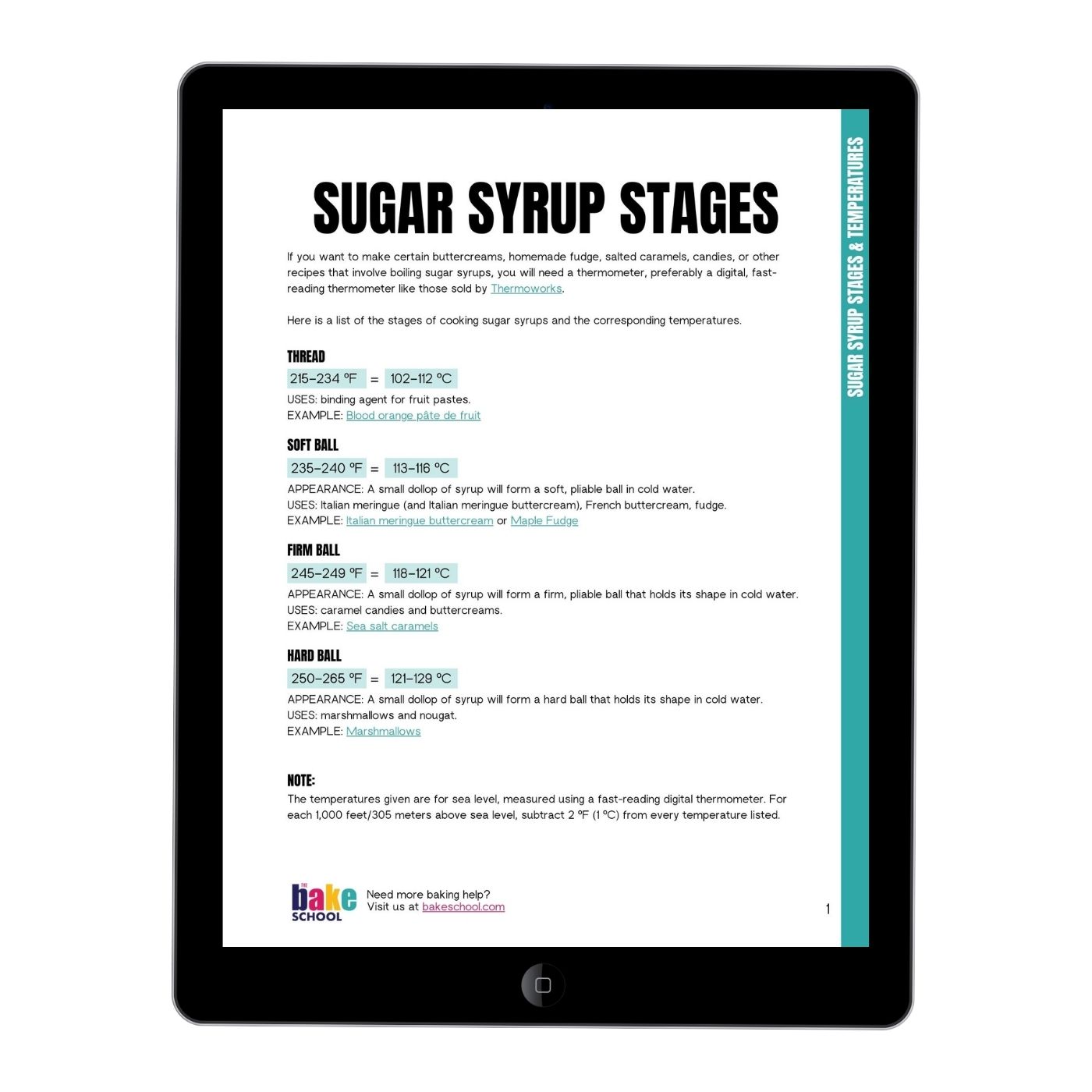 Baking Conversion Charts Bundle
Take the guessing game out of candy-making! This sugar syrup stages is useful anytime you are heating sugar on the stove so that you can monitor the temperature and know the texture the syrup will have when it cools down and also what to use it for. It includes:
Candy temperature stages
Sugar syrup temperatures in degrees Fahrenheit and Celsius
Why You Need This Sugar Syrup Temperature Chart
Just a few degrees can make or break a candy recipe or any confection involving cooked sugar syrups. Use this candy temperature guide so you hit the right temperature every time!
What you get
When you purchase this chart, you will receive a link to download a pdf version, which you can save on your smartphone and/or tablet so that you can use it every time you bake.
The pdf can also be printed in colour or black and white.
Frequently asked questions
REFUND POLICY
All sales of Digital Products are considered final and no refunds or exchanges will be issued.
PROTECTION OF INTELLECTUAL PROPERTY
Please do not share the download files you purchased with others. Instead, encourage your friends to purchase their own copies. You are welcome to save the PDFs for future reference.