It's a question many ask: what does saffron taste like? Is there a saffron taste or a saffron flavour?
As an Amazon Associate I earn from qualifying purchases.
What is saffron?
Saffron is a delicate spice made from the stigma of a crocus flower (think biology 101 for what a stigma is, or wikipedia it). It is traditionally used in a number of well-known dishes, such as paella Valencia. It is also an interesting ingredient to bake with. Saffron is a spice that has been used for centuries (actually thousands of years).
The Minoans used it medicinally. Perfumers in Egypt used it to scent waters. Cleopatra actually steeped in saffron baths (can you imagine how much that would cost today?). There was even a "saffron war" over a stolen shipment of saffron! But what does it taste like?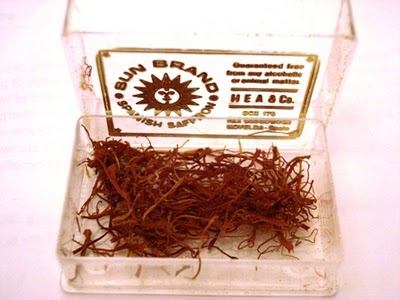 What is the flavour profile of saffron?
Every time somebody tells me they used saffron in a dish, I ask them to identify the taste of saffron for me. I don't often get an answer, which leads me to question why we spend so much on such tiny amounts of the spice if we don't even know what it tastes like. This is a spice that sparked a war; it must have a remarkable flavour!
I purchased a 0.5 gram package of Spanish saffron, and I pondered how I would ever identify its flavour. First, I sniffed it. It smelled like hay (dried grass), maybe with a slight dried chilli odour (not spicy at all, but definitely reminiscent of the smell of dried chilli). Then, I tasted a strand. Initially, I tasted nothing, then I tasted that grassy flavour that I had smelled. Eventually it started to taste a little bitter. Very interesting.
The Flavour Thesaurus (available on Amazon) describes the flavour of saffron as:
sea air
sweet dried grass
hint of rusting metal
bitterness
What to pair with saffron
In order to showcase the flavour and scent of saffron, it's important to pair it with foods that aren't overpowering, like rice, bread, potatoes, cauliflower, and white fish.
When baking with it, saffron plays well with the following:
almond
anise
cardamom
lemon
nutmeg
orange
rhubarb
rose
white chocolate
What do you do with saffron?
You can use saffron to infuse poaching liquids, both savoury and sweet, like when you are poaching pears (or chicken). You can use saffron to infuse milk to make rice pudding. Saffron is a key ingredient in paella and is added to the dish along with lots of liquid to cook the rice and seafood and infuse the dish with the flavour of saffron.
I used saffron to make risotto Milanese. I had never eaten, nor made risotto Milanese before, but my Italian friend, Daniel, told me that it is incredible, and the more saffron the better, and use a good quality parmesan. And, that is what I did.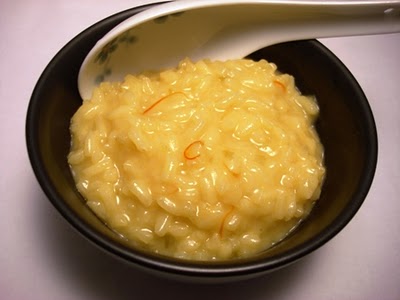 Disclosure: As an Amazon Associate, I earn from qualifying purchases.
And the verdict on the flavour of saffron.... I still cannot quite identify it except to say the flavour is like hay. If the saffron were not there, I am positive that its absence would be noted. The risotto is wonderfully creamy, and it's a beautiful yellow-orange colour. Each grain of rice has just a slight bite (definitely not a bowl of mush). The saffron strands are beautifully strewn throughout the dish.
The flavour of the wine lingers in the background of every bite. The parmesan is not overpowering; it is just right. I am glad that I took Daniel's advice, and made this risotto. Daniel was right. This stuff is good. It's really, really good. It is warm and comforting on a cold, rainy night.
Risotto milanese recipe for saffron risotto
Risotto milanese
Risotto milanese is a simple risotto flavoured with saffron, which also gives the risotto a beautiful golden color.
Ingredients
Olive oil

1

small onion

,

use a mini food processor if you can, finely chopped

1

stalk

celery

,

also done with a mini food processor, finely chopped

1

cup

arborio rice

½

cup

white wine

1

big pinch

saffron

,

Daniel says to use a liberal amount, but maybe use however much you are willing to part with considering its price

900

mL

chicken broth

1–2

tbsp

salted butter

⅓–½

cup

finely grated parmesan

,

Daniel says use top quality cheese
Instructions
In a medium saucepan, heat the chicken broth so that it is warm, if not gently simmering.

Coat another medium saucepan with olive oil, add the onion and celery, and heat on medium.

Cook the mixture until it is cooked, and the onions are translucent (but not colored).

Add the arborio, and stir constantly until they are coated with the oil and veg mixture. The rice will become translucent.

Add the wine, and stir, stir, stir, until the wine has just about disappeared.

Add the saffron and a ladle-full of hot broth. Stir, stir, stir.

When the broth is absorbed, add another ladle-full. Continue until the risotto is al dente (or as cooked as you like it). The risotto will look thick and creamy.

Add the butter and the grated parmesan. The risotto will thicken even more and become even creamier.

Beware! It's addictive.
Give back
If you enjoy the free content on this website, say thank you!
Nutrition