Brown butter is truly wonderful. It's butter that is melted and cooked until the dairy turns a deep golden. After a few minutes, you are left with the aroma of toasted nuts.
The first time I made brown butter was for Julia Child's recipe for madeleines (I'm pretty sure it's in this book, but I could be completely wrong), which called for brown butter for both the cakey-cookie batter and for buttering the madeleine tins. The recipe for her madeleines is great and worked like a charm (even for me, in 2004, a novice baker who had never made browned butter, nor baked madeleines before!). I haven't attempted either the madeleines or the brown butter since then.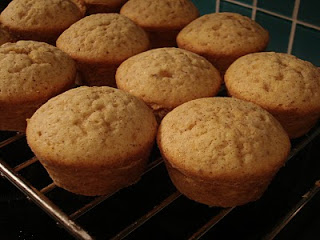 This batch of brown butter was destined for the brown butter pound cake from Gourmet 2009 (Gourmet, I miss you so much!).
The pound cake was a cinch to prepare once the brown butter was cooled enough to use. Since I had lots of desserts to prepare with the cake, I opted to divide the cake batter among 2 muffin tins. This way, I ended up with 12 neat, mini pound cakes, perfect for transforming into individual baked Alaskas. The pound cake muffins took 25 minutes to bake up at the recommended oven temperature.
I find that meringue topping can be a bit overwhelming if it is paired with a sweet dessert. So instead of opting for a traditional vanilla ice cream for baked Alaska, I was inspired by lemon meringue pie, and I opted for lemon ice cream as the filling. This was sheer brilliance. My baked Alaskas tasted just like a frozen lemon meringue pie! Here are some pics from the baked-Alaska-assembly process.
Here are my sliced pound cake muffins, topped with lemon ice cream, which I pre-froze in a plastic wrap-lined muffin tins so that they would fit perfectly on my pound cake muffin bottoms (I ate the tops that I sliced off. Waste not, want not!).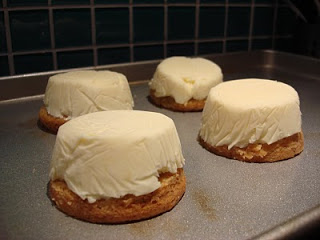 Disclosure: As an Amazon Associate, I earn from qualifying purchases.
I topped each with a nice mound of meringue.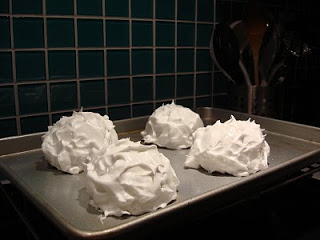 Then I broiled them until they were just beginning to caramelize on top (ideally, I would have liked to use a blow torch to do this more evenly without melting the ice cream….).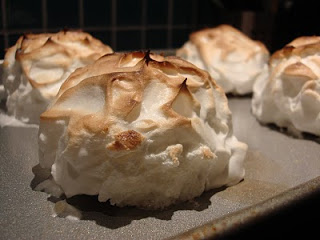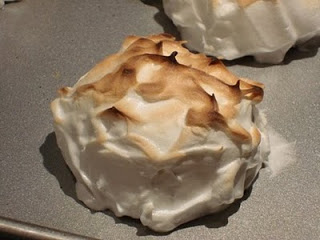 As usual, I ate one straight off the baking sheet (what else were you expecting from me, really?), and I forgot to plate them nicely for a pretty picture. It's not my fault: I got really excited to try them. The combination of lemon ice cream with the nutty brown butter pound cake and the meringue was great, definitely like lemon meringue pie, but more refreshing.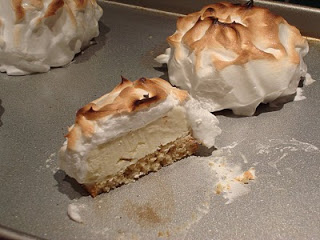 Along the same idea as for the baked Alaskas, I split a couple of my pound cake muffins into 2 layers each. Then I sandwiched my homemade chai ice cream between the layers, and coated with the ganache. I refroze them, et voilà!
The sources for this recipe were Gourmet magazine and David Lebovitz's "The Perfect Scoop."