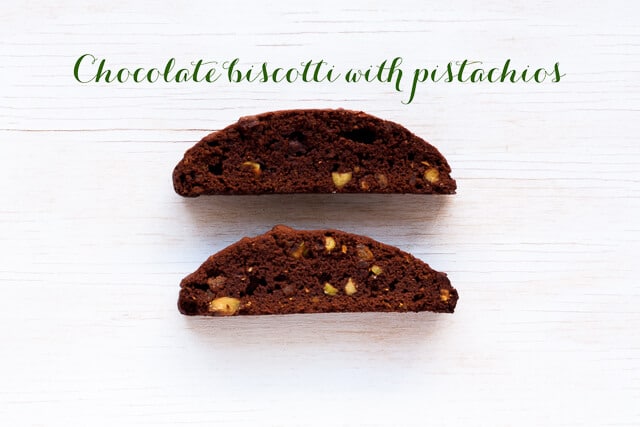 One of my tricks to making these chocolate biscotti: use one of those electric knives to do the slicing. We use this Cuisinart electric knife (available on Amazon) that we got my dad one year for Christmas. We got him this electric knife to help him carve our Sunday roasts, but actually, we were also secretly gifting it to him so that we could make biscotti with ease. Gotta love Christmas: that time of year when you buy somebody a gift so that you can borrow it days later.
This recipe from Ricardo's Cookie edition is great, except I am omitting the candied peel in the write-up. The peel just doesn't work here. It becomes rock hard from the twice baking, and it can burn easily if you aren't careful. Unpleasant. Don't worry if a couple of the biscotti crack a little as you slice them. Even broken biscotti are a treat! Come to think of it, there's a bakery in Toronto that sells "biscotti ends" and all the little broken bits. See, you could start a business selling broken cookies, so don't worry... If you love biscotti, be sure to try the chai biscotti too!
📖 Recipe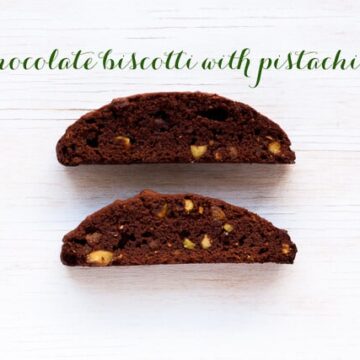 Disclosure: As an Amazon Associate, I earn from qualifying purchases.
Chocolate Biscotti
These chocolate biscotti are made with chopped pistachios but would also be great with almonds or any nut, really. They are twice-baked: the cookie dough is baked as a log, then sliced into cookies, which are baked again to dry them out and crisp them up. These biscotti store well.
Instructions
Preheat the oven to 350 °F (175 °C). Line a baking sheet with parchment (stick to a lighter coloured cookie sheet to avoid overbaking/burning the biscotti).

In a food processor, combine the flour, baking powder, and salt. Then drop in the butter chunks and pulse to form a coarse meal texture. Add the egg, milk, and vanilla, and pulse again a few times.

Transfer the dough to a bowl to work in the pistachios by hand (if you do this in the food processor, you risk grinding the nuts too much).

Pat the dough into a flattened roll with well floured hands (dough is sticky!) and form it into a loaf about 12 inches long on the parchment-lined sheet.

Bake for 30 minutes.

Let the roll cool for 10 minutes, then using an electric carving knife, cut the roll into ¾-inch thick biscotti.

Transfer the cookies to the baking sheet, and bake them again for 20–25 minutes. Watch them because you don't want them to burn.

Let cool on a wire rack before eating.
Nutrition