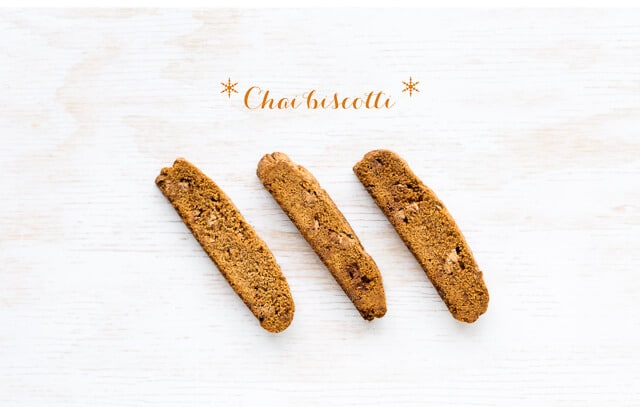 The good thing about biscotti is that you can make a lot of them without the work of having to roll and shape or cut out individual cookies with cutters. Of course, you still have to slice the log of biscotti, but with an electric carving knife, it's a breeze! It's the kind of knife you would use to carve your Sunday roast, except we seem to use it almost exclusively for chocolate biscotti. Cutting the biscotti is fast with an electric knife and I find they are less likely to break as you go this way. The white chocolate chips in these biscotti will inevitably caramelize in the oven given the amount of time that these cookies spend baking. This is a good thing. Trust me.
📖 Recipe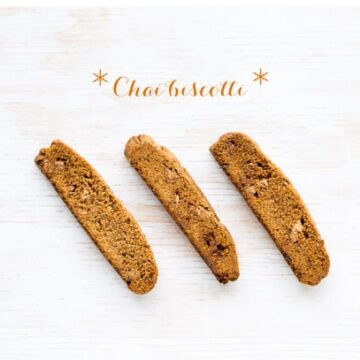 Disclosure: As an Amazon Associate, I earn from qualifying purchases.
Chai biscotti
A recipe for chai spice biscotti flavoured with anise and white chocolate.
Ingredients
115

grams

unsalted butter

½ cup, room temperature

200

grams

granulated sugar

1 cup

2

large egg(s)

1

teaspoon

pure vanilla extract

312

grams

bleached all-purpose flour

2 ½ cups

2

teaspoon

baking powder

1

tablespoon

ground cinnamon

2

teaspoon

anise seed

2

teaspoon

ground cardamom

2

teaspoon

ground ginger

¼

teaspoon

Diamond Crystal fine kosher salt

1

pinch

ground cloves

225

grams

white chocolate chips

1 bag
Instructions
Preheat the oven to 325 °F (165 °C).

In the bowl of an electric mixer fitted with the paddle attachment, cream the butter and the sugar until it is light and fluffy. Add the eggs, one at a time, scraping the bowl as needed and mixing well between each addition. Add the vanilla and mix again.

In a separate bowl, whisk together the flour, the spices and the salt.

Add the whisked dry ingredients and mix on low to combine. Add the chocolate chips when the last of the flour has almost disappeared into the dough.

Divide the mixture in 2 and pat it out into 12-inch slightly flattened logs on a parchment-lined baking sheet. Bake for 30 minutes at 325ºF.

Transfer the baking sheet to a rack and let the cookie logs cool for 10 minutes, then slice into ¼-inch thick cookies. Meanwhile, drop the oven temperature down to 300ªF.

Transfer back to parchment-lined sheet (you might need to split the cookies between two sheets) laying them flat. Bake again at 300ºF for 30 minutes more. Rotate the pans and watch that the cookies don't get too dark.
Nutrition
Adapted from Canadian Living