Want to go directly to the syrup recipe? click here to skip to the recipe for wild blueberry pomegranate syrup!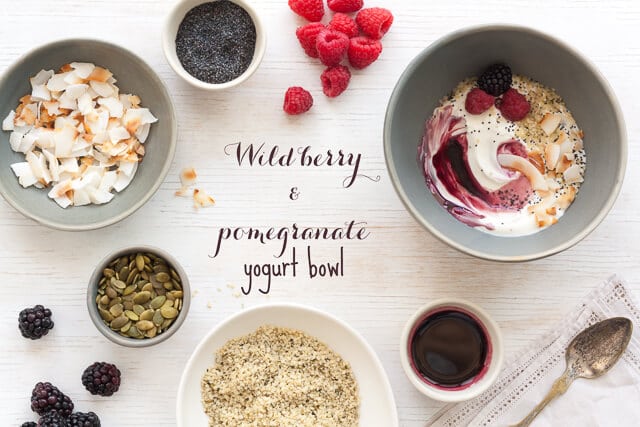 If you visit me for even a short period of time, I'll probably make you a yogurt breakfast bowl. Not to pat myself on the shoulder, but I think my yogurt breakfast bowls are pretty legendary, and if you follow me on Instagram, you've probably noticed that I tend to post them quite a bit. I put a lot of love and care into my breakfast bowls, and a zillion great toppings too. Great toppings and love: what more could you ask for?
The making of a breakfast yogurt bowl is part art and part science, and to be qualified as legendary, a yogurt breakfast bowl must contain the following topping components: fruit+nuts/seeds/grains+syrup. Of course, before any of those toppings hit the bowl, It all starts with a good yogurt base. When I'm feeling extra decadent, I get the full-fat Greek yogurt that's so thick, you'd think it was mascarpone. The yogurt I use, whether Greek or not, must always be plain, and I insist that you do the same. Plain yogurt is the neutral backdrop so that all those yummy toppings shine through. It's also a great way to control the added sugars that go into the first meal of the day.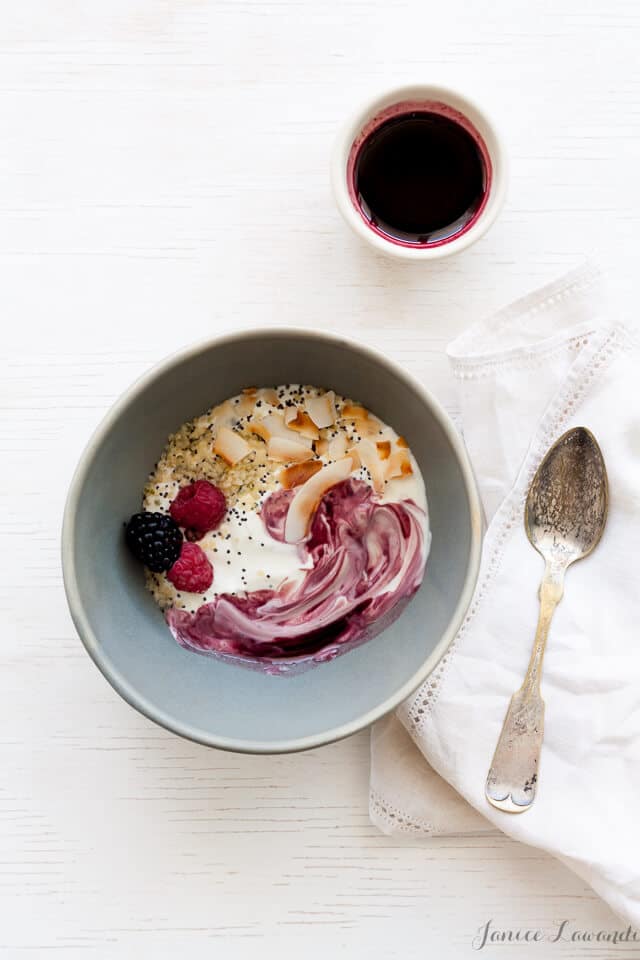 When it's summer, the fruit component of my breakfast bowls follows the progression of the season and I stick pretty exclusively to what's available at the local market: from roasted rhubarb to the cutest fresh Quebec strawberries in the early summer, then raspberries and tiny Lac St-Jean blueberries in the middle to late season, with Ontario peaches and nectarines thrown into the mix along the way. I try to eat local as much as I can during the summer because once winter hits, the fruit choices are limited at best, and often times, I opt for dried fruit compotes or even frozen berries.
Every yogurt bowl gets topped with a variety of healthy nuts (flaked coconut, almonds, pecans, or walnuts usually), seeds (hemp, pumpkin, sunflower, poppy, or even sesame), and grains (buckwheat flakes, oats, puffed quinoa or even puffed millet). Sometimes I combine them all to make granola clusters that gets roasted in the oven with a little olive oil, coconut oil, or even butter. I find this topping category is the key to taking your breakfast from just yogurt and fruit to a seriously filling breakfast that will get you through all the way to lunch. Don't skip this part. This is breakfast, and it needs to count for all the right reasons.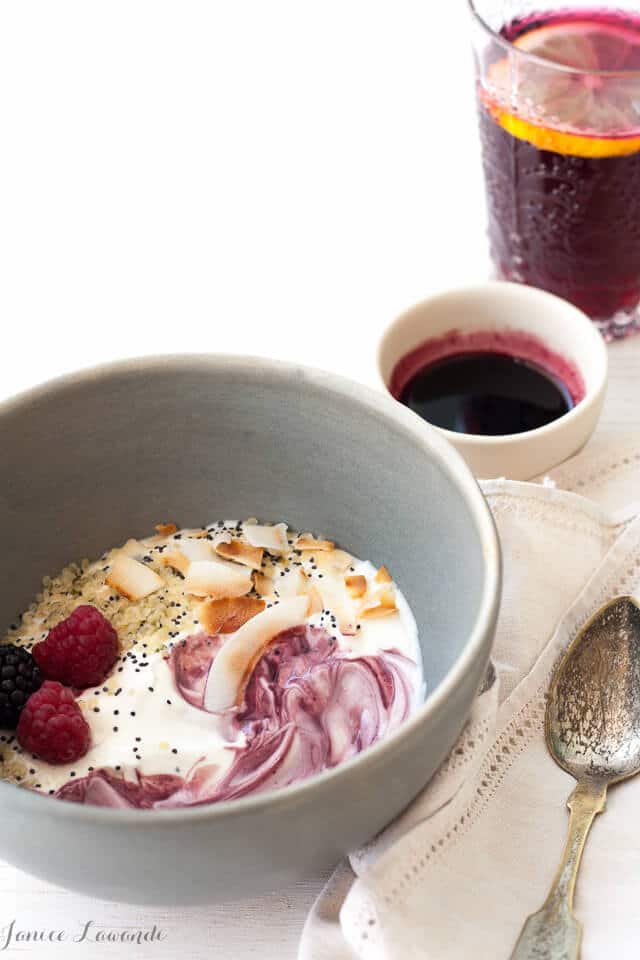 The syrup is the pièce de résistance. It's the cherry on top. No yogurt breakfast bowl of mine is complete without the syrup. When the syrup is maple or honey, it sweetens the fruit when they are a little tart or underripe, and sometimes I'll even infuse honey with lavender to add in another layer of flavour. There are weeks where I take the syrup component a little further and I make a bright, fruity concentrate from a juice blend, like this OASIS Nutrisource wild berry pomegranate 40 calories juice cocktail. I make the wild berry pomegranate syrup much like I'd make a pomegranate molasses, but since the OASIS juice is conveniently sweetened with a touch of stevia, I don't have to worry about adding any granulated sugar. Instead, I squeeze in a little lemon juice to balance out that sweetness and I let it simmer and thicken, low and slow. It takes a little time and some watchful patience, but it's worth it because you end up with a lovely fruity concentrate that is absolutely perfect for perking up your yogurt breakfast bowls all week. It's so flavourful that even a teaspoon or two will brighten up your yogurt breakfast bowl and make it into a breakfast bowl that's, dare I say, legendary.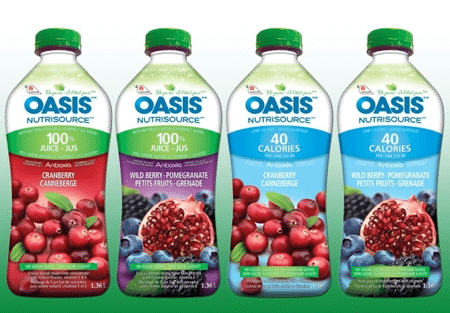 Now that you know how to make my legendary yogurt breakfast bowls, here's a recipe for the wild berry pomegranate syrup. If you love yogurt bowls, try this SweeTango apple pie yogurt parfait.

Wild berry pomegranate syrup
A nice way to flavour breakfast yogurt bowls is to make a fruit syrup from juice. I used a wild blueberry pomegranate juice to make a wild blueberry pomegranate syrup that is perfect with tart yogurt, served with berries and nuts
Ingredients
1

bottle

OASIS Nutrisouce wild berry pomegranate juice

1.36 L

4

tablespoon

fresh lemon juice
Instructions
In a medium saucepan, combine the OASIS Nutrisource wild berry pomegranate juice with the lemon juice. Bring the mixture to a boil over medium–high heat, then reduce the heat to medium–low so that the mixture is simmering gently, not boiling. Let the juice simmer for about 1 ½ hours, or until it coats the back of a spoon. Keep an eye on the syrup so that it doesn't reduce to the point of burning. When the syrup is ready, you should have about ⅓ cup. Store in a sterilized jar in the fridge.
Give back
If you enjoy the free content on this website, say thank you!
Notes
To make this syrup, I used a bottle of OASIS Nutrisource wild berry pomegranate 40 calories juice cocktail
Nutrition
For more from OASIS, visit their website: http://www.oasis.ca/en/, or follow them on Twitter (http://www.twitter.com/OasisCanada), Facebook (htts://facebook.com/oasiscanada), and Pinterest (https://www.pinterest.com/oasiscanada/)
This post is sponsored by 360ACCESS on behalf of Oasis Nutrisource. The opinions are my own.