Are you hooked on podcasts? Baking and food podcasts cover everything from baking recipes, tips and tricks, food news and stories, food history, cooking science, and more. Whether you are looking for a little food-centric distraction or you want to learn more about food and cooking, these baking and cooking podcasts are for you.
These are the best baking and food podcasts that will inspire, motivate, and even educate you on the subject of baking, followed by a list of podcasts dedicated to cooking, careers in food, the history of food and cooking, and even restaurant news.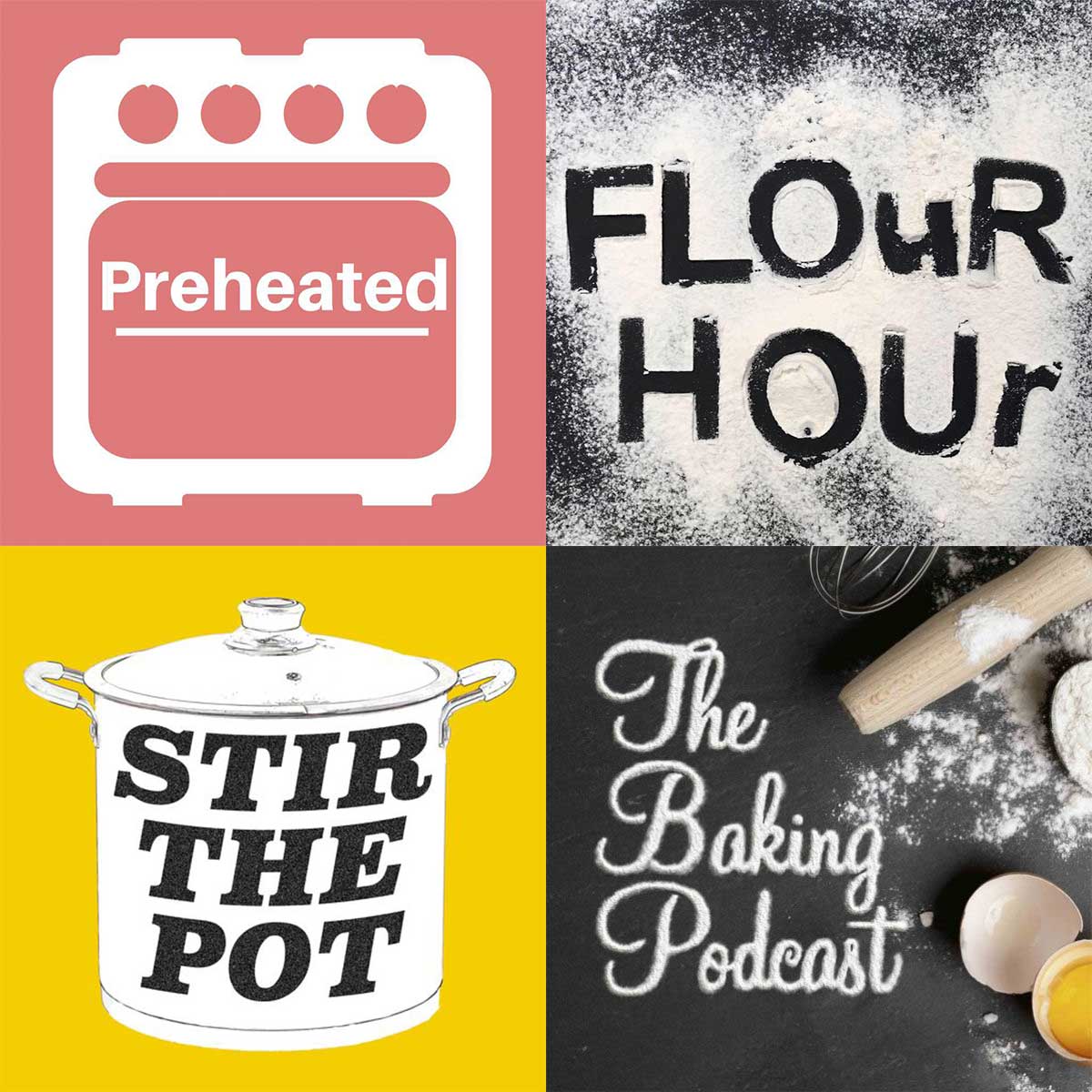 Disclosure: As an Amazon Associate, I earn from qualifying purchases.
Best baking podcasts
Preheated podcast
When I started to listen to the Preheated podcast, I felt like I'd found "my people". Each week, hosts Andrea Ballard and Stefin Kohn challenge each other to make a new recipe, then the next week, they discuss their experience following the recipe, the issues they had, the discrepancies, what they loved about the baked goods they made, what they hated... I've been randomly listening to episodes over the last month or so, catching up on the old and the new, and I am in love. This podcast is fun, informative, and I like following along on their baking adventures. I love listening to their recipe analysis, especially when they really investigate the wording of some recipes. I find this particularly relevant for me because I write recipes almost every day and I always wonder if what I write makes sense. The Preheated Baking podcast is a new favourite of mine. I look forward to it every week and it makes me smile! There's a Preheated Facebook group dedicated to the podcast that you might want to join too! I joined!
Stir The Pot by Edd Kimber of The Boy Who Bakes
Edd Kimber (who was a contestant/winner of the first season of the Great British Baking Show) is working on a lot of cool things these days, and the Stir The Pot podcast is one of them. In each episode, Edd interviews bakers, food stylists, writers. Most, but not all, the people Edd Kimber interviews are bakers and I find it so interesting to listen to his conversations with other professionals. I really admire all the great work Edd Kimber is doing and I look forward to more episodes.
The Crumb—Bake from Scratch
The Crumb is hosted by Brian Hart Hoffman of Bake from Scratch magazine and Kyle Grace, and features talented bakers and trailblazers like Zoë François, Shauna Sever, and Joanne Chang, among others. Episodes are always informative and filled with baking tips and tricks and lots of baking inspiration. There is so much to learn from these talented bakers.
Flour Hour
Flour Hour is hosted by two bakers who were contestants on the first season of the Great American Baking Show: Amanda Faber and Jeremiah Duarte Bills. Amanda and Jeremiah start every episode recapping what they've been baking, their challenges, baking successes and baking failures. I love hearing about their experiences in the kitchen. I always learn a little something from them. Then, the hosts continue the episode with an interview of an influential baker, like Brian Hart Hoffman, editor of Bake from Scratch magazine (Episode 14), Zoë François (Episode 8), The Artful Baker Cenk Sönmezsoy (Episode 23). Again, this podcast has a lot to offer with information and insight from bakers who work in the industry, either writing recipes and cookbooks or baking professionally. You can follow the Flour Hour podcast on Facebook and Twitter.
The Baking Podcast (no longer updated)
I haven't listened to as many episodes of The Baking Podcast, but I thought I'd give it a mention too since this is another podcast dedicated to baking. This podcast has two hosts: Melody, a.k.a "the business girl," and Taunya, a.k.a. "the baker girl". I gather Melody isn't a baker nor as familiar with baking as is Taunya, but they own a bakery together, Covet Artisan Bakery located in Sonoma County, California. Each episode is dedicated to a different recipe or technique and the hosts discuss the history of the baked good or the recipe, plus tips and tricks to keep in mind... There was an episode dedicated to chocolate after Taunya took a class with Valrhona where she learned to temper chocolate. That was really informative.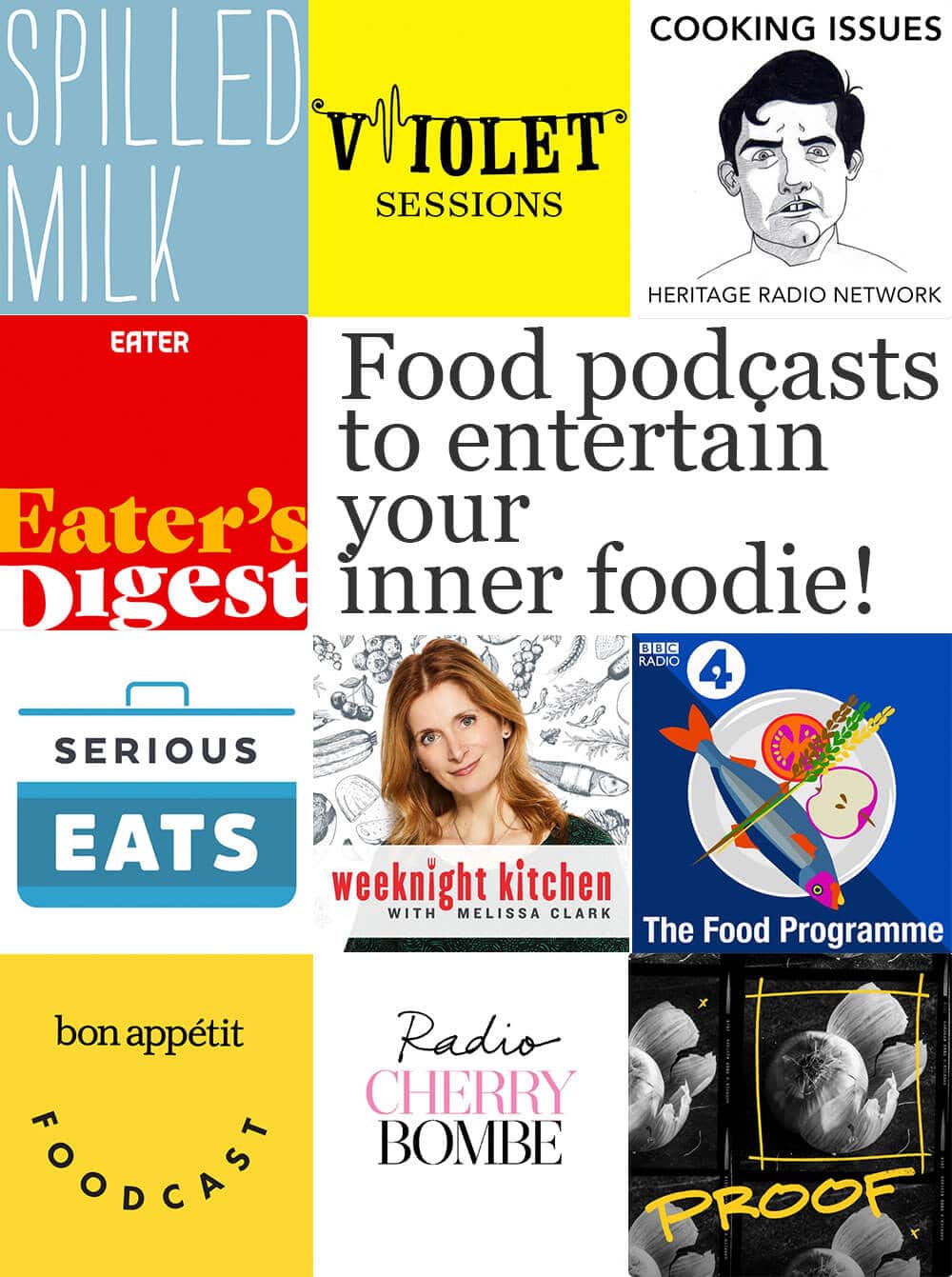 Best food science podcasts and educational food podcasts
Cooking Issues podcast
Heritage Radio has many great food podcasts, but Cooking Issues podcast, hosted by Dave Arnold and Nastassia Lopez might be my favourite. I have laughed out loud by myself on the street while listening to this podcast many, many times (the episode where Dave and Nastassia are arguing over whether all the listeners are married men who hide kitchen tools from their wives and secretly order kitchen gadgets; the time Dave discusses his obsession with the bagpipes and his wife's reaction when he was learning to play at home—so damn funny!). This show makes me laugh a lot, but I don't just listen to get a giggle out of it. Dave Arnold is very passionate and smart. I always learn a little something each episode, not that I'm about to rig a SodaStream from Amazon to pump more gas into water to make it super carbonated like he does, but I digress...
Modernist Breadcrumbs podcast
I find the topics explored in Modernist Breadcrumbs are quite underdeveloped but still, interesting enough that I devoured the first episodes. Modernist Breadcrumbs is especially geared for those of us who may never get their hands on the Modernist Bread books which cost around $600 for the entire set. The podcast will do while I wait to become a millionaire so that I can acquire the set of books from Amazon. Bread topics covered span milling grains, shaping bread... The content includes the history of bread-making but also modern breakthroughs. The show is quite fascinating with interviews from revered cookbook authors, like Maria Speck, world renowned bakery owners, like Apollonia Poilâne, and of course, Nathan Myhrvold himself. If you love bread (and can't afford the 5 volume book set), then you'll enjoy the podcast for sure.
PROOF podcast
America's Test Kitchen is now producing a podcast about food called Proof. Each episode is around 30 to 40 minutes, exploring the science of flavour in funky jelly beans, non-Newtonian fluids like ketchup, the rise and fall of celery, the science behind cravings, etc. Just like with Modernist Breadcrumbs, Proof mixes history, pop culture, science, and more to put together well-rounded episodes about the foods we eat.
Serious Eats "Special Sauce" with Ed Levine.
Kenji Lopez Alt & Stella Parks are often featured on Special Sauce podcast, so you know it's going to be full of detailed info, cooking and baking tips & tricks, and more.
The Food Programme by BBC Radio
Noteworthy episodes of The Food Programme include Eating Animals Part 1: The Future of Meat, and Eating Animals Part 2: A Meat Q & A. Both these episodes blew my mind and made me question everything that the media portrays and also made me rethink what I should focus on in 2020 in terms of groceries and buying food. I also loved an episode in 2019 about the nutrition of ballet dancers and what it takes to fuel these athletes.
Smart Mouth
http://www.smartmouthpodcast.com/Smart Mouth is hosted by Katherine Spiers who brings on different guests each week, and together they go over the origins of certain recipes and dishes and their history. Guests have included Gail Simmons, Jessie Sheehan, and Shauna Sever, among others. I've learned a ton from this podcast and many of the episodes have to do with baking, but even if they don't, the content is still fascinating! There was an episode dedicated to learning what the difference is between pies, crisps, crumbles, grunts, buckles, cobblers, pandoughdies, shortcakes, sonkers, and more. Turns out there are so many fruit desserts topped with dough that I was completely unaware of, and they are all a little different!
Podcasts dedicated to cooking
Home Cooking
This is a new food podcast and it is fantastic. Home Cooking is hosted by Samin Nosrat and Hrishikesh Hirway and this podcast is a joy to listen to. The hosts answer cooking questions and stories as we navigate our way through social distancing and quarantine cooking. This show is dedicated to making great food during difficult times and helping listeners eat well. Episode 2 features Stella Parks (of Serious Eats and Bravetart) who consults on baking questions. Lots of laughs here and loads to learn too.
Weeknight kitchen with Melissa Clark
Short and sweet is the name of the game when it comes to Melissa Clark's Weeknight Kitchen podcast, and I couldn't agree more. This is a podcast for those who don't have a whole hour to listen to podcasts, let alone to cook dinner every night. You'll get tips and tricks so you can dominate dinner during the week without drowning.
The Bon Appétit Foodcast
Bon Appétit Foodcast is a complement to Bon Appétit (BA) magazine, with interviews with chefs, BA test kitchen chefs, writers, and more. I love when they do a deep-dive into a recipe or a story from the magazine, like in episode 195 where Adam Rapoport interviews Chris Morocco about the Christmas cookies he developed for the December 2018 issue, the behind the scenes of how they ended up with the final recipes, the ingredients they used, what they modified in the classic recipes and why. So much info in these episodes and there's always something to learn.
Milk Street Radio
Christopher Kimball's Milk Street magazine is also a podcast, and it's a great mix of science and information, with different guests that have included a flavour chemist, Sara Moulton, Claudia Fleming, Sam Sifton, Yotam Ottolenghi, Nigella Lawson, and more. Each episode has a theme, and includes a call-in portion to answer listener questions. In one episode, a listener called in seeking help for making seedless jams and they discussed using old-school food mills to purée the fruit and remove the seeds, with tricks for emptying the food mill when it's full (spoiler alert: turn the mill handle in the opposite direction to lift all the food that gets stuck on the filter!).
Hosted by Gaby Dalkin who started this podcast to help her readers navigate the difficult period when we all had to stay at home and limit even our grocery shopping trips. She covers topics from food storage, utensils, almond flour, etc. and some deep-dive episodes have interviews with industry experts. For example, the episode dedicated to flour had an interview with Grant of Chef Steps.
Inspirational food podcasts
I spent my vacation listening to old episodes of Radio Cherry Bomb and I loved every single one. It comforted me, inspired me, kept me interested, and gave me all the good feelings you would hope to gain from listening to a good podcast. I especially enjoyed the recent episodes with Deb Perelman of Smitten Kitchen and Lily Diamond of Kale & Caramel. I was inspired by the episode with Samin Nosrat on the process of writing her book Salt, Fat, Acid, Heat (I ordered my copy of the book from Amazon after listening to this episode). I played an older episode with Martha Stewart twice because I found it so fascinating. She's a funny lady, full of wisdom and business insight.
I have downloaded a lot of old and new episodes of this podcasts, and I listen to it off and on. I was inspired by the interview with Francis Lam who is a cookbook editor and used to write for Gourmet. As I constantly ponder writing a cookbook, I found that episode very useful. Eater Upsell features interviews with so many awesome food personalities, like Alton Brown, Ottolenghi, Melissa Clark, Nathan Myhrvold, and the list goes on. The questions the interviewers ask are really insightful and always elicit some fantastic responses. Definitely a great listen!
Julia Turshen has written some very popular cookbooks under her own name and she is also the writer behind Gwyneth Paltrow's cookbooks, which I find fascinating. Side note: Julia Turshen seems pretty chill and has a very soothing voice, and so I find it very calming to listen to her when I'm walking the dog.
Claire Ptak is a bakery owner in London (previously from California). She even made the royal wedding cake for the marriage of Harry & Megan! Her podcast is mostly interviews.
Sporkful has the slogan that it's a podcast not for foodies, it's for eaters. Dan Pashman hosts some great interviews on this podcast (like a food focused interview with Bill Nye the Science Guy), but also covers topics that are in the news, like the latest GMO apple to hit the market, called the Cosmic Crisp.
Podcasts about food business and food blogging
Food Blogger Pro Podcast
Food Blogger Pro Podcast is hosted by Bjork Ostrom (the husband of blogger Lindsay Ostrom of the successful food blog Pinch of Yum). I found episodes about branding and SEO really helpful, but Bjork also talks about business books he recommends, organization tips & trips, productivity apps to try, and more. This is a great podcast to listen to if you want to start a food blog or if you've been blogging for years.
Chopped podcast
Warning! The intros in some Chopped podcast episodes can be a little long (at the worst, an intro to an episode clocked in at a whopping 15 minutes!) but if you skip forward, you will learn a lot. There's an episode about Search Engine Optimization (SEO) with Casey Markee that I've listened to about 3 times because it's so packed with useful information and helpful tips. I'll probably listen to it another dozen times to be honest because SEO seems so difficult for me.
Eat Capture Share podcast
Eat Capture Share podcast is hosted by Kimberly Espinel from The Little Plantation, Kimberley shares her expertise about food blogging and Instagram and interviews experts so we can gain insight into building, growing, and monetizing food blogs and Instagram.
Raw Milk—The Creative Business Podcast
Raw Milk—The Creative Business Podcast is by Beth Kirby (the creator of the gorgeous food blog Local Milk) and though it's not dedicated to food blogging specifically, it's about creative businesses and food blogging is one of those.
The Sweet Scoop by Tessa Arias
The Sweet Scoop by Tessa Arias: though this one hasn't been updated in a while, I found it really informative, and spoiler alert: it takes A TON of work to run a successful food blog and Tessa and her guests go through a lot of the ups and downs and how to make a go of it.
Theory of Content
Theory of Content is hosted by Amber Bracegirdle and Joshua Unseth, and it's all about SEO and blogging, how to maintain a successful blog and how to drive traffic from Google search. Josh and Amber spend a lot of time answering blogger questions and reminding us all that we should focus on creating more content that answers blog reader questions and user intent, instead of worrying that our blogs are broken.
Keep It Quirky podcast
Keep It Quirky podcast by Katie Quinn is a podcast about creativity & entrepreneurship, food & travel, and the discipline and drive it takes to create. Katie Quinn has interviewed so many interesting people on her show, from Fuchsia Dunlop (renowned cookbook author who is British but writes books about Chinese and Asian cuisines) to Pippa Murray founder of the nut butter company Pip & Nut who was selling nut butters before it was so trendy.
Second Life
Second Life is not exactly about food, but this podcast is about women pivoting in life and changing careers, and many of the guests are in the food business, from Alison Roman, Christina Tosi, Kerry Diamond, Amanda Hesser, etc. So if you are interested in the career paths of some of the world's greatest women in food, give it a listen!
Food podcasts dedicated to cookbooks
Salt & Spine podcast is hosted by Brian Hogan Stewart where he interviews published cookbook authors.. My favourite episode was the interview with Rose Levy Beranbaum and Woody Wolston because you really got a real sense of how Rose Levy Beranbaum operates, her methods, her recipe testing, etc. It was a fascinating episode!
Cookbook Love podcast, hosted by Maggie Green is dedicated to all those that love cookbooks because the cookbook is not dead! The podcast is for cookbook readers, buyers, collectors, and clubs, with great interviews with cookbook authors and cookbook editors, as well as short episodes dedicated to the importance of cookbook headnotes, steps to becoming a cookbook author, writing style, and more. There's so much useful information for those thinking about writing cookbooks, but also so many snippets of what goes into a cookbook, the behind-the-scenes.
Food podcasts to make you smile
Spilled Milk podcast: The Spilled Milk podcast, hosted by Molly Wizenberg and Matthew Amster-Burton, has been around since 2010, though I only started listening to it a few years ago. Every week, Molly and Matthew do a deep dive into a food topic, share recipes, food memories, research on the topic, and make a lot of jokes. Spilled Milk always makes me laugh, while learning a little too. This podcast makes me laugh out loud and I highly recommend it.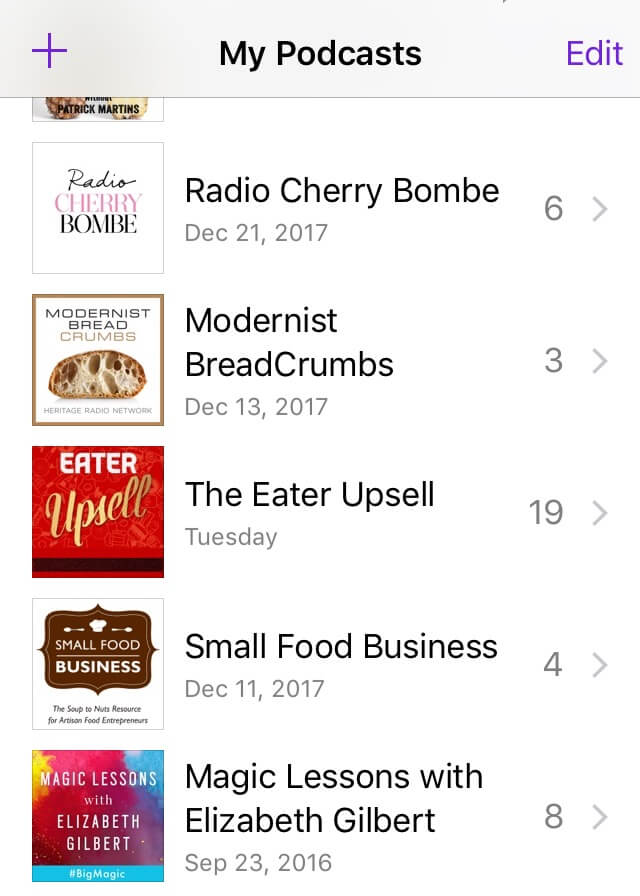 Even more food and cooking podcasts that I haven't had a chance to listen to yet
Communal Table by Food & Wine magazine
Carbface
The Food Chain by BBC
A Taste of the Past by Heritage Radio
Gastropod
The Food Podcast by Lindsay Cameron Wilson
The Taste Podcast
Eat your words
What podcasts are you listening to these days?
Now that I have given you a peak into the cooking and food podcasts I've been listening to these days, got any others to recommend to me? Let me know! I'm always looking for new sources of inspiration! And if you prefer to read books, be sure to consult my list of top baking books about the science of baking. This is a list of great baking references that will keep you learning and help you troubleshoot recipes. You can also take online baking classes to develop new skills and to keep practicing.
Please note this post contains affiliate links to Amazon. If you buy a product I recommend, I will get a small commission, and the price you have to pay will not change in any way.